Is your hair health disappointing? Then, it's time for Aloe Vera to do its magic on your hair and scalp. Enriched with everything you need, Aloe Vera is a one-stop solution for all your hair concerns. 
As per research, Aloe Vera can help cleanse oily hair, ease an itchy or flaky scalp, protect hair from the sun, strengthen brittle hair and increase hair growth.
The magical potion of the famous Aloe Vera gel is one of the most effective Ayurvedic remedies. It is not just any other new-age discovery but an ingredient passed down for generations - tried, tested, and loved for centuries.
In this article, let us discuss all the benefits of Aloe vera for hair, how to use it, and the best hair products containing Aloe Vera. 
Is Aloe Vera Good For My Hair?
Aloe vera has been used for millions of years, since as early as 1750 BC. There are more than 450 species, and they can be grown in hot and dry climates worldwide. 
Aloe vera is best known for treating various skin problems like acne, wounds, and burns. It can be typically applied to the skin and also can be consumed as food and in drinks. Aloe vera benefits hepatitis, diabetes, inflammatory bowel disease, and more.
But did you know aloe vera is also beneficial for your hair? Rich in 75 nutrients that includes 12 power vitamins, 18 amino acids, and 20 minerals, Aloe Vera is a boon for your hair. Treating your hair with Aloe Vera gel will ensure you healthier and fuller hair in no time.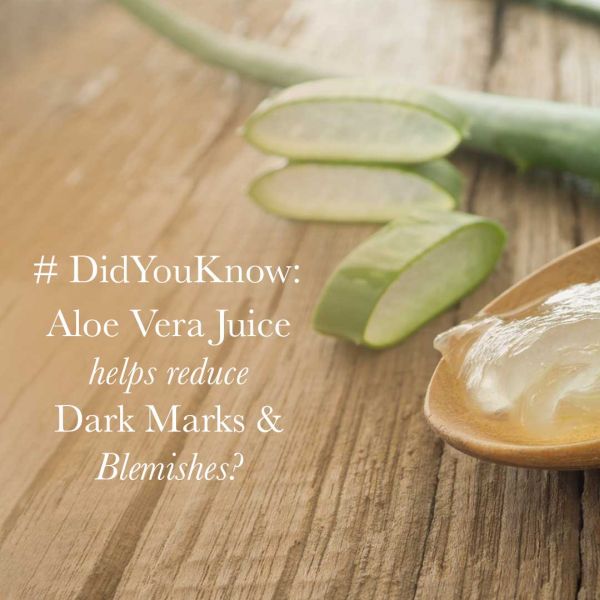 Scroll down to some of the primary benefits of applying aloe vera to your hair.
Aloe Vera Helps Ease An Itchy Or Flaky Scalp
About 5 in 10 people suffer from dandruff, and most also experience redness, itchiness, or scaling scalps. While Aloe Vera is not a cure-all, it helps ease these symptoms. Thanks to its anti-inflammatory properties, Aloe vera helps soothe symptoms of itchy scalp and dry eczema patches.
Aloe Vera Cleanses Oily Hair
While there are loads of products available in the market that claim to cleanse oily and greasy hair, many can dry out and damage your traces. If this is the case with you, Aloe Vera is at your rescue. The abundance of antibacterial properties helps remove oil from the hair without actually attacking the strands.
Products that contain Aloe Vera can be great if your hair builds up a lot of oil.
Aloe Vera Helps Strengthen Brittle Hair
Along with high amounts of antioxidants, Aloe Vera is also a treasure trove of micronutrients like - 
Vitamin C
Folic acid
Vitamin B12
Vitamin E
Vitamin A (beta-carotene)

A study conducted in 2019 states that the above substances play a crucial role in cellular turnover and can help minimize hair loss. Aloe vera also makes your hair look thicker, shinier, and stronger. 
Aloe Vera Protects Hair From The Sun
Did you know the UV rays from the sun can rob your hair of its natural shine while making it more fragile and brittle? Aloe Vera might help protect your hair from these rays, but this has very limited science to back it up.  
The good part is that Aloe Vera is risk-free and gentle on your hair. So, even if it can't 10/10 protect your manes from the sun, it is still worth a shot.
Aloe Vera May Help Boost Hair Regrowth
Aloe Vera is loaded with proteolytic enzymes and minerals like Zinc and Copper. These minerals help stimulate hair growth. Therefore, you can trust Aloe Vera for healthy and strong hair.
But, How To Apply Aloe Vera To My Hair?
The best and most convenient way to use Aloe Vera for your hair is by buying products containing natural Aloe Vera. But, make sure the products are of high quality and do what they claim. We talk about some of the best Aloe Vera products by Kama Ayurveda later in this article.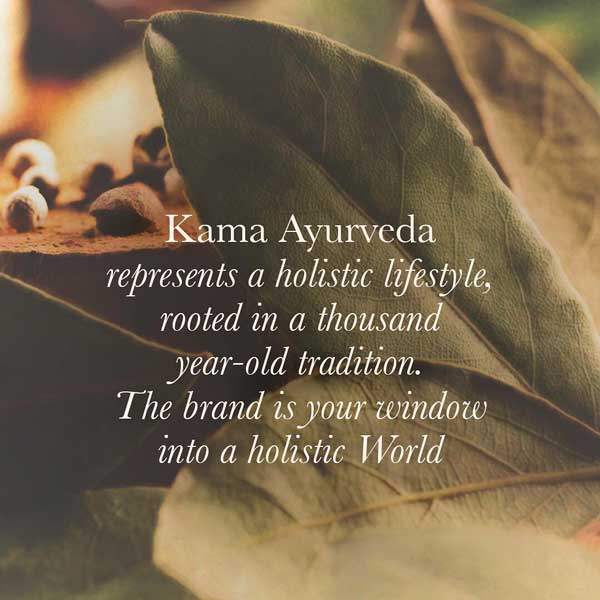 The second best way to use Aloe Vera for hair is to make a DIY mask out of it.
While you can buy Aloe vera gel for your hair at a store, it is always fun to make it at home. After all, there is no Indian home that doesn't grow Aloe Vera. If you don't have an aloe vera plant at home, pluck a leaf from the neighborhood and harvest it in a pot. The plant is easy to grow even in small spaces. To extract the gel, follow the below steps.
Cut out the plant's lower leaves using a sharp knife.
Now chop off the pointy tip and make it stand upright in a container for about 10 minutes. This will help drain the sap. 
Then cut off the leaf's serrated edges and carefully remove the top of the leaf using a knife or a vegetable peeler.
Remove the goofy gel from the leaf with a spoon or a knife.
You can then slice up the gel into cubes for easier storage.
You can keep the gel for about a week if you store it in an airtight container and refrigerate it.
Are There Any DIY Hair Masks That I Can Make With Aloe Vera?
You can either apply Aloe Vera gel directly to your hair or prepare a mask with other hair-loving ingredients for added benefits. Below are such DIY hair masks that will up your hair game.
1. Aloe Vera And Coconut Oil Hair Mask For Nourishing Dry Hair
Get rid of hair dryness with the Aloe Vera and Coconut Oil hair mask. Being a natural humectant and high in water content, Aloe Vera not only boosts hydration but also locks in moisture to leave your hair feeling soft and luscious. 
If you have dry and rough hair, add Aloe Vera to your regular hair oil to make the best-in-class nourishing Aloe infused hair oil.
Ingredients Needed
Fresh Aloe vera gel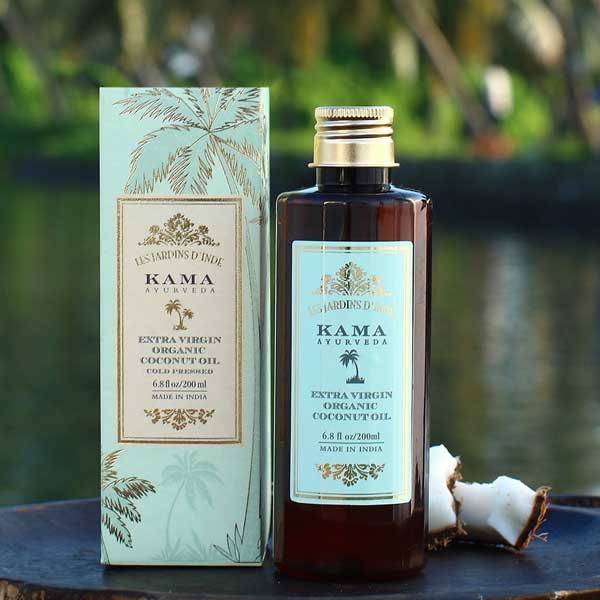 How To Make 
Heat organic Coconut Oil in a pan and add freshly squeezed Aloe vera gel into it.
Blend the mixture well to make a fine paste.
Massage the paste onto the scalp and gently along the hair lengths for about 10 minutes.
Let it dry for some time before rinsing it with a mild shampoo.
2. Aloe Vera And Essential Oil Hair Mask For Frizz-Free Hair
Who likes pesky flyaways? We definitely don't. This mask is all you need to keep your hair frizz-free and tuck the flyaways. Aloe Vera is a natural hair conditioner. It helps keep the frizz away while turning your static hair into a soft and smooth mane. In addition, its moisturizing properties keep your hair cuticles closed, which works like a charm on your frowzy tresses.
Use this DIY leave-in conditioner after every wash to tame the frizz.
Ingredients Needed
Aloe Vera gel - one teaspoon
Water - one teaspoon
Any suitable essential oil for hair - one drop
How To Make
Depending upon the length of the hair, take equal parts of Aloe Vera gel and water.
Add in a drop of your goto essential oil.
Mix the ingredients well using a spoon.
Transfer the mixture to a spray bottle.
After every wash, spritz the mixture for frizz-free hair.
3. Aloe Vera and Lemon Hair Mask To Relieve Itchiness And Irritation
Rich in antifungal, antibacterial, and healing properties, Aloe Vera gel helps relieve fungal infections in the scalp. In addition, it is very effective in fighting against yeast and fungus birthing, which may cause dandruff, infections, and other hair concerns like hair loss.

Conversely, Lemons are natural astringents and have abundant cleaning properties. Therefore, to curb those snowy flakes from dropping on the shoulders, strands on the floor, or just breeding bacteria, this Aloe vera and Lemon hair mask is all you need.
Ingredients Needed
Fresh Aloe Vera gel - ½ cup
Lemon juice - ½ tablespoon
Coconut oil - a few drops
How To Use
Put half a cup of aloe vera gel in a bowl and add half a tablespoon of freshly squeezed Lemon juice.
Add in a few drops of Coconut oil or a drop of any essential oil. 
Blend it well and massage the mixture on the scalp.
Leave it on for at least five to ten minutes before washing it off with mild shampoo.
4. Aloe Vera, Castor Oil, and Fenugreek Powder Hair Mask To Fasten Hair Growth
Aloe Vera is power-packed with proteolytic enzymes and minerals like zinc and copper, which help stimulate hair growth.
Ingredients Needed
Aloe Vera Gel - one cup
Castor oil - two tablespoons
Fenugreek powder - one tablespoon
How To Make
Add a cup of Aloe Vera gel in a cup and blend it with two tablespoons of castor oil.
Now add a spoonful of Fenugreek powder and make a smooth paste.
Apply the paste to the roots and work toward the tips.
Let the mask rest overnight, and rinse clean the next morning.
For desired results, repeat this process once a week.
5. Aloe Vera, Olive Oil, and Egg Hair Mask For Shiny Mane
Aloe Vera is a powerhouse of amino acids that help promote shine and strength in the hair. Aloe Vera, Olive oil, and Egg yolk make a perfect concoction for the shine and smooth mane we all deserve.
Ingredients Needed
Aloe Vera gel - four tablespoons
Olive oil - three tablespoons
Egg yolk - one
How To Use
Mix all the above-mentioned ingredients and make a fine paste.
Spread the mask evenly between hair strands. 
Let it dry before cleaning it off with cold water and mild shampoo.
Kama Ayurveda Hair Products That Contain Aloe Vera
The following are the Kama Ayurveda products that contain Aloe Vera as the main ingredient. If you like to include Aloe Vera in your hair care regimen but don't have the time and patience to make a DIY mask, using products containing Aloe Vera is the best thing you can do.
Kama Ayurveda's Himalayan Deodar Hair Cleanser and Conditioner
Kama Ayurveda's Himalayan Deodar Hair Cleanser is a scalp-toning and purifying natural hair cleanser that contains aloe vera to create volume and bounce while balancing excess oils. The cleanser also helps promote hair strength, relieve hair loss and reduce breakage while naturally enhancing shine and volume. In addition, it mitigates the drying effects of the sun and environmental damage.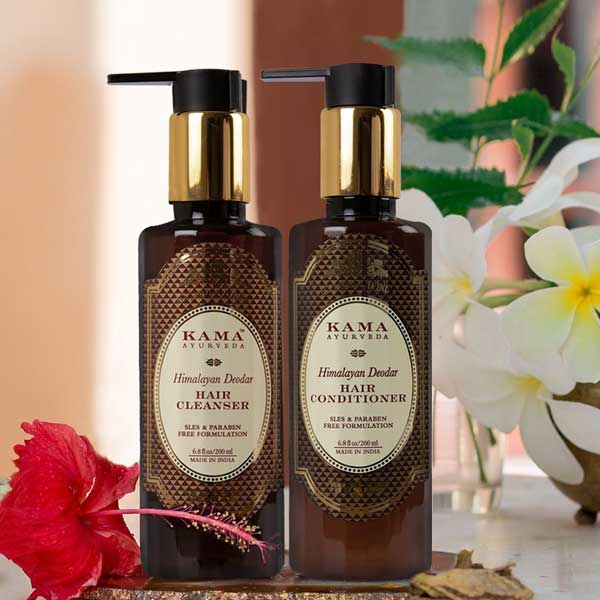 The vegetable-sourced soy protein in the hair cleanser moisturizes, binds, and improves the tensile strength of the follicle and hair shaft. The Hibiscus extract and organic Aloe Vera juice help in creating volume and bounce while removing excess oils from the hair shaft without drying out the hair. Pure essential oils of Himalayan deodar help stimulate the scalp for renewed hair growth. Result - stronger, shinier, and healthier hair.
Kama Ayurveda's Rose And Jasmine Hair Cleanser and Conditioner
Kama Ayurveda's Rose And Jasmine Hair Conditioner is a restoring hair conditioner that helps mitigate hair damage caused by coloring, chemical treatments, and heat styling while improving hair strength.

Free of SLES (sulfates), petrochemicals, and parabens, this luxurious hair conditioner gently rebuilds and strengthens over-styles or over-treated hair while improving its manageability. The pure and aromatic essential oils of Rose and jasmine help soothe and repair hair, making it look stronger, softer, and shinier with every wash.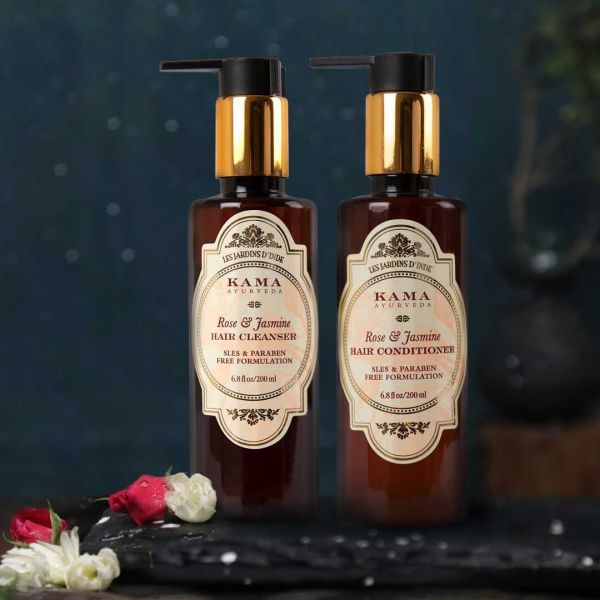 The organic Aloe Vera juice penetrates deep into the hair shaft to deliver essential nutrients. Indian Gooseberry improves and replenishes the tensile strength of hair. The Rose and Jasmine hair conditioner helps improve hair growth, reduce hair breakage, and improve elasticity.