Experience comes with age. This is also true with the signs of aging on the skin. While there is nothing we can do about the fleeting years of youth, we can retain our youthful appearance with the usage of a suitable anti-aging cream. 
Ayurveda has all the wisdom to mask or prevent wrinkles, fine lines, and pigmentation from occurring. We bring you this knowledge in the form of the best anti-aging cream.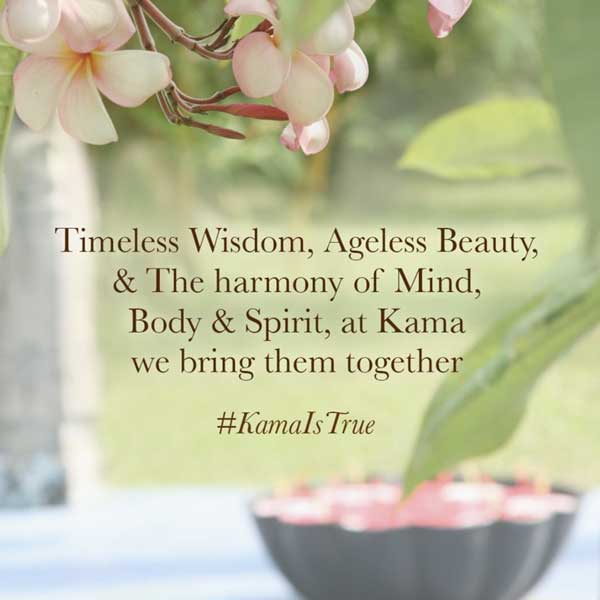 As we always strive hard to give your skin the best, our team curated the best creams as per the quality, effectiveness, and composition suggested by Ayurveda. Before we talk about the best anti-aging creams in India, let us learn everything we need to know about anti-aging creams.
What Is An Anti-Aging Cream, And What Are Its Benefits?
An anti-aging cream is like a fountain of youth-type of a miracle. These creams are specially designed to prevent early signs of aging like blemishes, wrinkles, fine lines, and dark spots. It uses specific ingredients, science, and technology to make your skin firmer and tighter to give you a younger-looking feel.  
Benefits Of Using An Anti-Aging Cream Regularly
Invented in the early 2000s, anti-aging creams take time to bring visible results. Slow results might be the reason why some people speculate about its effectiveness. However, once you know its excellent benefits, you will want to buy one for yourself.
Tightens Skin
The skin loosening or skin laxity after age 35 is due to the reduction of collagen levels, elastic fibers, and hyaluronic acid. Anti-aging creams help increase collagen production to keep skin firm and tight. 
Slows Down The Signs Of Aging
Besides skin laxity, our skin is also prone to fine lines, wrinkles, discoloration, and blemishes. All such signs of aging can be treated using an anti-aging cream.
Brightens The Skin
Your skin may begin to lose its natural glow as you age. Fortunately, you can reduce skin dullness with an anti-aging cream. A good quality anti-aging cream helps brighten the skin while reducing pigmentation and dark spots.
Boosts Confidence
When your skin is completely rejuvenated, you will be filled with a new level of confidence. Nightly skin care ritual with an anti-ageing cream is also a great way to make time for self care.
Saves Money In Long Run
Compared to those several skin surgeries to reduce the signs of aging, using an anti-aging cream is very cost-effective and sustainable. Not just saving money, an anti-aging cream also has fewer side effects when compared to laser surgeries. 
Read - Which Is The Best Face Cream For Women?
Things To Consider Before Buying An Anti-Aging Cream
Dealing with aging and its signs can be difficult, but you can tackle them with an anti-aging cream. However, this can only be possible when using a qualitative and harmless product. 
Since millions of fictitious and futile anti-aging creams are available on the market, it can be very confusing to pick the best one. But don't worry, with the following buying guide, you can select the best one within minutes.
Choose The Anti-Aging Cream That Suits Your Skin Type
Choosing the product that best suits your skin type ensures you are not harming your skin any further. For example, if you are having dry skin, go for a moisturizing anti-aging product and if you are having oily skin, opt for a mattifying product.
If you have sensitive skin, anti-aging cream can cause redness or irritation. In addition, with acne-prone skin types, the problem could get aggravated. Therefore, to be safe, ensure the cream you use is suitable for all skin types and is free from harmful chemicals.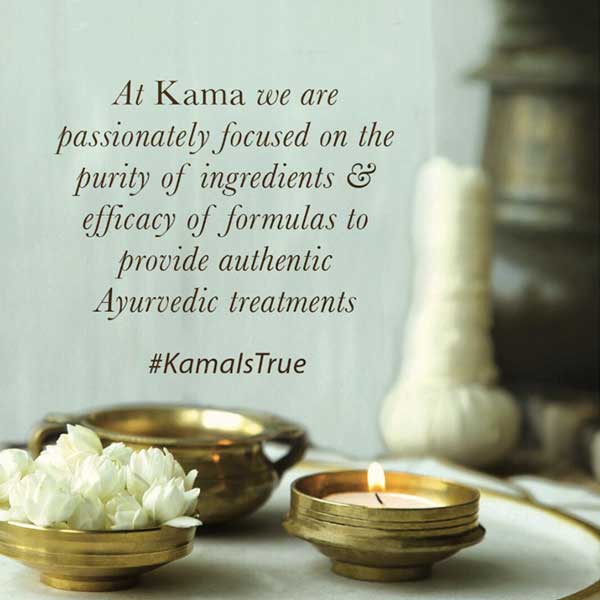 Consider What Goes Into The Cream
Rather than simply trusting the brand, take a look at the ingredients. Look for ingredients like Aloe Vera, Indian Madder, Turmeric, Green tea extracts, Almond oil, and Olive oil. Elements like these help tighten the skin, make it firm, and reduce fine lines, wrinkles, and blemishes without causing side effects. The cream should also include moisturizing ingredients to retain the moisture in the skin and diminish the appearance of fine lines.
Check The Consistency Of The Cream
An anti-aging cream shouldn't be heavy on the skin. Instead, it should have a lightweight consistency to blend into the skin quickly and easily. Moreover, if the cream has a light consistency, it supports massaging your skin without feeling any greasiness or oiliness.
SPF Protection Is A Plus
One of the primary causes of fine lines and wrinkles is the harmful UV rays from the skin. If your anti-aging cream is infused with SPF, it helps protect your skin from sun damage and keeps it wrinkle-free. If your cream doesn't have SPF, make sure you use sunscreen regularly and frequently.
Read Online Reviews
The right way to check the authenticity of any skincare product is by checking its online reviews. Read all the reviews (both bad and good) to make you understand the in and out of the product. If your product has good reviews, then go for it. As if it works for others, there are high chances that the product might work for your skin as well.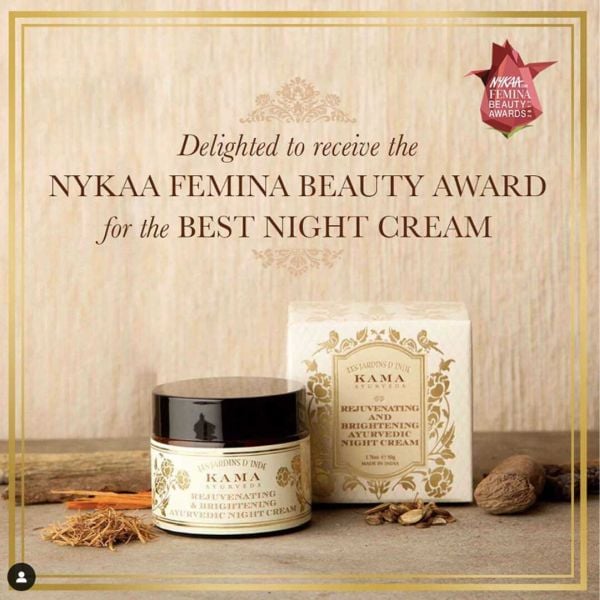 Which Is The Best Anti-Aging Cream In India?
Kama Ayurveda's Kumkumadi Rejuvenating & Brightening Ayurvedic Night Cream
Kama Ayurveda's Kumkumadi Rejuvenating And Brightening Ayurvedic Night Cream for women is a perfect leave-in night treatment for naturally radiant and youthful skin. It is a rich and non-greasy formula that is specially formulated using precious and rare ingredients. 
Derived from Kama Ayurveda's iconic Kumkumadi Thailam, this formula reduces signs of aging and brighten skin tone. The finest Saffron from Kashmir helps brighten skin and reduce dark circles and pigmentation. 
Aloe Vera and Indian Madder, with their abundance of antiseptic properties, prevent fine lines and delay the process of aging skin. Lotus and Vetiver cleanse and cool skin while clearing blemishes. In addition, the antiseptic properties of Liquorice protect against fungal and bacterial infections.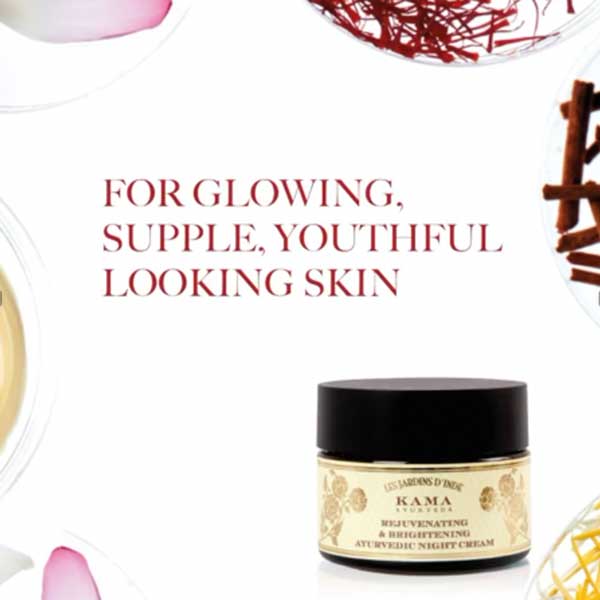 Benefits
The Rejuvenating And Brightening Kumkumadi Night Cream is 97.5% natural. It is proven to brighten skin 2.5 times in just two weeks.
The night cream helps repair skin pigmentation, reduce crow's feet and boost hydration in the skin.
The Manjistha, Indian Madder, Aloe Vera, And Lotus's antiseptic properties deeply nourish your skin.
Indian Madder and Aloe Vera reduce the signs of aging by fighting wrinkles and fine lines.
Regular usage of the night cream minimizes dark circles.
Kama Ayurveda's Eladi Hydrating Ayurvedic Face Cream
Kama Ayurveda's Eladi Hydrating Ayurvedic Face Cream is a nourishing, rich formula for intense moisturization to give your skin added barrier protection. In the ancient text of Ashtanga Hrudayam, this Ayurvedic cream is prescribed as an ideal treatment for herbs processed in Sesame oil and Coconut milk.
Known for their Varneekarana properties, Cardamom and Costus can enhance skin texture. The antiseptic properties of Aloe Vera prevent acne, blemishes, fine lines, and wrinkles while giving your skin adequate sun protection. Olive oil enables the hydrating cream to easily blend into the skin without making it feel sticky and heavy. The essential oils of Rose and Jasmine in the cream nurture and purify naturally healthy-looking skin.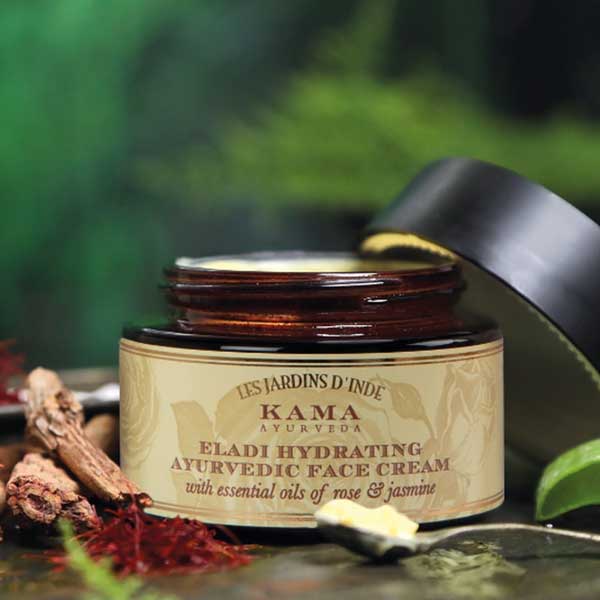 Benefits
The Ayurvedic cream is 97.5% natural and helps nourish skin and repair its barrier.
The Costus, Cardamom, and Aloe Vera help hydrate and soften skin naturally.
The cream helps maintain skin elasticity and reduce signs of aging while keeping it soft and revitalized.
Read - Which Is The Best Face Cream For Men?
How To Use Anti-Aging Creams?
The anti-aging skincare is all about the right product and technique. Since we already know the best products to serve the job, let's talk about how to apply them correctly. Even the highest quality anti-aging cream might not serve the purpose if you don't use it correctly. Scroll down to a small guide on how to get the maximum benefits out of the anti-aging cream.
1. Mind Over The Amount
Since the anti-aging creams have a very potent formula, fewer amounts are always more with these products. If you apply more than enough, the results will not be different, but your skin will get dry and irritated. So, observe your skin needs and use the product accordingly. Massage till the cream is completely absorbed into the skin.
2. Incorporate A Sunscreen
In some cases, the potent formulations of the anti-aging creams might cause slight sensitivity in the skin. The anti-aging creams are bound to increase cell regeneration and exfoliation. Therefore, the fresh skin gets damaged quickly in the sun. Thus, the regular application of a broad-spectrum protection sunscreen is a must.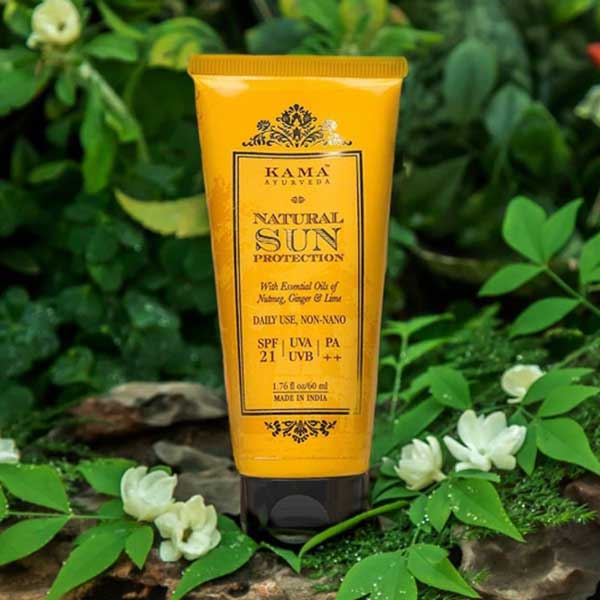 3. Be Patient
Anti-aging creams generally take 3 to 5 months to show a visible difference in wrinkles and blemishes. So, do not change the product after 6 to 8 weeks if you don't see the results. Being patient and maintaining regular usage is the key to youthful and radiant skin.
Few Tips To Slow Down The Aging Process
Along with using anti-aging skincare, you can slow down the signs of aging with the help of the following tips.
Following a proper skincare routine and never skipping the sunscreen will protect your skin from external damage and prevent wrinkles and fine lines from occurring.
Facial massages help tighten skin. You will find multiple tutorials online; try them.
Not only are alcohol and smoking habits harmful to your health, but they also make you look older. So, cut them down.
Always ensure you are maintaining a healthy and balanced diet. Include more Vitamin C foods to reduce the signs of aging.
To give your skin a natural glow, keep yourself hydrated.
Try to skip desserts once in a while, as excess sugar intake can lead to loss of collagen and elasticity.
Avoid too much screen time and try to get a good night's sleep.
Did you know silk pillowcases prevent the appearance of wrinkles? Try using them.
Release your stress by doing yoga, meditation or other favorite activities.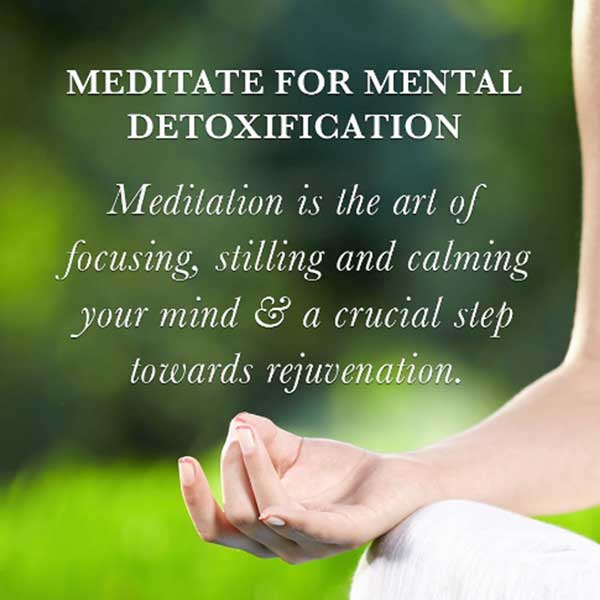 FAQs
1. When Should I Start Using An Anti-Aging Cream?
The ideal age for using an anti-aging cream is 21. However, more women are developing premature signs of aging nowadays due to multiple factors, including extreme pollution, excessive stress, poor food habits, bad lifestyle, hormonal imbalance, and so on. If these factors leave your skin feeling dry and dehydrated, you must start investing in an anti-aging cream even earlier.
2. How Long Does An Anti-Aging Cream Take To Show The Results?
The results entirely depend on several factors like the type of skin, the ingredients used in the product, the extent of damage that needs to be corrected, and so forth. Nonetheless, this is not an overnight incident. You need to be patient and keep using the cream regularly. However, many people start seeing visible results anywhere between four weeks to three months.
3. Is Retinol Effective For Anti-Aging?
Experts consider retinol as one of those few "magic" ingredients that can slow down the signs of aging. As a result, markets are flooded with retinol-induced products of varying strengths. However, one must be careful while using retinol for aging skin, as overuse can do more harm than good.
4. Which Anti-Aging Ingredients Are Best For Skin?
Ingredients like Retinol, Green Tea, Jojoba oil, Biotin, Caffeine, Hyaluronic acid, Kojic acid, Vitamins C, E, K, Plant Stem Cells and Lotus are some of the best anti-ageing ingredients.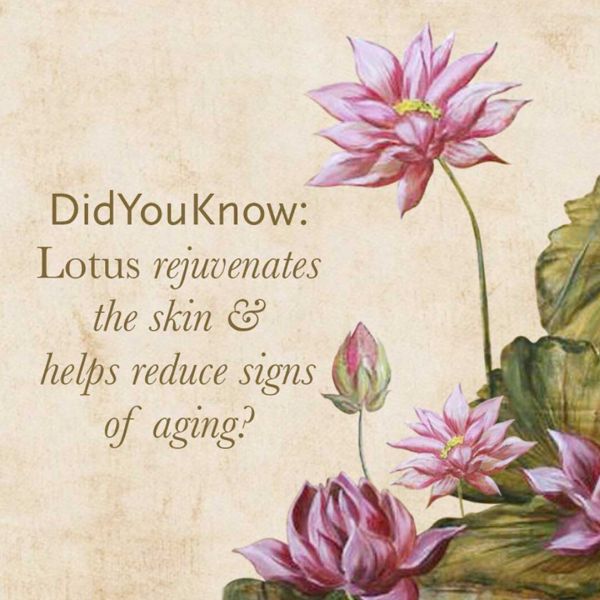 5. How Often Can One Use An Anti-Aging Cream?
Generally, it is recommended to include an anti-aging cream into the daily morning routine and as well as the nighttime skincare routine for optimum results.
6. Does Anti-Aging Skincare Work?
It is scientifically proven and dermatologically tested that in the long run, regular usage of anti-aging products helps maintain youthful and radiant skin. However, no cream can completely stop this process since aging is phenomenal.
7. Does Stress Play A Role In Aging Of The Skin?
Yes, stress does play a role in skin aging. It makes your body release certain hormones that boost the speed of skin aging while decreasing the amount of collagen in the skin. This ultimately will result in the formation of wrinkles and fine lines.