If it was the 90s, and you noticed a face cream for men in a cosmetics shop, you might have felt quite intrigued by it.
A few years back, most people were not familiar with the idea of men using special moisturizers and facial cleansers. So much that the concept of males discussing skincare products would be considered 'crazy talk.'
Fast forward today, men are not only taking care of their skin but trying their hands on makeup. From high-end face creams for men to effective anti-aging products, there is an increasing demand from men.
They are focussing on skincare more than ever before, for the better. After all, their skin goes through the same kind of exposure to UV rays and pollution. Sometimes, even more.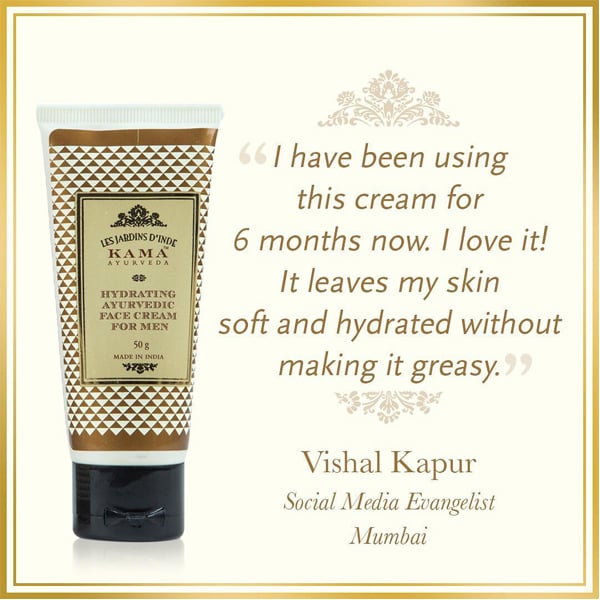 Moreover, the testosterone level in men is higher compared to women. These testosterone levels produce more sebum in your oil glands and clog oil in the skin pores, mainly during puberty. So, even men need to use the best face cream to protect their skin against acne, dullness, and tanning.
An ideal skincare routine for men must include:
A gentle face wash.
A moisturizer.
The best cream for face for men suitable for the skin type. 
The best face cream for men in India must have a combination of ingredients that can nourish the skin, making it supple and soft to touch while protecting it from damage. 
In this article, you can find suitable face cream along with the best skincare routine for men and conclude with some face care tips that every man should know.
Do Men Need to Use A Face Cream?
Skincare is not a feminine thing. Just like how men try to be in shape, eat healthily and learn to have an exquisite decent style, they also need to follow a basic skincare regimen to keep their skin spot-free and healthy. Male skin too requires moisturization, exfoliation, cleansing, and sun protection.


Our skin is a living tissue. It is prone to damage from poor dietary habits, air pollution, frequent shaving, and aging. However, you will be relieved to learn that skincare products have a noticeable and lasting impact. Regular use of face creams can hydrate and soothe the skin to make it look the best.

Right from protecting the skin, boosting blood circulation, and loading the skin with fatty acids, vitamins, and active ingredients, to nourishing your skin, the proper skincare regimen can make your skin healthy and radiant. 

Well-nourished skin not only gives you a handsome look but protects you from the dehydrating effects of pollution, sun, weather, shaving, and air conditioning. (1) 

Nonetheless, these days best-formulated face creams not only enhance your complexion but also reduce the appearance of spots, lines, and wrinkles. The bottom line is that men need to look after their facial skin if they need healthy skin and look their best. (2)

Read - Which Is The Best Face Cream For Women?


Benefits Of Using Face Moisturiser For Men
A face moisturizer for men can make your face look firm and youthful. Even if you are a man who doesn't like to use anything on your face, just using a suitable face cream can prevent many skin issues that you encounter in the skin as you age. It also protects the skin from environmental toxins.

There are several face creams available in the market which nourish your skin without including any fragrance. A face moisturizer might not be a crucial part of the daily skincare routine, yet it can make the skin feel healthier, smoother, and comfortable. (3)

The best moisturizer retains face moisture which is in the skin already. It even helps to restore the moisture you lose daily because of washing or showering or the cold winter air. 

Moreover, men shave, and shaving is a kind of exfoliation for the skin. Moisturizing your skin after exfoliation soothes the skin and restores its defensive barrier. Here are a few other reasons why men need a good moisturizer for their skin.

1. Hydrate the dry skin
The best moisturizer for men can re-hydrate your dry skin and also remove dead skin. Whatever your skin type (normal or oily), you can always have rugged areas on the face. A replenishing cream can alleviate your rough skin and then make it silky or smooth.  (4)
2. For long-term benefits
Best Face Moisturisers are always packed with antioxidants that stimulate skin cell turnover. So, cells that are harmed during the time in the sunlight and other elements can repair themselves at a quick rate. (5)
3.  Soothe the itching skin
After shaving, your skin feels itchy and irritated. Scratching can seem like a better option, but it makes things worse. With a good face cream or a moisturizer, you can soothe itchy skin. For better results, moisturize your face right after you come out of the shower. When the warm water opens pores, the moisturizer could enter deeper. 
4. Postpones your skin aging process
Malnourished, dry, and unprotected skin is more likely to age quicker than adequately hydrated skin. A men's face moisturizer prevents wrinkles and fine lines from appearing. Did you know, proper hydration of the skin can delay the aging signs by 25 percent? 

5. For a natural glow
Everyone can achieve naturally radiant skin by taking good care of skin daily. Design a daily routine that includes cleansing, toning, and moisturizing. A good face moisturizer will ensure that your skin always has a healthy glow. 
Read - How To Get Glowing Skin Naturally? - 15 Home Remedies That Work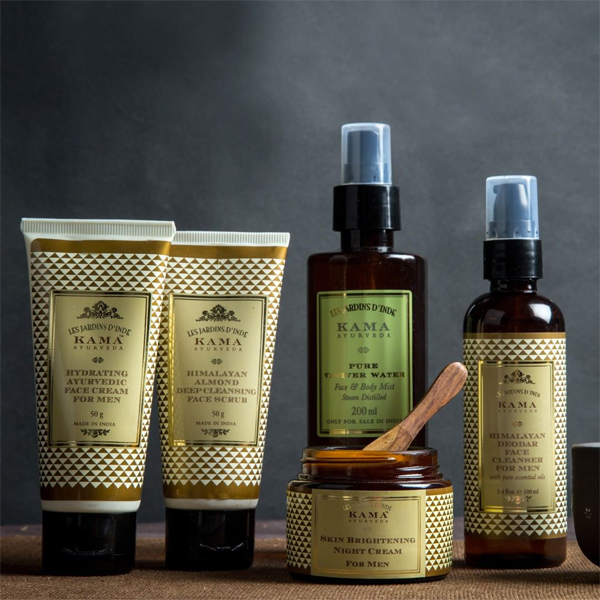 Men's facial products come in a mob of varieties, and the best one with ultimate benefits is the one you need to pick. With tons of face moisturizers available in the market, the crucial concern is, "Which face cream is best for men?" 
We made your job easy by finding the best face cream for men that works effectively to give all the above benefits. Scroll down to know the best face cream for men there is.
Best Face Cream For Men 
Both women and men could utilize similar moisturizers. But, since men's skin is quite different from women's, it is always reasonable to discover a face cream geared chiefly towards men.

Many men forget to look after their skin because of lack of time and stress. Kama Ayurveda's Hydrating Ayurvedic Face Cream could help men in maintaining their skin health. Application of this face cream before bedtime and shaving protects the skin from harmful pollutants and damage. 
Kama Ayurveda's Hydrating Ayurvedic Face Cream For Men
With a list of natural, clean ingredients and fragrance-free formula, Kama Ayurveda's Hydrating Ayurvedic Face Cream sits on top as the best face cream for men. Kama Ayurveda's Hydrating Ayurvedic Face Cream is an all-in-one healthy formula for every man eyeing natural and organic products. 

It's a well-blended organic mixture enriched with ayurvedic herbs to work effectively for every skin type, including acne-prone, dry, sensitive, and oily skin.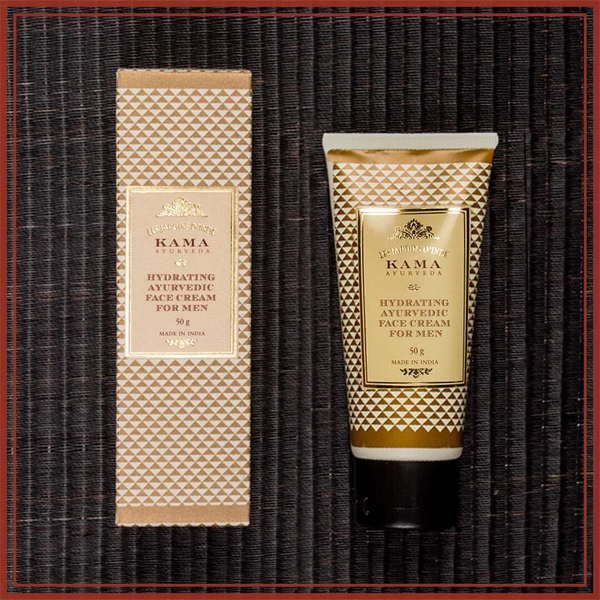 Kama Ayurveda's Hydrating Ayurvedic Face Cream is a non-greasy and fast-absorbing solution that can retain moisture for a well-nourished and healthy glow. It is also known to soothe and protect the skin from anti-aging factors. A pure blend of Sesame oil, Olive oil, Coconut oil, Aquilaria Agallocha, and Aloe Vera in the face cream offers calming and antiseptic properties. 

This effective formula is proven to repair damaged and dull skin. It prevents fine lines, blemishes, acne while deeply moisturizing the skin. This active blend even protects skin from harmful sun rays. Therefore, with just one buy, you will be awarded both moisturizer and sun care protection. 

Kama Ayurveda's Hydrating Ayurvedic Face Cream is also known to remove dark spots and whiten the skin. Besides, it controls oil production, improves your skin's elasticity, and offers a healthy, radiant look.

Benefits:

Smoothen and soften the skin
Equipped with a high moisturizing and hydrating power
Lighten skin tone
Reduce the signs of aging
Protect skin from sun damage
Repair damaged and dull skin
Nourish without greasiness
How to use it?
Since you have found a face cream that's best for men, it is now time to make sure you utilize it the right way for better results.  Here is how you do it - 

Moisturizing your face twice a day can compensate for your moisture loss because of evaporation. It keeps your skin feeling fresh and fantastic. At night, you can use Kama Ayurveda Skin Brightening Cream for men for the best benefits for your skin.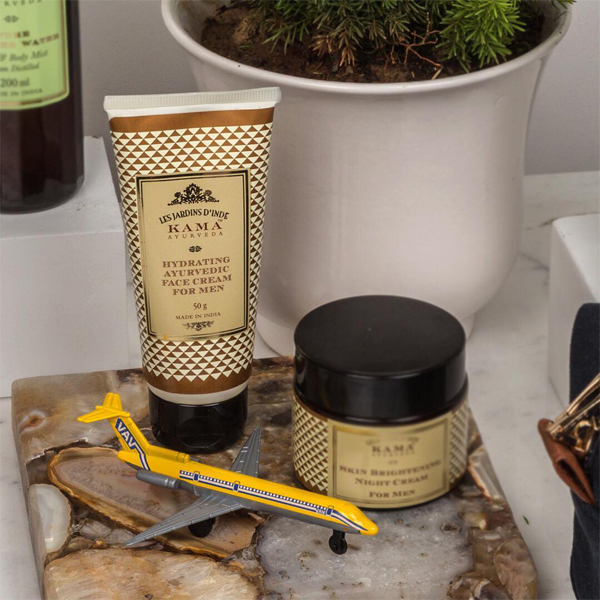 Top ingredients In Face Cream For Men and Their Benefits 
Do you know what matters most in skincare? It's the ingredients that are used to make the product. 
Do you feel like you need a dictionary every time you look at the label of any beauty product? Men who have just started turning their eyes towards skin care can be confused easily and find it hard to choose products with the right ingredients. (6) 
It's essential to steer clear of harmful chemicals. For instance, Kama Ayurveda products are free from parabens, phthalates, talc, triclosan, and GMOs (which are known to harm skin).
The ingredients of the face cream you use show a considerable impact. Here are the top ingredients used in the best face cream for men - Kama Ayurveda's Hydrating Ayurvedic Face Cream.
1.Coconut oil
After being labeled as a "bad" saturated fat for many years, coconut oil is now enjoying a new rejuvenation in the public preference, as researchers named it the "magic" food with fat-burning, anti-fungal, and antibacterial properties. If you have never looked at coconut oil, now it's the time to do it. Coconut oil nourishes and hydrates men's skin. It is best to protect and nourish hair and lips and lessen fine lines and wrinkles. (7)

Men's skin needs coconut oil to look best. A new study found that coconut oil is twice as effective as other mineral oil to treat eczema, atopic dermatitis, and other chronic skin conditions which cause severe itching and a red rash. That makes it the best option for men to get moisturized, healthy skin without clogging pores or causing any rashes. By the way, coconut oil makes your beard grow evenly without the razor bumps.

Read - How To Use Coconut Oil for Face - 10 Beauty Hacks
2. Sesame seeds
Sesame seeds or til is an indispensable culinary part of Indian foods since time immemorial. Sesame seeds are beneficial foods, also known to work wonders for the skin by keeping it supple and soft. 

The oil extracted via sesame seeds is filled with iron, phosphorus, calcium  omega-6, vitamin B, and vitamin E. These are known to enhance the skin's beauty. With its natural SPF properties, sesame protects your skin from the sun's UV rays and free radicals. (8)

Especially men who are looking for both moisturizing and sun care protection properties in one can find their mate through "Sesame seeds." Along with bringing blood, Sesame seeds contain potent antioxidants and have antiviral and antibacterial properties. These properties help reverse the signs of aging to give men the youthful and fresh skin they deserve.

3. Olive oil
Many decades ago, Olive trees were planted in the Mediterranean basin for their numerous benefits to skin and health. Olive oil extracted from the olive trees has been a beauty mainstay for many years. It is rich in polyphenols and anti-aging omega-3. 

Men's skin is generally rougher and more rigid than women's. That's where olive oil can be a pro to moisturize and soften both your skin and beard. Itching caused by the beard, shaving, or other skin issues can be easily relieved with olive oil quickly. (9)

Along with the fatty acids and antioxidants, olive oil is known for its skin-healing vitamin K that helps to soften, hydrate, and plump men's skin. It even acts as a natural anti-microbial and anti-inflammatory agent that shows excellent results for acne-prone skin.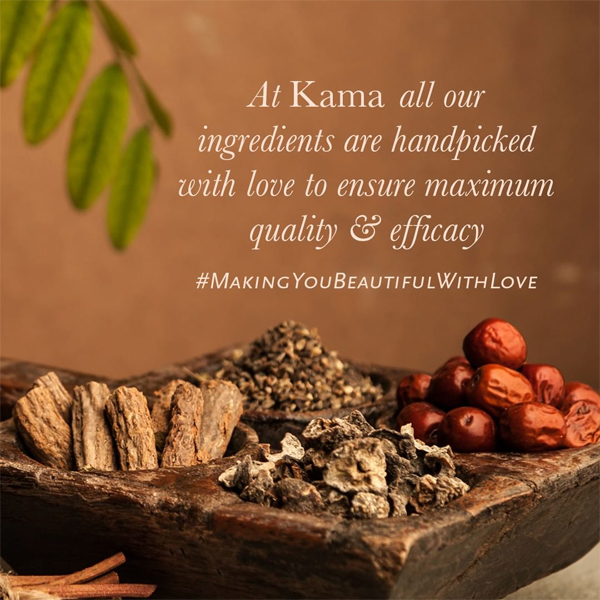 4. Aquilaria Agallocha
Aquilaria Agallocha is known for its cute nicknames "Agaru" and "Oud". Oud is commonly referred to as Agarwood and  Aloeswood. Agarwood oil is a great natural ingredient to nourish skin from deep inside. Agaru helps in gout, asthma,  rheumatoid arthritis. 

When applied externally, it boosts skin glow and lessens the appearance of dark spots, fine lines, and wrinkles. Using Agaru oil with coconut oil can manage skin conditions such as eczema. (10)
As men's skin is always affected by pollution and dirt from outside, Aquilaria Agallocha oil's antibacterial and anti-inflammatory properties can help avoid bacteria present in the dirt and pollution from entering the skin. This wonder oil can also notably decrease puffiness, irritation, swelling, and redness.


Selecting a Face Cream Based On Your Skin Type
The main key factor that you should look at before you hit that "buy it now" button is finding your skin type. 

Every skin type is different, and it is an absolute necessity to grab a skincare product that suits your skin well. There are three popular methods to find whether you have dry, oily, or combination skin.
1. Bare-Face Method 
This is the most popular and easiest way to find your skin type.

Wash your face by using a mild cleanser, then pat dry with a towel. Leave it for 30 minutes straight without adding any skincare products. After 30 minutes, examine your skin in the mirror.

If your skin shines across your nose, cheeks, and forehead, then you have oily skin.
If you look blotchy and feel tight, then you have dry skin.
If you notice any unbalanced mix of both oily and dry areas on the face, you have combination skin or normal skin.
If you find any redness with an itchy feeling, then you have sensitive skin.
2.  Blotting Sheet Method 
Get blotting papers from the local store. Clean your face by using a gentle cleanser. After an hour, press blotting paper on the face. The sheets shortly absorb oil on your skin.
Then hold the sheet up to the light and look carefully at the paper.

If you find a large amount of oil, then you have oily skin.
If there is barely oil present, then you have dry skin.
If you found a small amount of oil on the sheet, then you have combination skin. 
3. Ask an expert 
If you have tried any of the methods above and still aren't sure about the skin type, you should visit a dermatologist and confirm the skin type. 

To better understand your skincare needs, you can book a free consultation with Kama Ayurveda beauty experts. 

After finding your type, it is time to know which face cream is better for your skin type. Mostly, men skin types fall into four buckets:

Sensitive: If your aftershave products cause stinging or redness, or if few lotions make you itchy. Then it is better to steer away from those fragranced moisturizers that contain alcohol and irritate sensitive skin.

Also, be cautious about Vitamin E that can result in allergic reactions. The main mantra should always be " less is more".  What you want on the label of your face cream are natural ingredients that glow and soothe easily irritated skin.
Oily: For oily skin, which is known for visible pores, acne, blemishes, noticeable shine - a lightweight and nongreasy formula can do wonders on your skin. Always make sure not to make your skin look extremely shiny. Instead, it would help if you had a bit of 'dryness' that compliments oily skin and offers you an even-toned look.
Dry:  Opposite to the oily skin, you need heavy cream. You need a face cream that's packed with complimentary moisturizing elements. The hydrating properties of a face cream lessen flaking and fill hairline wrinkles that appear on the dry skin.
Normal:  If you have dry skin in some areas and are oily in some areas but aren't overly sensitive to the products, consider moderate on both sides of the spectrum. For normal skin,  an all-in-one face cream can be the best option for those who need it simply for treating patches of dry and oily skin without worsening it. 
Natural face creams like Kama Ayurveda's Hydrating Ayurvedic Face Cream and  Kama Ayurveda Skin Brightening Cream for men are suitable for all the mentioned skin types. 
Face Care Tips For Men
It's not a secret that skincare is a daunting process for men. But, if you want skin that looks healthy and good, taking care of your skin is fundamental. Here are some practical, achievable, and effective skincare tips for men to get the soft and glowing skin they deserve. 
1.Try not to use soap on the face
You care for every organ within the body, but you ignore taking care of the largest organ – skin? An adult has 8 pounds of skin, so ensure it's healthy. Maintaining moisture levels is the best way to keep the skin healthy. 

Drink enough water as every man needs to drink 10 cups of water for the toxins to get flushed out of the body easily. If the skin still feels dry, apply a hydrating lotion after showering.
Washing your face with a gentle cleanser leaves you in good shape and doesn't leave any soap scum on the skin, unlike the soaps.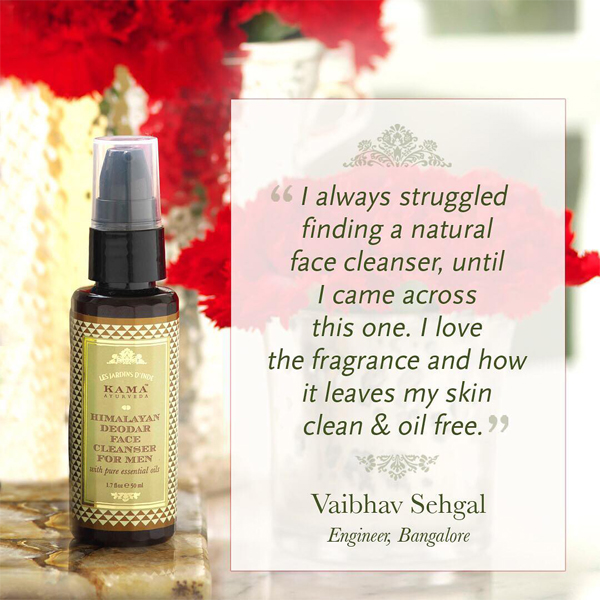 2. Hydration is primary
You care for every organ within the body, but you ignore taking care of the largest organ – skin? An adult has 8 pounds of skin, so ensure it's healthy. Maintaining moisture levels is the best way to maintain the skin's health. Drink water, every man needs to drink 10 cups of water for the toxins to get flushed out of the body easily. If the skin still feels dry, apply a hydrating lotion after showering.

Read - How To Hydrate Skin Naturally - 7 Quick Tips


3. Apply aftershave cream or a moisturizer


Straight razors prompt nicks, leaving you unarmed to infections and germs.  As straight razors are less common now, aftershave has outlasted its efficacy. There are aftershave creams accessible without any alcohol base to moisturize skin. 

You can go with a moisturizer, too, after a shave. Since shaving can exfoliate the skin, it is always essential to apply a good face moisturizer or an aftershave cream right after you are done with shaving.

4. Maintain a good shaving routine
Using an exfoliating face wash before shaving can set up your skin for an easy and smooth shave. A single edge can offer you a smooth shave, mainly if you are prone to bumps. 

Razors with many blades shave too close for ease and cut the hair under the skin surface. That maximizes the likelihood that curly hair can curl back into your skin before breaking the skin surface.

Before you shave, wet the hair and skin to soften it. Apply moisturizing shaving cream, then shave in the way of your hair growth. Rinse after every swipe and change the blade after 5-7 shaves to lessen the irritation. 
5. Always apply sunscreen
Another vital thing that men mainly ignore is sunscreen. You should apply sunscreen with at least SPF 30, even if you are indoors, even though it is winter. You need to have sunscreen on all 365 days a year. Ensure you apply your sunscreen fifteen minutes before going out so it can absorb better.

Read - Which Sunscreen Lotion Is Best For You?

6. Have a better snack
Want your skin to get nourished naturally? Then nothing can be better than including the best food in your diet.  Have a few almonds daily that give the boost to the skin it needs. 

Almonds and other foods such as tuna and salmon contain high amounts of crucial fatty acids that can stop the inflammation, for fine lines and blotchiness. Try to reduce the intake of sodium, salty snacks, I know they are yummy, but they also contribute to much puffiness.
References -