Great skin is a result of good skincare habits and a healthy lifestyle. 

While it's essential to follow a good skin care routine, it isn't complete in itself. The 5,000 year-old-science of Ayurveda emphasizes on the mantra 'True beauty comes from within'.     
For this reason, Ayurvedic skin care routine focuses on balancing the whole body and supporting the digestive system with a healthy diet while treating each individual according to her specific dosha.
Sounds difficult? It isn't. 
Once you become intuitively tuned to understand what your skin needs, you'll be able to approach skin care and beauty in a holistic manner. Below, we've broken down the key elements of chalking out the perfect skin care routine for yourself. 
Let's get started.
THE BASICS OF SKIN CARE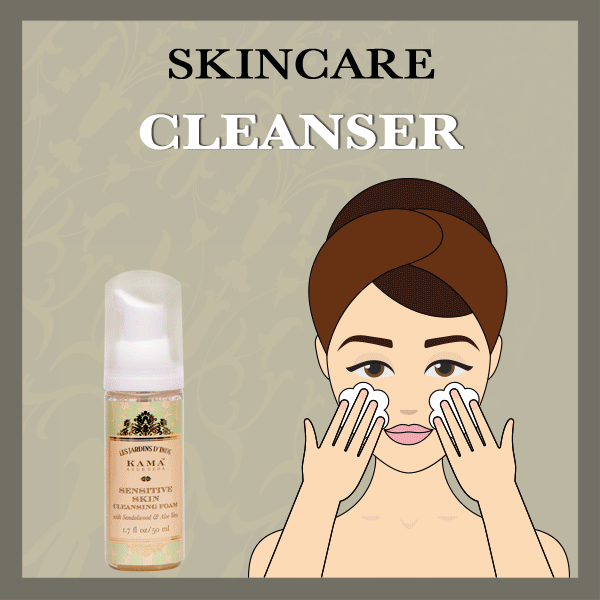 Your skin care routine essentially consists of these three basic steps.
Cleansing - Removing impurities from the skin
Toning - Balancing the skin
Moisturizing - Hydrating the skin
The main objective of following a skin care routine is simply to reveal your best natural skin and a glowing complexion. 
Following this basic CTM routine helps you understand how your skin's changing with time. Sometimes, you might need to tweak the products that you're using based on how your skin is responding to the current weather conditions. 
Think of these steps as a way to revisit your skin twice a day to establish a relationship with it.
At Kama Ayurveda, we believe natural and organic products are the best skincare treatments that we can give to our skin. Regular exfoliation combined with a regime of CTM (Cleansing, Toning & Moisturizing) can take you a long way in your skincare journey.
PATIENCE IS THE KEY TO A GREAT SKIN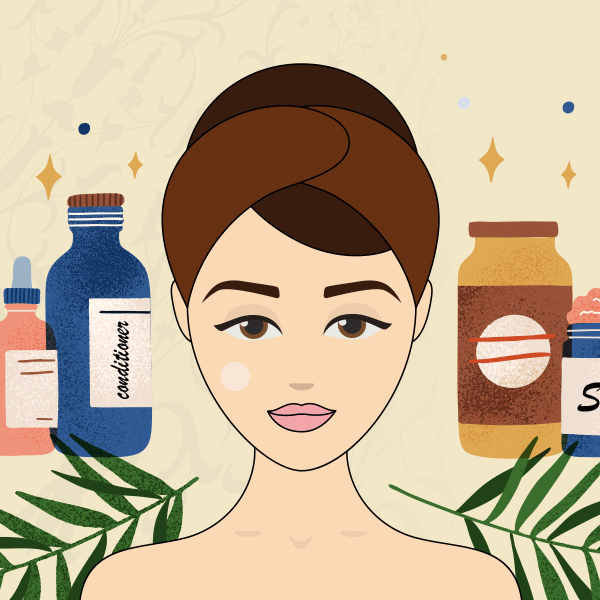 How many times have you decided to be regular with your CTM only to give up in a week or so? Don't worry, we've all been there.
But remember, all good things take time. There's no magical product that can restore your skin's glow and health quickly. 
The entire point of creating a skin care regime for yourself is to stick to it long enough to see results and changes. So, don't forget all about taking care of your skin until you've got an important event to attend. 
Because of so m any options available in the market, it's important to remember a few things while choosing products for your skin.
A lot of skin care brands promise instant solutions to your problems. Harsh chemicals used in these instant solutions do more harm than good in the longer run.
Organic and natural skincare products are the most gentle on the skin. Choose products with minimum possible side-effects and no chemicals.
Results only come with consistent use. Use a product regularly for at least six weeks to observe changes. 
As an exception, discontinue the product if you experience skin breakouts, rashes or irritation.
As a conscious customer, opt for organic and vegan products that are not tested on animals and are cruelty free. Products that cause harm to the planet are not going to be good for your skin, either.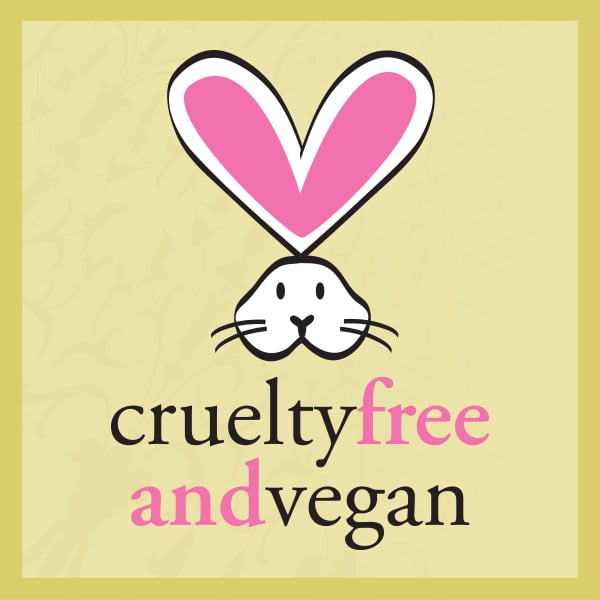 #1 CLEANSING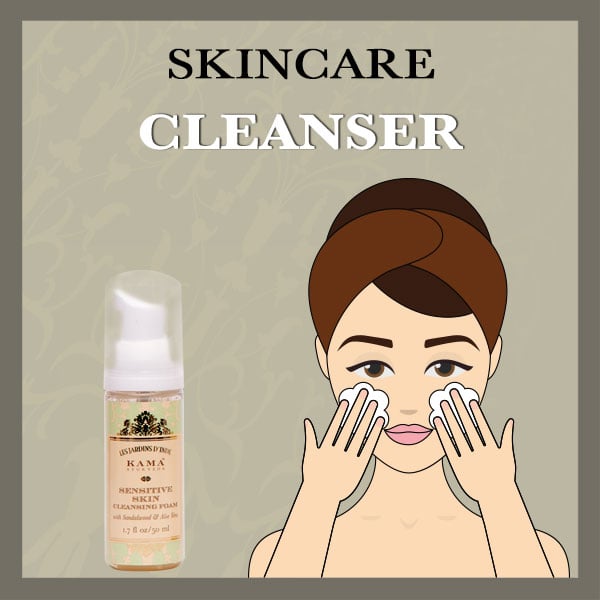 Cleansing your skin twice or thrice a day is essential to remove the environmental pollutants and dirt that clog the pores. When the skin isn't cleaned well, the chances of breakouts increase.
Cleansing the skin is pretty-straight-forward. However, finding a suitable cleanser for your skin isn't.
We recommend using natural cleansers that gently remove impurities and make-up without stripping the skin of its natural oils. It helps to know your skin type and your Ayurvedic dosha.
Below, we've listed some of the best Ayurvedic ingredients for cleansing that you should look for in a cleanser.
Aloe Vera - Referred to as the miracle plant in Ayurveda, its cooling and gently hydrating properties make it a wonderful addition to any skin regime.


 Neem - Ayurveda refers to Neem asSarva Roga Nivarini ('Universal Cure of Ailments'). It's calming for acne-prone skin.
 Tulsi - Tulsi (Holy Basil), is the 'Queen of Herbs' known for its cleansing and toning properties.


4. Sandalwood - Ayurveda says that Sandalwood induces Saumanasya Janana ('Mental Coherence & Placidity'). It is a powerful antiseptic, that curbs excessive sebaceous gland activity and cools inflamed skin.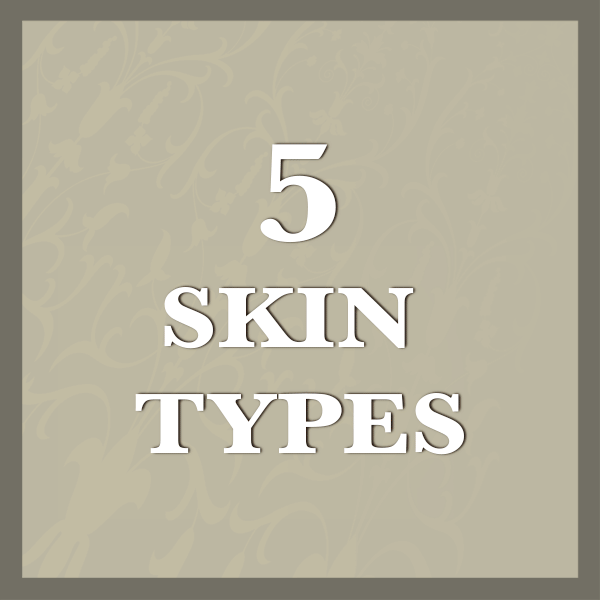 | | | | |
| --- | --- | --- | --- |
| Skin Type | Recomm. Cleanser by Kama | What it does | Key Ingr. |
| Oily and Acne-Prone | Anti-Acne Cleansing Foam | It dries out active acne, unclogs and tightens skin pores, and reduces the frequency of breakouts. | Neem, Tulsi and Tea Tree Oil |
| Dry and Sensitive Skin | Sensitive Skin Cleansing Foam or Mridul Soap-Free Cleanser | Calms distressed skin, removes impurities and excess oils without stripping away skin's essential moisture. | Sandalwood, Aloe Vera, and Calendula |
| Any Skin Type | Rose Jasmine Face Cleanser | A gentle foaming cleanser with a rich blend of Ayurvedic ingredients to effectively cleanse and lift away makeup and impurities. | Aloe Vera, Jojoba Oil, Essential Oils of Rose and Jasmine |
#2 TONING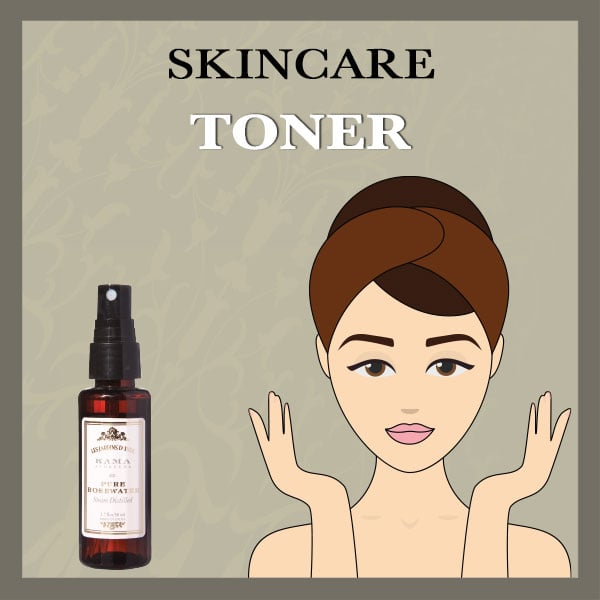 | | | |
| --- | --- | --- |
| Skin Type | Recommended Toner by Kama Ayurveda | What it does |
| Acne-Prone Skin | Pure Rose Water | Tightens and clarifies pores, while removing residual makeup/dust traces from the skin's surface. |
| Oily and Irritated skin | Pure Lavender Water | Has a calming action makes it perfect for sensitive, irritated skin prone to rashes and allergies.  |
| For Men and Combination Type Skin | Pure Vetiver Water | Lends a cooling sensation to the skin. It also acts like a natural astringent and a face mist spray that hydrates the skin and balances its pH level. |
| Dry and Sensitive Skin | Pure Mogra Water | Suitable skin toner for sensitive skin with anti-inflammatory properties that relieve stressed skin and balance the pH level of the skin. |
#3 MOISTURISING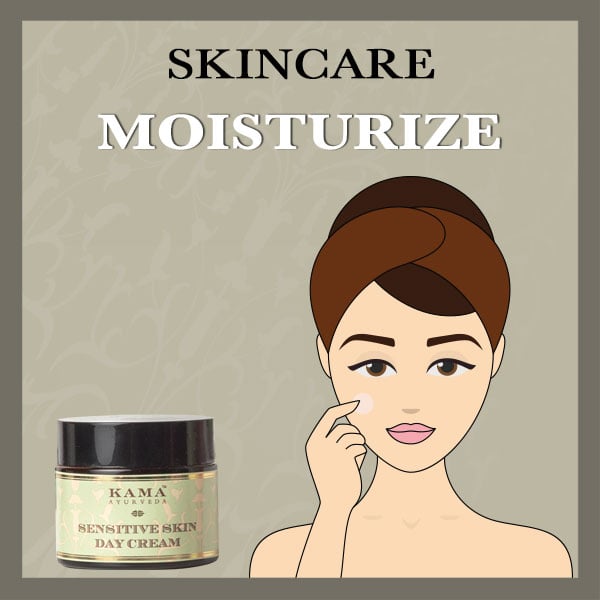 The main purpose of using a moisturizer is to hydrate and nourish the skin.
Regular cleansing of face and exposure to the environment results in the skin losing its natural moisture. The skin's natural ability to retain moisture also reduces as we age. Therefore, it's recommended to use moisturizer as part of your skin care routine throughout the year.
Ayurveda recommends using natural ingredients for skin moisturization. The requirements of the skin vary according to the skin type. Look for Ayurvedic ingredients like Coconut Milk, Sesame Oil, Essential Oils in your face moisturizers. Shea Butter and Kokum Butter are recommended for moisturizing the body.
DO YOU NEED A SEPARATE NIGHT CREAM?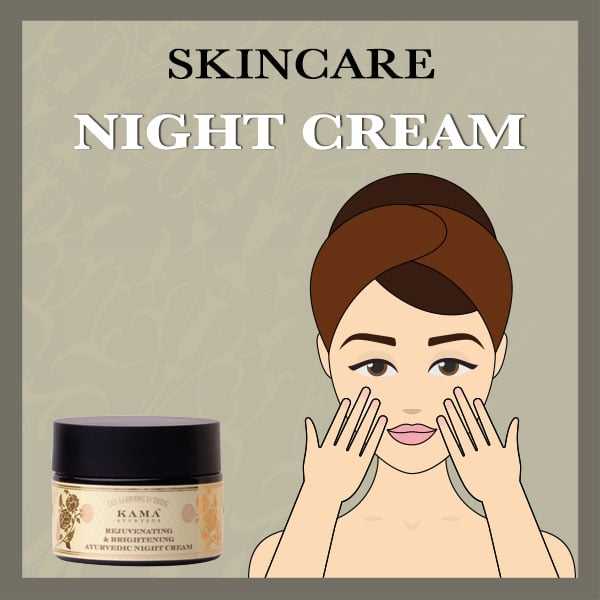 CTM needs to be your morning and night skin care routine. However, your day and night moisturizer has different functions.
Your day cream is ideally of lighter consistency and provides your skin with adequate protection from environmental stressors and the radiation from the sun. It also prevents skin breakouts and gives a healthy glow to the skin.
Your skin's requirements vary from season to season. You can actually ditch your day cream for sunscreen in summers. But don't forget your night cream as it repairs the skin after a tiring day out in the sun. We've combined some of our best skin care tips for summer in this blog.
#4 PROTECTING AGAINST THE SUN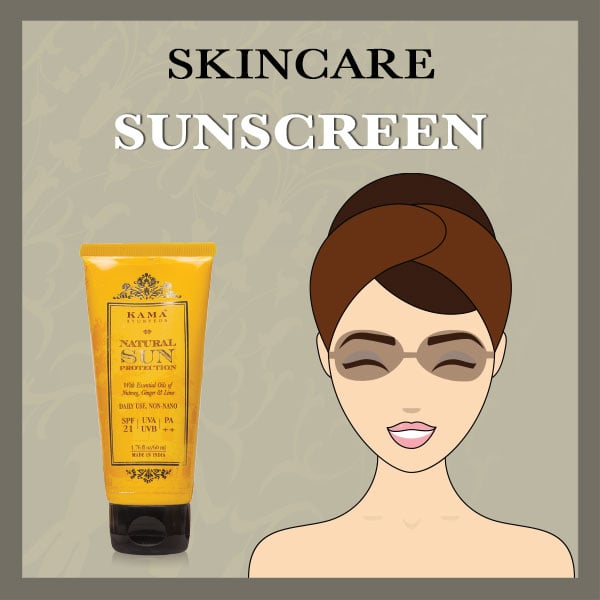 An extension of moisturizing, sunscreen is considered the most important skin care product for use all round-year. By using sun protection daily, you can minimize the appearance of fine lines and imperfections in skin texture. 
WHAT TO LOOK FOR IN A SUNSCREEN?
First of all, it's important to note that there are two kinds of sun radiations namely UVA and UVB rays. A broad-spectrum sunscreen is able to block out both types of radiation. For this, ingredients like Zinc Oxide and Titanium Dioxide are used. Both of them are non-comedogenic and suitable for sensitive as well as acne-prone skin.
Zinc Oxide is a naturally occurring mineral and one of the safest skin-protecting ingredients against the harmful effects of ultraviolet (UV) rays. It filters out both UVA and UVB rays, thus forming a shield that keeps UV radiation from penetrating the skin and causing cell damage. 
Titanium Dioxide is another active mineral ingredient that works naturally to block the sun's rays. It protects skin from UVB radiation and is considered to have no risk of skin sensitivity.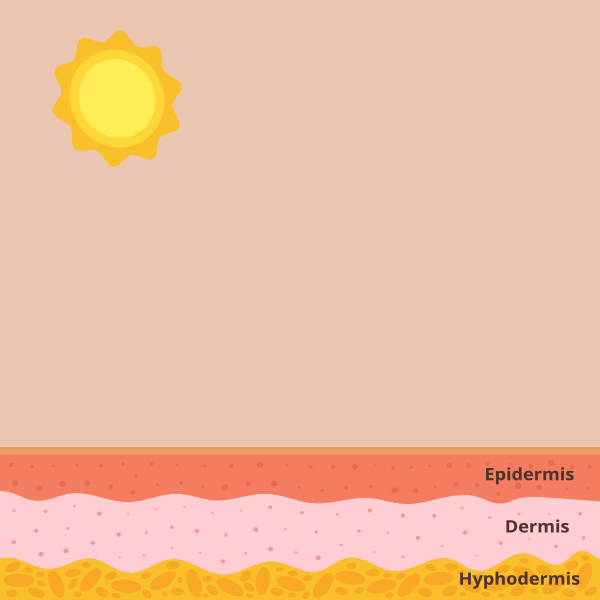 Sunscreen that contains these ingredients is called physical blocker while the sunscreens with ingredients like oxybenzone and octinoxate are called chemical blockers. 
Note - Chemical blockers can irritate and cause skin reactions for those with sensitive skin, while all-natural physical blockers are completely safe for the skin.

HOW AND WHEN TO APPLY SUNSCREEN?
As a rule of thumb, apply sunscreen 30 minutes before sun exposure, and reapply at least every two hours. Physical sun blockers like Kama Ayurveda's Natural Sun Protection can be applied last in your skin care regimen, but before applying any make-up. It's a natural broad-spectrum sunscreen that suits all skin types. 
Sunscreen is the most crucial part of your skin care routine and should be used every day to maintain healthy skin.
Noticed your skin getting tanned lately? We've got some simple remedies for you to undo the damage. 

MOVING BEYOND THE BASICS
Now that we've discussed the basics, let's move on to understanding what else you should add to your skin care routine. These additions are based on your skin type. For instance, if you've large pores, face packs are recommended for you. And if your skin is dry, then regular oil massage is useful.  
Let's explore a few great additions to your skincare routine.

#5 AYURVEDIC TREATMENTS AND FACIAL OILS/SERUMS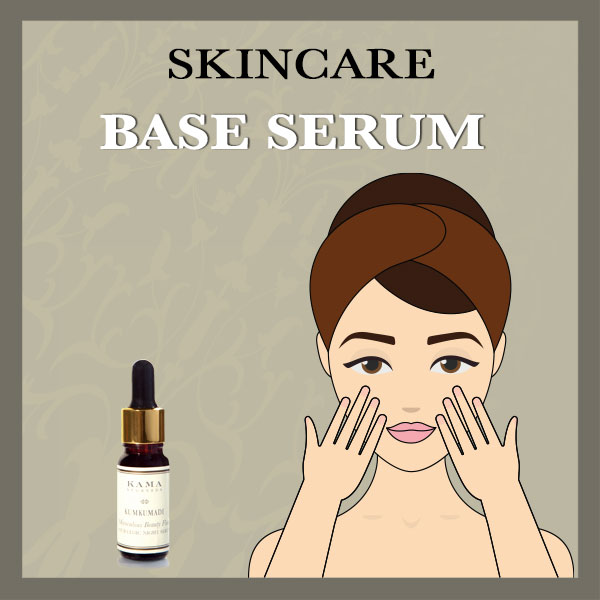 The age-old science of Ayurveda focusses on herbal oils as a means for treating various skincare issues. When applied on the skin, these naturally-sourced healers cure skin problems, keep the skin pores in check and locks in moisture for a healthy glow.
WHAT IS A FACE OIL OR FACE SERUM?
In recent times, face oils and face serums have become popular as an alternative or addition to using creams. We recommend facial oils made from Ayurvedic herbs as they are 100% natural. 
Below are some popular Ayurvedic herbal oils that are recommended for use as face oils. 

Kumkumadi Oil - The legendary Kumkumadi Oil is prescribed for dull, pigmented, damaged skin. It has special qualities that help skin look young, radiant, and healthy.
READ - KUMKUMADI OIL - ULTIMATE GUIDE TO THE MIRACLE BEAUTY OIL
Neem Oil - Rich in antioxidants, Neem Oil has been used for centuries for treating both skin disorders. Its antibacterial action treats skin issues such as acne, rashes, hyper-pigmentation, burns, and abrasions while protecting and moisturizing the skin.
READ - HOW TO USE NEEM OIL FOR SKIN?
WHAT ARE AYURVEDIC SKIN TREATMENTS?
Unlike facial oils/serums, Ayurvedic skin treatments are herbal oils that can be applied all over the body. The various types of Ayurvedic body treatment oils include brightening natural oils and de-tanning oils. 
These oils can be massaged all over the body as the Ayurvedic practice of Abhyanga, also known as self-massage. Some of the popular Ayurvedic body oils are -

1. Coconut Oil - is a natural conditioner for dry and sensitive skin.


2. Almond Oil - is an excellent emollient for dry, flaky, irritated skin. It is also a pure and natural dry skin serum that smoothens the skin from head to toe.


3. Nalpamaradi Oil - is a powerful de-tanning treatment that repairs pigmentation and treats sun-damaged skin.


4. Sesame Oil - repairs skin damage caused by harmful UV rays and can also be used as a massage oil. It absorbs easily to skin.
#6 EXFOLIATION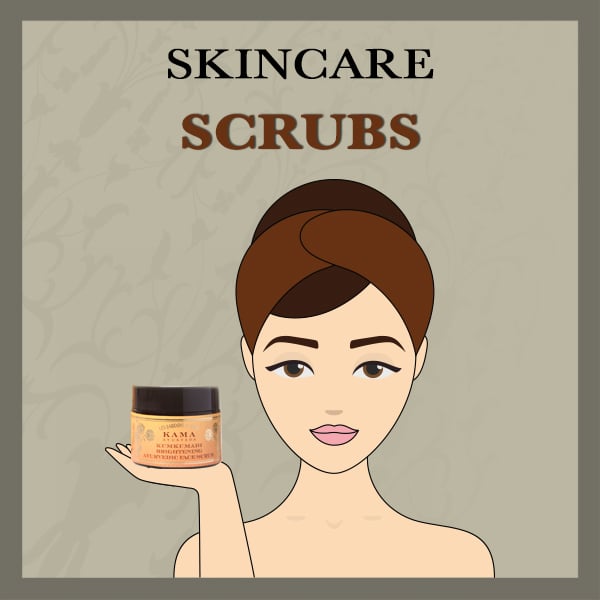 Exfoliation is simply a process of removing the dead cells from your skin's surface. Irrespective of your skin type, you'll benefit from exfoliation as it removes the build-up of dead cells that cause skin dullness. 
Wondering how often should you exfoliate? Well, that depends on your skin type and the face scrub that you choose. 
Ayurvedic scrubs such as Ubtan are 100% percent natural and contain ingredients like oatmeal and chickpea flour that are gentle on the skin. If you're using such Ayurvedic scrubs for your face and body, you can even use them regularly. When using other scrubs, exfoliate once or twice a week.
Unlike the chemical scrubs that have plastic microbeads, herbal face scrubs are made with natural substances that give an exfoliating effect to the skin. Almonds, Oatmeal, and Chickpea flour are some ingredients to look for in natural scrubs.


#7 FACE MASKS AND FACE PACKS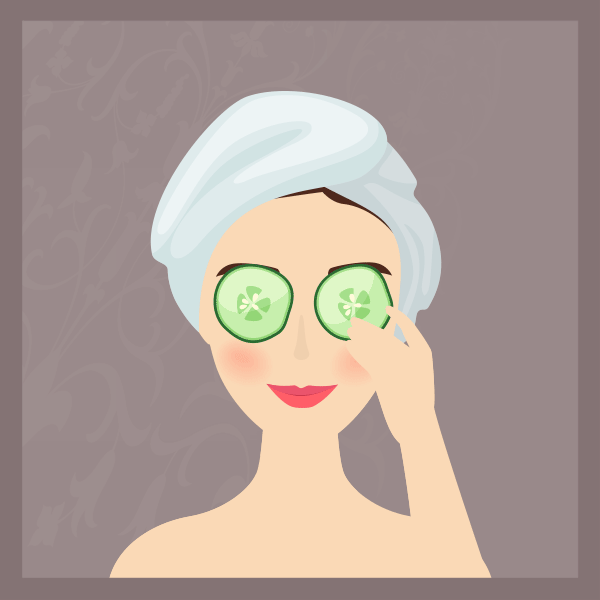 Our skin has to fight various environmental damages like pollution and sun exposure on a regular basis. Which is why, since ancient times, women have been using natural masks to deep clean the pores and exfoliate the skin to achieve a healthy glow. 
These face masks are skin remedies that work wonders in keeping acne, pigmentation, aging, and other concerns at bay. By using natural masks regularly, you can heal your skin and combat stubborn skin issues.
Ayurvedic herbal face masks can be used weekly. They absorb oil and can have a mild exfoliating effect — so they're great for oily areas. Some ingredients to look for in your natural face masks are - Multani Mitti, Ashwagandha, Sandalwood, and Turmeric
Face packs are also recommended as a part of bridal skincare regimen a month prior to the wedding. They soothe the skin and help in relaxation. 
#8 LIP CARE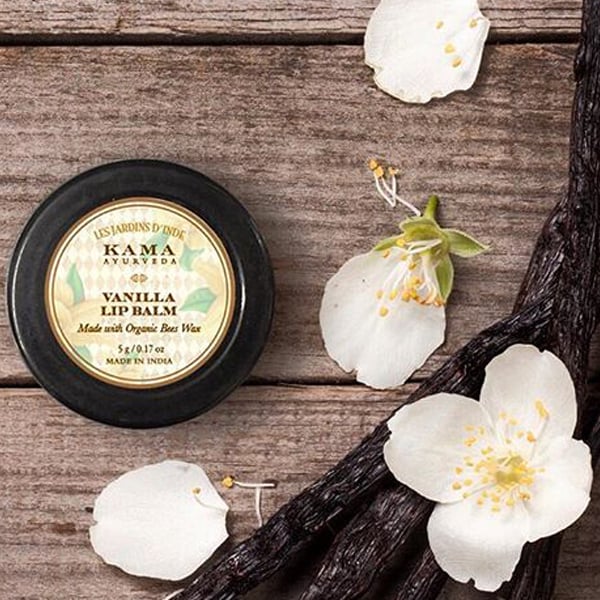 Taking care of your lips is an extension of skin care. So, don't forget to include it in your skincare routine.
The most common problem that our lips go through is dryness and chapping. Sometimes, the build-up of dead cells on the lips leads to lips losing their natural colour. This causes dark and pigmented lips.
The ancient science of Ayurveda suggests a Vata-balancing diet and other natural ways to hydrate, moisturise and nourish the lips. It's recommended to use a natural lip balms and lip scrubs regularly to maintain beautiful and healthy lips.

#9 AYURVEDIC DIET FOR GLOWING SKIN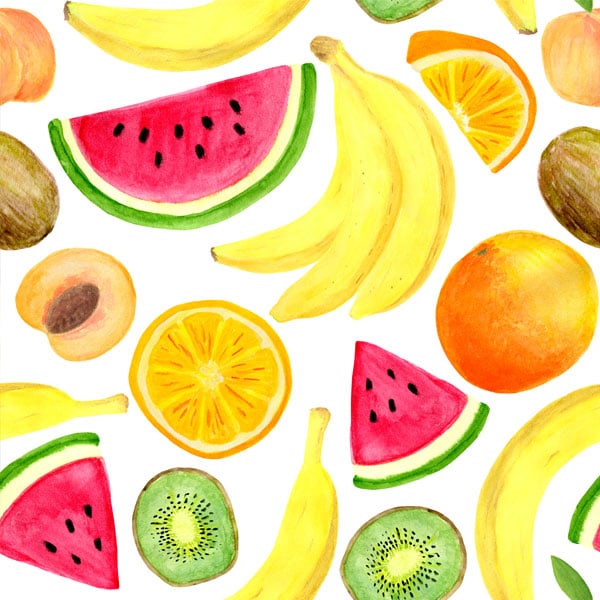 As we mentioned at the beginning of the blog, Ayurveda emphasizes on the importance of a good diet to bring out that healthy glow. What you eat and how you feel shows on your skin.
So, as the last part of your skin care routine, we're listing some food items to include in your diet for a glowing skin.
1. Water - This one's a no brainer. You definitely need to have at least 2 litres of water if you want your skin to remain hydrated.
2. Fruits - Having seasonal fruits provide your skin with its dose of nutrients like Vitamins and antioxidants. Want a clean skin with no blemishes? Start eating fruits regularly.
3. Green Leafy Vegetables - Full of antioxidants and essential nutrients, green leafy vegetables like broccoli, spinach, lettuce are great for your skin.
4. Yogurt - A lot of skin ailments are caused by stomach issues. Having yogurt everyday is the easiest way to maintain a healthy gut and combat these issues.
5. Green Tea - Green tea is known to protect your skin from signs of ageing. It's loaded with catechins which help in improving overall health of the skin.
It's important to stick to healthy food choices and avoid extra sugary, processed and fatty foods that are known for causing skin problems. In addition, make sure you exercise everyday to improve your overall gut health and bring out a healthy flow on your skin.
SKIN CARE ROUTINE - CONCLUSION
In this blog, we've talked about the different elements of a skin care routine and their functions for your skin. We've also discussed how taking care of your gut and your stress levels is just as important as using the right products on your skin. 
Now, you're ready to build your own skin care routine by picking up the elements and products that are most essential for you. So, get started!