If you live in a tropical country, you'll know how hard it is to maintain a bright and even complexion.
Even with the regular application of sunscreen, the skin gets tanned and damaged over time. Not only this, prolonged exposure to the sun even causes skin problems like hyperpigmentation, dark spots and dullness.
On the lookout for a product to reverse this damage? You'll be amazed to know that the ancient science of Ayurveda already found the solution centuries back!
To heal the skin from the wrath of the sun, Ayurveda recommends regular massage with a special herbal oil known as Nalpamaradi Thailam. Described as a natural skin illuminator in Ayurveda, Nalpamaradi Thailam is a miracle oil that lightens the complexion and removes tan without causing any harm to the skin.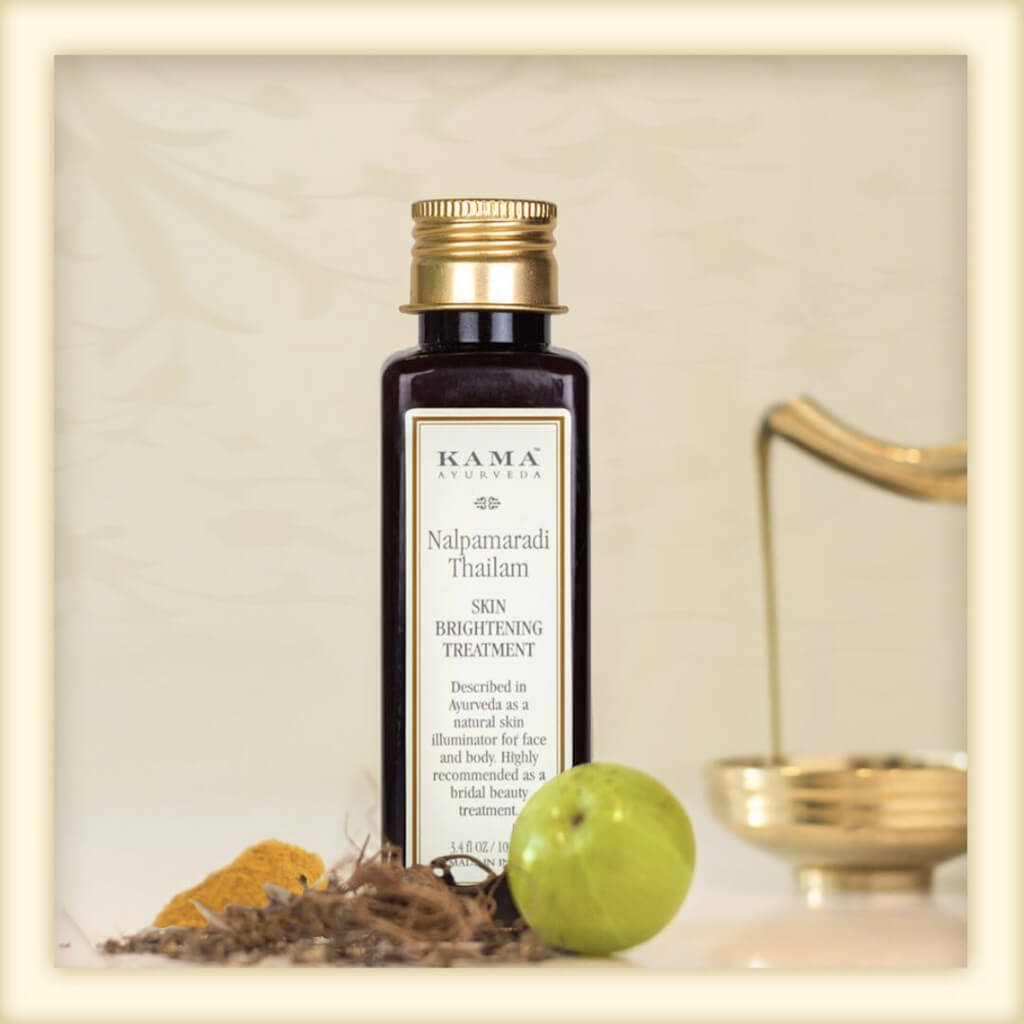 In this article, we'll explore all about Nalpamaradi Oil and understand how it's used to treat skin care problems and remove tan.
What is Nalpamaradi Thailam?
Nalpamaradi Thailam is an Ayurvedic herbal oil made from the stem barks of Ficus trees. These barks are effective in curing various skin diseases, ulcers, and nervous disorders.

For those of you who read about Ficus trees for the first time, you're more familiar with this tree than you think. Ficus religiosa is the botanical name of the popular Peepal tree.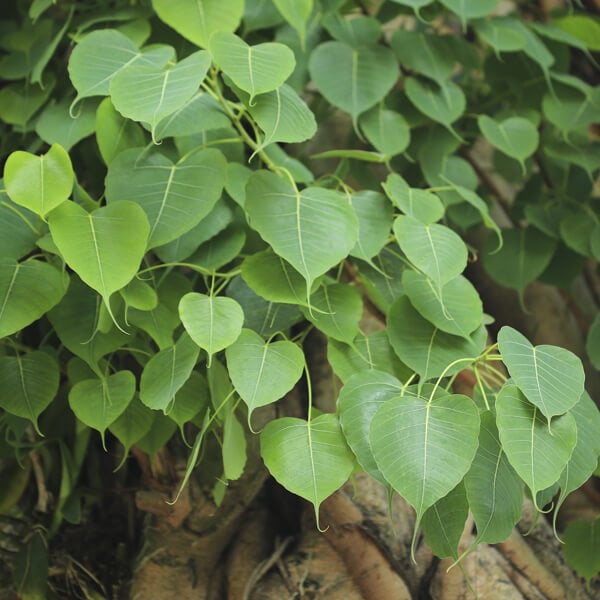 For the preparation of Nalpamaradi Oil, barks from four different species of Ficus trees are used. The familiar and popular Banyan (Ficus Benghalensis) is a relative of the Peepal, as are Gular/Dumar (Ficus racemosa), Pukar (Ficus benjamina) and Kamarup (Ficus microcarpa).

These four Ficus species, namely Religiosa, Bengalensis, Microcarpa, and Racemosa together are known as Nalpamara in Ayurveda. [1] Nalpamara is the key ingredient of Nalpamaradi Thailam.

In addition to Nalpamara, Nalpamaradi Oil also has other powerful Ayurvedic ingredients that brighten the complexion to reveal a healthy glowing natural skin. Some of these ingredients are Vetiver, Turmeric, and Amla. Sesame oil is used as the base oil to facilitate adsorption of these ingredients into the skin.

Nalpamaradi Tailam is a powerful skin brightening and de-tanning treatment that can be used on both the face and body. It not only lightens the complexion but also softens and repairs the skin.

Other than removing tan, Nalpamaradi Oil has many other uses. Let's look at a few of them.

Nalpamaradi Thailam Uses
The uses of Nalpamaradi Oil vary based on its composition. The Nalpamaradi Thailam Skin Brightening Treatment by Kama Ayurveda has the following uses.
● It lightens the complexion of the skin and removes tan
● It repairs pigmentation, uneven skin tone and marks
● It hydrates and nourishes the skin
● It heals the skin from within, relieving it from any environmental damage
Nalpamaradi Thailam and Kumkumadi Tailam  are also recommended as a part of bridal beauty regimen for brightening the overall complexion.
How To Use Nalpamaradi Thailam
The procedure to use Nalpamaradi Oil varies according to its composition. To use Nalpamaradi Thailam Skin Brightening Treatment by Kama Ayurveda, the following steps should be followed.
1. Post cleaning your face and body, pour some oil on your palm.
2. Gently massage on your face in a circular motion until fully absorbed.
3. Gently massage on your body in brisk upward and downward strokes until fully absorbed.
4. Leave it on for 30 minutes.
it's recommended to use Kama Ayurveda's Mridul Soap Free Face Cleanser when using Nalpamaradi Thailam for face and Ubtan Soap Free Body Cleanserwhen using the oil on the body.
Nalpamaradi Thailam Benefits and Ingredients
Let's now explore the key benefits of Nalpamaradi Thailam and the importance of its ingredients -

As mentioned before, the key ingredient of Nalpamaradi Oil is the bark from Ficus Trees. If you grew up in India, chances are you've heard about the significance of Peepal Tree. In the ancient times, every household was encouraged to plant peepal tree in their backyard. 

Significance of Peepal Tree Bark

Not only is Peepal Tree considered extremely auspicious, but it also has immense health benefits. It is a true 'Tree of Life' in the scientific sense.

Did you know that the bark of Peepal tree is an excellent remedy for skin related ailments. The ash from bark of peepal tree is directly applied to the skin to treat conditions like Eczema. 

The bark of the Peepal tree is rich in vitamin K. Due to this, it works as an effective complexion corrector and preserver. Other benefits for skin include -

1. Strengthening blood capillaries and minimising skin inflammation
2. Healing skin bruises faster by increasing skin resilience
3. Treating skin issues like pigmentation, wrinkles and dark circles
4. Lightening of surgery and pregnancy marks, scars, and stretch marks.
Significance of Banyan Tree Bark

You may consider Banyan tree and Peepal tree as twin flames. Both the trees are worshipped since the dawn of civilization and have great medicinal value apart from religious significance.

While Peepal works powerfully on Kapha (Water) and Pitta (Fire) Dosha imbalances, Banyan works on Vata (Air) imbalances. Peepal and Banyan are treated as Male and Female counterparts of each other, which is why they are often cultivated in close proximity. 

Banyan has similar uses, and is treated as a remedy for swelling, skin wounds, and excessive sweating. Even skin moles can be easily gotten rid of with milk drawn from the bark of a banyan tree.

For these well-knowns benefits for the skin, bark of Ficus trees (together known as Nalpamara) is used to prepare Nalpamaradi Thailam.

Significance of other ingredients in Nalpamaradi Oil

Apart from the key ingredient Nalpamaram, there are other Ayurvedic ingredients in Nalpamaradi Oil that work as skin brightening agents.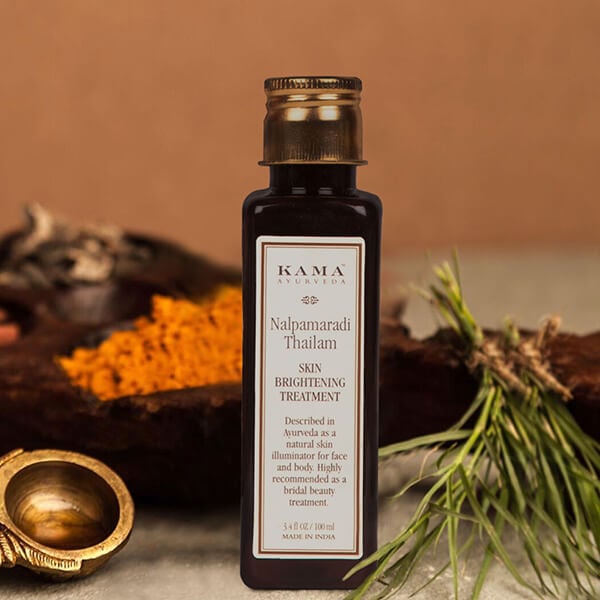 Let's look at a few of them and explore their benefits for the skin.

1.  Vetiver - Vetiver has roots that are bittersweet and aromatic in nature. The oil distilled from its roots cures acne, dry skin, aging skin, and skin irritation. The oil is also therapeutic in nature and has soothing effects for the body and the mind. It provides Nalpamaradi Thailam its cooling properties.
2.  Turmeric - Turmeric in Nalpamaradi Tailam gives the oil the yellowish tinge. It's known for providing a youthful glow to the skin. Turmeric is a powerful antioxidant and anti-inflammatory that lightens skin tone, reduces pigmentation and heals blemishes. It provides Nalpamaradi Thailam its brightening properties.
3.  Amla - Not many people are aware of the benefits of amla for the skin. It is a popular Ayurvedic ingredient for treating hair problems. However, it has immense benefits for the skin as well. The natural toning and antibacterial action of Amla help prevent dark spots while adding a healthy glow to the skin. Amla in Nalpamaradi Thailam makes it an effective in treatment for hyperpigmentation.
FAQ about Nalpamaradi Thailam
1. How long does it take to remove tan using Nalpamaradi Oil ?
You can start seeing results within a week of regular application of Kama Ayurveda's Nalpamaradi Thailam Skin Brightening Treatment.

2. Should Nalpamaradi Thailam be left overnight?
Nalpamaradi Thailam Skin Brightening Treatment can be left overnight. However, it will leave stains on clothes as its key ingredient is turmeric, advised to cleanse off after 30 minutes if your skin is oily.

3. Is Nalpamaradi Thailam suitable for oily skin?
Yes, Nalpamaradi Oil is suitable for oily and sensitive skin. However, do not use it more than twice a day.

4. Can Nalpamaradi Thailam be used on babies?
Nalpamaradi Oil can be used on babies, however, it should be diluted with Organic Sweet Almond Oil to make it suitable for the delicate skin of the baby.

5. Can Nalpamaradi Thailam be used by men?
Yes, Nalpamaradi Oil can be used by men as well.

6. Is Nalpamaradi Thailam safe?
Nalpamaradi Oil is 100% natural and safe. This oil may stain yellow due to ingredients such as Turmeric hence suitable precautions must be taken while using it.

7. Are there any side-effects of Nalpamaradi Thailam?
There are no side-effects of Nalpamaradi Oil. However, perform a patch test prior to application.

8. How many times in a week should Nalpamaradi Thailam be used?
Nalpamaradi Oil can be used thrice a week if you have sensitive/oily/acne prone skin. But in case if you have dry or combination skin, it can be used every day.

9. Can Nalpamaradi Thailam be used on skin with active acne?
If your skin has active acne/pimples, then using Nalpamaradi Oil is not recommended.

Conclusion
We all worry about having clear, healthy and glowing skin. Thankfully, Ayurveda has provided us with a wealth of knowledge in the form of special herbal oils like Nalpamaradi Thailam and Kumkumadi Thailam. Applying these herbal oils on the skin is the most natural and effective way to reveal a glowing complexion. Nalpamaradi Oil can be massaged all over the body to remove dan and heal any damage caused by the sun.

References -
1.1. Medicinal Plants India - Nalpamaram
2.2. Planet Ayurveda - Nalpamaradi Thailam