Ubtan, a name that resonates with tradition and timeless beauty rituals of India. While it might sound exotic to some, for many, it evokes memories of vibrant Haldi ceremonies that are a part of Indian wedding rituals. 
Picture a golden-hued paste, meticulously crafted from nature's finest ingredients, applied to a bride and groom amidst joyous celebrations. 
That paste is none other than Ubtan, a traditional Ayurvedic recipe to detoxify the skin and body. 
Ayurvedic massage with Ubtan (also known as Ubvartan) is one of the vital steps of the ritual of Solah Shringar, the sixteen ways of beautifying the woman's body during the marriage. 
It's believed that exfoliating the body with ubtan prepares the bride and the groom to detach from the old life (through the removal of dead cells from the skin) and prepare for the new. 
Rooted in ancient Indian scriptures, Ubtan's origin can be traced to the Vedic era. Ubtan has been used since those times for beautification and protection of skin.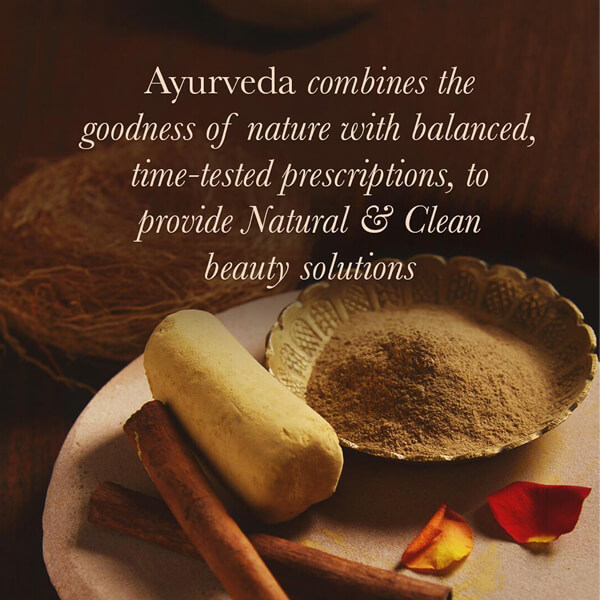 What is Ubtan?
Ubtan, a treasure from Ayurveda, is a body cleanser rich in herbs and minerals that promise fresh, healthy skin. This mix, with its delightful aroma of herbs, spices, grains, and nuts, deeply purifies the skin, revealing a natural glow.
While there are many Ubtan recipes, most include ingredients like Oatmeal, Chickpea flour, Almonds, Turmeric, Masoor dal, Neem powder, and Fennel. Some even enrich their Ubtan with Saffron and Sandalwood powder to get a radiant skin.
This special combination in Ubtan not only cleans and scrubs the skin but also leaves it feeling soft and silky.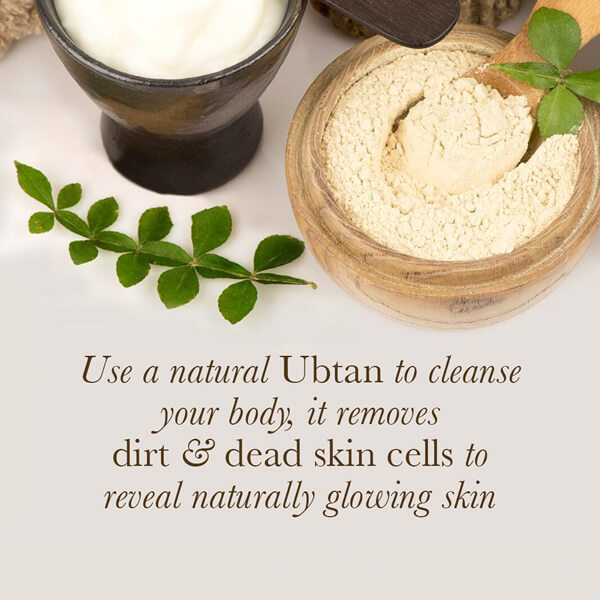 9 Benefits of Ubtan For Healthy Glowing Skin
Want glowing skin? Ubtan is an old and trusted way to get it. If you're thinking, "Why should I use Ubtan regularly?" just look at its benefits. Here's why many love Ubtan for natural skincare.
1. Brings Out The Natural Glow
Gentle exfoliation with natural ingredients like Gram flour leaves the skin feeling fresh. Sandalwood powder is known for brightening the skin complexion. Regularly using ubtan to exfoliate your body and face will help you get radiant and spot-free skin. 
2. Cleanses The Skin Deeply
Beyond mere surface cleaning, Ubtan delves deep to remove dirt and impurities. Even a single application can show a marked difference, making it a superior alternative to many commercial face washes.
3. Makes You Look Younger
Turmeric, a key component in Ubtan, combats signs of aging. Its antioxidant properties rejuvenate the skin, restoring its natural luster and hydration. Moreover, Turmeric and Sandalwood act as natural toners and acne deterrents.
4. Helps in Removal of Facial Hair and Ingrown Hair
While not a complete solution, Ubtan can assist in reducing facial and ingrown hair. Historically, it was used on infants to gently exfoliate and remove body hair.
5. Helps You Get a Clear Skin
Ubtan is adept at diminishing acne scars, blemishes, and pigmentation. Sandalwood aids in fading age spots, sun spots, and acne scars, ensuring an even skin tone and improved complexion. 
6. Heals and Prevents Skin Allergies
With ingredients like Gram flour and Turmeric, Ubtan is effective against skin allergies, rashes, and boils.
7. Has Natural Cooling Properties
Components like Sandalwood and Rose water in Ubtan shield the skin from harmful UV rays and provide a cooling effect, especially beneficial after prolonged sun exposure.
8. Hydrates and Nourishes The Skin
Ubtan not only balances oil production but also hydrates the skin. Its rich vitamin and mineral content promotes healthy cell regeneration, ensuring a radiant complexion.
9. Tightens the Pores:
Sandalwood powder in Ubtan acts as an astringent, refining and tightening skin pores.
Before we look at various ubtan recipes, let's explore these ingredients for ubtan and understand their unique benefits for the skin.
Ayurvedic Ubtan Recipe Ingredients
Though there are many variations that can be made to Ubtan to make it suitable for the specific needs of your skin, the traditional Ayurvedic recipe for Ubtan uses the following ingredients to form the paste.
1. Oatmeal - The Perfect Moisturizer For Sensitive Skin
Oatmeal is ideal for sensitive skin because it is an excellent moisturizer with skin healing, anti-inflammatory, anti-oxidant, and itch relieving benefits. The gritty nature of oats makes it an excellent scrub for sensitive skin that cannot tolerate the usual exfoliators.

2. Turmeric - For Healing The Skin
Turmeric is an antiseptic and anti-inflammatory agent which has Kapha and Pitta balancing properties. Turmeric is also an antiseptic that helps with clearing out skin pigmentation and evens out the complexion. About a pinch of turmeric is added to prepare ubtan paste as per the traditional Ayurvedic recipe.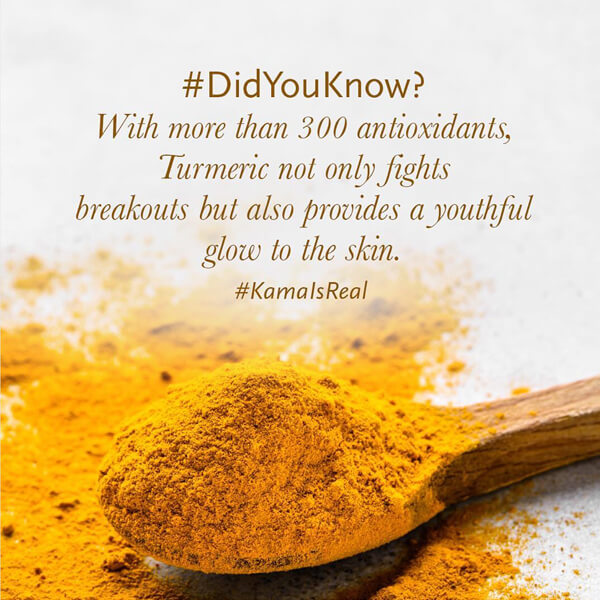 3.  Almond - For Gentle Exfoliation
Almond replenishes the lost nutrients in the skin, reduces acne and makes the skin look healthier. Almond powder is made by soaking the almonds in fresh cream or milk for a few hours and then grounding the almonds after peeling off their skin. To prepare ubtan, almonds are used in its powdered form.

4. Neem - The Ultimate Remedy For Acne-Prone Skin
Traditionally, neem leaf extract has been used in face packs for acne-prone skin. Due to its anti-bacterial properties, Neem powder is prepared from neem leaves and added to Ubtan. 

5. Sandalwood Powder - For Natural Glow
Sandalwood (Chandan) is also a natural astringent that tightens the pores so that skin appears super smooth and naturally radiant. It also has a soothing smell that relaxes the senses. If you suffer from acne, then the anti-bacterial and anti-fungal properties of sandalwood can help you in reducing and preventing acne. However, it's not advised to use ubtan on active acne.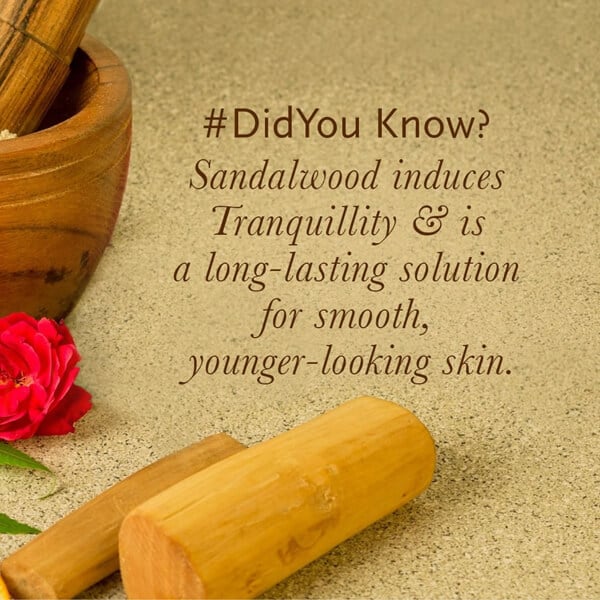 6. Fennel - For Deep Cleansing
Fennel is a wonder herb from the parsley family known for its cleansing properties. It unclogs the pores by pulling out all the excess oil, dead skin cells, dirt, etc and also helps in fighting wrinkles. 

The cleansing and toning effect of fennel on the skin is especially helpful for those with oily skin. Fennel is also added to ubtan to use it for removing ingrown hair.

7. Green Gram Flour and Chickpea flour - For Nourishing The Skin
Green gram flour or chickpea flour are other important ingredients of Ayurvedic ubtan recipe. They are rich in rejuvenating vitamins such as Vitamin A, B, and C which provide a natural glow to the skin. Either or both of them can be used to prepare ubtan paste. They also serve as an effective skin-lightening agent and reduces skin pigmentation to reveal a healthy complexion.

How to make Ubtan at home?
Now that you know about the key ingredients of Ubtan, you can combine them to create your own ubtan paste at home. 

1. Ayurvedic Ubtan for body
Grind eight to nine almonds (preferably soaked overnight and peels removed) and grind them to get almond powder. Now, combine them with a cup of gram flour and half a cup of oatmeal. Now, add about a tablespoon of neem powder, a pinch of turmeric and about half a tablespoon of fennel powder. Make a thick paste by adding rose water. 

Apply this paste all over your body and let it dry for some time. Once the paste is dry, scrub it off gently and wash with normal water. For those having dry skin, milk can be added to prepare the paste instead of water.
If you don't have the time to collect the necessary ingredients and prepare your own ubtan, then you can use Kama Ayurveda's Ubtan Soap Free Body Cleanser. It is one of the best Ayurvedic ubtans and has all the key ingredients that balance and retexturize the skin. It's 100% percent natural cleanser with no harmful laurel sulfates.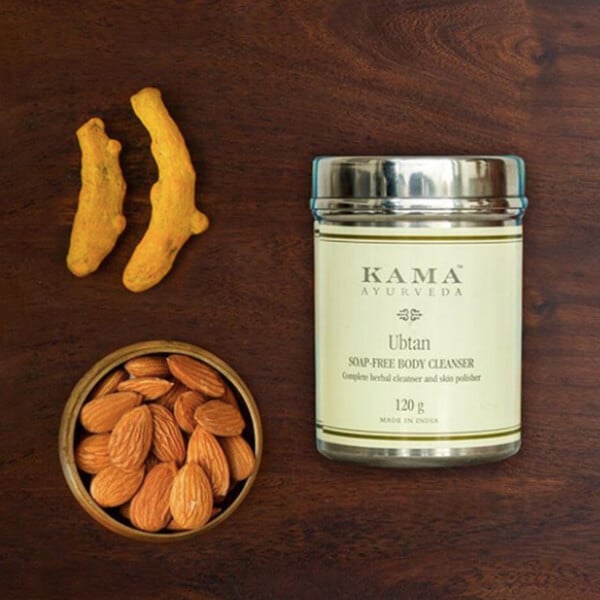 There's no simpler way to treat your body with the goodness of Ayurvedic ubtan. You can simply add water to it and apply it all over your body. 

Exfoliating with this Ubtan leaves you feeling alert and refreshed with skin that is noticeably smoother and glowing.

This ubtan evens out the skin tone and reduces the appearance of cellulite. It effectively clears away dirt, oil, and impurities without drying out the skin and hence it's suitable for sensitive skin as well.
2. Ayurvedic Ubtan For Face
To make an ubtan face pack, combine one tablespoon of sandalwood powder, one tablespoon of oatmeal and 3 tablespoons of chickpea flour (besan) in a mixing bowl. 
To this, add half a tablespoon of neem powder, half a tablespoon of fennel powder and a pinch of turmeric. Now, add six to seven finely grounded almonds (preferably soaked overnight and peels removed). 
Take the desired quantity of the powder and make a paste by using water. For oily skin, use rose water to make the paste and for dry skin, you can use milk or yogurt.
If you don't have the time to collect the necessary ingredients and prepare your own ubtan, then you can use Kama Ayurveda's Mridul Soap Free Cleanser. It's an exfoliating ubtan face pack that cleanses skin.
One of the finest Ayurvedic cleansers, this product boasts all the essential Ubtan ingredients for the face. Not only is it 100% natural, but it's also free from harmful laurel sulfates.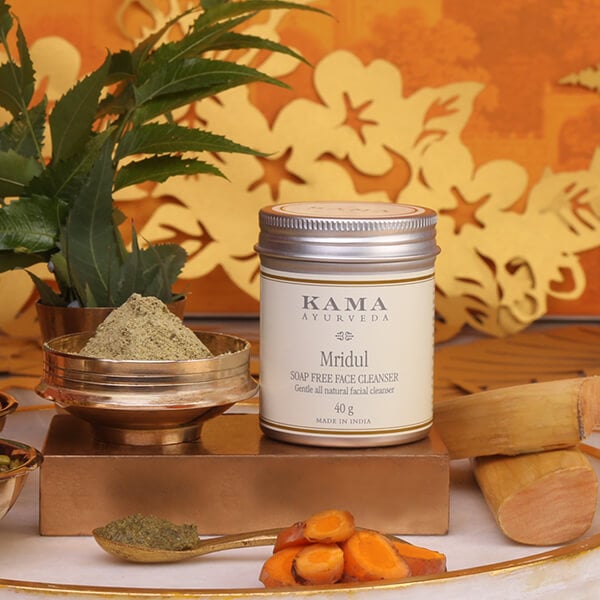 This herbal powder, when mixed with Rose Water or milk, becomes a cleansing paste. It clears dirt, oil, and impurities without taking away the skin's natural oils. Additionally, it tightens facial pores, gently exfoliates, and enhances the skin's overall texture.
Brightening ingredients like sandalwood and turmeric help in bringing out a glowing complexion. For this reason, this ubtan can also be used on brides. Since this is an all-natural and soap-free facial cleanser, it is suitable for sensitive as well as damaged skin.
FAQs about Ubtan
Here, let's answer your most common doubts about using Ubtan for your skin.
1. Can we apply ubtan on body daily?
Since ubtan is a 100% natural paste, it can be applied to the body daily. For regular application on face, Mridul Soap Free Cleanser is recommended. 
2.  Are there any side effects of ubtan?
There are no side effects of ubtan and it's suitable for sensitive skin as well. However, you may perform a patch test.
3. What is Ubtan called in English?
Ubtan originated in India and has its roots in Ayurveda. It's known as Ubtan only.
4. Does Ubtan remove facial hair?
Ubtan contains ingredients like turmeric and gram powder that are effective in removing hair however, the hair removal will depend on the thickness of hair and the skin type. It's effective in removing the body hair of babies.
5. How to use Ubtan for oily skin?
For oily skin, you can add ingredients like lemon and curd that help in reducing the oiliness of the skin.
6. How to use Ubtan for dry skin?
For dry skin, add moisturizing ingredients like honey, milk powder, milk or cream to your ubtan paste.
7. Are there any readymade Ubtans that I can buy?
Kama Ayurveda's Ubtan Soap Free Body Cleanser is a ready-to-use ubtan. You can simply add Rose water or Milk to it and start using it on your body.
References