Ancient Ayurvedic texts describe Neem trees as 'Sarva Roga Nivarini' which means Universal Healer or curer of all Ailments. 

Considered sacred by the people of India, the legendary tree has come to symbolize good health and protection. It is often referred to as the "village pharmacy" as each part of the neem tree is used to improve well-being and treat ailments. 

The twigs are used as toothbrushes, the leaves are boiled in water to treat skin problems, the flowers are used for aromatherapy and the seed, as well as the fruit, is used to extract the very powerful and potent Neem oil. 

All of Neem's antiseptic, antiviral, antibacterial, and antifungal properties are found in this Neem Oil.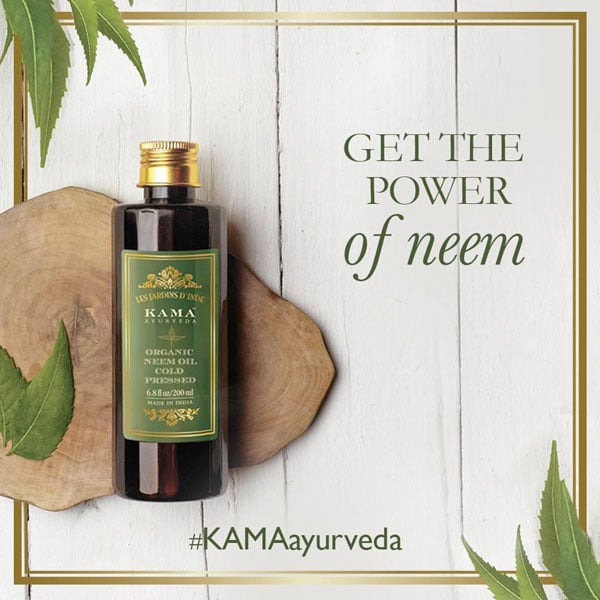 With the wide range of uses of Neem Oil as a cosmetic and medicinal product, it has become a popular choice for those who are turning to natural remedies and adopting an organic lifestyle. 

Though neem oil is used as an ingredient in oils, gels, lotions, creams, soaps, and shampoos, applying pure Cold-pressed Organic Neem Oil directly to skin and hair (after diluting with Sweet Almond or Sesame Oil) is considered most beneficial.
Top Neem Oil Uses
Neem oil is a must-have oil in the house for so many reasons. Irrespective of your age, gender and skin type, you can benefit from using Neem oil. 

Suffering from acne? Use Neem oil for spot treatment. Have hyperpigmentation skin issues? Use Neem oil as a facial oil. Have a dandruff-prone scalp? Dilute Neem oil with a carrier oil and massage it on your scalp. Want to prevent mosquito bites? Mix it with a base oil and apply it all over your skin.

Neem oil purifies, repairs and heals from head to toe. Here are some of the most popular neem oil uses -

Treating acne and hyperpigmentation
Healing burns and abrasions
Moisturizing the skin
Relieving dandruff
Stimulating hair growth
Repairing the skin and hair from environmental damage
Treating head lice
Treating fungal infections

And these are just a few of the many uses and benefits of Neem oil. Amazing, right? 

However, it's important to note that only the best quality Neem oil will provide you with all of these benefits. It's the quality of Neem tree seeds and the process of oil extraction that determines the quality and efficacy of the Neem oil.

Before we explore the many Neem Oil benefits, let's understand how cold pressed organic neem oil is extracted from the Neem tree.
How is Neem Oil extracted?
Neem Oil is extracted from fruits and seeds of the Neem tree. While there are many ways to do this, the cold-pressing process yields the highest quality virgin oil consisting of all the active constituents. It is also the oldest method to produce neem oil.

For cold pressing, the seeds of the Neem tree are first removed of any pulp and then left to dry. After that, the husks are removed from the seeds to obtain the kernels. These kernels are then pressed to release the oil content. Depending on the quality of kernels, the extracted neem oil can have varying color and odor. For instance, when the fresh seeds are used, the produced oil is lighter in color and has a less pungent smell.

As we mentioned before, the process of production impacts the quality and effectiveness of Neem Oil. Hence, only pure and organic Neem Oil should be applied to skin and hair. Kama's Cold Pressed Organic Neem Oil, extracted from organic Neem seeds from the farms of Tamil Nadu is 100% pure and natural.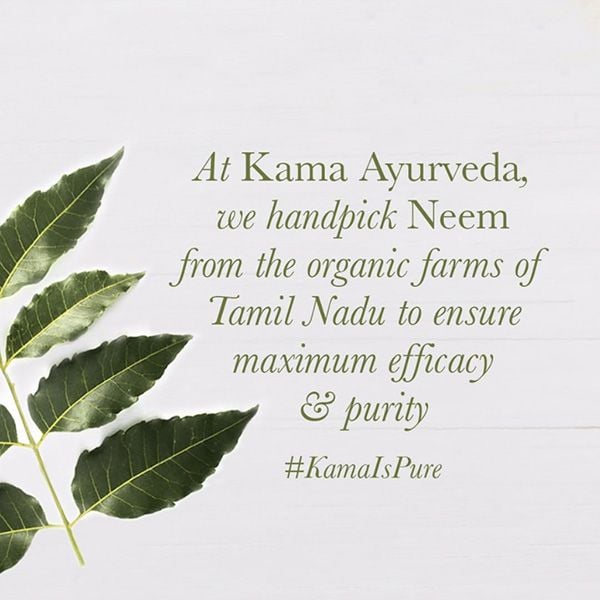 Let's now understand how applying Neem Oil benefits hair, skin, and face.
Benefits of Neem Oil for Hair
Packed with antioxidants that prevent hair loss, Neem oil is the nature's cure to all hair and scalp problems.[3]
Wondering how to use Neem oil for hair? Here's what we recommend - Dilute equal parts (50/50) of Neem Oil with Sweet Almond/Sesame Oil and gently massage the oil directly into the roots of the hair and scalp. After allowing it to work for 30 minutes, cleanse your hair with a Natural cleanser.
1. Promotes hair growth and prevents baldness
Neem Oil has regenerative properties that support healthy cell division and stimulate hair follicle growth and function. It also helps in countering hair thinning caused by pollution, stress or medication. Therefore, regular application of the neem oil promotes thicker, stronger, and more luxurious hair growth.

Neem oil's anti-inflammatory, antibiotic, and antioxidant properties prevent baldness as it treats scalp issues like scalp psoriasis, which can lead to permanent hair loss if left untreated.
2. Conditions dry hair
Regular application of neem oil will result in lustrous and healthy hair. Neem oil contains several fatty acids – such as linoleic, oleic, stearic acids which nourish the scalp and hair. These fatty acids present in Neem oil revitalize and restore dry, under-nourished or rough hair.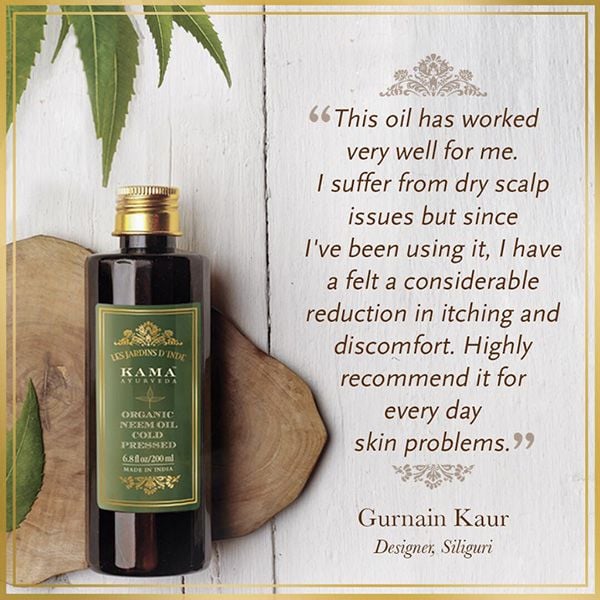 Shop Kama Ayurveda Organic Cold Pressed Neem Oil
3. Helps with dandruff and itching
The primary cause of dandruff is fungi known as Candida and Malassezia. Neem oil is effective against these fungi due to its antifungal properties. Neem oil also provides relief from inflammation, itchiness, and irritation that results from dandruff. 

For those who are prone to dandruff, Neem oil should be used regularly. It maintains the pH balance of the scalp and prevents dandruff formation.
4. Treats head lice
According to studies, Neem oil is known to be effective in treating head lice without any side effects. Neem contains azadirachtin, an insecticidal ingredient, which disrupts the growth and reproduction of lice and eventually kills them. The pungent smell of Neem oil repels lice hence it is also used as a preventive treatment. 

To get rid of lice, apply neem oil on your scalp and leave it overnight. The next day, comb your hair with a thin comb to remove dead lice from your hair.
5. Treats scalp infections
Neem oil is known as scalp savior for its immense healing (anti-inflammatory, antiseptic, antibacterial, anti-fungal, anti-viral) properties. It also regulates the secretion of sebum and normalizes dryness or oiliness of the scalp. It further has a cooling and soothing effect which helps in relaxation.
6. Prevents premature graying
If your hair is turning gray due to hormonal imbalances, then you will benefit from Neem oil. Regular application of Neem oil to hair helps treat premature graying. However, note that applying Neem oil is only useful in delaying or preventing graying. It won't affect hair that has already turned gray due to aging.

Think you've got enough reasons to start using Neem oil for hair regularly? It's because of these immense benefits of Neem oil for hair that it's been used in Ayurvedic remedies for hair problems since centuries.

Read - 10 Best Hair Growth Oils Recommended By Ayurveda

Now that we've covered how to use Neem oil for hair, let's understand it can also be used to nourish your body and your skin.

Neem Oil Benefits for Skin
When you think about body massage, you think of moisturizing oils like Coconut Oil or Sweet Almond Oil. But, did you know that adding a few drops of Neem Oil to your body massage oil can do wonders for your skin?

Not only does Neem oil provide extra nourishment, it also boosts collagen production, hence delaying formation of wrinkles.

Neem Oil is rich in fatty acids (oleic acid and linoleic acid), limonoids, vitamin E, triglycerides, and antioxidants. All of these ingredients provide immense benefits for the skin. 

Neem oil is also medicinal. Due to its anti-inflammatory, antifungal, and antibacterial properties, it's used to treat many skin diseases and infections.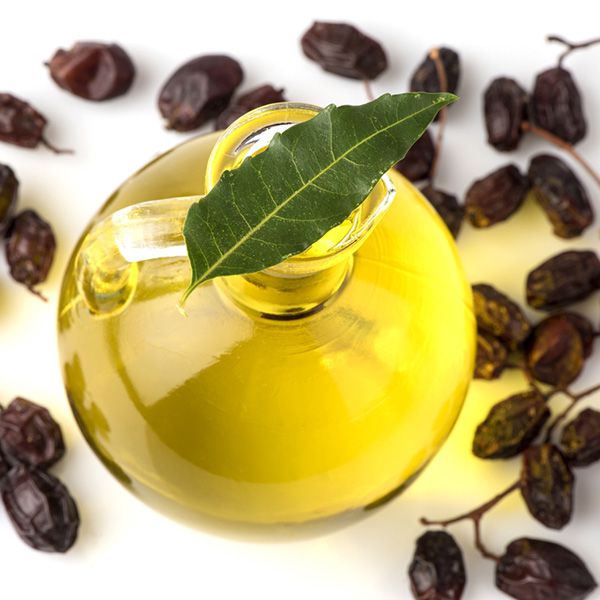 Let's now explore what Neem oil does for your skin.
1. Moisturises the skin
Vitamin E and Essential Fatty Acids present in Neem oil enable it to seep deep into the skin thereby healing cracks caused by dryness. It also restores the protective layer of skin which further helps in reducing moisture loss.

To moisturize the body with Neem Oil, dilute (70/30) of Neem Oil with Sweet Almond/Sesame Oil (e.g. 2 cap of neem oil & 1 cap of Sesame). After massaging gently all over the body, it should be allowed to work for 30 minutes.

2. Soothes inflamed and itchy skin
Neem Carrier Oil is known to soothe red, itchy, inflamed skin which is associated with ailments like acne, burns, eczema, psoriasis, and rashes. Applying Neem Oil inhibits the production of histamine and other irritants which results in a relief from swelling. 

It contains anti-inflammatory substances like Nimbidin that help in treating Eczema and dermatitis. Its strong antiseptic and antibacterial properties help in fighting skin infections while its analgesic (pain-relieving) reduce discomfort caused by inflammation and skin problems.

3. Heals minor wounds
Neem is used for healing since centuries. Due to its antiseptic properties, it's an ideal choice for minor cuts and abrasions. When Neem oil is applied to the wounds or to the injured skin, it enhances the overall immunity and accelerates the healing process. 

An Ayurvedic study conducted revealed how neem oil is even more effective for wound healing when used with turmeric (Haridra).

4. Repels insects from the skin
Neem oil is an effective mosquito repellant, especially effective against Anopheles, the class of mosquitoes that spread malaria. It can be applied to the skin (after diluting with Sesame oil or Sweet Almond Oil) or burned in diffuser/kerosene lamps. 

Thinking of replacing your daily body moisturizer with Neem Oil? Your grandparents and ancestors would take pride in your decision!

Ancient Ayurvedic beauty rituals recommended applying Neem oil not only on the body but also on the face. Despite its pungent smell, its therapeutic and healing properties make it an effective facial treatment. 

Let's now understand how exactly to apply Neem oil on face and how it's helpful.
Benefits of Applying Neem Oil on Face
To use Neem Oil on the face, it is recommended to dilute equal parts (50/50) of Neem Oil with Sweet Almond/Sesame Oil and Apply on clean skin, massage gently in an upward direction. After that, it should be left for 20-30 minutes before washing off with a mild natural cleanser.

Here are some of the benefits of applying neem oil on the face regularly.

1. Treats acne and pimples
A study led researchers to the conclusion that applying neem oil regularly on the face is an excellent long-term acne treatment. Neem Oil prevents future breakouts by eliminating acne-causing bacteria, tightening the pores, and evening out skin tone.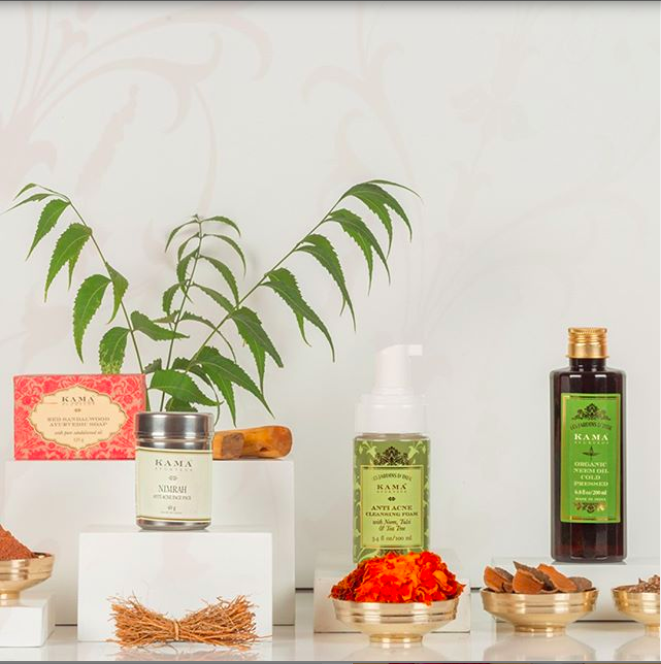 Explore Kama Ayurveda Anti-Acne Skin Care Range
2. Prevents aging
Neem Oil works as a natural substitute for Anti-aging products. It aids collagen production, which reduces wrinkles and fine lines on the face. It also contains carotenoids that are effective in protecting the skin against the free radicals which cause aging. 
3. Tones the skin
Neem oil removes the pathogens that have accumulated beneath the skin's surface. It also unclogs the pores and results in healthier and smoother skin. By balancing the overall oil production of the facial skin, it acts as an effective toner.
4. Treats hyperpigmentation
We all want that even-toned skin with a smooth complexion. Don't we? Applying Neem Oil on the face reduces the production of the substance known as melanin. When produced in high quantities, it results in hyperpigmentation.
5. Treats scars and blackheads
Neem oil also works as a natural alternative to heal the skin tissue from within and simultaneously reduces blackheads and scars. The fatty acids in neem oil prevent marks and scars caused by acne. 
6. Protects against environmental damage
Applying Neem oil forms a protective layer on the skin. The high-level antioxidants present in Neem oil help protect the skin from damage caused by UV rays. These antioxidants also help in neutralizing free radicals that cause skin cancer and other chronic diseases.
FAQ about Neem Oil
To conclude, let's answer some of the most common questions and concerns about Neem oil..
Can Neem Oil be used during all seasons?
Yes, it can be used all year round, but we recommend you to mix it with our Organic Sweet Almond Oil in winters and then apply it. In summers, you can mix it with Extra Virgin Organic Coconut oil.

Can Neem Oil be applied directly to the skin?
Our Organic Neem Oil can be applied directly on the skin. However, it is advised to do a small patch test before using the product. In case you have sensitive skin and scalp, it is recommended to dilute equal parts of Neem Oil with Organic Sweet Almond or Organic Sesame Oil. Leave it on for 30 minutes and then wash off with a mild cleanser.

How to use Neem oil for dandruff?
Yes, Organic Neem Oil has anti-bacterial properties that treat dandruff and anti-oxidant properties that reduce the hair fall. On alternate days, mix in equal quantities with Organic Sesame Oil and gently massage. Post thirty minutes follow with a sulfate & paraben free cleanser.
Can I apply Neem oil on face at night?
To apply Neem oil on face at night, dilute equal parts (50/50) of Neem Oil with Sweet Almond/Sesame Oil and Apply on clean skin, massage gently in an upward direction. After that, leave it on for no longer than 30 minutes. Wash it off with a mild cleanser. Do not leave it overnight.
How to use Neem oil for acne?
Use Neem Oil on the face as a part of Kama Ayurveda's Anti Acne Regimen. Explore the entire range of anti-acne products here. 

Conclusion
Neem oil has a special place in beauty regimes because of its numerous benefits for face, body, and hair. It's so simple to use neem oil to treat common skin problems and hair problems. Be it dandruff, dryness, itchiness, pigmentation or premature graying, you can turn to neem oil to get relief. Do you use neem oil as a part of your beauty regime? Which of these neem oil uses do you benefit from the most? Do tell us in the comments below.

Have more questions about Neem oil? Feel free to book a free online consultation with our Ayurvedic beauty experts.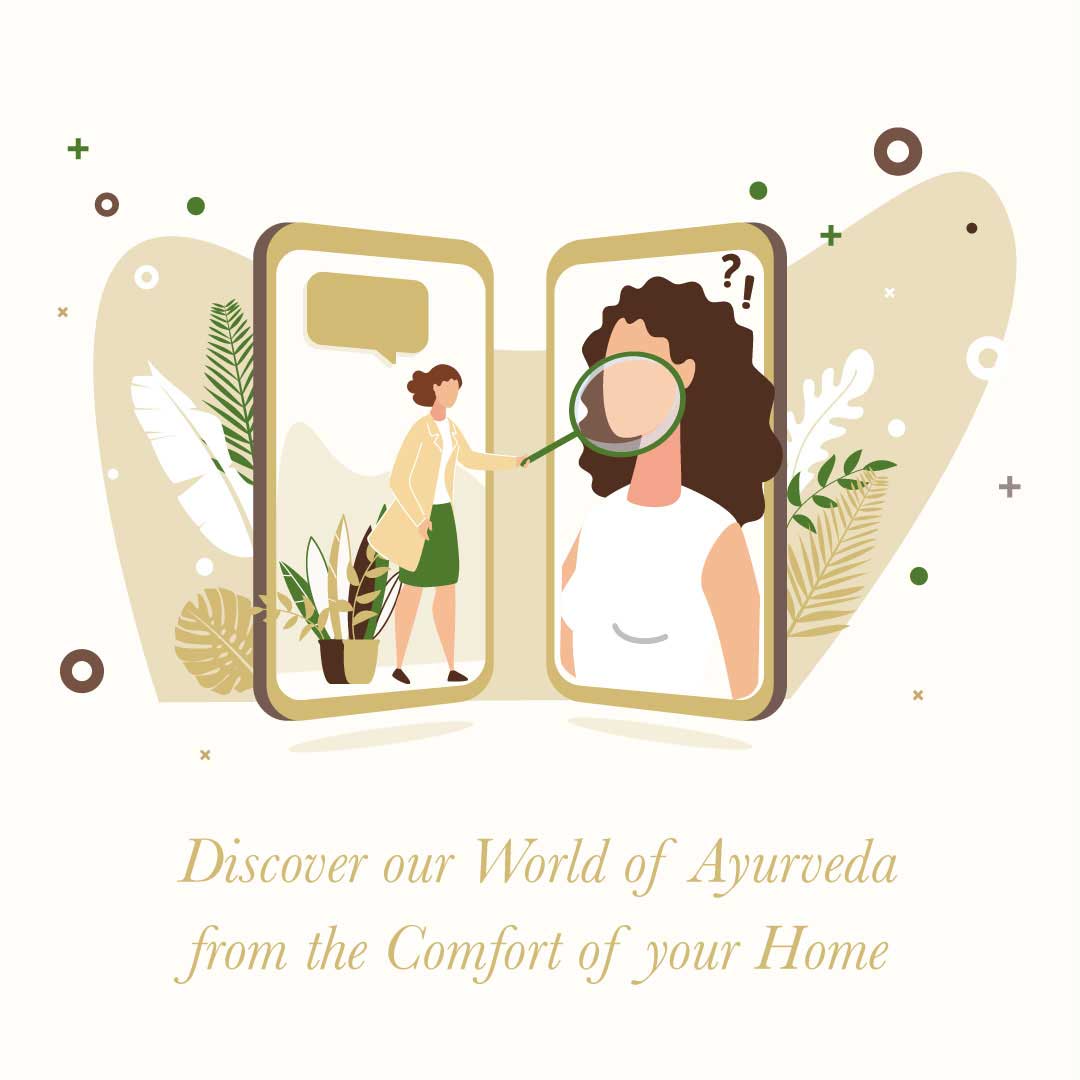 References -
Biswas, Kausik, et al. "Biological Activities and Medicinal Properties of Neem(Azadirachta indica)." Current Science 82.11 (2002): 1336-1343. Online.15 Oct. 2011. http://repository.ias.ac.in/5193/1/305.pdf 

Subapriya, R., and S. Nagini. "Medicinal Properties of Neem Leaves: A Review." Current Medical Chemistry: Anticancer Agents. 5.2 (2005): 149-146. Online. PubMed. 11 Oct. 2011. http://www.ncbi.nlm.nih.gov/pubmed/15777222

The Neem Tree." Sanskrit Documents. Online. 7 Nov. 2011. http://sanskritdocuments.org/articles/TheNeemtree.doc