Skin dullness is often the first sign of dehydrated skin. We all want that wonderful natural glow that comes from within. If you're wondering why your skin doesn't look nourished and healthy, it might be time to start taking your daily skin hydration seriously. 

Before we jump to answering the most common winter skincare question - 'How to hydrate skin properly?', let's understand what is hydration and why your skin needs it?
What Does Hydrated Skin Look Like? 
What comes to your mind when you read about hydrating your skin? Do you instantly think about moisturizing your skin? If yes, then you're partially right.

Essentially, there are two parts of nourishing the skin - hydration and moisturization. The hydration step is all about increasing the water content in your skin. Dehydrated skin looks dull, dry, and flaky. On the other hand, properly hydrated skin looks smooth, nourished, and radiant.
But that's not all. Without sealing that moisture into your skin, it'll quickly dry up and leave your skin thirsty for more. That's where moisturizers play their role. A good moisturizer doesn't let the water content escape from your skin, leaving it soft and supple for a long time.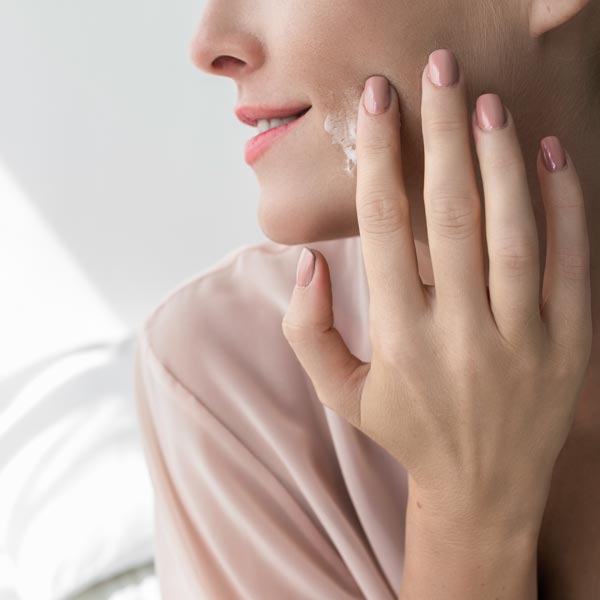 However, both skin hydration and moisturization have to become a part of your daily skincare routine to get the best results.
Factors like age, climate, and environmental stress can sometimes make our skin thirstier. Think of your daily hydration as a way to quench your skin's thirst.
How To Tell If Your Skin Is Dry or Dehydrated?
We know that the two important steps of skin nourishment are hydration and moisturization. If your skin lacks hydration, it becomes dehydrated. While on the other hand, if it produces less sebum and needs more moisturization in general, your skin is dry.
It's important to note that 'dry skin' is a skin type while 'dehydrated skin' is a skin condition.
It can be confusing to understand whether your skin is dry or dehydrated as both of them can feel similar. Here's how you can differentiate between the two.
Sign of dry skin - 
Feels uncomfortable, flaky, and itchy.
The worst areas are usually near the eyebrows and around the corners of the nose and mouth.
Rubbing skin together might sound like sandpaper grinding
Might be accompanied by skin redness and inflammation
Sign of dehydrated skin -
Skin lacks water content
Often caused by external factors such as weather, environment, diet, and caffeine consumption.
Feels tight and looks dull
Shows more exaggerated wrinkles
Shows more exaggerated dark circles
Might be accompanied by skin redness and inflammation
How To Hydrate Your Skin? - 7 Simple Steps
Keeping your skin hydrated isn't just about using hydrating products. Your lifestyle plays a role as well. 
For instance, the amount of water you drink, the water content in the fruits and vegetables you eat, the temperature of the water that you use for your daily shower, determine your skin's water content level. Here are a few simple ways to keep your skin hydrated all year long.
1. Drink water like it's your job

We know how important it's to drink an adequate amount of water. Yet, so many of us fail to take it seriously and treat it like a choice. Make drinking water as important as your 'work'. Reach out for an extra glass of water instead of coffee. You can prepare a pitcher of water and add some cucumbers/orange to it. This way, you will provide your skin with a healthy dose of anti-oxidants along with hydration.

Both caffeine, as well as alcohol, are known to dehydrate your skin. You can help your skin remain hydrated by avoiding them. Herbal teas are a great alternative to coffee/tea as they help in keeping your skin and your body hydrated.

2. Eat water-rich foods
What you eat determines the water content in your body and your skin. Make sure that you consume some water-rich foods throughout the day. If it's summertime, you can load up on fruits and vegetables like watermelons and cucumbers. In winters, you can go for strawberries and oranges. 
3. Use only gentle and natural face/body cleansers
Do you check the ingredients of your skin-care products? If not, then you should start looking for skin-harming chemicals like parabens and sulfates. Sometimes, when we wash our face with a cleanser, our skin gets stripped of its natural moisture content.
Only gentle face cleansers made from natural ingredients are recommended to keep your skin hydrated. 
Kama Ayurveda's Rose Jasmine Cleanser is a perfect hydrating face wash filled with natural ingredients like Aloe Vera, Jojoba Oil, and Vetiver. Along with the essential oils, of Rose and Jasmine, this cleanser is perfect for cleansing the skin without stripping it of essential moisture barrier. For men, we recommend Himalayan Deodar Face Cleanser for daily cleansing. For cleansing your body, you can choose natural body cleansers.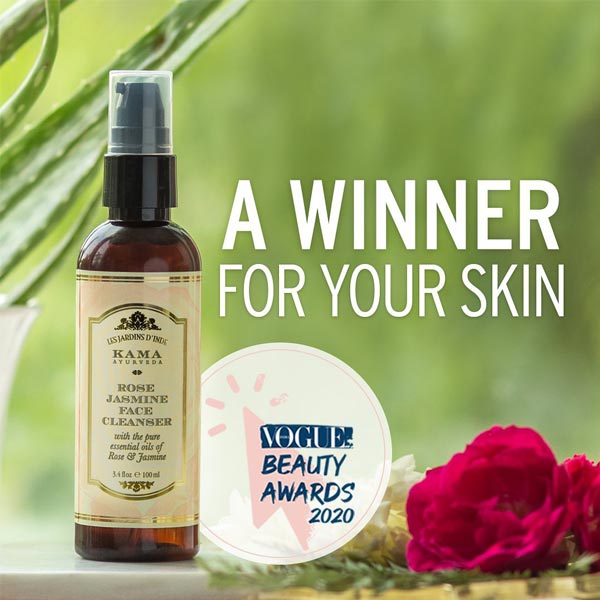 Avoid using hot water while washing your face or taking a shower. Lukewarm water is recommended as hot water can lead to skin dehydration.
Read - Which Is The Best Face Wash For Dry Skin?
3. Add a natural serum or facial
Applying facial oils and serums just before moisturization is the most important step for hydration. Serums and face oils are loaded with hydrating ingredients and can provide your skin with sufficient water content before the moisturizer can lock it in.
We recommend natural facial oils like Moringa Oil or Organic Cold-Pressed Virgin Coconut Oil for this step. Both the oils have a high content of oleic acid which makes them deeply hydrating oils. Choose Moringa oil if you've normal or oily skin type and Coconut oil if you've dry skin type.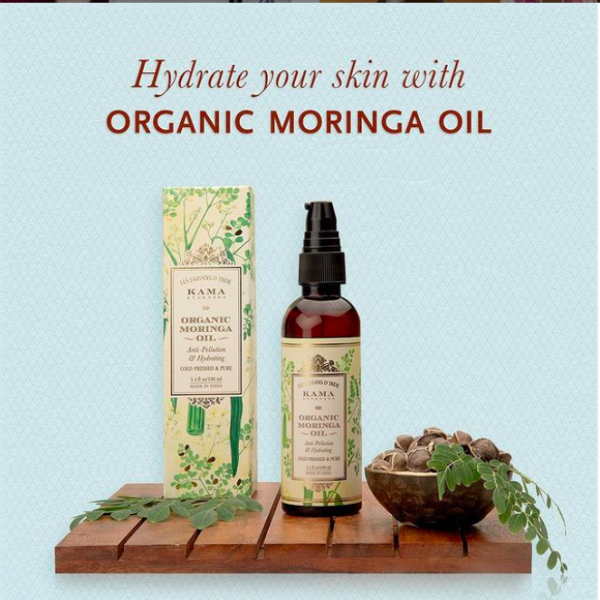 Read - 10 Ways Moringa Oil Helps Your Maintain Healthy Skin
4. Refresh your skin with facial sprays
Facial mists can be super handy when it comes to daily skin hydration. We all know the amazing feeling that comes with spraying Rose Water on our faces. Not only it's immensely soothing and refreshing, but also hydrating. 
Of course, this step is best suited for the summer days. However, if you are a fan of facial mists, you can spray it on your face right after cleansing your skin so that your skin recovers any loss of hydration from cleansing. 
We recommend Kama Ayurveda's range of facial mists, which are 100 percent pure steam distillations of various flowers and roots. You can choose from Pure Rose Water, Pure Mogra Water, Pure Vetiver Water, and Pure Lavender Water.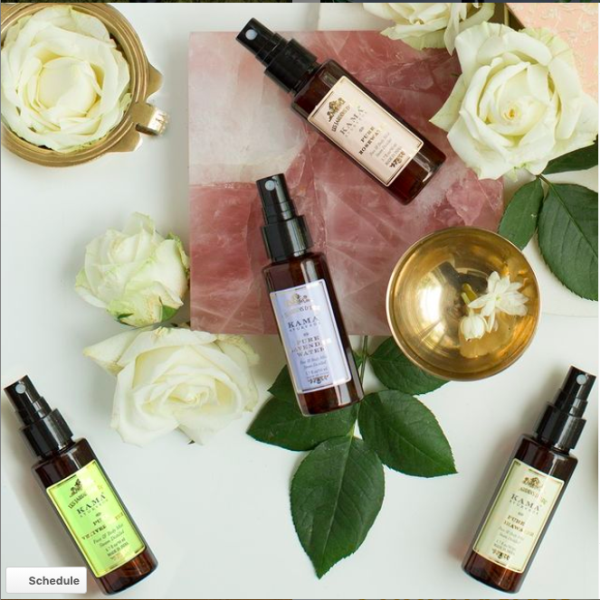 These facial mists also work as toners and prep the skin to absorb moisture. Did you know that applying moisture on damp skin helps in absorbing the moisture better? 
4. Moisturise properly to seal in the water content
Earlier in the article, we talked about how moisturization helps in sealing the water content in the skin. Hence, moisturization is a very important step without which you'll have to keep hydrating your skin multiple times during the day.
It's recommended to use a separate moisturizer for day and night. A heavier moisturizer is recommended at night, especially if you use air conditioning. We might not realize this but our skin constantly loses moisture even when we sleep. 
We recommend Kama Ayurveda Eladi Hydrating Ayurvedic Face Cream for the day and Kama Ayurveda Rejuvenating and Brightening Night Cream for night.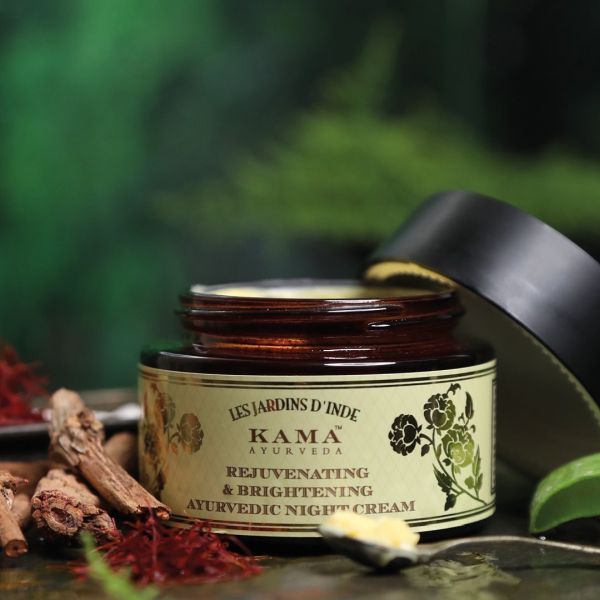 Read - How To Choose The Best Night Cream For Dry Skin?
5. Apply Sun Screen every day
We all love the winter sun. But did you know that sun exposure dehydrates your skin? Now, this doesn't mean you need to stop stepping out and soaking in the sun altogether. It just means that you shouldn't ever step out without sun protection. 
Prolonged skin exposure without sunscreen also causes aging of the skin as it rapidly breaks the skin's natural moisture barrier and depletes collagen level.
Using a broad-spectrum sunscreen will prevent UVA and UVB skin damage every time you step out in the day. We recommend Kama Ayurveda's Natural Sun Protection for daily use. It is a non-chemical daily-use sunscreen that provides full-spectrum sun protection and a boost of hydration to keep skin healthy and even-toned.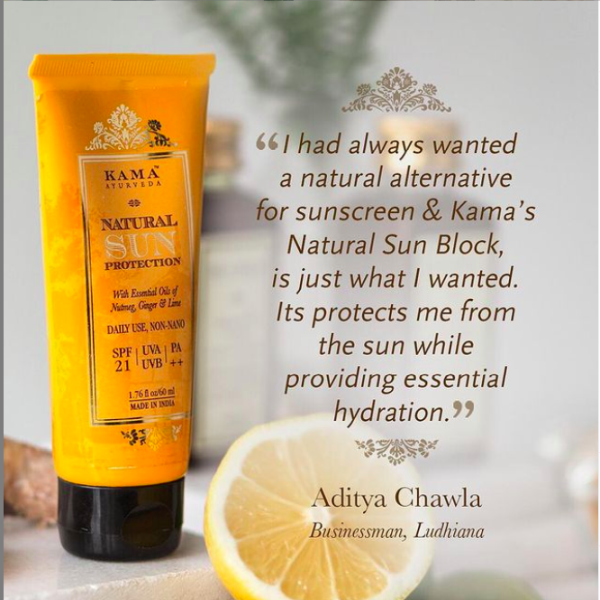 natural sun protection to hydrate and protect skin
Read - Which Sunscreen Lotion Is The Best For You?
That's it. With that, we conclude our 7-step guide to keep your skin hydrated. Please note that dehydrated skin usually isn't a serious skin condition. Most people can hydrate their skin by consuming adequate water and using hydrating skincare products. 
However, if your condition doesn't improve after these practices, you can consult a dermatologist. Also, if you need further help in choosing the best hydrating products for your skin, you can book a free consultation with our Ayurvedic beauty experts.