Did you know that everything about your daily bathing ritual impacts your skin texture? The soap you use and the water temperature, in particular, determine how your skin feels after the shower.
If you have dry skin, it calls for paying special attention to your bathing ritual to ensure that it nourishes your skin instead of stripping it off the moisture content. 
With the wide range of options available in the market, it can be challenging to choose the right soap for your skin. The wrong soap will do more harm than good. Therefore, you must use only the best soaps for dry skin.
In this guide, we'll talk about the important factors for dry skin to help you build a better understanding of your skin. After that, we'll understand which ingredients to look for in soaps for dry skin and which ones to avoid. Later in the article, we will also share the recommendations for the best soaps for dry skin.
Ayurvedic Take On Cleansing Dry Skin
Cleansing the body is one of the simplest and most abiding beauty care rituals that has a special significance in Ayurveda. The act of cleansing is associated with purification of both mind and body. Before commencing any task of importance, it is necessary to take a bath, be it offering service to the Divine or starting a new day. 
With its focus on using natural oils to moisturize and treat various issues, Ayurveda recommends the use of plant-based, nourishing natural soaps to wash off all oils as well as impurities. These herbal, all-natural soaps also rejuvenate the body and mind.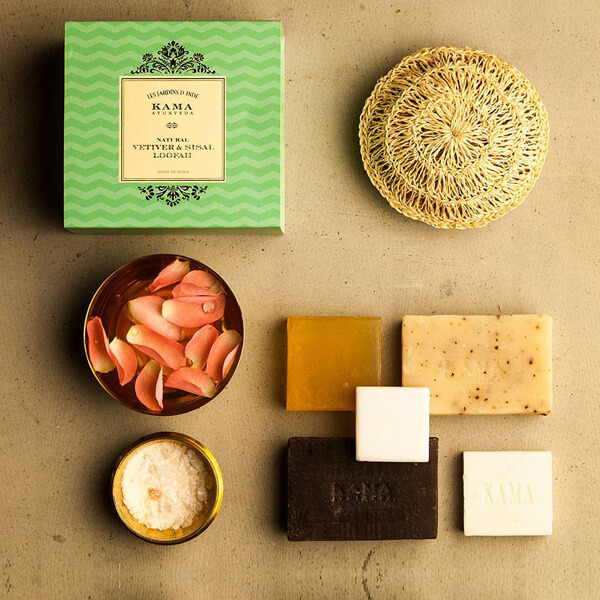 Every day, we are exposed to a multitude of toxins and impurities. Therefore, it is best to avoid harsh, chemical soaps that strip the skin of its natural oils and radiance. Using natural soaps helps keep your skin clean and naturally healthy. 
Ingredients To Look For In Soap For Dry Skin
The dry skin condition can occur due to various reasons - climate, aging, environmental pollution, or application of the wrong skin products. While some of these factors remain beyond our control, we can strive to choose the best products for our skin type.
Have you ever felt your skin become excessively dry right after you take a shower? Dehydrated, dull skin is often the first sign of skin dryness, and if the skin feels like that after a shower, it means that you're not using the right soaps.
It's a good practice to check the key ingredients in your soap. Natural soaps made from plant oils are best suited for your skin. Let's look at some of the top ingredients for dry skin.
Coconut Oil - Almost every article with tips for taking care of dry skin talks about Coconut oil's numerous benefits. Not only is Coconut oil an excellent moisturizer for dry skin, but also one of the most nourishing ingredients in dry soap. It has rich and healthy fatty acids that condition and soften the skin.

Castor Oil - Castor oil is one of the best ingredients you can find in a soap for dry skin. Do you know that it's a special oil that has moisturizing as well as hydrating properties? This means that the oil not only moisturizes the skin but also increases its ability to hold moisture. Castor oil has unique compounds called triglycerides that moisturize the skin while the oil acts as a humectant and helps retain the moisture.

Jojoba Oil - Jojoba oil is indeed a plant wax that acts like an oil. It's a wonderful ingredient in soap as it has a unique ability to function as our natural skin barrier does. Jojoba oil also has anti-inflammatory and healing properties, making it an effective treatment for dryness, flaking, and itching.

Beeswax - Beeswax is another great ingredient for dry skin. It can act as an occlusive, which means that it can create a protective layer on the skin to seal in the moisture. It also has hypoallergenic and moisturizing properties, making it an effective treatment for dry skin and even more severe eczema issues. Natural Beeswax contains Vitamin A, which softens and hydrates dry skin.

Essential Oils - Fragrant natural soaps use plant and herbs based essential oils to provide the scent. Unlike artificial fragrances, these essential oils have unique benefits for the skin. Some essential oils like Lime, Basil, Vetiver, and Rose are excellent for dry skin. Apart from providing a fragrant bathing experience, they also rejuvenate, nourish and revive the skin.
Ingredients To Avoid For Dry Skin
1. Sodium Lauryl Sulphate -
Sodium Lauryl Sulphate (SLS) is a compound added to soaps and detergents for its cleansing properties. However, it's a surfactant, which means it has drying properties. While the compound isn't harmful, it may cause excessive dryness of skin for those who already have dry skin conditions. You can look for labels such as 'sulfate-free' in your soap or check the ingredients to ensure that it is free from SLS.

2. Artificial fragrances and alcohol -
If you have dry skin, then soap with artificial fragrance or alcohol as one of the ingredients is harmful to your skin. It may dry the skin and even result in skin irritation.
3. Synthetic Dyes - 
Not all that looks good is good for you - this holds for soaps. Do you feel fascinated by the soaps in fancy colors? Just like artificial fragrance, even artificial colors in the soap are harmful to the skin. 
Have you noticed how most of the natural soaps look dull? This is because they are free from synthetic dyes. These artificial colors are achieved chemically and can have adverse effects on the skin. 
When choosing a soap, remember that what appeals to the senses may harm the skin. Now that we've discussed the top ingredients to look for in soap for dry skin, let's share our top recommendations.
7 Best Soaps For Dry Skin With Natural Ingredients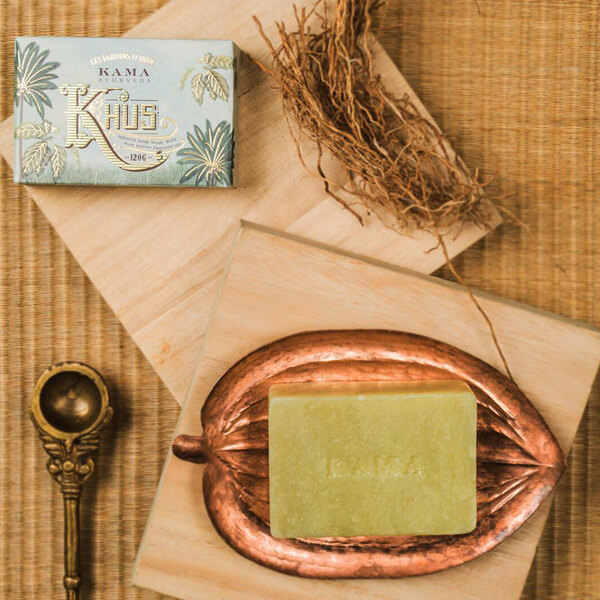 Recommended in Ayurveda for its calm & cooling properties, Vetiver is aromatic and has conditioning properties that rejuvenate the skin. The oil distilled from the roots of Vetiver moisturizes dry skin and soothes inflamed skin. This handmade Natural Khus Soap gently cleanses your skin and revives your tired mind and body.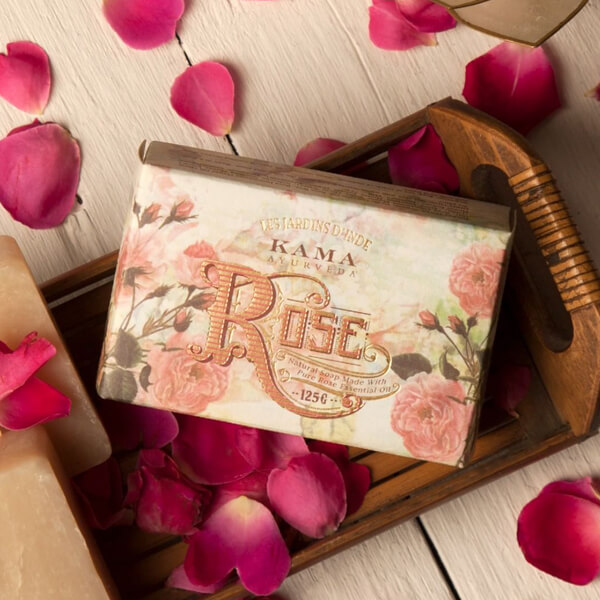 Gently cleanse your body while elevating your senses with the fabled roses' exquisite aroma from Kannauj, with this deeply conditioning body soap made using Extra Virgin Coconut Oil. The Rose essential oil treats while Rose Water maintains the pH level of the skin. Rose essential oil has antibacterial, anti-fungal, and antiviral properties. This makes the soap ideal for topically treat a host of skin conditions that could lead to skin irritation.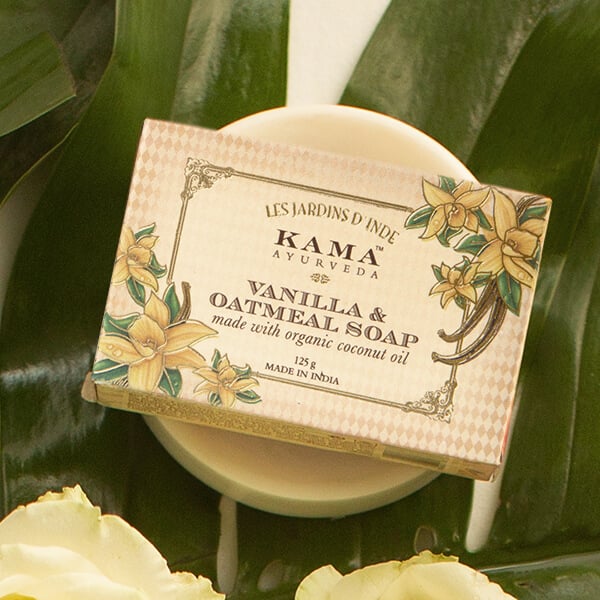 The Vanilla and Oatmeal Soap is a Vitamin E enriched soap that relieves dryness, increases elasticity, and reduces aging leaving skin soft and smooth. Vanilla acts as a natural antioxidant and Oatmeal gently exfoliates for clean and soft skin. The soap also has skin nourishing ingredients such as Organic Extra Virgin Coconut Oil, Rice Bran Oil, Cocoa Butter, and Castor oil. This soap is an excellent choice for those who have dry and sensitive skin.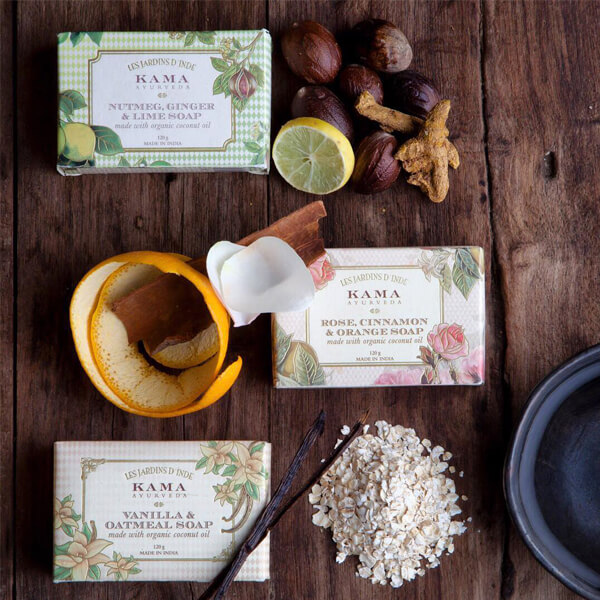 Rose Orange & Cinnamon soap is a perfectly natural blend of skin-nourishing ingredients such as Organic Extra Virgin Coconut, Jojoba and Castor oil. Pure Rose oil balances the pH of the skin and acts as a toner. The essential oils of Orange & Cinnamon help skin cell growth, increase blood circulation, and remove toxins. Coconut & Jojoba oil relieve dryness, improve the skin's elasticity, delay aging while hydrating and moisturizing the skin.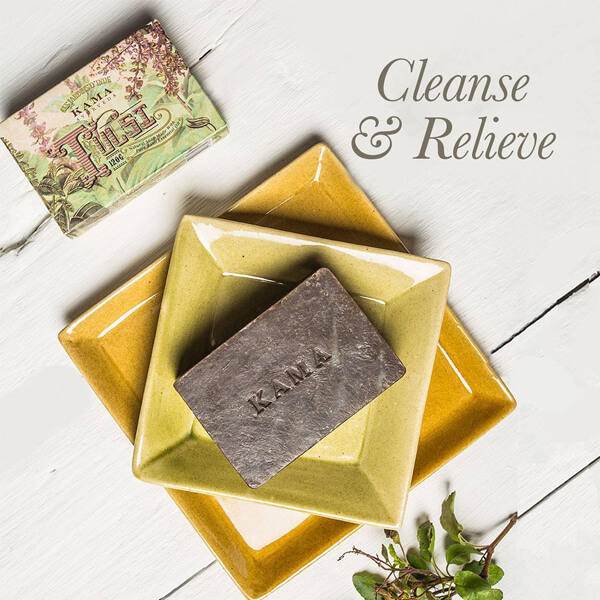 This soap is an ideal body cleansing blend of Holy Basil Essential Oil, Extra Virgin Organic Coconut Oil, Castor Oil, and Beeswax. Basil enhances the luster of dull-looking skin and also treats acne and other skin infections. Natural Beeswax in this soap contains Vitamin A, which softens and hydrates dry skin.

Navaa Retexturising Soap is a pure vegetable soap formulated with Coconut Oil and Castor Oil. It also has natural soothing ingredients such as Green Cardamom, Nutmeg, Beauty Berry and Cinnamon. This cleansing formulation smoothes, polishes and retexturises dry skin to leave it even, toned and stress free. This soap cleans and protects skin from environmental pollutants, damage and toxins.

A pure vegetable soap for the face and body that suits dry and mature skin and keeps skin smooth and supple. Created with a unique combination of skin care and protection-enhancing herbal oils and extracts. These include Coconut Oil and Castor Oil, both of which are skin-friendly oils that keep skin healthy and moisturized. Also contains Neem extracts that protect the skin from bacteria, toxins and inflammation.
With this, we conclude our list of best soaps for dry skin. You can choose the one that best matches your skin requirements. If you're confused with the options mentioned here, you can book a free consultation with our Ayurvedic Beauty experts.