If you are a Korean beauty fan, then you might have already heard about the popular skincare product called "Face Essence." A face essence is a nourishing liquid that has become an essential part of the daily skin care regimen for millions of people worldwide.
Formulated with potent nourishing and hydrating ingredients, a skin essence is just the product you need for restoring hydration and balance. In this article, let's discuss what a face essence is, how it is different from the serums and toners, how it benefits your skin, and why it is an essential part of your daily skincare routine.

Today, there are all natural Ayurvedic formulations of face essence like Kumkumadi Bi-Phase Essence that provide all the benefits without exposing your skin to harmful chemicals.
What Is Face Essence?
Originating from the K-beauty industry, a face essence essentially works as a primer for your moisturizer while giving your skin a lot of extra benefits. A facial essence, not to be confused with a toner or a serum, has a lower molecular weight and works to penetrate deeper into the skin than a regular moisturizer. 
This nourishing liquid combines multiple elements of a skincare routine in just one step. Along with hydrating and re-balancing your skin, it also uses highly concentrated levels of active ingredients to penetrate deeper into your skin barrier. The extra hydration that it gives your skin preps the skin to better absorb all the goodness of the following products, even more so than usual.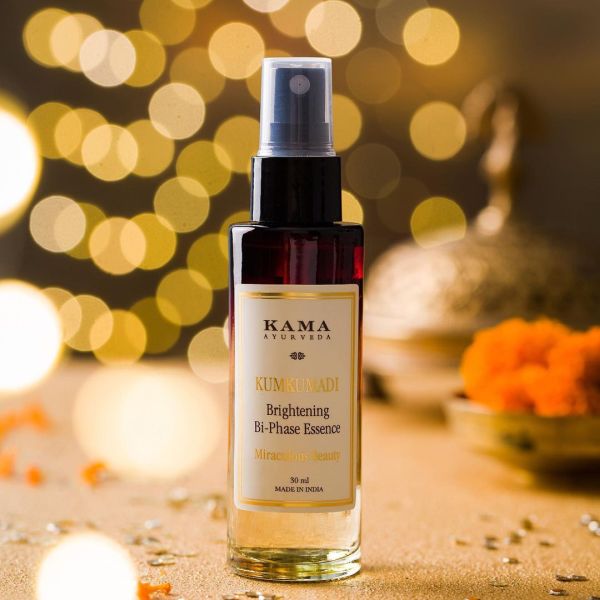 Plainly speaking, a face essence is predominantly used to boost the benefits of other skincare products that you use on your skin. Therefore, if you want to obtain a super hydrated, dewy skin, you should include a moisturizing essence like Kumkumadi Bi-Phase Essence in your skincare arsenal.
Essence Vs. Toner - What Is The Difference?
Unlike the face essence, toner is a water-based skincare product; it is applied right after cleansing to provide your skin with a deeper cleanse. Some toners have alcohol content but thatA good toner also helps tighten pores, create a smoother complexion, and balance skin tone. In addition, a toner works best for oily and acne-prone skin, while a face essence is beneficial and appropriate for all skin types.
When you look at the bottle of face essence, you might definitely think - Is it just a toner? However, while a facial essence looks like a toner, they both perform two different functions on your skin.
Read - How To Use Toner - Complete Guide To Skin Toners
Essence Vs. Serum - What Is The Difference?
Generally, face serum is much thicker and denser than a face essence. This means it works to penetrate even deeper into your skin. The primary role of serum is to help specific issues like acne, discoloration, aging, etc. Moreover, it also needs to be applied before a moisturizer to lock it into the skin thoroughly.
Though both serum and essence contain high levels of active ingredients, they evidently have different roles in a complete skincare routine. 
Read - An Expert Guide To Using A Face Serum For Best Benefits
Which Is The Best Natural Face Essence?
There are a host of face essences available in the market, but not all do the job well. If you are looking for the best skin essence that is natural, guilty-free, and doesn't do any kind of harm to your skin, the we recommend you the best natural face essence available in the market - Kama Ayurveda's Kumkumadi Brightening Bi-phase Essence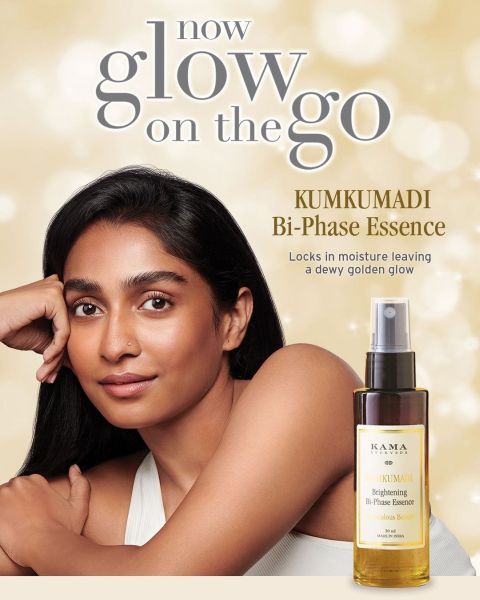 Kama Ayurveda's Kumkumadi Brightening Bi-phase Essence
The Kumkumadi Brightening Bi-phase Essence is a unique skin essence packed with potent ingredients to hydrate, illuminate and leave your skin with an instant natural glow. 
Kumkumadi oil, one of the primary ingredients of the essence, is an ayurvedic formulation that contains potent herbs to brighten dull skin and enhance radiance.

Pure Kashmiri Saffron in this lightweight skin essence gives your skin a dewy, golden look. The Liquorice helps in brightening and removing excess melanin from your skin. The Aloe Vera leaf juice, with its abundance of anti-inflammatory and antibacterial properties, will help soothe and heal your skin. All the excellent properties of the plant-based emollients will smooth out the skin texture while lending a subtle sheen. 
Benefits:
The Kumkumadi brightening bi-phase skin essence from Kama Ayurveda helps lock the moisture and impart a natural glow to your skin.
Vitamin E, one of the most potent antioxidants, in the face essence, helps hydrate and strengthen the skin's natural barrier.
Kama Ayurveda's skin essence is lightweight and doesn't leave any sticky residue. It makes the product easy to apply.
How To Use:
Shake well before spritzing onto the face and neck after cleansing and toning the skin. Gently pat on the skin. Later apply sunscreen, night cream, or moisturizer. You can also use it on the go whenever needed.
What Does A Facial Essence Do?
A facial essence primarily helps better absorb additional products like a serum or moisturizer you apply to your skin. As it treats your skin on a cellular level, you will see more results from your essence than any other product you use. With regular usage, your skin becomes smoother and brighter. It will definitely not turn back time but will revitalize your skin to look more youthful.
In addition to providing the necessary hydration, a face essence can also help in - 
Protecting skin barrier
Boosting the health of your skin
Rehydrating the skin cells
Balancing skin's pH
Smoothening and softening the skin epidermis.
A recent study investigated the impact of a 12-week treatment of serum and essence on skin. In the study, the participants were asked to apply essence and serum twice daily. After 12 weeks, the researchers found improvements in hydration, firmness, lift, and elasticity. Depending on the other active ingredients in essence, they also found additional benefits like anti-acne and anti-aging. 
In a study conducted in 2015, the researchers found that most plant-based skincare products are rich in antioxidants that help exhibit both UV protection and anti-aging benefits. These benefits are most likely to be found in essences that contain plant-based formulations.
When and How To Use A Face Essence?
A face essence should be spritzed after cleansing and toning and before applying serum or moisturizer.
If you want to include essence to your skincare regimen, you should try the following simple routine.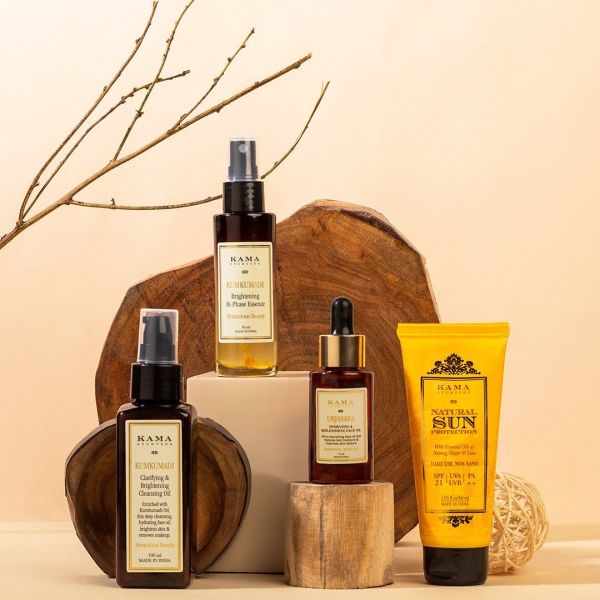 Step 1: Rinse your face thoroughly with a gentle cleanser and pat dry. You can use Kama Ayurveda's Kumkumadi Brightening Cleansing Oil.
Step 2: Next, apply the toner. To apply, you can use either a cotton pad or just your fingers. Try Kama Ayurveda's pure Rose/ Vetiver/ Lavender water.
Step 3: Spritz 4 to 5 squirts of the Kama Ayurveda's Kumkumadi Brightening Bi-phase Skin Essence onto your face and neck. Do not rub or massage the product in the skin. Just a few gentle pats will do the trick.
Step 4: If you are using a serum, apply it right before your moisturizer. You can use Kama Ayurveda's Urjasara Hydrating And Replenishing Oil as a face serum. Apply a nourishing natural day cream and follow with a sunscreen like Kama Ayurveda's Natural Sun Protection before stepping out.
Remember, you will always have to apply skin products from light (toner) to heavy (moisturizer). This way, your skin absorbs each product separately. Adding a face essence to this arsenal will help boost skin absorption even more.