Looking for that perfect glow? While many factors contribute to radiant skin, one game-changer is often overlooked: a good face pack. Picking the right one can be the difference between dull, tired-looking skin and a bright, refreshed complexion.
You don't need long routines to get glowing skin. It boils down to two main things -
First, be regular. A daily routine of cleansing, toning, and moisturizing using natural products can work wonders. It's like watering a plant – do it regularly, and it'll thrive!
Second, treat your skin to a special face pack for glowing skin once a week. Think of it as a mini spa session at home. It helps your skin recover from daily dirt and stress and keeps problems like dryness and breakouts at bay.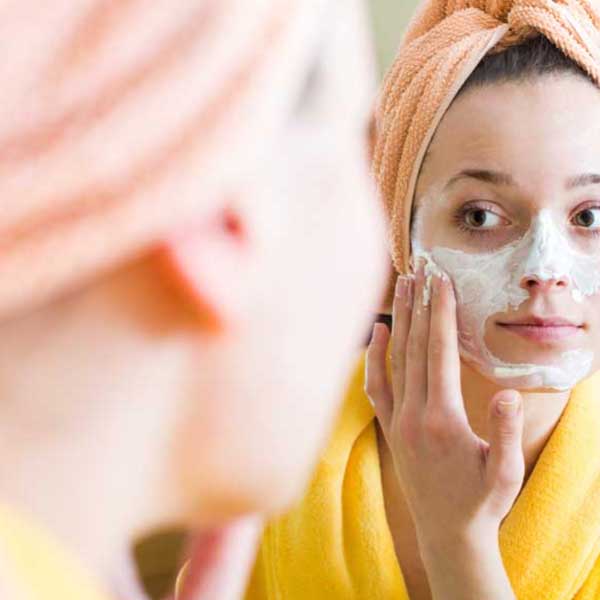 In this article, we'll dive into the second tip, showing you how to pick the best face pack for glowing skin and use it the right way.
Which Is The Best Face Pack For Glowing Skin?
While selecting the best face pack for skin lightening, make sure there are no drying alcohols and artificial fragrances in the composition as they often do more harm than good. 
Kama Ayurveda Suvarna Haldi Chandan Face Pack is an ideal face pack that gives you an instant radiance boost. 
It contains Turmeric, which is a natural illuminator and contains antibacterial properties that purify skin and make it look more smooth. The anti-aging properties of Sandalwood come in handy to fight pigmentation while leaving a soothing effect on skin. 
The additional goodness of Rose and Orange peel extracts lend your skin the antioxidants and protective barrier it needs.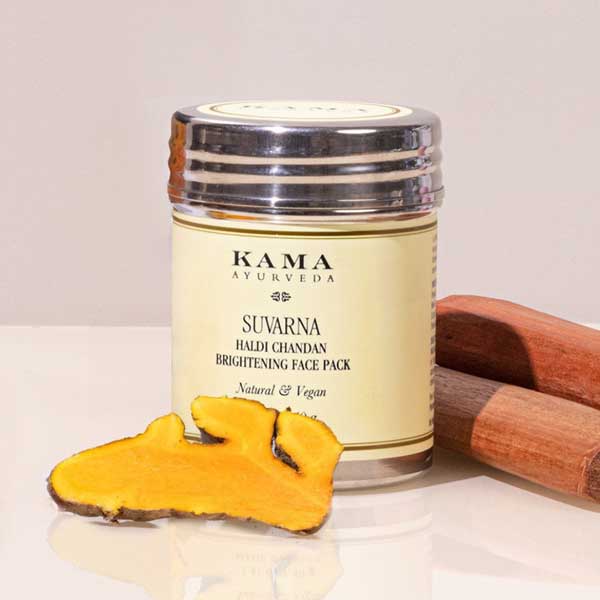 How to use:
Take 2-3 tbsp of the face pack powder and mix it with rose water. Alternatively, you can also mix it with milk or yogurt to form a paste.
Apply this paste on cleansed, damp skin and leave it on until the paste has dried.
Rinse well and use the face pack twice a week for best results.
Note:A face pack is a product that stays on your skin for longer for the drying process so make sure it's absolutely natural and ayurvedic to avoid any side effects. A fail-proof way to ensure that is doing a patch test before applying the face pack on your whole face.
Read - 18 Best Homemade Face Packs For Dry Skin
10 Homemade Face Packs For Glowing Skin
Want radiant skin without the hefty price tag or complicated ingredients? These 10 homemade face packs, curated from everyday kitchen staples, are not only easy to whip up but are also packed with natural goodness. Dive in, and let your skin reap the benefits.
1. Yoghurt & Fuller's Earth Face Pack:
Achieve a radiant complexion with this potent face mask that combats acne and nurtures your skin. An ideal homemade solution for those with oily skin.

Ingredients:

2 Tablespoons Yoghurt
1 Teaspoon Multani Mitti (Fuller's Earth)
1 Teaspoon Gram Flour
2-3 Drops of Tea Tree Oil
Directions:

Combine the ingredients to form a smooth paste. Apply on a clean face and let sit for 15-20 minutes. Rinse with lukewarm water, then tone and moisturise. For best results, use once or twice weekly.
2. Aloe Vera & Lemon Juice Face Pack:
Harness the natural power of aloe vera and lemon juice to give your skin an invigorating glow. Especially suitable for oily skin, this face pack reduces excess oil and combats acne.

Ingredients:

2 Tablespoons Aloe Vera Gel
3-4 Drops of Lemon Juice
Directions:
Blend the ingredients and apply on clean skin. Once dried, rinse with cool water, tone, and moisturise with rosehip oil. Suitable for use every alternate day.
3. Coffee & Honey Face Mask:
Get a rejuvenated glow with this coffee and honey concoction that doubles as an exfoliant, eliminating blackheads and whiteheads.
Ingredients:
1 Tablespoon Coffee
1 Teaspoon Honey
Directions:

Combine the two, and massage onto your face in a circular motion. After 10 minutes, rinse to unveil refreshed skin.
4. Yoghurt & Turmeric Face Mask:
This mask is a powerhouse, tackling inflammation, acne scars, and early signs of ageing. The combination offers both antibacterial and anti-inflammatory benefits.
Ingredients:
2 Tablespoons Yoghurt
1/2 Teaspoon Turmeric
Directions:
Blend the ingredients, applying the mixture evenly on your face and neck. After 15 minutes, rinse, tone, and moisturise. Best when used once or twice weekly.
5. Sandalwood Face Mask:
Turn to sandalwood to heal and rejuvenate your skin. This mask addresses acne, scars, and other blemishes, offering a calming sensation suitable for all skin types.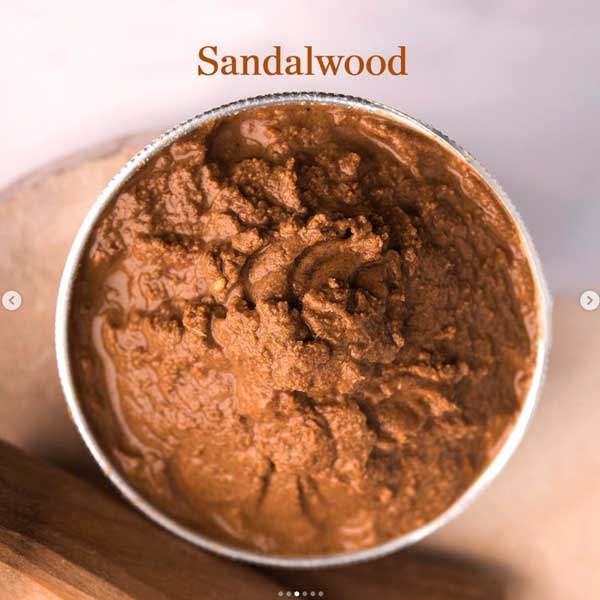 Ingredients:
1 Tablespoon Sandalwood Powder
1/2 Teaspoon Turmeric Powder
Enough Rosewater to form a paste
Directions:
Mix the ingredients to a consistent texture. Apply to your face, leaving it for 20 minutes. Rinse and remember to moisturise afterward.
6. Turmeric and Honey Face Pack:
Turmeric is celebrated for its anti-inflammatory and antimicrobial properties, effectively reducing acne and scars. Complemented by honey, a natural moisturizer, your skin will feel smooth and soft.
Ingredients:
1 Teaspoon Turmeric Powder
2 Teaspoons Honey
Directions:

Combine the ingredients into a smooth mixture. Apply to the face and let sit for 15-20 minutes. Rinse thoroughly afterward.
7. Aloe Vera and Rose Water Face Pack:
Aloe vera is a hydrating agent, known to reduce inflammation and remedy sunburns. Rose water invigorates the skin, maintaining a balanced pH level.
Ingredients:

Fresh Aloe Vera Gel
A few drops of Rose Water
Directions:

Mix the aloe vera gel with rose water. Spread the blend on the face, leaving it for 20 minutes before rinsing.
8. Banana and Milk Face Pack:
Rich in essential vitamins, bananas regulate oil production. Milk, being a natural cleanser, provides a radiant glow.
Ingredients:
Directions:
Mash the banana and integrate with milk. Apply the resulting mixture, rinsing it off after 15 minutes.
9. Papaya Face Pack:
Papaya, often referred to as the 'fruit of the angels', is a powerhouse when it comes to skincare. Its natural enzymes not only nourish the skin but also enhance its texture and tone. When combined with ingredients like Sandalwood Powder, Rosewater, and Aloe Vera gel, it creates a potent face pack that's a boon for your skin.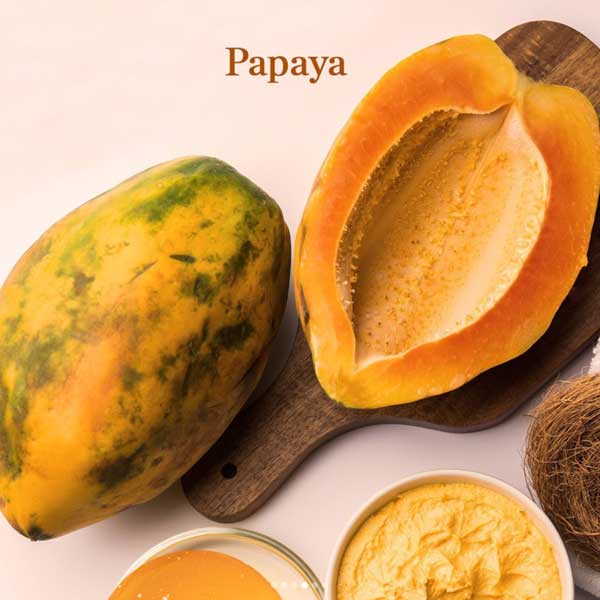 Ingredients:
1 Ripe Papaya 
1 Teaspoon of Sandalwood Powder 
A few drops of Rosewater 
A dollop of Aloe Vera gel
Directions: 
Mash the papaya in a bowl until smooth. Incorporate sandalwood powder, rosewater, and Aloe Vera gel. Mix well to form a paste. Apply evenly on the face, letting it dry for 15 to 20 minutes. Wash off with normal water.
10. Cucumber and Yogurt Face Pack:

Cucumber offers cooling and hydration, while yogurt's lactic acid exfoliates, promoting a luminous complexion.
Ingredients:
Slices of Cucumber
Yogurt as needed
Directions:
Blend the cucumber slices with yogurt. Apply the concoction and allow it to settle for 20 minutes before a thorough rinse.
Face Pack vs Face Mask
Both face masks and face packs are used to treat dehydration and work similarly on your skin. However, both are different in nature. Face masks are non-setting while face packs are setting masks. Unlike the masks, face packs take time to set and dry on the skin while face masks do not dry off easily.
How To Apply A Face Pack?
A face pack can be effectively used once or twice a week to combat many skin problems like acne, dryness, itchiness, pigmentation and dark spots. You can also use a face pack with aromatherapy oil as a relaxing, self-care ritual to de-stress yourself.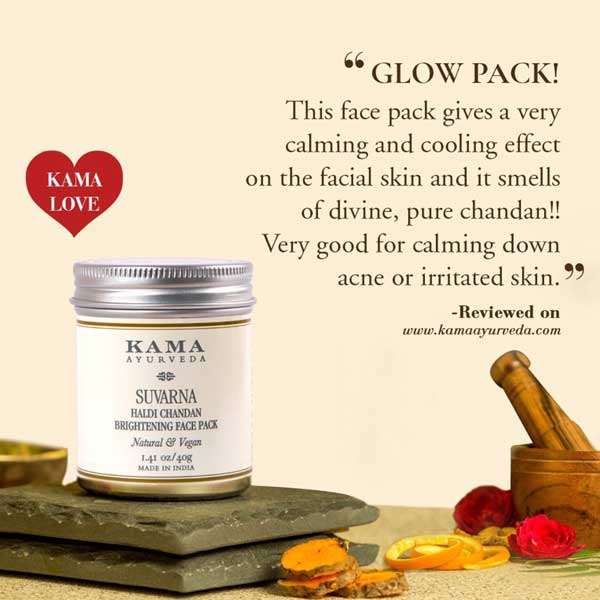 Read on further to know the complete steps of how to use a face pack and apply it correctly.
1. Cleanse:
Make sure your face doesn't have any dirt, oil, or makeup before applying the face pack. This is to make sure there is no obstruction and the face pack ingredients are absorbed by your pores.
2. Apply:
Use clean fingers or a soft brush to spread the face pack evenly across your face. Tip: apply the pack in upward motion to avoid itchiness when the pack dries. Also make sure you're not scrunching your face or talking while the face pack is drying.
3. Let it dry:
While it is advised to let the face pack dry completely, make sure you're not letting it stay on your skin for too long otherwise your skin will lose its natural oils. Most face packs can be removed after 15-20 minutes max.
4. Rinse:
Always use lukewarm water to wash your face. Remove the dried residue gently without scratching your skin. Also pat dry your skin gently with a soft towel as your skin is generally more sensitive and tender after the process.
5. Moisturize:
Follow up with a natural hydrating moisturizer or a natural, ayurvedic face cream like Eladi Hydrating Face Cream to replenish your skin's moisture. Additionally, you can use a facial oil if your skin is extra dry to supply adequate moisture to it.
FAQs About DIY Face Packs for Glowing Skin
What is a face pack for glowing skin?
A face pack for glowing skin is a specially curated blend of ingredients designed to enhance your complexion, giving you radiant and flawless skin.
How can a homemade face pack benefit my skin?
Homemade face packs, made from natural ingredients like turmeric and aloe vera, are free from harmful chemicals. They provide essential nutrients and work to brighten, nourish, and improve skin health.
How often should I use face packs for best results?
Depending on your skin type and the ingredients of the face pack, you can use them 1-3 times a week to get glowing skin and maintain skin health.
Is there a difference between a face mask and a face pack?
While both provide skincare benefits, face masks often target specific skin issues and are thicker in consistency, whereas face packs focus on overall nourishment and brightness.
Are there any specific ingredients to look for in a face pack for glowing skin?
Ingredients like turmeric, besan (gram flour), aloe vera gel, and neem are renowned for their skin-brightening and nourishing properties.
Can I make a DIY face pack using ingredients available in my kitchen?
Absolutely! Many effective face packs can be easily prepared using ingredients available in your kitchen. For instance, a mixture of besan and turmeric can make your skin glow naturally.

But remember, some natural ingredients listed in face pack recipes may not suit your skin. It's always best to know what your skin needs and do a patch test to avoid any side effects.
What are the best homemade face packs for acne-prone skin?
Face packs containing neem, turmeric, and aloe vera can be beneficial for acne-prone skin, helping to reduce inflammation and dark spots. 
How can I ensure that a face pack suits my skin type?
It's advisable to do a patch test before using any new face pack. This helps determine if the ingredients are suitable for your skin type, whether dry, oily, or sensitive.
Where can I buy the best face packs online?
Kama Ayurveda Suvarna Haldi Chandan Face Pack is the best natural face pack for glowing skin that you can shop for online.
How do face packs help in skin brightening?
Face packs often contain ingredients that exfoliate dead skin cells, moisturize the skin, and boost skin elasticity, leading to brighter and healthier skin.