Whether you personally love winter or not, your skin most definitely does not. It is more susceptible to damage in harsh weather conditions, be it the hot and humid summer or the cold, dry winter. Our skin definitely needs additional TLC during winter and most of us apply that extra layer of face cream and body moisturisers to keep dryness at bay. But what about your lips? 
Chapped lips are an extremely common concern during winter. Your lips are extremely sensitive to cold and can get repeatedly dry throughout a typical winter day. What then is the solution to this problem? Read on to understand the reasons for chapped lips and how to get rid of chapped lips.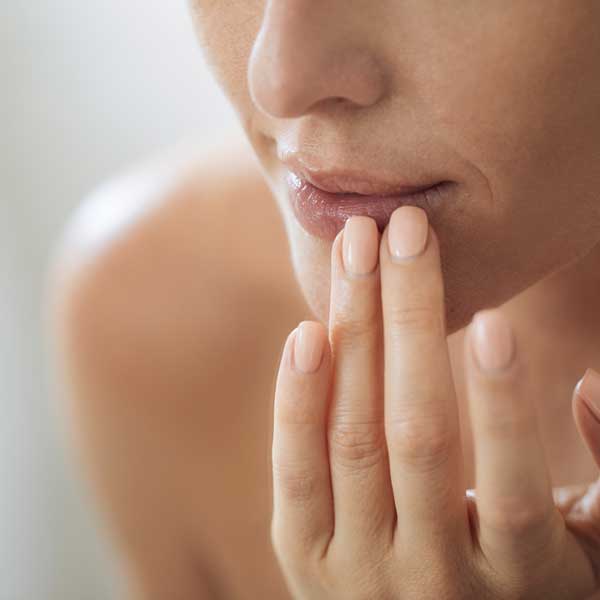 Reasons for chapped lips
Chapped lips are caused due to dry, cracked skin on your lips which could be caused due to a variety of reasons. While most cases can be attributed to harsh weather (extreme heat or cold), there could be other underlying reasons such as:
Dehydration
Deficiency of iron or Vitamin B
Frequent licking of lips
Allergies or bacterial infections
Autoimmune disorders
Thyroid disorder
Reaction to a skincare product or medication 
Hence, it is important to pay attention to this condition and treat it accordingly. Chapped lips can also be very unattractive as well as painful and definitely deserve your attention.
How to know if you have chapped lips?
It is important to know chapped lips symptoms before we can proceed to chapped lips treatment. 
Flaky or scaling lips
Peeling
Itchiness
Pain
Bleeding
Swelling
Sores in mouth
If you face any of these symptoms, your lip condition needs immediate attention. Read on to know how to get rid of chapped lips.
How to cure chapped lips fast: Quick Do's and Don'ts
1. Keep your lips moisturised with oil or lip balm throughout the day
2. Drink plenty of water
3. Install a humidifier at home
4. Avoid licking or picking your lips
5. Avoid long exposure to sun
6. Avoid mouth-breathing
7. Avoid smoking
Home remedies for chapped lips
There are various home remedies for chapped lips as well as skincare products that provide instant relief from the dryness. Regular treatment can heal your chapped lips in just 3-4 days. Here are some things you can do for chapped lips treatment.
1. Aloe Vera
Aloe vera's anti-inflammatory soothing properties come in handy while treating chapped lips. All you have to do is slice a leaf and scoop out the gel. Apply the gel twice a day on your lips for the best results.
2. Coconut oil
Coconut oil is known to soothe, heal and moisturise dry skin and does the same for chapped lips. You can also mix a few drops of your favourite essential oil with coconut oil, heat them together and refrigerate the mixture for a quick, DIY natural lip balm.
Shop Kama Ayurveda's Extra Virgin Organic Coconut Oil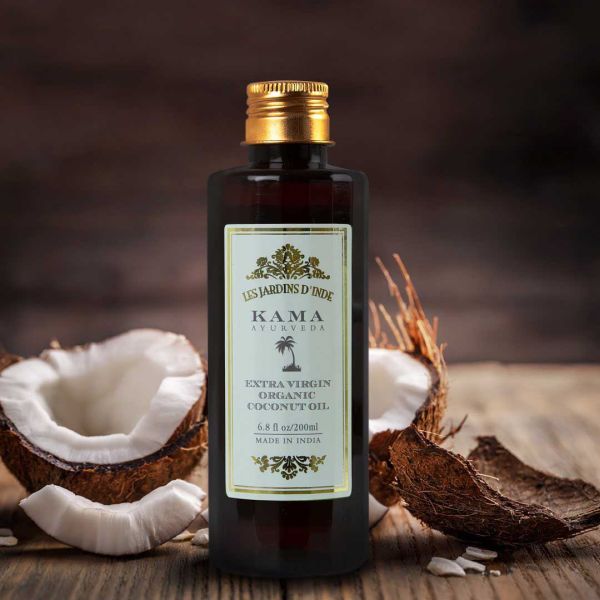 3. Honey
Honey is a natural exfoliator as well as moisturiser. It is one of the best chapped lips remedy. You can directly apply honey on your lips or mix it with olive oil to make it less sticky and even more hydrating for your lips.
4. Cocoa butter and Shea Butter:
Both these natural butters are used extensively in winter skin care products because of their ability to hydrate, protect and heal your skin. Applying them directly on your lips throughout the day can help chapped lips heal faster.

Find Shea Butter & Kokum Butter in Kama Ayurveda's Shea Lotus Body Butter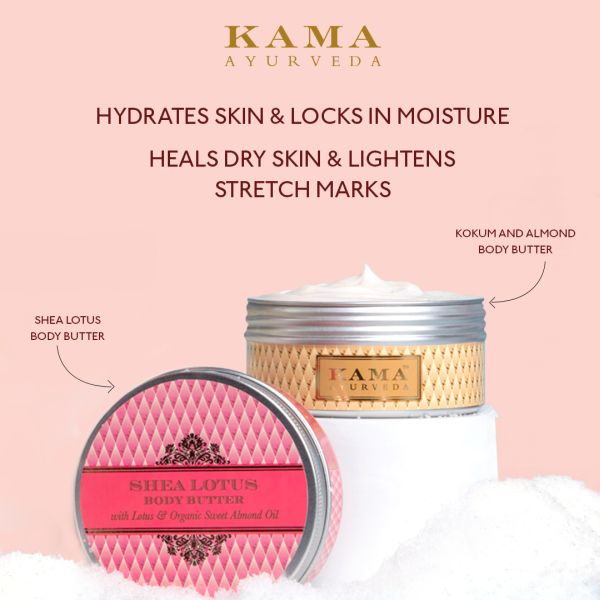 5. Cucumber juice
Cucumber juice is especially soothing if your lips have been sunburnt. Simply rub a raw cucumber slice over your lips to hydrate them and provide instant soothing sensation on your chapped lips.
6. Green tea
Green tea has the same soothing effect on your lips as it does on your skin. Simply refrigerate a used green tea bag for a couple of hours. Let the tea bag sit on your lips for a few minutes for instant relief.
7. Yogurt & Kiwi
Mix a teaspoon of yogurt with an equal amount of kiwi pulp to form a moisturising lip mask. Apply the mixture on your lips for a few minutes and rinse it off. The lactic acid in yogurt peels off the dead skin cells and the refreshing kiwi pulp deeply moisturises your lips.
8. Papaya & honey
Since it is painful to physically exfoliate chapped lips, consider using a honey and mashed papaya scrub as a natural chemical exfoliant with enzymes and hydroxy acids.
9. Ghee
It is one of the most underrated ingredients when it comes to lip care but one whose wonders are backed by Ayurveda. Besides being wonderfully hydrating, Ghee also repairs damaged skin cells and promotes healthy regeneration by stimulating blood circulation.
Best lip balm for chapped lips
While choosing the best lip balm for chapped lips, take the following things into consideration:
1. Purpose
Purpose should always define the purchase of any beauty product and you need to see if you need a regular lip balm or an extra-hydrating formula specialized to treat chapped lips.
2. Natural composition:
It is always better to use lip balms that contain natural, organic materials to avoid any side-effects.
3. Hydrating ingredients:
Look for nourishing ingredients such as natural oils, natural beeswax and plant butters that hydrate your lips and form a protective layer.
4. Sun protection:
A lip balm with SPF is a life saver! You are exposed to the sun whether it is summer or winter and having SPF in your lip balm will save them from getting sunburnt (which is also a common cause of chapped lips).
5. Drying components:
Watch out for ingredients such as phenol, menthol, salicylic acid and other synthetic components that may dry your lips with repeated usage.
Talking about the best lip balm for chapped lips, you can always count on Kama Ayurveda's Almond and Coconut Lipcare for soft, happy lips throughout the winter season. It is truly a saviour for dehydrated lips, thanks to the moisturising blend of coconut oil, castor oil and organic almond oil along with nutrient rich organic beeswax as its base. These ingredients keep your lips hydrated while also forming a protective barrier on your lips that keeps the moisture locked in.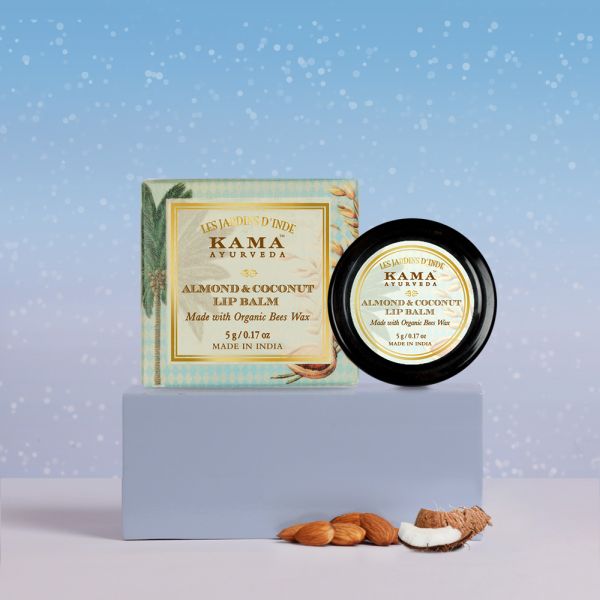 It is truly a saviour for dehydrated lips, thanks to the moisturising blend of coconut oil, castor oil and organic almond oil along with nutrient rich organic beeswax as its base. These ingredients keep your lips hydrated while also forming a protective barrier on your lips that keeps the moisture locked in.
Coconut oil contains lauric acid which is easily absorbed by the skin and keeps your lips moisturised and it also contains antimicrobial properties. Castor oil is deeply nourishing for your lips as it is rich in ricinoleic acid, a known humectant that prevents water loss through the outer layer of your lips. Lastly, almond oil is full of skin-friendly vitamins and nutrients that help build resilience of the skin. Together these ingredients form the holy trinity that will save your lips from damage and dryness throughout the winter season!
So now you know how to get rid of chapped lips! Pick your favourite chapped lips remedy and begin your chapped lips treatment at home today.
Sources:
https://health.clevelandclinic.org/6-tips-to-protect-your-lips-from-the-cold/
https://www.ncbi.nlm.nih.gov/pmc/articles/PMC8060673/
https://timesofindia.indiatimes.com/life-style/food-news/how-to-treat-dry-and-chapped-lips-using-home-remedies/articleshow/69253292.cms
https://www.medicalnewstoday.com/articles/324281
https://indianexpress.com/article/lifestyle/fashion/say-bye-bye-to-chapped-lips-with-home-remedies-5050444/