Let me guess. You came across Jojoba oil in one of your beauty magazines, or your favorite blogs, or some youtube tutorial. And you landed here, curious to know more about this natural oil and how it benefits your skin. If that's true, then this is the article for you. I'll be discussing Jojoba oil in detail, and it'll no longer remain some mystery for you. Let's begin by taking a peek into its history!

Long used by Native Americans for its many benefits, Jojoba Oil is a highly nourishing oil produced from the seed of the Jojoba plant. 

Jesuit missionaries in Baja, Arizona, were the first to discover the benefits of this plant. They used pestles to grind the jojoba seeds and obtain a salve or a buttery substance, which was then applied to the skin and hair to reveal amazing results!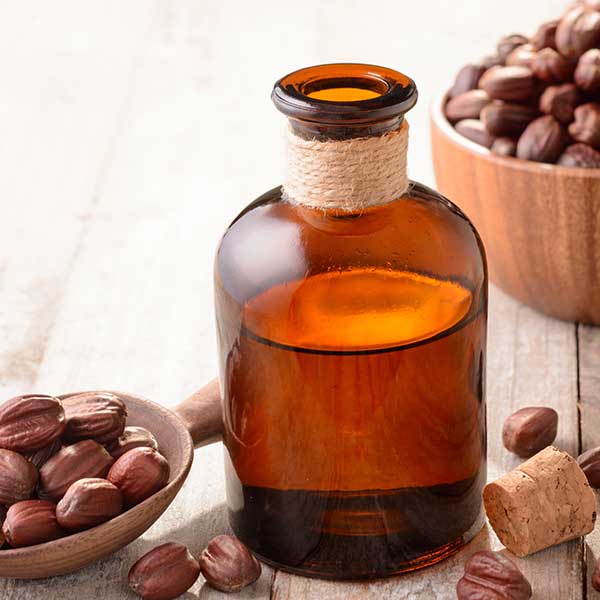 But did you know Jojoba oil is known to possess not only cosmetic but medicinal properties as well? Native Americans extracted jojoba oil from jojoba seeds to treat open wounds and sores. 
Not only this, but pregnant women also ate jojoba seeds for smooth childbirth. 

But nowadays, jojoba oil is mostly used for beauty and cosmetic purposes. Due to its many benefits for the skin, it has become a popular natural ingredient in beauty products.


Where does Jojoba oil come from?
The term jojoba, pronounced as ho-ho-ba, is used for both the plant as well as its extracts. The jojoba plant (scientific name- Simmondsia Chinensis) is a shrub native to Mexico, Southern Arizona, and California. Its a dioecious plant and can take up to three years to produce flowers. 

The female jojoba flowers, once pollinated, hardens and forms a capsule that produces seeds. The capsule then sun-dries and splits open to reveal the matured seeds which contain the precious jojoba oil.

What is Jojoba oil, and how does it work?
We've spoken a lot about the jojoba plant, now let's get to the main part- Jojoba Oil. 

Did you know that Jojoba oil makes up about fifty percent of the Jojoba seed by weight?

The liquid wax or oil produced by the tiny pods are similar to the natural restorative esters produced by the sebaceous glands in our skin! These esters make the oil a useful emollient for beauty products. Their purpose is to soften, cleanse, and prep the skin. It is highly recommended for those with dry and oily skin as it regulates the sebum produced on the skin and controls the greasy texture.

Jojoba also contains certain compounds called tocopherols that are forms of vitamin E, which fight free radicals and eliminate them from the body. Hence, jojoba oil helps in getting healthy and younger-looking skin. We will be talking more about the benefits and uses of jojoba oil for the skin in detail in the following sections. So read on!


Benefits of Jojoba Oil for the skin and face
Jojoba oil has numerous benefits when applied to the skin, which is why it is used in many cosmetics and beauty products. This oil is referred to as a miraculous potion by some YouTubers, and many swear by it. So let's look at the benefits of using this beauty potion:


Jojoba oil is a humectant. It means that it helps to retain moisture in the skin by sealing the skin with a protective barrier. This not only keeps the skin hydrated, supple, and moisturized but also prevents bacterial infection and acne by preventing the buildup of bacteria in the pores.

For its ability to retain moisture, Jojoba oil is added to face cleansers. If you want to effectively cleanse impurities and lift away makeup, without losing your skin's natural moisture, use Kama Ayurveda's Rose Jasmine Face Cleanser. It has deeply conditioning Jojoba oil that softens and rejuvenates skin, minimizes fine lines and promotes skin suppleness.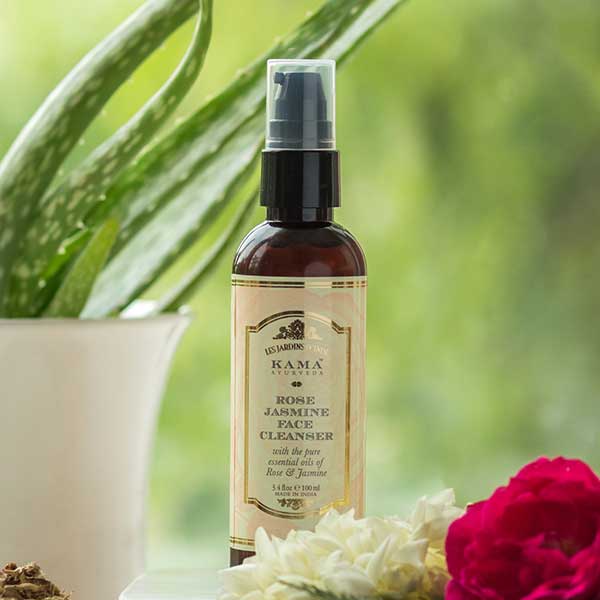 I'm sure most of you might have heard of oil cleansing. The idea is to use oils instead of soaps or other face wash with harsh chemicals to cleanse the face and remove the dirt and grime from the skin. You can use Jojoba oil to gently cleanse the skin, without tugging or pulling the skin. Just rinse your face with warm water and a soft cloth. Then apply a few drops of jojoba oil onto the face using clean hands. That's it! Your secret to having clean and clear skin.
Rich in antibacterial properties
Jojoba oil contains antifungal as well as antimicrobial properties that kill bacteria, causing salmonella, an E. coli infection, and candida. By forming a protective barrier, it prevents the buildup of bacteria on the skin, thereby preventing acne and other bacterial infections.

Rich in antioxidant properties
Vitamin E, as we all know, acts as an antioxidant when applied to the skin. Jojoba oil contains vitamin E. This implies that this magic oil can protect your skin from stress caused due to everyday exposure to toxins and other pollutants.


We have already discussed above how jojoba oil can be used as a natural cleanser. In addition to its other benefits, jojoba oil can also be used as an excellent makeup remover. Simply add a few drops of jojoba oil onto a cotton pad and use it to wipe off your makeup. You will be surprised at how easily the makeup removes itself and glides along with the cotton.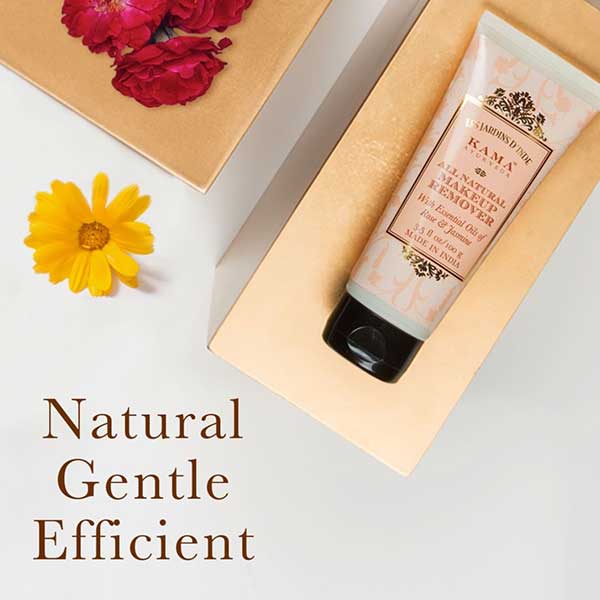 You can also use All Natural Makeup Remover enriched with Jojoba oil as it will cleanse your skin without drying out the skin and even replenish dehydrated skin. 

Jojoba oil has excellent healing properties and has been used by the native Americans to heal wounds and scars. It is a popular ingredient in sunscreens and can be used as a natural sunscreen. It can also be used to treat sunburns. Jojoba soothes the burnt skin while healing them, which helps to alleviate the pain after a sunburn. Sun damage can leave the skin dry and flaky. This is when the moisturizing properties of jojoba oil will kick in. Overall, it's a great idea to apply jojoba oil on the skin after a day spent under the hot, scorching sun.

Jojoba oil has anti-inflammatory agents. These, along with its healing, antimicrobial and moisturizing properties, gives us good reason to believe that jojoba oil, when applied on the skin can treat mild acne. 

Controls sebum production
Jojoba oil is similar to the sebum produced by our sebaceous glands. That's why it helps control sebum production. Our skin produces excessive oil only when the skin is dry. When you massage your skin with jojoba oil, your skin is naturally soothed, and this sends a signal or a message to the brain that the glands do not have to produce excessive oil. This prevents the skin from looking oily and dull.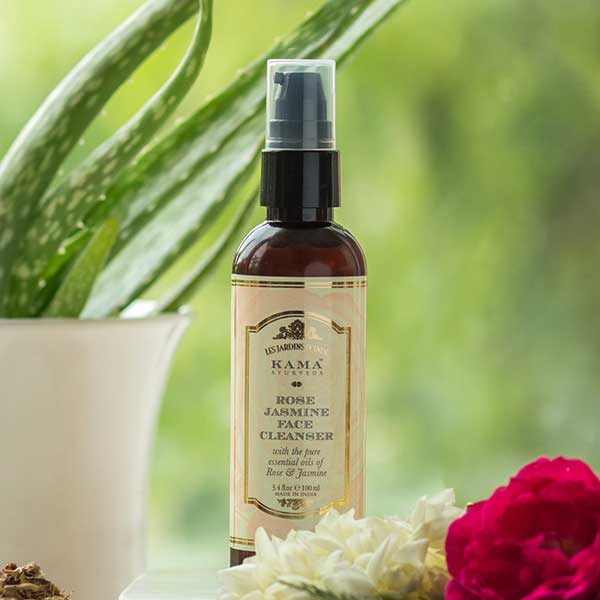 To cleanse your skin deeply and regulate sebum production, you can also use Kama Ayurveda's Rose and Jasmine Cleanser enriched with Jojoba oil. Deeply conditioning Jojoba Seed oil softens and rejuvenates skin, minimizes fine lines, and promotes skin suppleness.

Promotes collagen synthesis
Collagen is a protein present in the skin, which helps in healing. Studies have shown that collagen levels decrease as you get older. Massaging your face with jojoba oil may promote collagen synthesis and improve the elasticity of the skin.

Aging is something that we all dread. But what's scarier than aging is the visible signs of aging. The vitamin E and antioxidants present in Jojoba oil can slow these signs of aging, such as the appearance of wrinkles and fine lines on the skin by improving the elasticity of the skin.

Jojoba oil as a body massage oil
Jojoba oil has many properties that make it an ideal massage oil. It is often combined with other types of oil to prepare massage oils to treat specific conditions. For instance, it can be combined with peppermint oil for pain relief and eucalyptus oil for stress relief. Jojoba oil forms a skin-nourishing base to which essential oils are added to get the ideal body massage oils that restore and balance the system, relax the body while uplifting the mind.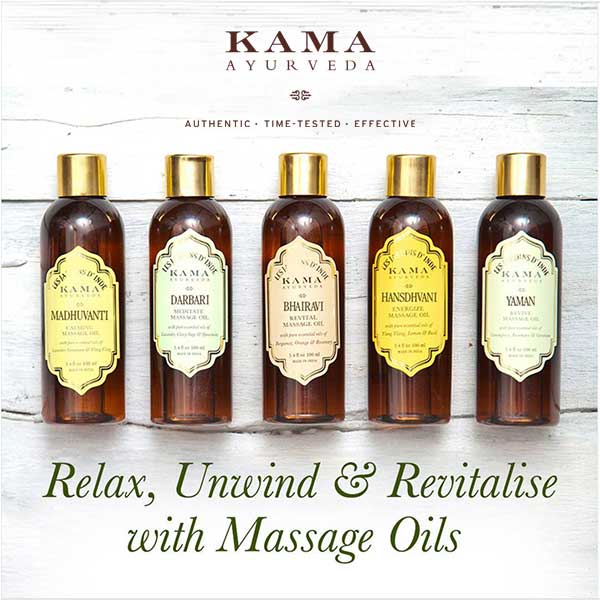 Here are some reasons to use massage oil that has Jojoba oil as the base oil -

Jojoba oil is nonallergic. It is just like the natural sebum produced by the skin and can be used on all skin types, including sensitive skin.
It is shelf-stable. Unlike most other oils, this oil does not turn rancid or oxidize over time. It can be stored for an indefinite period without refrigeration and can be heated and reheated, which makes it ideal for hot oil massages.
It has immense benefits for the skin- Jojoba oil contains vitamin E and B and is packed with antioxidants, antimicrobial and anti-inflammatory properties. It also contains essential minerals like zinc and chromium that provide nourishment and moisture to the skin.
It is non-comedogenic. Jojoba oil doesn't clog pores, which makes it ideal for facial and scalp massages.
Jojoba oil is non-greasy. It's non-sticky and also not oily.
It doesn't leave behind any stains on the fabric.
It has no strong aroma of its own, which makes it the perfect carrier oil for aromatherapy.
Massage Oil for Calming - Madhuvanti Calming Body Oil by Kama Ayurveda has calming Geranium, uplifting Ylang-Ylang, and grounding Lavender essential oils blended with Jojoba oil. The oil has a soothing influence on the nerves and body.

Massage Oil for Energising - Hansdhvani Energise Oil by Kama Ayurveda is an artful blend of pure essential oils of Ylang Ylang, Lemon, and Basil in Jojoba oil base. The oil is an energizing blend that clears the mind and relieves fatigue.

Jojoba oil for Men
Jojoba oil is widely used in many beauty products used by women, but the benefits of this oil aren't limited to any particular gender. As mentioned in the previous section, Jojoba oil is excellent for controlling acne and breakouts. Since it mimics the skin's natural sebum, it controls the sebum production of your sebaceous glands. It prevents oily skin and the clogging of pores. It essentially tricks the skin into believing that it has produced sufficient oil, thus making the skin produce less oil. 

We recommend Kama Ayurveda's Himalayan Deodar Face Cleanser for Men. Moisturizing Jojoba Seed oil minimizes fine lines, promotes skin suppleness and rejuvenation. It also regulates excessive oiliness.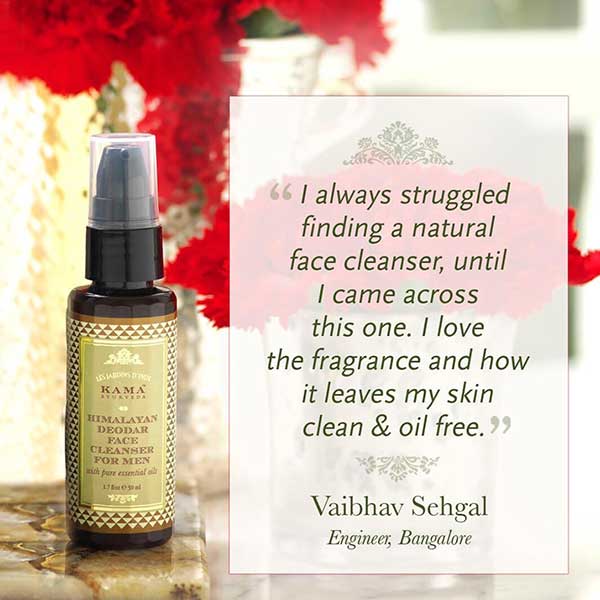 It's also a great moisturizer and slows down the aging process. In short, all of the benefits mentioned above in the earlier section apply to men as well. So all you men out there, don't hesitate to try out Jojoba oil on your skin. 

Side Effects and Risks of Jojoba Oil
All good things come with their own set of side effects. However, in the case of Jojoba oil, since it is hypoallergenic, it is safe to say that the side effects of Jojoba are quite rare. There are some rare cases where Jojoba oil causes allergic reactions such as hives and itching. To avoid such side effects, conduct a small patch test first before applying it all over the face.

FAQ about Jojoba Oil:
1.What is Jojoba Oil best for?
From the sections above, it is quite clear that Jojoba oil has numerous benefits, including both health as well as beauty benefits. But Jojoba oil is mostly used for its beauty benefits. It is used in many cosmetics and cleaning products. It is most widely used to treat acne, sunburns, psoriasis, and chapped lips. Women also use this oil for its anti-aging properties. So there you have the answer, Jojoba oil is best used for the beauty benefits it has on the skin.

2. Is Jojoba Oil good for hair?
Although Jojoba oil is mostly used on the face and skin, Jojoba oil is also extremely beneficial for hair regrowth. It is used to encourage hair growth in people who are balding and is a common ingredient in shampoos. It may prevent hair breakage and strengthen your hair. Jojoba oil can also treat dry, itchy and flaky scalp and help you get rid of dandruff.

3. How do you use Jojoba Oil?
You can use Jojoba oil as a skin cleanser or makeup remover by adding a few drops onto a cotton pad and gently gliding it along the skin. You can also use it as a massage oil by simply applying the oil onto the skin using clean fingertips. Jojoba oil can also be used on the hair to treat dandruff and help in hair regrowth by simply massaging it into the scalp using your fingertips. You can also use natural beauty products that contain Jojoba Oil as a key ingredient.

4. Is Jojoba Oil good for the face?

As discussed above, Jojoba oil is one of the best oils to use on your face. It has antioxidants and vitamin E and B that improve collagen levels and skin elasticity, making the skin look younger. It has antimicrobial properties that treat bacteria and forms a protective shield on the skin. It treats acne and protects the skin from the harmful UV rays of the sun.

But most importantly, it is non-comedogenic, which means that it doesn't clog the pores and is less oily as compared to the other plant-based oils.

5. Does Jojoba Oil clog your pores?
Jojoba oil is non-comedogenic which means that it does not clog pores. It is non-sticky and non-greasy.

6. Can you leave Jojoba oil on your face overnight?
If you're wondering if you can leave Jojoba oil on your face overnight, then the answer is yes. Yes, you can leave Jojoba oil on your skin overnight without clogging the pores or causing any breakouts. What's more, it does not leave any stains on the bedsheet as well.

So what are you waiting for, make Jojoba oil a part of your beauty regime right away? 

References: