Lavender flowers represent purity, silence, devotion, serenity, grace, and calmness. Since ancient times, they were considered to be nature's answer to grace and beauty. If your skin has been feeling exceptionally dull lately, Lavender could work like magic! Lavender Water, prepared from steam distillation of renowned Lavender flowers, can breathe new life into your skin. 
Does your skin often look irritated, exhausted, and tired? All the daily stressors that we encounter reflect on the health of our skin. Lavender Water is known to soothe and relax the skin, thereby giving an instant boost to the skin.
If you've come across this natural toner for the first time, don't worry. This article will tell you all about how you can use Lavender Water to get calm, cool, hydrated, and toned skin.
Let's start with the basics -
What is Lavender?
For most of us Lavender instantly reminds us of the soothing aroma that comes with diffusing Lavender Essential Oil. But did you know that the flower is known for more than just its fragrance? 
A natural sedative, it is great for treating insomnia and other sleep-induced disorders. It's also an antiseptic and works well with acne and cuts. It is also used to heal knee and joint pains.
The healing herb originally belongs to the Mediterranean region, where it is highly regarded among the most famous herbs for aromatherapy. Today, Lavender scent is everywhere - from household cleaning products to beauty products.But only a few brands use authentic and original Lavender flowers to prepare these products. Hence, if you want to experience the flower's best qualities, Lavender Essential Oil and Pure Lavender Water are the two best options. At Kama Ayurveda, they are prepared from the precious and pure Himalayan Lavender.
Benefits of Lavender For Skin
We've talked about how Lavender is a miracle flower with immense benefits. It aids in relaxing, purifying, and healing the skin. The benefits of Lavender Water combined with its herbaceous fragrance are a treat to your mind and body! But do you know what makes it so effective for your skin? Let's look at its most important properties and how they help your skin.
Improves natural moisture content of the skin
Did you know that vitamin A promotes the skin's ability to stay moisturized naturally? It assists in the production of collagen and speeds up the healing process of the skin. Vitamin A also benefits the skin by reducing the number of breakouts and boosting its immune system. Studies state that Lavender has high contents of vitamin A. Therefore, it improves the moisture-holding capacity of the skin. This makes Lavender Water perfectly suited for sensitive, mature, and dry skin.
Reduces scars and blemishes
Do you feel exasperated by looking at the blemishes and post-acne marks on your face? Well, Lavender to the rescue! Lavender Water is stated to reduce the appearance of scars as it can regenerate damaged skin cells. It prevents the scarring process as it supports the growth of cells and tissues. It can also stop bacteria formation that gives rise to breakouts and keeps the skin protected.
Has anti-aging benefits
Lavender Water is high in antioxidants Also, other phytochemicals' presence makes it an excellent product useful in defying age and hence giving anti-aging benefits. As Lavender water also acts as a toner, it firms the face, tightens the pores, and reduces wrinkles. It purges the toxins and eliminates free radicals, thereby giving you a smooth and youthful-looking skin complexion. It can also restore the skin's elasticity with daily application.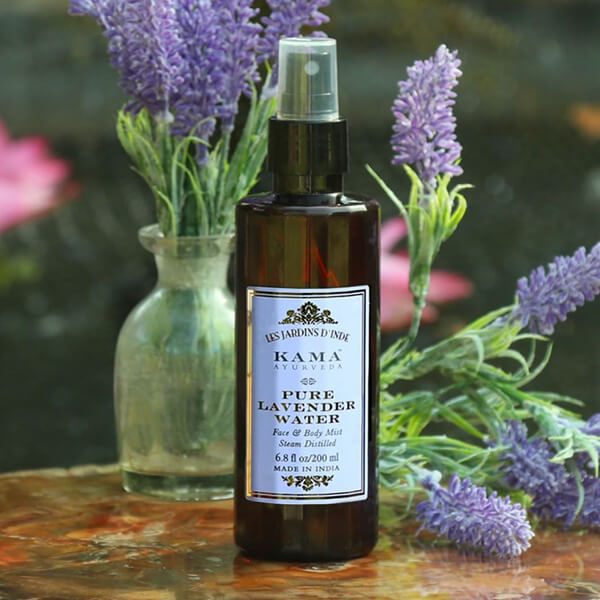 Balances the pH levels of the skin
Did you know skin problems such as eczema, premature aging, dryness, acne, oily skin are often caused by unbalanced pH levels of the skin? When the skin's pH level goes haywire, its natural barrier is automatically compromised, and exposure to harmful elements exacerbates the skin tissues' functioning. However, using Lavender Water could lay this woe to rest, as it explicitly maintains the skin's pH levels, keeping it healthy and nourished.
Heals wounds
Did you know that the Greeks used Lavender to clean burns, injuries, and wounds during ancient times? Lavender possesses antiseptic properties that aid in a faster skin healing process and at the same time prevent the onset of any infection. Through collagen formation, tissue remodeling, and wound contraction, Lavender Water helps the skin heal exceptionally faster. It also detoxifies the skin and purges harmful toxins. 
Now, as we know about the benefits of using Lavender water, let us look at how we can use Lavender Water for your skin.

How To Use Lavender For Your Skin?
Refreshing and mood-enhancing Lavender can be included in your skincare routine through the following means -
1. Lavender Water as a toner
Toners do an amazing job of noticeably minimalizing the pore size on the facial skin. They aid in creating a smoother appearance and imparts a radiant glow as well. Did you know the relaxing fragrance of the Lavender Water places it amongst the most suitable nighttime skin toners? As this water is prepared with a floral base, it cleanses and soothes the skin, pampering your skin immensely. Also, it is ideal for those having sensitive skin types as it is mild and gentle on the skin. Read - How To Use Toner - A Complete Guide To Skin Toners
2. Lavender Cleanser for body
Throughout history and even currently, we cannot deny the overwhelming advantages of Lavender; it is widely renowned for promoting healthy skin and supporting relaxation and personal care. Lavender-based body cleansers can be suitable for all skin types, including those with sensitive skin. Many with sensitive skin find a hard time finding body cleansers that would suit their skin requirements. Lavender contains anti-inflammatory and antiseptic components that doubtlessly soothe and heals sunburns. It effectively diminishes the inflammation and even repairs damaged skin.We recommend Lavender Patchouli Body Cleanser to get all these benefits of Lavender for your skin. It is a mild and gentle body cleanser with the soothing scent of Lavender and Patchouli that soothes and calms dry skin to leave it cleansed and hydrated.
3. Lavender Essential Oil
Lavender essential oil is amongst the most popular and widely used and essential oils! Its benefits range from battling headaches, diminishing stress, and even keeping insects away. However, for cosmetic purposes, Lavender essential oil can moisturize the skin. Also, its antibacterial properties make it perfect for destroying acne-causing bacteria. 
Did you know that Lavender essential oil is non-comedogenic? Its non-comedogenic property allows the product to keep the pores unclogged, unlike other general moisturizers that usually clog pores, causing acne or eczema breakouts. The benefits of Lavender essential oil are multifarious. For example, using it for aromatherapy relaxes the mind and keeps the stress away, which indirectly comforts and assists the skin rejuvenation.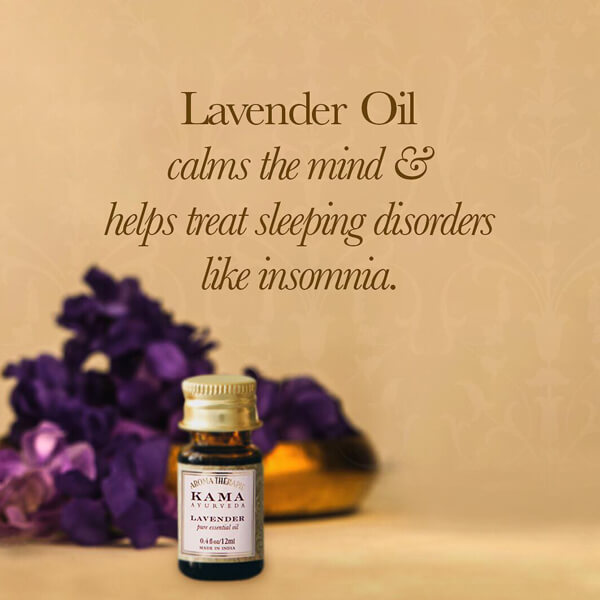 To include Lavender essential oil in your skincare routine, you could use it as a toner by mixing a few drops of the essential oil with a teaspoon of witch hazel. Soak up the mixture with a cotton ball and gently smear it over the face. In case you have a stubborn pimple, mixing a drop of Lavender essential oil with one drop of argan oil could reduce its inflammation. Remember to always use the essential oil in the diluted form with another carrier oil, as an essential oil is concentrated and could harm the skin if applied directly.
4. Lavender Body oil
Lavender-based body oil can benefit the skin in numerous ways. It helps in reducing acne, lightening the skin, and reducing wrinkles. If you are looking for body oil to relieve tension and soothe nerves, consider using Lavender as one of the key ingredients. We recommend Madhuvanti Calming Body Oil to get the best benefits of Lavender along with other calming natural ingredients like Geranium and Ylang Ylang.It has amazing anti-inflammatory, antifungal, antibacterial and antiseptic properties.
Now, as we have seen, the different ways of using Lavender Water for the skin. Next, let us learn about the method of using this super ingredient in your regular skin routine.

How To Use Lavender Water In Your Skin Routine?
Including Lavender Water in your skin routine will be an instant skin booster. It has therapeutic advantages which calm the senses and even elevates the mood. Facial mists, face packs, and body mists that contain Lavender Water could support your journey of achieving the skin you desire!
As A Facial Mist
Lavender Water can be used as a facial mist anytime and anywhere, whether it is to help you set your makeup or quickly refresh your skin from a stressful day. Did you know that Lavender Water rejuvenates the skin and provides hydration to dehydrated, dry skin? You could spray the facial mist to revive the skin's glow, elasticity and replenish the skin's moisture level. It cools and refreshes the skin in hot and humid weather. Its calming action makes it perfect for sensitive, irritated skin prone to rashes and allergies.
In Face Packs
Lavender Water can also be used to make face packs as it will further enhance your face pack's benefits. You can prepare a natural skin brightening and rejuvenating face pack by combining natural ingredients such as Multani Mitti, Turmeric, and Sandalwood. Alternatively, you can also use it with Kama Ayurveda's Suvarna Haldi Chandan Face Pack as a bi-weekly skin brightening treatment for sensitive, oily, acne-prone skin.
As A Body Mist
Do you long to have a signature body fragrance? Well, you could start using Lavender Water as your signature perfume. Its aroma is appealing, and also its high anti-oxidative components protect the skin and enhance the skin's natural barrier. It's also a wonderful scent to carry with yourself to bed. A natural antidepressant, a few sprays of this water relieves frayed nerves, reduces tension, and even aids in getting a good night's sleep.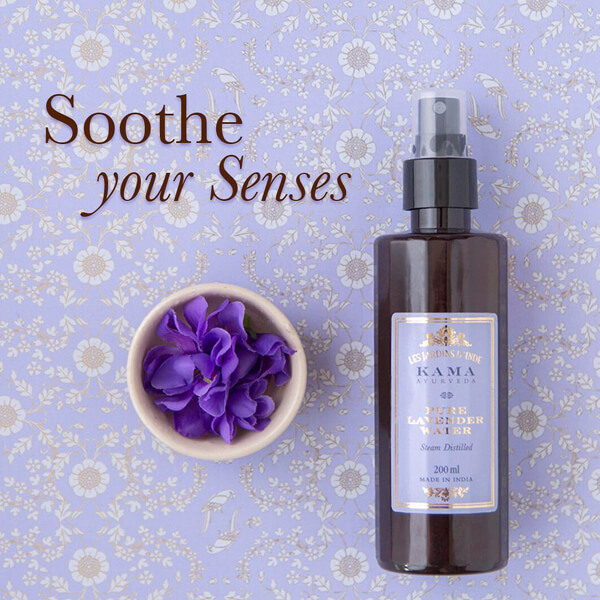 In Body Scrubs
Did you know that exfoliating your skin not only helps you get rid of dead skin cells and dry skin but also impart radiance, clarity, and youthfulness to your skin? Skin exfoliation should be included in your skincare routine as it can effectively cleanse the skin, unclog the pores and allow the next products of your skincare regime to penetrate deeper and perform their duty. 
Implementing Lavender in your exfoliation process has added benefits! You could add 10 to 15 drops of Lavender Water, a cup of sugar, and half a tablespoon of coconut oil to prepare a Lavender hand and body scrub. Exfoliating your skin with this mixture can reduce redness, heal blotchy skin and acne as well. Also, the calming fragrance of Lavender can soothe your mind and could prove to be a stress buster!  So, here we have come to an end with this article that has described in detail Lavender Water and how you could incorporate it into your regular skincare regimen. Go ahead and generously use Lavender Water to rejuvenate your skin instantly. It does not have major side-effects and is stated to suit sensitive skin. However, if you still have any questions about including Lavender Water in your daily skin care routine, you can book a free consultation with our Ayurvedic beauty experts.