Scientifically called Lavandula Angustifolia, Lavender has a distinct sweet and floral smell that can instantly relax, calm, and promote a sense of harmony and well-being in you. Queen Elizabeth cherished this flower and used it in her tea and perfumes.

The oil was even considered an antiseptic during the first world war! But did you know that there are immense benefits of using Lavender oil for hair growth? 
For years, people have turned to lavender for better hair. Lavender oil, with its soothing and protective qualities, gives hair a real boost. It deeply nourishes, keeps our hair roots strong, and helps guard against everyday wear and tear from the environment and heat.
It also has anti-inflammatory, antibacterial, and anxiolytic properties that improve hair's health. 
Read - How To Use Lavender Essential Oil for Beauty & Aromatherapy
Want to know more about what Lavender can do to your hair? In this article, we talk about the top benefits of lavender oil for hair and explain different ways to incorporate it into your hair care regimen.
Lavender Oil: What Makes It So Special For Hair?
As per the science of Ayurveda, the stability of the three doshas (Kapha, Pitta, and Vata) is crucial to maintaining good hair health. Do you know that your major hair issues relate to your different Prakriti and dosha situations? The calming nature of Lavender oil works on all three doshas keeping many hair conditions at bay.
Lavender essential oil helps in promoting hair growth and preventing baldness. Its antimicrobial properties will not allow the formation of fungi or any bacteria, thus keeping dandruff away.

Regular application of Lavender oil for hair ensures lustrous, thick, and healthy-looking strands that can withstand many environmental damages.
Lavender oil offers essential antioxidants and nutrients that help stimulate blood flow, boosting hair growth. This incredible botanical coming from the mint family benefits don't end here; scroll a little down to find more exciting benefits of using lavender essential oil for hair. 
7 Top Benefits Of Lavender Oil For Hair 
Lavender is popular for its floral and relaxing scent. Apart from providing a sweet soothing aroma, the flower also offers many hair, body, and mental benefits.
The Lavender essential oil has a variety of natural solutions that benefit hair in several ways. Wondering how? Here we compiled a list of the of Lavender essential oil benefits for hair -
1. Soothe Scalp Irritation & Itching
Lavender oil has analgesic and anti-inflammatory properties that can soothe any irritated skin. Both Linalyl and Linalool, compounds present in Lavender, are known to ease pain and help inflammation. 
2. Stimulates Hair Growth
The use of Lavender oil for hair growth gained attention recently. The oil is beneficial for hair thickening, developing new hair, and hair loss prevention. It also helps in conditioning the hair, controlling frizz & boosting shine. Lavender oil even helps with problems such as alopecia or pattern baldness. (2)
3. It's Antimicrobial
Lavender oil has antimicrobial properties that are known to prevent fungi & bacteria from growing. It can treat many scalp conditions, including dandruff, dry and itchy scalp, etc.
4. Prevent Head Lice
Head lice are an undesirable and uncomfortable occurrence. Do you know that Lavender essential oil can help get rid of head lice and prevent them from occurring again? Yes, Lavender oil can reduce the risk of having lice. Use Tea tree oil with Lavender oil to see better results.
Read - 8 Simple Ways To Use Tea Tree Oil For Hair
5. Suppress Headaches
Owing to its stress-boosting properties, Lavender oil is widely utilized in aromatherapy. A simple head massage with Lavender oil clears the brain toxins and enhances cognitive abilities such as focus, concentration, and memory.

It even balances the pitta and Vata doshas in the body, thus soothing headaches. Stress-relieving effect of Lavender Oil helps in reducing hair fall and promotes healthy hair growth.
6. Help You Catch Some Sleep
Be it stress or an approaching deadline; sleeplessness is a common factor in today's fast-paced lifestyle. Loss of sleep is debilitating and leads to disturbance to the emotional & physical well-being.

Lavender oil is used in various head massage therapies as it reduces the cortisol levels that offer peaceful sound sleep. According to Ayurveda, external beauty is deeply connected to our internal health. When you rest well, your hair also becomes healthier.
Shop Kama Ayurveda Pure Lavender Essential Oil
7. Fights With Hair Loss
Several factors cause hair loss. It could be genetic or could be accelerated with an unhealthy scalp environment. With a powerful pack of antibacterial and antiseptic properties, Lavender essential oil protects your scalp against bacteria.

It helps in improving blood circulation in the scalp, which strengthens the hair follicles. This, in turn, prevents hair loss and enables hair growth. 

How To Use Lavender Oil for hair?
If you have less time but like to work the magic for your tresses, then a DIY hair mask with Lavender oil is all you want.

Any hair condition can be easily treated and pampered with these simple DIY Hair Masks. Look at the ingredients and discover how you can make these spa-worthy hair care recipes.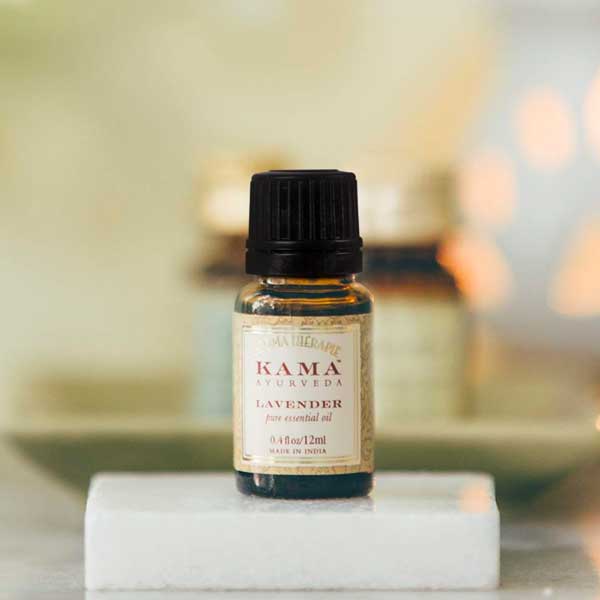 1. Coconut Oil - Lavender Hair Mask Recipe for healthy hair
Coconut and Lavender oil hair mask is a powerful three-ingredient mask that can boost hair health noticeably. You can also store the mixture in a bottle and use it frequently. 
Ingredients:
Virgin Coconut Oil - 2 tablespoons
Rosemary Essential Oil - 3 drops
Lavender Essential Oil - 3 drops
Preparation: 
Take a small bowl and add coconut oil to the Lavender & Rosemary essential oils.
Blend it well together.
How To Use: 
Dampen your hair with water.
Coat this mixture on hair using a brush or your fingertips. 
Let it sit on hair for 30 minutes.
Rinse the mask off the hair, and then shampoo & condition it. 
2. Jojoba & Lavender for Hair Growth
Jojoba oil is popular for hair care remedies as it conditions the scalp. Lavender oil cleans the toxins from follicles and boosts hair growth.
Ingredients:
Jojoba oil – 2 tablespoons
Lavender oil – 2-3 drops
Preparation: 
Take a mixing bowl and add Lavender oil and Jojoba oil.
Mix the above mixture well.
How To Use: 
Massage the above mixture gently in circular motions on the scalp. 
Leave it for an hour.
Then wash it off using warm water
Repeat this at least once a week.
3. Lemon Juice & Lavender Oil for Dandruff
Lemon juice is perfect for controlling hair dandruff. You could mix it with the lavender essential oil for making a robust anti-dandruff solution. This mask also soothes an itchy scalp.
Ingredients:
Fresh lemon juice - 2 Tbsp
Olive oil - 2 Tbsp
Lavender essential oil - 5 drops
Preparation: 
Heat the olive oil for a 10 seconds.
Then mix it with Lemon juice and Lavender oil.
How To Use: 
Apply the above mixture and massage the scalp gently for 5-10 mins
Wash it after an hour by using mild anti-dandruff shampoo.
4- Honey - Lavender Hair Mask For Brittle Hair
This Honey and Lavender oil mask deeply nourishes, hydrates, and soothes the hair, promoting a healthier scalp and shinier locks.
Ingredients:
2 tablespoons of raw Honey
2 tablespoons of Olive oil or Coconut oil
5-6 drops of Lavender essential oil
Preparation: 
Combine all ingredients together to prepare the hair mask.
How To Use: 
Apply it on the damp hair 
Massage hair gently and allow it to rest for 3o min.
Rinse the hair mask off by using shampoo.
5. Castor oil - Cedarwood oil - Lavender Oil Hair Mask For Growth
Want thick and strong hair this winter? Then this DIY hair mask with cedarwood, castor, and lavender essential oil can be your hair's good friend. Both castor oil and cedarwood oil are known to boost hair growth. Lavender essential oil makes sure hair stays healthy and robust.
Ingredients:
Avocado oil - 2 tablespoons
Castor oil - 1 teaspoon
Lavender essential oil - 10 drops
Cedarwood essential oil - 5 drops
Preparation: 
Take a mixing bowl and combine Lavender, Castor oil, and Avocado oil, as well as cedarwood essential oils.
How To Use: 
Apply this hair mask on the scalp, then massage it gently.
Let it rest for 1 hour or even overnight.
Wash the hair mask with water and shampoo 
6. Olive oil - Lavender Oil Hair Mask For Frizzy Hair
Frizzy hair is too annoying, but this DIY summer hair mask keeps your frizzy hair at bay.
Ingredients:
Olive or avocado oil - 2 Tbsp
Egg whites - 2 eggs
Lavender essential oil - 10 drops
Preparation: 
In a mixing bowl, mix the egg whites & olive oil, then whisk it well.
Include the lavender essential oil, then whisk it again till it's combined fully.
How To Use: 
On the damp hair, massage the hair mask from the hair root to the tips.
Tie your hair in a bun or cover your hair using a shower cap for about 30 mins.
Rinse it with water and then shampoo
7. Rosemary - Basil - Lavender Hair Mask for Ultra-Shiny Hair
Are you looking for an easy lavender oil hair mask to bring back that shine to the tresses? Say hello to this mask.
Ingredients:
Rosemary oil – 10 drops
Lavender oil – 10 drops
Basil oil – 5 drops
Jojoba oil – 2 Tbsp
Coconut or Olive oil – 4 Tbsp
Preparation: 
Take a small bowl and add rosemary oil, basil oil, and Jojoba oil.
Now, add lavender oil along with olive or coconut oil to the mix.
Combine this mixture well.
How To Use: 
Apply the mixture to dry hair & scalp. 
Let it sit on the hair for an hour before washing it off using warm water and shampoo.
 As jojoba oil is quite greasy, it is better to shampoo the hair twice.
8. Lavender Oil and Yogurt Deep Conditioning Mask
This natural mask combines the deep conditioning benefits of lavender oil with the moisturizing properties of honey, the nourishing touch of basil oil, and the cleansing power of yogurt.
Ingredients:
Lavender oil: 5-6 drops
Basil oil: 5-6 drops
Honey: 2 tablespoons
Yogurt: 1 cup (unsweetened, plain)
Preparation:
Add honey and a few drops of lavender and basil oil to a cup of yogurt.
How To Use: 
Blend into a paste.
Apply on the scalp and through the length of your hair.
Keep for 20 to 30 minutes and wash off.
Adding Lavender Oil To Your Hair Care Products
The easiest and effective way to prevent scalp concerns, boost hair growth and maintain hair health is by adding Lavender essential oil to your hair products. 
Lavender essential oils are quite effective in small quantities because they are highly concentrated. So, you could include a small amount of lavender oil in your hair conditioner, shampoo, hair serums, or any hair product. 
Lavender Oil For Hair Massage
Lavender oil for hair growth could be mixed in the carrier oil such as Sweet Almond Oil or Jojoba oils for a good hair massage. Try to add this oil to your homemade shampoo too.
Remember to add five drops per ounce of the product. Then, utilize hair products as directed. You can also add one to two drops of Lavender Essential Oil to a dollop of your hair product directly in the palm before you apply it. 
Buy Lavender Oil Shampoo and Conditioner
Alternatively, you can opt for Kama Ayurveda's Lavender Patchouli Hair Cleanser & Hair Conditioner. Combining the essential oils of Handpicked Lavender from the wilds of the Himalayas with Antibacterial Patchouli, these products soothe & calm damaged hair & scalp to naturally nourish while cleansing.
Make Lavender Oil And Aloe Vera Hair Serum
Combining the natural shine-enhancing properties of aloe vera with the moisturizing benefits of lavender oil, this serum can combat dryness, reduce frizz, and prevent split ends.

Ingredients:

Lavender oil: 4-5 drops
Aloe vera gel: 1-2 tablespoons (or a generous dollop)
Method:
In your palm, mix 4-5 drops of lavender oil with a generous dollop of aloe vera gel.
Blend them together and then apply as a serum, working it through the length of your hair.
Lavender Oil Side Effects for Hair and Safety Precautions
Lavender oil is renowned for its numerous benefits, especially for hair. However, it's essential to approach its use with caution to avoid potential adverse reactions.
Side Effects:
Irritation: Excessive use of lavender oil can irritate the scalp or skin. It's crucial to conduct a patch test before fully applying it to your hair or scalp.

Toxicity: Lavender oil can be toxic if consumed in large amounts, leading to symptoms like vomiting and nausea. Additionally, inhalation in excessive amounts might also be harmful.

Allergic Reactions: Those with sensitive skin should be especially cautious. Always mix lavender oil with a carrier oil, like coconut or almond oil, to reduce the risk of skin irritations.

Eye Contact: Lavender oil can cause burning or irritation if it comes into contact with the eyes. If this happens, rinse immediately with cool water and seek medical attention if the irritation persists.
Safety Precautions:

Always dilute Lavender oil in a carrier oil before application. If you find the aroma too potent, consider diluting it further with olive oil.
Do not consume lavender oil and ensure it is out of reach for children and pets.
When applying, use a minimal amount, especially when starting out, and massage gently into the scalp.
While lavender oil offers numerous health benefits, it's important to remember that it might not suit every skin or body type.

By taking these precautions, you can safely enjoy the many benefits lavender oil offers for hair care.
FAQS about using Lavender Essential Oil For Hair
How To Use Lavender Oil For Hair Growth?
Want the best of the lavender oil's hair growth benefits? Then here is how to do that perfectly. 
Use It As A Massage Oil: Give a good massage to the scalp with diluted lavender oil. You could dilute Lavender oil with a carrier oil, like coconut or jojoba oil, in comparable parts. This massage is suggested following a bath. Leave it on the hair for 5 - 10 minutes, then rinse it afterward. You could leave it overnight by wrapping your hair in a towel. (3)
Use Lavender Oil As Serum: You can use lavender oil as a hair serum. Dilute the lavender essential oil with any carrier oil like coconut or jojoba oil and apply evenly to the hair after wash. It gives you instant shine and luster. Your hair smells heavenly too.
Can Lavender Essential Oil Be Used For Hair Loss?
A specific study proved that few essential oils could impact hair loss and boost growth. Out of them, Lavender oil is the top-most remedy for hair loss. 
Can I Add Lavender Oil To My Shampoo?
Yes, the easiest and effective way to utilize lavender oil for hair growth is by adding it to the shampoo routine. Include 2 or 3 drops of the lavender oil to the usual shampoo amount, then use it for washing hair. Also, try to massage the scalp for a minute longer for better results.
Where Can I Buy Lavender Oil?
We recommend Kama Ayurveda's Lavender Essential Oil as it is 100% natural. The flowers are hand-picked from the wild in the Himalayas, giving them remarkable soothing properties.  Lavender essential oil from Kama Ayurveda isn't just ideal for hair care and is effective for skincare, massage, steam inhalation, aromatherapy, bath, air freshening, and all-time relaxation.