Jasmine (Mogra) is derived from the Persian word 'Yasmin' that means 'Gift from God'. And undoubtedly, the benefits and the aroma of this phenomenal flower are indeed a gift from God! 
You might know Mogra flowers for their sweet and romantic fragrance. These flowers bloom at night and are also known as 'Raat Ki Raani' or the 'Queen of the night'. 
Ayurveda describes Mogra or Jasmine as Hrudhya Gandha, which means 'Fragrance Pleasing to the Heart'. Mogra is also regarded as Sattvic (Transcendental, Life-Giving, Pure) and Tridosha, which means it's beneficial for the regulation of Vata, Pitta, and Kapha Doshas, particularly Pitta.

They have the most calming, heavenly fragrance, but that's not the only power of the flowers.  Jasmine has also been found to nourish skin, help even skin tone, and protect the skin from environmental stressors. 

Are you on the lookout for a natural remedy for glowing, beautiful, and flawless skin? Jasmine flower could take you closer to the skin you desire. This article talks in length about the benefits of Mogra and how you could instill it in your daily skincare routine. 
Read - How To Build Your Own Skincare Routine
What is Mogra or Jasmine?
Jasmine is a genus of shrubs and vines that belong to the olive family. The nocturnal plant bears flowers that are well-known for their fragrance. Many Indian women adorn these flowers, especially during festivities and celebrations. Mogra is also widely used during marriages and other religious functions. 

Mogra is also a powerful aphrodisiac. Its mysterious fragrance is a 'psychic key'; that increases mental receptivity to energy vibrations, especially those amplified by the chanting of sacred mantras. 

Packed with powerful anti-inflammatory, antiseptic, anesthetic, and analgesic properties, this aromatic herb is a hidden treasure for your skin. But, how do you reap the benefits of this flower for your skin? 
The answer is Mogra Water. Steam-distilled to ensure impeccable purity, Mogra Water is a therapeutic face and body mist infused with the gentle decadence of indigenous Jasminum Sambac, the jasmine flowers handpicked from Madurai.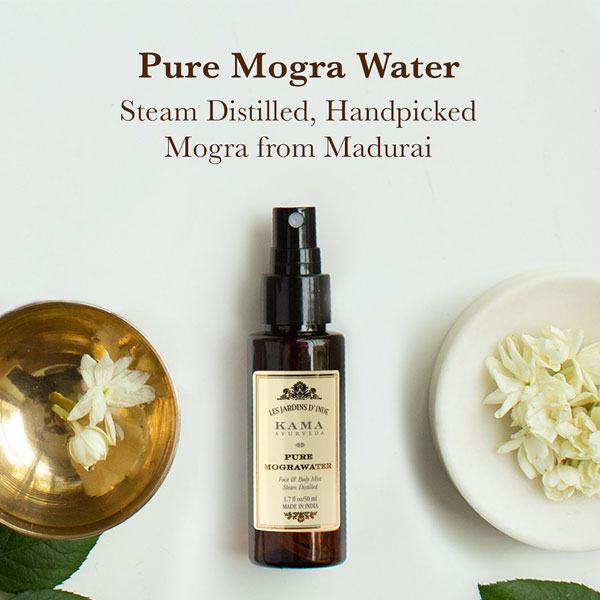 Top Benefits Of Mogra For Your Skin
Since ancient times, Mogra flowers have been used in numerous ways and provide multifarious benefits. This miraculous flower contains ingredients that nourish and soothe the skin.
Contains natural antiseptic components
Jasmine has natural antiseptic properties, hence works as a wonderful disinfectant. It contains benzoic acid and benzyl benzoate; both these components are chemicals that can stop the formation and growth of bacteria and fungi.
Did you know Jasmine can speed up the healing process as well because of its healing properties? This would diminish the chances of infection and prevent wounds from getting aggravated. Spraying Mogra water on your skin can help prevent bacterial/fungal infections.
Prevents dry skin
Who does not love glowing skin throughout the year! Jasmine's properties make Mogra Water a naturally relaxing, healing, and even moisturizing product for your skin. It promotes the glowing of skin and, at the same time, protects it from dryness.
Mogra water can be safely used to prevent dryness and skin irritation. Do you often suffer from Eczema outbreaks? The ingredients present in Mogra water prevent the frequent occurrence of Eczema and restores the skin.
Slows down the aging process
The earlier you begin with anti-aging products, the better! So, it is never too early to initiate the anti-aging skincare routine. Mogra water should be a staple ingredient in your anti-aging skincare regime as it reduces and slows the possibility of developing fine lines on the skin. 

Did you know that Mogra water can effectively enhance the production of collagen? The increase in collagen formation would aid in filling up the space that is created by wrinkles. It also contains antioxidants that protect the skin from environmental stressors, further reducing the visible signs of skin aging.

Moisturizes the skin
Among the most important skin care tips is to moisturize the skin regularly. Using Jasmine water could help you with the same. Jasmine contains ingredients that provide natural moisture to the skin. When used as a toner, it further preps your skin to absorb moisture. 

Using Mogra water on your skin regularly keeps it beauteous and supple without clogging the pores. Remember to spray it on your skin after a shower, before bedtime, and before applying makeup each day.

Suitable for sensitive skin
Mogra water has soothing ingredients that can support irritated, itchy, dry skin and even prevent acne outbreaks. It has a pleasing aroma, and the formula is plant-based and natural that could be an excellent remedy to skin allergies, usually faced by those with sensitive skin types.
Heals scars and blemishes
Most of us have scars and blemishes that we keep fretting about. No amount of scrub or creams could remove some of these blemishes and spots. However, it is stated that Jasmine has compounds that can effectively eliminate scars and spots caused by acne and stretch marks. Did you know Jasmine is considered a natural cicatrisant? It targets scars and works by reducing their appearance. Mogra water could help you clear up these blemishes to reveal a clearer complexion.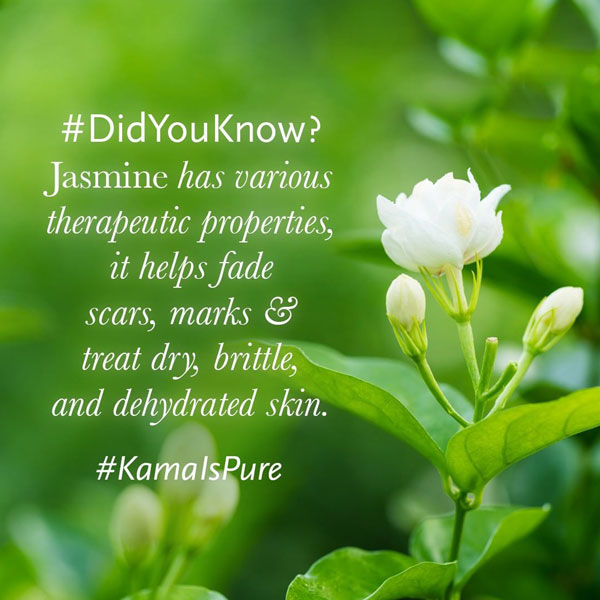 Now that we've talked about the many benefits of using Mogra water. Let us look at how we can use Mogra water for our skin.
How To Use Mogra For Your Skin?
Mogra, as an ingredient, is used in multiple skincare products. Its combination of nourishing and healing abilities is a treat for the skin. The distinctive use of Vetiver is prominent in the following products.
Mogra Water As A Toner
Pure Mogra Water balances skin pH, settles rashes, provides relief from dryness, and tones sagging skin. It is a natural skin hydrator that soothes dry, sensitive, and mature skin. It also tightens the open pores and reduces the onset of an acne outbreak. A few spritzes of Mogra Water on the skin is enough to make one feel refreshed and light. Use it when your skin feels dull or tired. You can also use it before applying makeup or before going to bed. 
Read - How To Use Toner - The Complete Guide To Skin Toners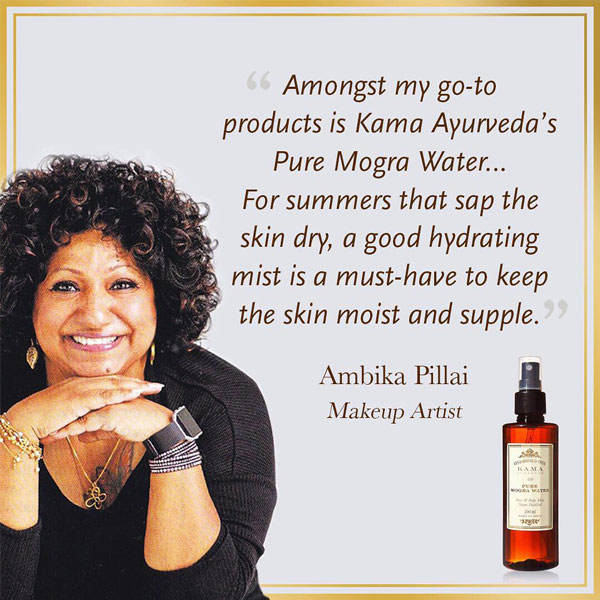 As an ingredient in your body oil and body cleanser
Using Jasmine essential oil-infused body oils could bestow excellent nourishment to the skin. It can prevent fungal infections, sunburn, and even skin irritations and inflammation. Did you know that Jasmine provides relief to those suffering from allergic skin diseases? It restores the skin's moisture, making it a perfect product to be used especially for those who have dry or allergy-prone skin. It restores the moisture of the skin, making it a perfect product to be used, especially for those who have dry or allergy-prone skin. We recommend using Kama Ayurveda Rose Jasmine Bath Body Oil to get the benefits of Jasmine for your skin. Use it as a pre-bath oil by massaging it into the skin 15 mins prior to the shower, or add it to your bathing water. You can also apply it to your body post-shower to soften and hydrate the skin. Compliment using this bath oil with Kama Ayurveda's Rose and Jasmine Body Cleanser for best results.
As an ingredient in your face cleanser
Jasmine essential oil works as an excellent antiseptic and antibacterial for your skin. For this reason, it's an excellent ingredient for your daily face cleanser. Jasmine's pure essential oil is also an effective toner and helps reduce skin marks and scarring with regular usage. To get the best benefits of Jasmine for your skin, we recommend using Kama Ayurveda Rose Jasmine Face Cleanser. It is a gentle foaming cleanser with a rich blend of Ayurvedic ingredients to effectively cleanse and lift away makeup and impurities.
Now, as we have seen, the different ways of using Mogra/Jasmine for the skin. Next, let us learn about the method of using this super ingredient in your regular skin routine.

How To Use Mogra/Jasmine Water In Your Skin Routine?
Pure Mogra/Jasmine water is non-toxic and quite safe to be used regularly in your skin routine. Keep reading to know about the facial mists, face packs, and body mists containing jasmine water.
Facial mists
Jasmine water facial mist gives a soothing and calming fragrance while toning and moisturizing the skin at the same time. Did you know that facial mists could help clear blemishes and even reduce the scars? To utilize a facial mist, just spray it on the face as and when you desire. It could be used more frequently during summer days, especially during those times when you have the constant urge to repetitively wash your face. Consider keeping your bottle of Mogra Water in the fridge for an even better, refreshing experience.
Face packs
Isn't it amazing how face packs give you relief from your daily stress and benefit your skin to a great extent! To prepare Mogra based face pack:
Add about 15 to 20 drops of Mogra/Jasmine water to one spoon of Suvarna Haldi Chandan Face Pack.
Stir the mixture thoroughly and apply it evenly and generously on the face and neck.
Allow it to remain for 20 minutes at least or until it dries.
Rinse it off with lukewarm water for moisturized and toned skin.
Body mists
Mogra Water would make an excellent body mist as it has a pleasant and flowery scent which is so enthralling that you would love to make it your signature fragrance! To use Mogra or Jasmine water as a body mist just spray it over the skin, favorably when it is damp or moist or just after you have had a shower.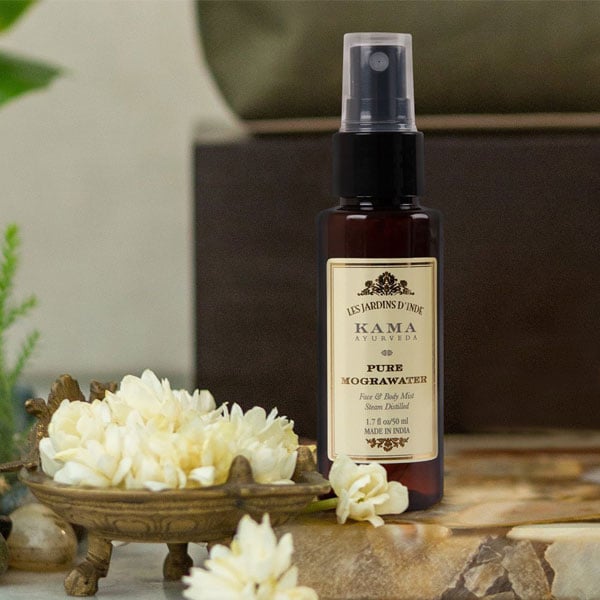 Through these means, you could assimilate the utilization of jasmine/ mogra water in your everyday skin routine. It is always suggested to consult with your dermatologist before implementing any skin routine changes to prevent any adverse circumstances. To know more about Mogra Water, its benefits and learn how to integrate it into your current skincare routine, book a free consultation with our Ayurvedic beauty experts.