Did you know, Moringa Oleifera (Moringa Tree) can prevent at least three hundred known diseases in the world? Every single part of the moringa tree, including stems, seeds, pods, fruits, bark, and root, has precious medicinal values. Therefore, it's no wonder that Moringa Tree is called 'Miracle Tree.'

Every part of Moringa Tree has enormous benefits for health. 
For instance, Moringa leaves are dried and powdered to prepare the very nutritious Moringa Powder, which is a superfood, while the fruit obtained from the tree (popularly known as drumstick) is used directly in food preparations. 
However, it's the Moringa Oil extracted from the seeds of Moringa Tree that tops the list of most useful things obtained from the tree. Due to its qualities of being light, dry, fluid, and sharp, this oil has the mysterious and unique ability to penetrate the skin and detoxify it.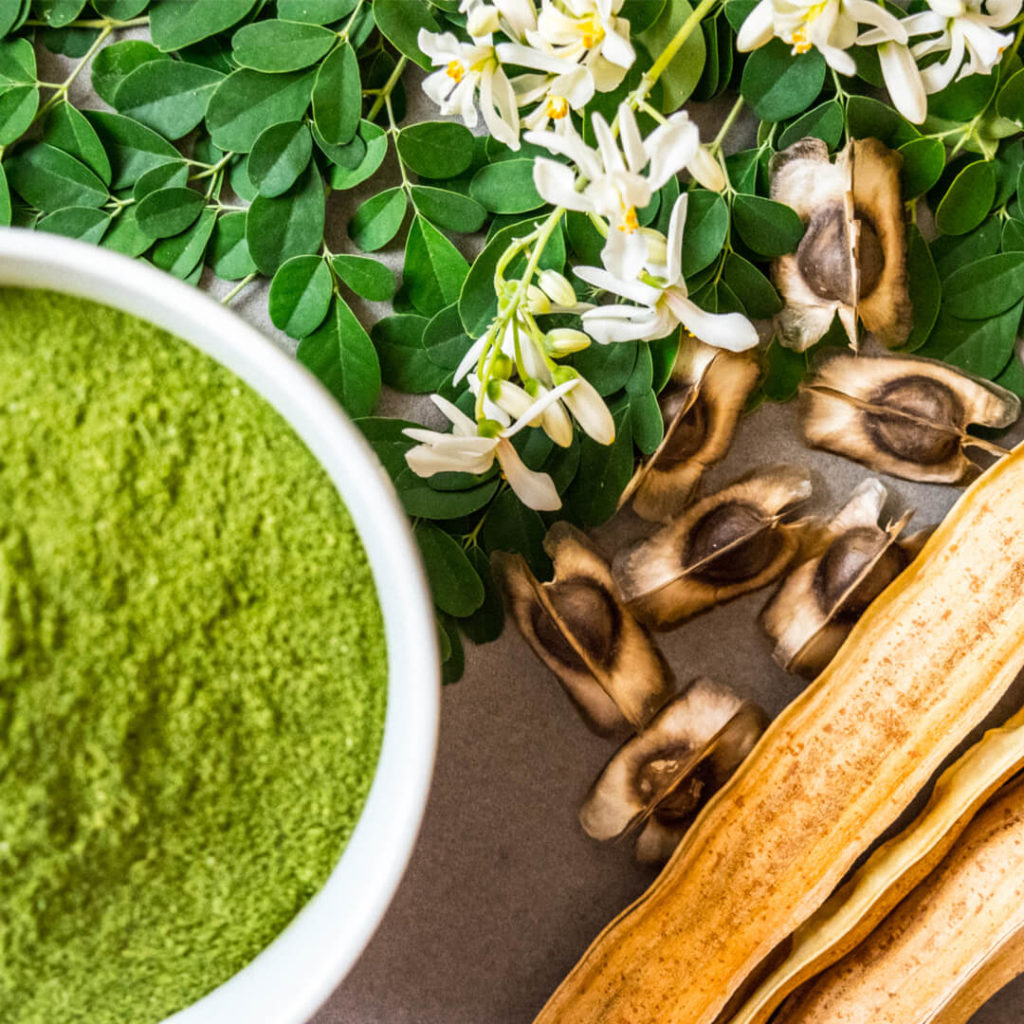 Does this excite you to know more about Moringa Oil and to learn how to use it to detoxify and heal your skin? If yes, let's explore this oil further in detail.
What is Moringa Oil?  
Extracted from seeds of the most nutrient-dense tree on the planet, Moringa Oil is a rich source of powerful antioxidants, vitamins, and minerals that meets all your skin needs. 

In today's times, when protecting the skin and healing it from the harmful effects of environmental pollution is a big concern for everyone, Moringa Oil is a nature's gift for your skin. It's the most sought after oil in the beauty industry for its anti-aging, healing, and beautifying effects.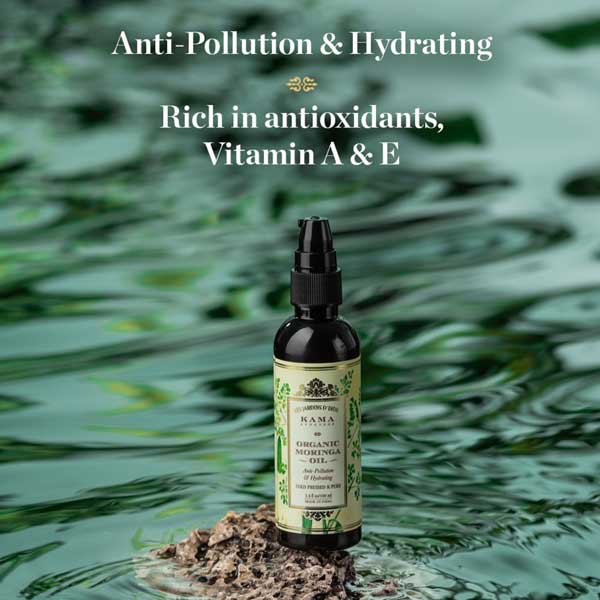 In Bhava Prakash, the historical textbook of Ayurveda, Moringa Oil is called Sigur (moves like an arrow) for its ability to rapidly and deeply penetrate tissues, even to the depth of the bone marrow for deep cleansing. 

Moringa oil also has a strong resistance to going rancid, and it can stay fresh for many years. It is a special ingredient in revitalizing shampoos, age-defying creams, and many other beauty and health products.
Read - 10 Best Face Oils For Every Skin Type – Natural & Safe

8 Benefits of Moringa Oil For Skin & Face
Moringa Oil helps in cleansing, nourishing, and nurturing your skin naturally. It is often compared to other oils like Olive oil and Argan oil; however, Moringa Oil stands out due to its unique composition. 
Moringa oil's healing and beautifying benefits were documented thousands of years ago. The Romans and Greeks used this edible oil extracted from the seeds for skin lotions, ointments, and perfumes. In Egypt, Moringa oil was used for protecting the skin against the ravages of sun, sand, and dust during long travels in the desert.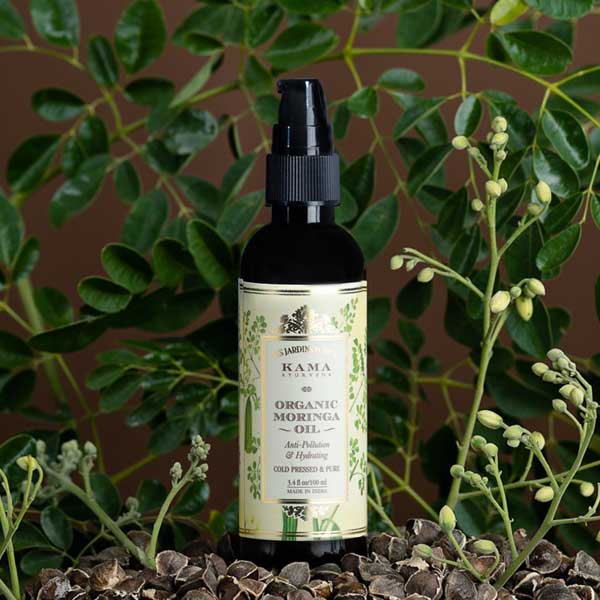 One of the main benefits of Moringa oil, which makes it a favored ingredient in the industry of cosmetics, is that it is rich in cytokinins, and more importantly, zeatin (the most potent plant hormone). Zeatin helps in promoting cellular growth and in delaying the process of aging by nourishing and supporting skin tissues.

The oil is also rich in fatty acids, such as Oleic acid, which is hugely beneficial for restoring the skin's natural barrier to pollution. Oleic acid also helps in keeping the skin hydrated.

Moringa oil has antimicrobial, antibacterial, antioxidant, antifungal, and anti-aging properties. These help in aiding numerous skin problems, including the effects of aging like wrinkles, dull and lifeless skin.

Below, we'll discuss the benefits of Moringa oil for skin in detail. 

1. Provides a protective barrier for your skin
Moringa oil has a unique combination of fatty acids that are integral to the formation and maintenance of cell membranes within the stratum corneum (the layer of the skin that provides a barrier to the environment and regulates permeability). 

Additionally, these fatty acids also have emollient, lubricant, and anti-inflammatory properties, which will help in restoring the natural oils of the skin and protecting the skin from damage caused by the environment. 

2. Repairs skin from damage caused by pollution
Irrespective of the location where you reside, a wide range of pollutants exist in your environment. These pollutants penetrate the deeper layers of the epidermis and affect balance in the skin's structural integrity. Therefore, the defensive capacity of the skin is disturbed by being exposed to pollution. 

The pollutants and fine dust particles gradually deplete the skin of antioxidants and leave skin feeling dry. These particles also disturb the surface barrier function and compromise skin hydration. Moringa's phytochemicals profile shows that it is rich in fatty acids (mainly oleic acid) and antioxidants that restore and protect the skin's barrier. The rich content of Oleic acid also ensures that the skin remains hydrated skin even when exposed to pollution.

3. Works as an anti-aging oil
By now, you might have already known that this moringa oil has the best anti-aging properties. This nutrient-dense oil which comes filled with antioxidants that help in curbing the activity of free radicals, thus slowing down the process of aging. 
It also helps in removing wrinkles and preventing the sagging of facial skin as well. The oil's richness in Vitamin C helps in stabilizing collagen, which in turn helps in reducing fine lines and repairing damaged skin cells.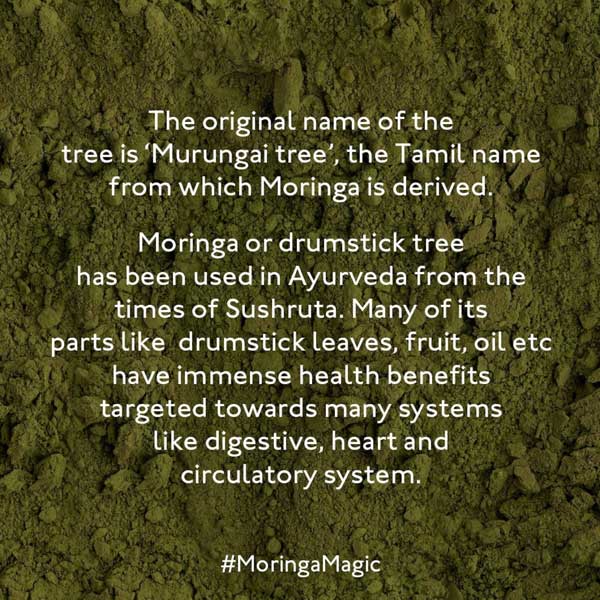 4. Brings out the natural glow of your skin
Moringa oil helps in fighting skin issues like fatigue and regulates oil secretion, thereby counterfeiting the ill effects of pollution on your skin. By purifying the skin, this special oil helps in revealing its natural glow. 
Gently massage your skin with two to three drops of Moringa oil mixed with a few drops of Olive oil. You can also add a few drops to your daily skincare cream or lotion for alleviating skin problems.
5. Fights acne and helps in getting rid of dark spots
Moringa oil is also known for its excellent antiseptic and antimicrobial properties that can cure acne. It regulates the production of excess sebum and prevents dirt and bacteria from getting clogged into the pores. 
It works like a wonder when it comes to removing dark spots from the skin as well. (3) If flawless skin is what you crave, blend three drops of Moringa oil with a little amount of coconut oil and apply the mixture to acne, blackheads, scrapes, and scars for quick healing.
6. Cleanses and rejuvenates your skin
Thanks to its unusually high oleic acid content of 72%, moringa oil is a fantastic deep skin cleanser with both purifying and detoxifying effects. This oil also contains sulfur which helps in building natural keratin in the skin and giving you a youthful firmness. 
7. Nourishes dry skin
Moringa oil helps in softening dry skin and maintaining moisture in the skin. It fights against issues like dermatitis, eczema, and psoriasis. Moringa oil is also perfect for conditioning dry and chapped lips.
A study published in the International Journal of Pharmacy and Pharmaceutical Sciences showed that Moringa oil could assist with sun protection. The researchers found that this oil contains SPF that can contribute to effective sunscreen activity. The study suggests that moringa can be an active sunscreen agent or can also be added to other sunscreen formulations to enhance the potency. (12) 
It is not suggested to directly rub moringa oil on your skin and bake in the sun, but it can be a great addition to natural sunscreens.
8. Provides relief from pain and helps in relaxation
You can also add two drops of Moringa oil to your warm bathing water. Bathing with this water will relieve stress, cleanse your body, grant mental peace, and remove fatigue. 
Massaging your body with just four drops of moringa oil blended with almond oil can help in alleviating rheumatic pain, reduce inflammation with its anti-inflammatory properties, eliminate the excess fluids in your body through urine, protect your body from harmful infection and boost the immune system.

Read - An Expert Guide To Using A Face Serum For Best Benefits
More about Moringa Tree
Moringa Oleifera, well known to the world populace as Drumstick tree, clarifier tree, and horseradish tree, is now being cultivated in more than 82 countries. Frown in tropical and subtropical countries, Moringa Tree (Moringa Oleifera) can withstand any kind of harsh environmental conditions and even endure severe droughts. 

This immortal tree is native to northern India, and the oil extracted from its nuts is known as Moringa Oil. Moringa bears both flowers and fruits (start coming between March and April in India).
Fruits from the tree yield the seeds that are extracted, dried to crushed to obtain the oil. Moringa tree oil contains 90 different types of nutrients, 36 anti-inflammatory agents, and 46 antioxidant proteins. To get all the benefits of Moringa Oil, it's recommended to use organically produced Moringa Oil.

Overall, Moringa oil is known to reduce Kapha and Vata doshas when used in moderation. If used in excess, it can aggravate Vata because of its light, sharp, and dry qualities. The heating effect of Moringa should also be kept in mind while using Moringa Oil. 

How to make Moringa Oil?
At Kama Ayurveda, we've carefully studied the extraction of Moringa Oil from Moringa seeds. Though Moringa oil can be prepared at home, we recommend that you purchase Organic Moringa Oil as it's just as good and pure as Moringa Oil prepared home.

For the preparation of Organic Moringa Oil, dried and matured fruits are collected from the organic cultivation farms and its seeds are separated. Then, the seeds go through a process called decortication in which the outer coat of seeds. The kernels obtained from the process are left to dry and then crushed in cold press rotary machine to obtain the Moringa Oil. This oil is then filtered and packed to make it ready to use.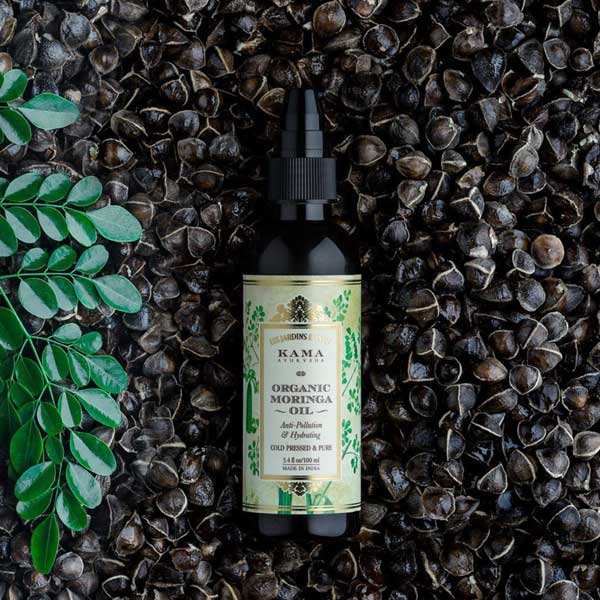 Feeling inspired to try Moringa Oil on your skin? 

You can purchase Kama Ayurveda's Organic Cold Pressed Moringa Oil. Take the oil in an appropriate quantity in your hand and gently massage it into the skin. Allow it to work for 30 minutes before washing it off. It is a deeply hydrating oil, that will protect the skin from pollution and other environmental aggressors to give you the healthy skin that you've always wanted!
References -