Do you notice flakes in your hair and scalp and think it is probably dandruff? Your assumption may be entirely valid since dandruff causes dead skin cells that turn into flakes on your scalp. But, there's also a possibility that something different might trigger these dandruff-like symptoms. Sometimes, even scalp buildup can lead to flaking. 
Further, scalp buildup can affect babies as well as adults aged 30 to 60. But you're not alone in this fight! This article will help you. So, let's look at scalp buildup and the effective ways to deal with the condition.
What Is Scalp Buildup?
Scalp buildup occurs when residue from hair products, sweat, and dead skin cells accumulate with the sebum produced by your scalp. It causes flaking, and the symptoms you notice are similar to those of seborrhoeic dermatitis, eczema, and scalp psoriasis. 
Thankfully, scalp buildup is not severe as the above conditions and is easy to treat. Further, the flaking associated with scalp buildup occurs by accumulating certain things like skin cells, hair products, sweat, and oils. On the other hand, flakes result from dandruff and other similar conditions due to inflammation. 
However, scalp buildup is responsible for your hair follicles and can trigger hair loss. In addition to flaking, scalp buildup can also cause oily or crusty skin, redness of the skin, and itchiness.
Read - Dandruff Vs Dry Scalp – What's The Difference?
What Causes Scalp Buildup?
Scalp buildup usually occurs when one or more substances remain on your scalp and build up over time. When some bits of this buildup starts falling off, they appear as flakes in your hair and on your scalp. 
The substances that stick to your hair can be categorized into hair products and some natural substances. Further, the hair products responsible for scalp buildup include oils, shampoos, conditioners, and styling gel. 
On the other hand, the natural substances accountable for scalp buildup are dead skin cells, sweat, and sebum produced by your scalp to keep your hair hydrated. Therefore, when these substances accumulate, they suffocate your hair roots and cause inflammation, thus, paving the way for your upcoming hair woes.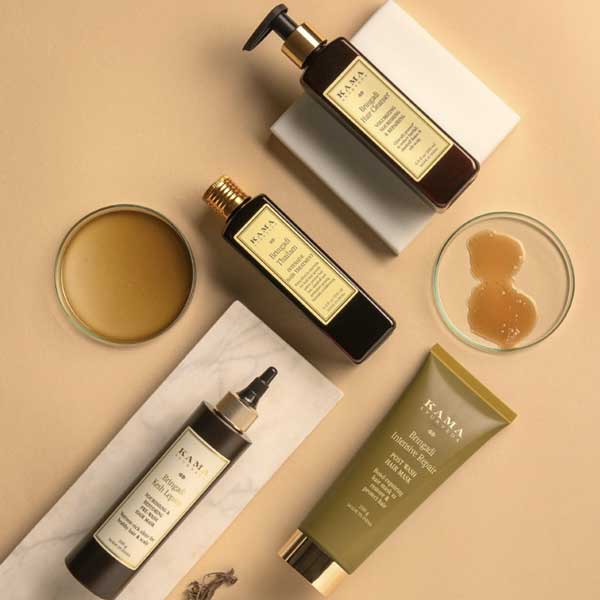 Can Scalp Buildup Cause Hair Loss?
An excessive amount of scalp buildup tends to suffocate your follicle root, the source of hair growth. Therefore, scalp buildup can cause hair loss if it is left untreated and creates a way for an uncomfortable condition known as folliculitis. 
Further, it causes inflammation of your hair follicles that might result in infections, and some severe cases also lead to crusty sores that do not heal quickly. These sores are the main reason behind permanent hair loss and scarring.
Read - Scalp Massage For Hair Growth – Does It Really Work?
How To Get Rid Of Scalp Buildup?
The first step while clearing your scalp buildup depends on determining the best shampoos and conditioners for your hair type. It is a fact that the formulations and composition of shampoos and conditioners are different for dry and oily hair. Therefore, some wrong ingredients can accumulate on your scalp and build up. So, here is how you can address your scalp buildup:
1. Make use of a clarifying shampoo
While your regular shampoos help remove all the dirt and the excess oils from your scalp, clarifying or anti-residue shampoos go the extra mile. They help clear your scalp buildup by eliminating all the residue on your scalp.
2. Use a deep conditioner
Deep conditioners add moisture to your hair and help in clearing out the residue from your hair. In addition, some ingredients, like activated charcoal, can act as a clarifying agent if present in your hair conditioner. Also, lactic acid is another ingredient found in most clarifying deep conditioners and is an excellent exfoliant that removes dead skin cells.
3. Rinse your hair with apple cider vinegar
Although it may not help reduce your scalp buildup, it is an excellent antibacterial ingredient. In addition, it prevents the infection of hair follicles on your scalp. You can take two tablespoons of apple cider vinegar and a mug of water and pour this solution over your head. Allow your hair to soak this mixture for 2-3 minutes, and then rinse your hair with cold water.
4. Use a hair serum
Serums help prevent the hair's frizz, tangles, and roughness. However, since you suffer from scalp buildup, avoid serums that may add to this condition. If you have a dry scalp, you need something that removes your buildup and provides hydration. For this purpose, ingredients like tea tree oil are your best bet.
5. Exfoliate your scalp regularly
Your scalp demands exfoliation just like your body. Removing all the accumulated dead skin cells from your pores is necessary. To exfoliate your scalp, divide your hair into small sections, apply the scrub all over your hair, and then rinse it thoroughly with normal water.
Regimen for Scalp Buildup
Scalp buildup results from excess oils, dead skin cells, hair care products, dirt, or a combination of these. So, Having a good hair care regimen with some gentle products prevents scalp buildup. Clarifying shampoos, ayurvedic conditioners, and hair oils come in handy while dealing with scalp buildup.
1. Oiling - Bringadi Intensive Hair Treatment Oil
Kama Ayurveda's Bringadi Intensive Hair Treatment Oil works effectively as a cover against hair loss, dandruff, and premature graying. Some of the secret ingredients of this magical oil are Indigo, Bhringraj, Sesame seeds, Amla, and Balloon Vine. Further, the herbal oil for scalp buildup is extracted by some potent herbs into sesame oil and milk that acts as a natural conditioner for your hair.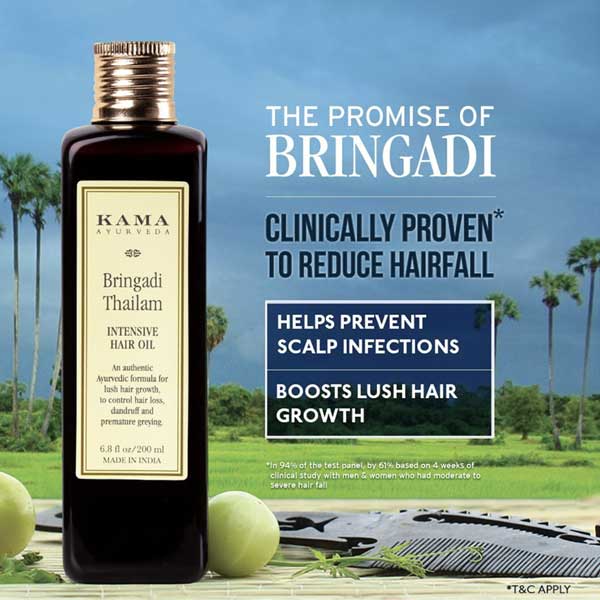 Besides, the Bringadi herbal hair oil has an earthy aroma and a dark green color. To get the best results, massage this oil into your hair and leave it for 20 minutes before washing.
2. Shampoo - Bringadi Hair Cleanser
Kama Ayurveda's renowned Bringadi Hair Cleanser is infused with powerful Ayurvedic ingredients and is free of SLES (sulfates), parabens, and petrochemicals. The secret to India's lush, glossy hair is this traditional Ayurvedic recipe consisting of potent herbs extracted into pure sesame oil and milk.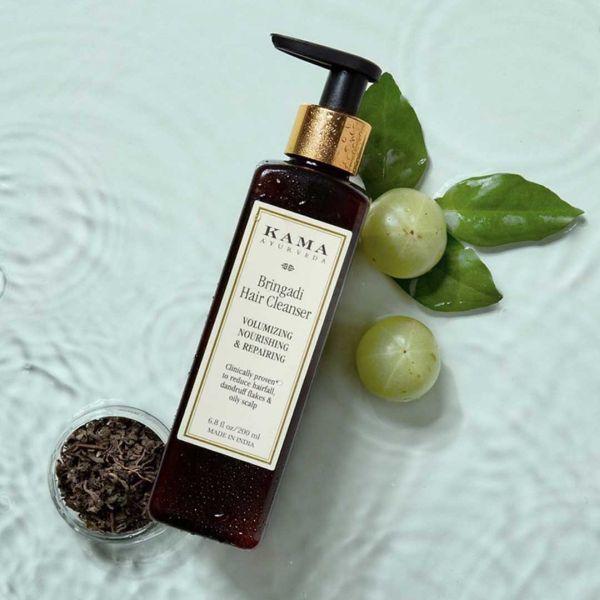 Further, it acts as a natural conditioner helpful for lush hair growth that nourishes while cooling your scalp. It also includes indigo, eclipta alba, and gooseberry to promote hair growth. In addition, anti-fungal Licorice and antibacterial balloon vine reduce hair loss, promote growth and hydrate deeply. Moreover, it is 100% natural and effective for treating scalp buildup.
3. Conditioner - Bringadi Hair Conditioner
Kama Ayurveda's Bringadi Hair Conditioner is a gentle formulation that improves your hair texture, effective in reducing frizz & flyaways, and restores lost moisture. Besides, it is enriched with actives from Kama Ayurveda's award-winning Bringadi Oil that strengthens weak, fragile hair and repairs damaged hair.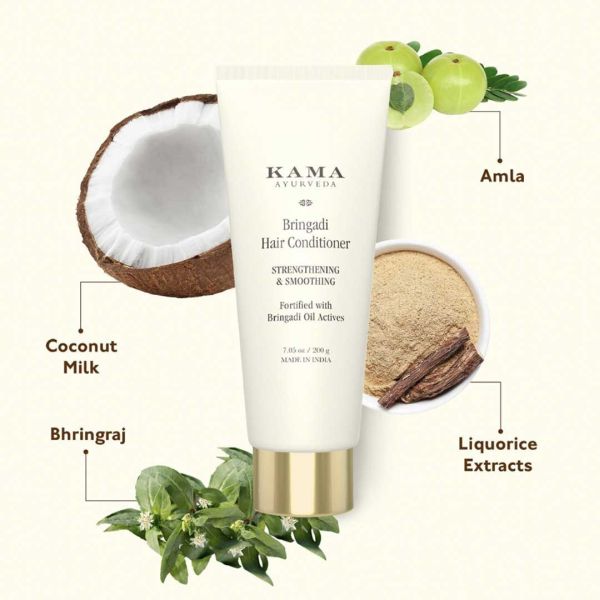 Further, it is formulated with nourishing & restoring ingredients that can be easily added to your shampoo routine. Bhringraj activates hair proteins, improves blood flow, and promotes hair growth.

Also, it is rich in antifungal properties; Licorice Root Extracts, Balloon Vine Extracts & Camphor help prevent scalp infections and reduce flaking. In addition, Indian Gooseberry is a known powerhouse of Vitamin C and enhances hair resilience, and Coconut Milk is a powerful conditioner that restores dry hair and scalp.
Takeaway
Scalp buildup appears to be different for everyone—for some, it may feel tender, but for some, it may be itchy. Scalp buildup results from dead skin cells, chemical hair care products, excess oils, dirt, or a combination.

Further, good hair hygiene and some good hair care products can prevent scalp buildup. Therefore, the above ayurvedic products work magic for scalp buildup and give you healthy and long hair!