We have all grown up listening to the many benefits of consuming almonds every day, from our mothers and grandmothers. It is a known fact that almonds are power-packed with healthy nutrients that do more good for your mind and body than you can possibly imagine. The very same can be said about the oil derived from this wonderful nut. 
Always use sweet almond oil that is extracted from ripe almonds using low heat methods that help the oil retain its quality and nutrients. However, do note that almond oil, also called sweet almond oil, is not the same as bitter almond oil which is extracted from a different variety of the nut. Another important thing before using any nut-based oil is making sure that you're not allergic to the same. In case you're unsure, it's always better to do a patch test on your wrist.
In this article you'll learn about the many benefits of almond oil for hair and the best ways to use almond oil for skin.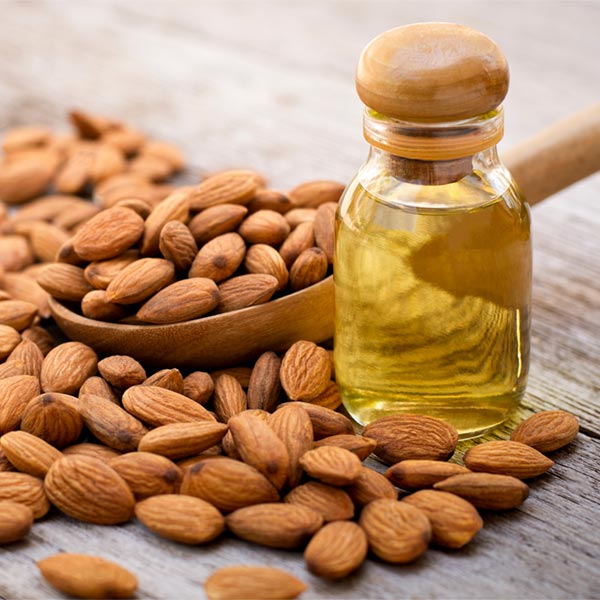 What Is Sweet Almond Oil Good For?
Sweet almond oil is used in several skincare and beauty products owing to its wonderful properties and composition. It is a rich source of vitamin A that stimulates growth of new cells and Vitamin E which is an essential nutrient for healthy skin and hair. The antioxidants present in sweet almond oil also have the ability to fight free radicals, along with several other healing properties. Traditionally, sweet almond oil has been extensively used in Ayurveda to treat wounds, infections and maintain the general health and appearance of the skin. Here are some of the key benefits of including organic almond oil in your beauty regime:
Almond Oil For Skin
1. It Reduces Dryness.
Owing to its emollient properties and quick absorbing nature, sweet almond oil helps seal the moisture in the skin cells for a long period of time by controlling the loss of water from the skin. This helps in keeping your skin happy and hydrated.
2. It Protects Skin From Sun Damage.
Vitamin E in almond oil is known to form a protective layer on your skin
3. It Helps In Treating Pigmentation.
Does sweet almond oil lighten skin? The answer is a roaring yes. Almond oil helps in lightening dark spots, dark circles, hyperpigmentation which may be caused due to stress, ageing or environmental factors and makes your skin appear lighter and brighter.
4. It Prevents The Appearance Of Stretch Marks.
Zinc present in sweet almond oil helps in healing both acne scars and stretch marks. This is the reason almond oil massages are usually recommended to pregnant women.
5. It Works As A Gentle Makeup Remover.
Almond oil works as a natural cleanser which can be used to remove everyday makeup and dirt from your skin without stripping your skin's natural oils and drying it out.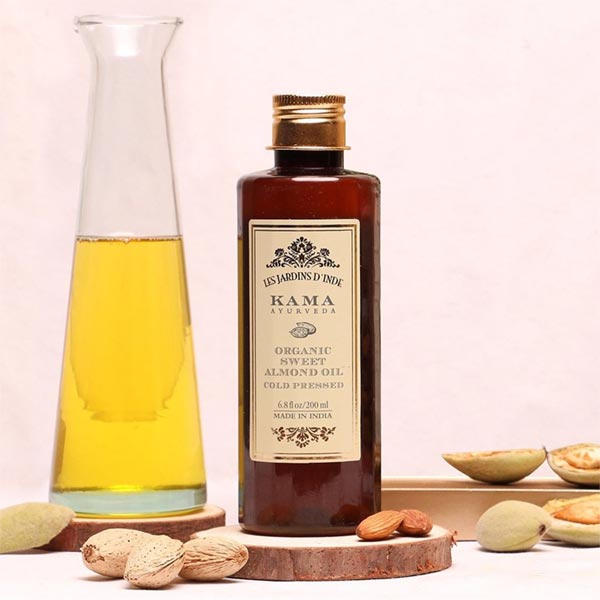 Almond Oil For Hair
1. It Helps Strengthens Hair
Vitamin B7 or biotin in almond oil helps make your hair strands stronger from the roots while also making it softer and more manageable thereby preventing hair fall and hair loss.
2. It Prevents Scalp Problems
 Almond oil works as a great treatment oil for the scalp because of its antifungal and antibacterial properties which makes it an effective weapon against dandruff causing yeast.
3. It Helps Prevents Frizz
The number one cause of frizzy hair is the lack of moisture in hair.  Almond oil makes for a great hydrating agent for your mane and helps in preventing frizz and split ends.
4. It Encourages Blood Circulation
 When used as a massage oil on the scalp, the antioxidants in almond oil increase the blood flow to your follicles and stimulate growth of new hair.
5. It Clears Your Scalp 
The emollient properties of almond oil help in loosening the dead skin cells from your scalp so that they can be washed out easily which helps in keeping your follicles clean and unclogged.
Also read: 10 Amazing Benefits of Almond Oil For Hair, Body, and Skin
Is Sweet Almond Oil Healthy?
Apart from being an excellent source of nourishment to the skin after topical application, organic almond oil is one of the healthiest oils that you can consume. This heart-friendly oil is full of monounsaturated fatty acids that can increase the levels of good cholesterol and also lower the levels of bad cholesterol. It is also packed with antioxidants that reduce the risk of cardiovascular diseases and also keep any kind of inflammation inside the body in check. Hence, sweet almond oil is not just great to put on your skin but also makes for a great addition to your daily diet and can be easily drizzled on your salads or blended into juices and smoothies.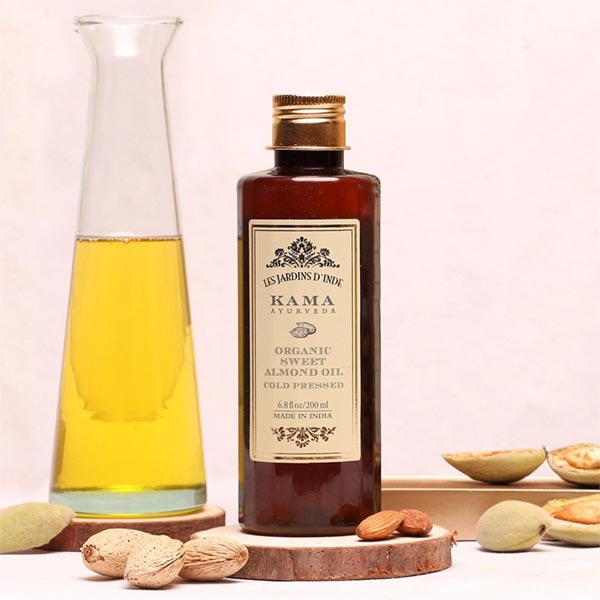 How To Use Sweet Almond Oil For Best Results?
We recommend using a 100% natural cold pressed oil like Kama Ayurveda Organic Sweet Almond Oil to hydrate your skin naturally and add new life to your hair strands with its quick absorbing, light weight formula. Here are some quick tips on using this oil in the most effective way:
How To Use Sweet Almond Oil On Your Skin
This oil makes for a great daily facial oil to apply after your CTM routine for extra hydration, especially during those harsh winter months. Additionally, it can be added to your homemade face packs or masks so that they don't dry out your skin. You can also add a few drops of organic almond oil to your body and face scrub as well to avoid scratching or irritating the skin.
How To Use Sweet Almond Oil On Your Hair
Sweet almond oil works as an excellent massage oil for your scalp that hydrates it without making it greasy. A hot oil massage using this oil can be extremely nourishing and therapeutic. Make sure you leave it on your scalp for 30 minutes to a couple of hours for the best results. You can also use it as a natural conditioner after washing your hair or add it in your hair masks to help control frizz and split ends in the hair.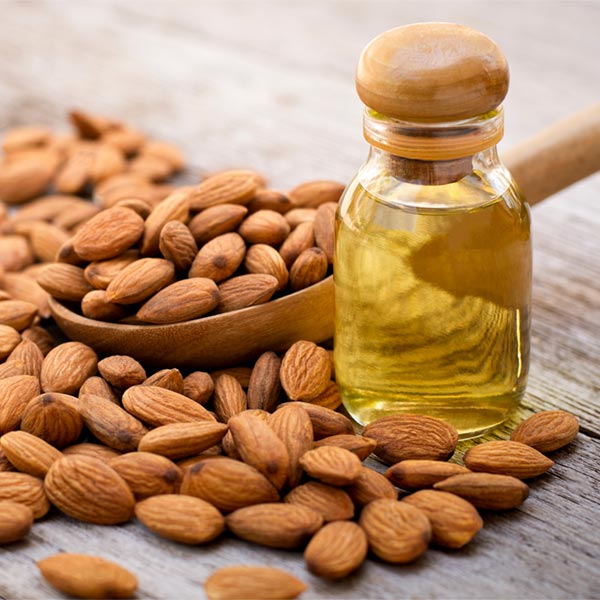 We hope you're convinced about using organic almond oil after reading about all its wonderful benefits and will be able to take better care of your hair and skin with its help! For best results, we recommend you invest in an organic almond oil that is completely natural and cold-pressed.
Sources
https://pubmed.ncbi.nlm.nih.gov/20129403/
https://www.medicalnewstoday.com/articles/almond-oil-for-skin
https://www.sciencedirect.com/topics/agricultural-and-biological-sciences/almond-oil
https://www.healthline.com/health/beauty-skin-care/almond-oil-for-face
About the Reviewer
Dr. Kanchan Kachroo
Certified Ayurvedic Doctor (Central Council of Indian Medicine) working in Kama Ayurveda as an Assistant Training Manager.