The sun is both a boon and a bane for our bodies. While it is an important source of Vitamin D, it is also a leading cause of skin issues such as pigmentation, signs of aging, inflammation and burns. It all starts with a simple episode of tanning, a phenomena that occurs when the melanin, the dark pigment in our skin, comes to the surface to shield us from the sun. In this article you'll read about tips to remove sun tan and all the home remedies you can try for skin tan removal.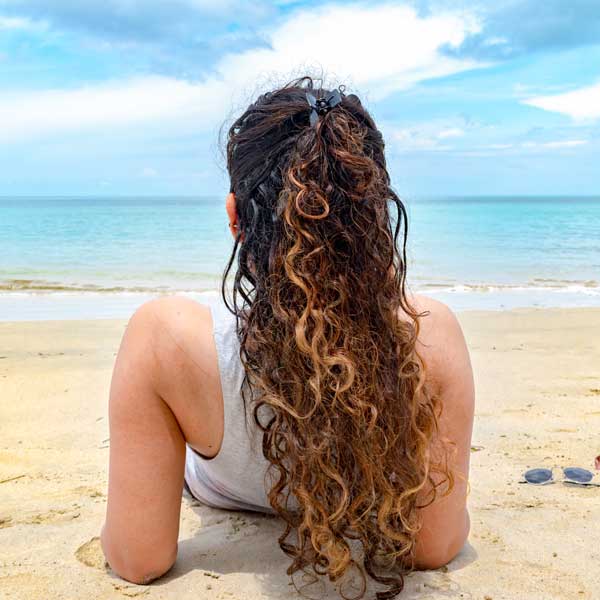 We've all heard the term tanning and most of us have experienced it in some form or intensity throughout our lives. Skin with higher melanin content gets tanned faster. People with lighter complexions don't get tanned easily and are more prone to getting burns since there is little or no melanin to protect their skin.
What is tanning?
Contrary to popular belief and tanning becoming a social fad (a telltale sign of being on vacation and living the good life), there is no such thing as a healthy tan. It is in fact, a visible sign of DNA damage caused to your skin by the sun which only makes it age faster. The exposure to the sun's UV rays causes genetic damage to the outer cells of your skin and in the worst case scenario, can also lead to skin cancer. Hence, it is best to avoid getting tanned altogether and if you get tanned, it is wise  to add  skin tan removal rituals and tan removal home remedies to help get even-toned skin. 
Read on to know how to remove tan from face immediately and some easy tips to remove tan.
The two main factors responsible for tanning are UVA rays and UVB rays. The former penetrate the deeper layers of the skin and cause cell damage by triggering the melanocytes. UVB rays mostly damage the upper layers of the skin and are more prevalent during the summer months as the earth's ozone layer blocks the majority of the UVB rays during the colder months.
How to remove tan from face immediately?
Exfoliate your skin gently using Kama Ayurveda Kumkumadi Brightening Face Scrub, a 100% natural face scrub that is clinically tested* to brighten & smoothen your skin,  and make it firmer with time. The ancient science of Ayurveda regards Kumkumadi Oil as an essential beauty treatment for luminous skin . This face scrub has the power of the potent Kumkumadi Oil made with 12 precious ingredients that are known to make skin more radiant and youthful. The scrub also contains the power of saffron which adds an instant glow to the skin, sweet almonds which help repair skin faster by nourishing it with vitamin D & E and ground walnut powder which acts as a gentle exfoliator to remove pollutants and dirt from the skin.
*Clinically Tested: visibly smoothens skin by 34% and reduces pore size and firms skin by 24% . Based on clinical trials conducted over 28 days*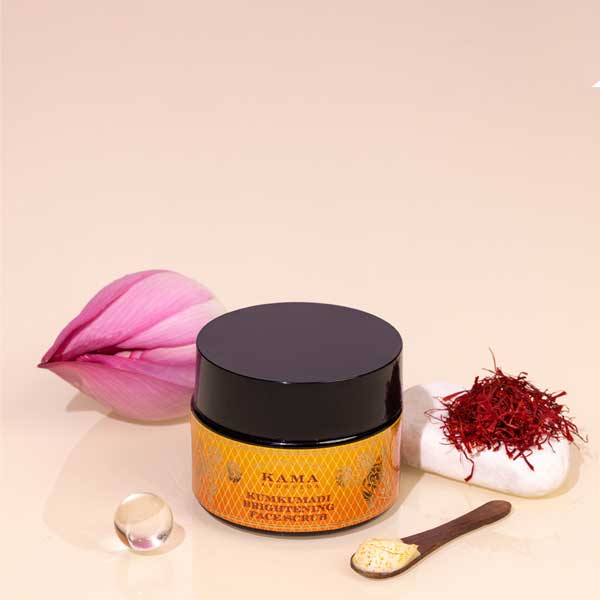 How to remove sun tan from hands?
An authentic Ayurvedic formulation that de-tans your skin naturally is  Kama Ayurveda Nalpamaradi Thailam. Formulated with turmeric, amla and ficus tree extracts, it helps detan, soften & repair skin. This oil has the leaves and the bark of the sacred Peepal tree which is an excellent source of vitamin K and an effective skin tan removal remedy.
Turmeric, with its antioxidant properties, treats marks, uneven skin tone, and pigmentation while hydrating and healing the skin. Vetiver, Indian Gooseberry, and Madder extracts that soothe and restore skin and undo harm caused by environmental aggressors.
For skin tan removal, apply this oil everyday as a pre-shower treatment and keep it on for at least 30 minutes. Wash it off with a gentle cleanser and you'll get softer, brighter and glowing skin over time.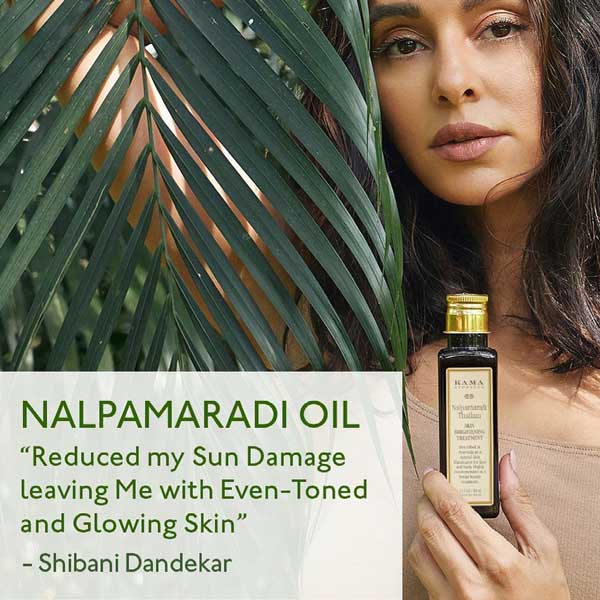 How to remove tan?
Even if you have a good sunscreen that suits your skin, chances are it will not be able to provide your screen 100% protection from the sun. There are numerous solutions for skin tan removal at home such as easy to do DIY face scrubs and face packs!
Tan removal home remedies and tips to remove tan:
1. Tomato and Yoghurt
Antioxidants found in tomatoes are known to brighten skin. Lactic acid in yogurt softens the skin. Combine yoghurt and fresh tomato juice to make a paste which can be applied to your face, neck and other tanned areas. Wash it off after 20 minutes.
2. Aloe vera
Aloe Vera is among the simplest natural treatments for tanning. Apply aloe vera gel to the affected region to help fade sun-induced black patches.
3. Honey & Lemon
To get rid of a tan and smooth the texture of your skin, apply a layer of honey-lemon juice mixture. In order to remove dead skin cells from the surface of your skin, you can also mix some finely ground sugar with the lemon juice for exfoliation.
4. Cucumber
Cucumber is a known natural coolant for sunburnt, tanned or inflamed skin. Apply cucumber juice directly on tanned skin as it lightens the skin and also provides a soothing effect.
5. Potato Juice
The juice of the potato is a natural bleaching agent. It can reduce dark circles and lighten sunburn. Apply the juice to your face's tanned areas and let it sit for 15 minutes. With cold water, rinse it off.
6. Sandalwood
We've all heard about sandalwood's miraculous skin healing properties. It is a calming, mild cleanser in itself and instantly brightens up the face, freeing it from tan and pigmentation.
7. Papaya
The natural enzymes found in papaya have the ability to exfoliate and lighten the skin and honey is a natural humectant and analgesic. Antioxidants included in honey help to fight off free radicals, which age the skin. A paste made with papaya pulp and honey can therefore be extremely effective in skin tan removal.
8. Oatmeal and buttermilk
Make a paste out of buttermilk and oatmeal, then apply it to the sun-kissed skin. After rubbing the paste for a while, let it sit for 20 minutes. Oatmeal has excellent skin-cleansing and exfoliating qualities while the lactic acid in buttermilk helps enhance skin tone and texture.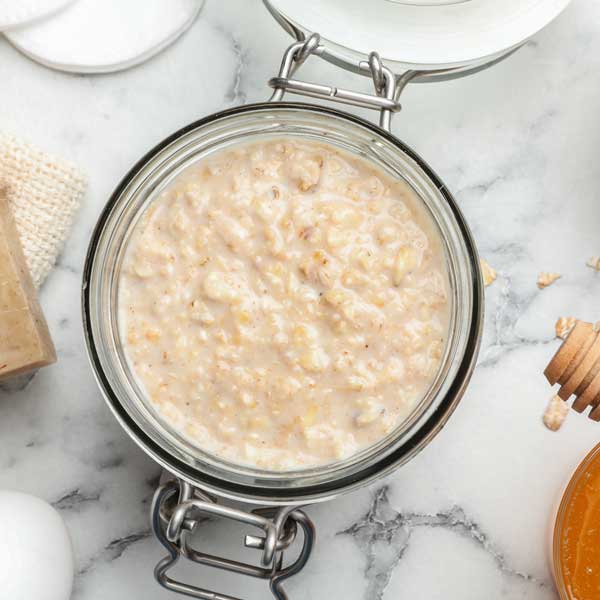 9. Turmeric and Besan
Mix half a teaspoon of  turmeric with two tablespoons of besan (gram flour), milk and one-tablespoon rose water. Apply to tanned areas and wash it off in 15-20 minutes.
10. Masoor dal and Tomato
Grind overnight soaked masoor dal into a paste. Mix tomato juice and aloe vera in this and apply on tanned areas. Use this face pack twice a week for best results.
So now you know the most effective tips to remove tan and how to remove tan easily at home! Try these tan removal home remedies and enjoy soft, glowing skin within a few weeks.
Sources:
https://www.medicalnewstoday.com/articles/326261
aad.org/media/stats/prevention-and-care/sunscreen-faqs
aad.org/public/kids/skin/skin-cancer/what-causes-a-sunburn
aad.org/media/news-releases/psa-highlights-dangers-of-tanning