Having dark spots on our face can make us very conscious of our appearance. As a result, we may often stress about finding the best solution or product to get rid of them. In this process, we end up trying out many synthetic products that have the potential to hurt our skin. 
But, worry not. To ease your tension, there are healthy and all-natural products that you can use, like Tea Tree Oil for dark spots removal. 
In this post, we discuss the benefits of using Tea Tree Oil to get rid of dark spots. Understanding how a product can benefit your skin can help you decide if it is right for you. Many people suffer from dark spots on their faces, and this product can help eliminate those pesky dark spots without any side effects.
Read - How To Get Rid Of Dark Spots On Face & Skin
Can Tea Tree Oil Treat Dark Spots?
Yes, Tea Tree oil works well to remove dark spots. Its effectiveness comes in its capacity to quickly heal blemishes and wounds, and prevent them from turning into dark spots. Because of its antibacterial and anti-inflammatory qualities, it works best on all skin types.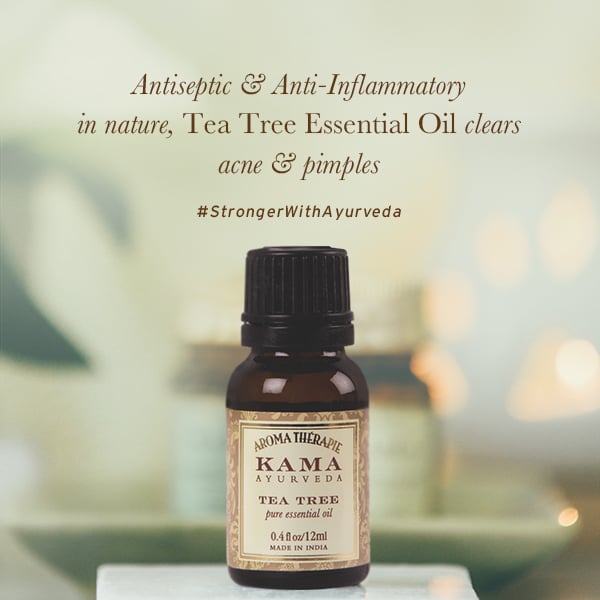 Additionally, it is a preventative measure for dark spots. Moreover, it removes any existing facial dark spots within two to three weeks of application.
Other Top Benefits Of Using Tea Tree Oil For The Face
Here are some excellent benefits of Tea Tree oil that uncover why this magical oil should be a permanent part of your cabinet.
1. Helps in Treating Acne
Nearly everyone struggles with acne; no matter how many products or treatments we attempt, it frequently returns. Tea tree oil has antimicrobial properties that help combat acne and acne scars. You can add 1-2 drops of Tea Tree oil to a teaspoon of carrier oil. Apply this mixture immediately after taking a shower to the affected areas for the best results.
Read - How To Use Tea Tree Oil For Acne?
2. Effective in Moisturizing the Skin
No matter what sort of skin you have, it must be properly moisturized. Tea Tree oil is an excellent natural moisturizer. It gives your skin a smooth texture by reducing dryness and flakiness. For optimal results, use Tea Tree oil with a carrier oil, such as Coconut oil or Almond oil, and apply it every day.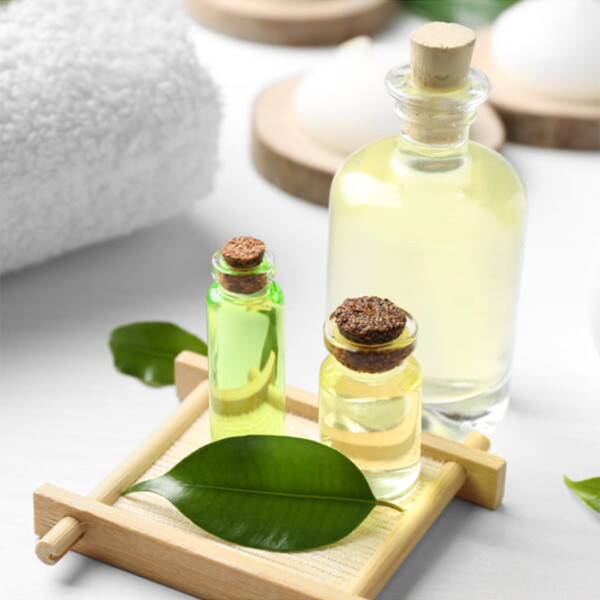 3. Brightens Your Skin
Tea Tree oil aids in removing blemishes and dark spots, clarifies the skin, and restores its suppleness. It is also proven to help with hyperpigmentation and balance skin tone, which helps skin appear brighter.
4. Helps in Soothing Inflammation
Tea Tree oil has anti-inflammatory characteristics that aid in calming the skin and provide relief from itchy, sore skin. Additionally, it might aid in reducing swelling and redness that can develop for various reasons. You can apply 1-2 drops of Tea Tree oil diluted with one teaspoon of carrier oil to the affected region.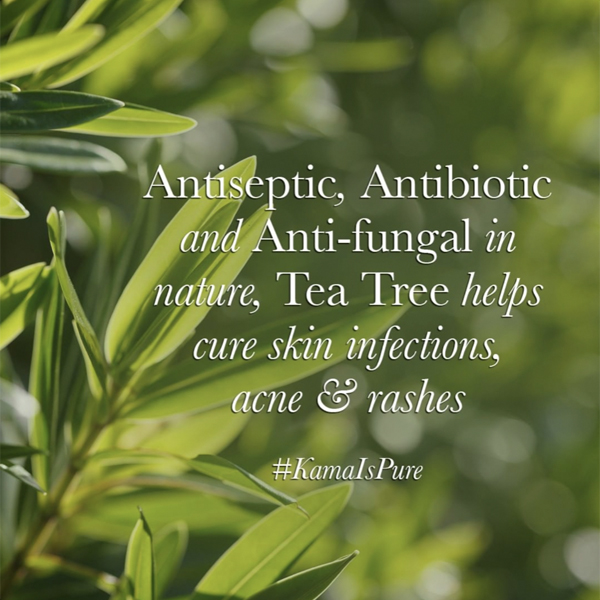 5. Reduces Wrinkles
Tea Tree oil also has a ton of antioxidants which battle the signs of aging and wrinkles on the skin. It functions by preventing the skin's collagen deterioration. Additionally, the oil eliminates toxins and water buildup from the skin, giving it a younger and firmer appearance. To combat wrinkles, you can also try some homemade face packs.
6. Prevents Sun Damage
One of nature's most potent remedies for treating or avoiding sunburn is Tea Tree oil. It has potent analgesic qualities that can soothe the body and reduce pain and stinging. Applying a mixture of one to two drops of pure tea tree oil with a teaspoon of olive oil or coconut oil to the burnt skin provides instant relief.
7. Effective in Removing Skin Tags
Skin tags are tiny skin growths that are flesh-colored. Due to its antiseptic, antibacterial, and antiviral qualities, tea tree oil typically works as a therapy. For best effects, apply the one to two drops of Tea Tree oil with a teaspoon of carrier oil directly to the affected area.
How To Use Tea Tree Oil for Dark Spots?
Tea tree oil can be used in various ways to help treat dark spots brought on by acne. Here are some of the most effective methods for using this product to lighten dark spots on your face.
1. Tea Tree Oil and Coconut Oil
Tea Tree oil alone may not always have the intended effects when used to treat dark spots. It must frequently be combined with other substances to get the intended effects. Using Coconut oil for treating dark spots is one example. Adding coconut oil improves the ability of the skin to heal wounds and nourish otherwise dry skin.
Additionally, combining Coconut oil and Tea tree oil produces collagen, which delays the development of wrinkles and fine lines. 
2. Tea Tree Oil and Castor Oil
To eradicate dark spots, Castor oil can also be combined with Tea tree oil in addition to Coconut oil. The laxative, irritant, and natural emollient properties of Castor oil are attributed to its powerful constituents. When combined with Tea Tree oil, the results are superb by nature.
The mixture is especially effective as a natural skin treatment for dry skin. In addition, this combination is simpler to use and produces the required results in less time.
3. Tea Tree Oil and Aloe Vera
Aloe Vera has excellent moisturizing properties. Therefore, it is superior at replacing the skin's lost moisture content and preventing or treating dry skin. If your skin is dehydrated, you should look for this blend.
Adding Aloe Vera will naturally enable the new mixture to replenish the skin's lost moisture content. You must use the same consistently for a set amount of time to accrue the required results.

Kama Ayurveda's Tea Tree Essential Oil
Kama Ayurveda's Pure Tea Tree Essential oil is steam distilled from the Tea Tree's leaves and twigs, and is well known for its use in cosmetic products and for improving overall health. Today, one of its most popular applications is the quick and efficient treatment of acne, blemishes, dark spots and pimples without excessive dryness, redness, or tightness.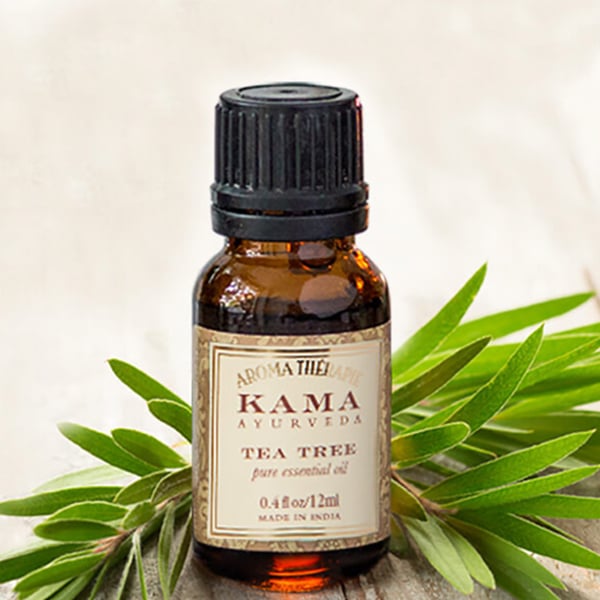 As an anti-inflammatory agent, it soothes various skin irritations, including eczema and psoriasis. It energizes the heart and mind, enhances the body's vital force, and lifts the soul when dispersed. Further, Tea Tree oil is generally considered safe for all skin types and can be included in your daily skincare routine for treating dark spots on the face. 
Safety Tips while using Tea Tree Oil for the face
Never use Tea Tree oil on your entire face. Only apply it as a spot treatment.
Never include Tea Tree oil in any skincare product you use all over your face, including face creams and serums.
After applying Tea tree oil on the acne scars, do not cover them.
Avoid using Tea Tree oil in conjunction with other acne treatments (especially products containing retinoids, salicylic acid, benzoyl peroxide, or other active agents).
Apply Tea Tree oil to your skin just once each day.
Never apply Tea Tree oil to dry, chapped, irritated, or damaged skin.
If Tea Tree oil causes your skin to burn, dry, or become red, stop applying it.
Avoid going outside in the sun after using Tea Tree Oil.
FAQs About Tea Tree Oil
Can anyone use Tea Tree oil for dark spots?
Yes. Since it poses no risks to one's health or skin, anyone can use it. If you have sensitive or cracked skin, you should avoid using it or apply it more cautiously.
Can you leave Tea Tree oil on your face overnight?
Yes, you can. This method is the most advised because it ensures that the chemicals penetrate the skin deeper and produce longer-lasting results or impacts.
Can I mix Tea Tree oil with my moisturizer?
Using a moisturizer can help prevent dry skin and eczema and keep your skin hydrated. Tea Tree oil can be applied topically to the skin, hands, feet, or other problematic areas in combination with a moisturizer to treat dry skin and eczema.
How long does Tea Tree oil take to remove dark spots?
Consistent use of tea tree oil may take anywhere from 4 weeks to 6 months to get rid of dark spots. The degree of pigmentation also affects this. In Ayurveda, lighter areas, called "vyanga," may heal more quickly than extremely dark spots, called "neelika."
Tea tree oil can also treat several skin issues, including infections, eczema, acne, and other skin disorders, and prevent the development of dark spots on your face.
Can you put Tea Tree oil directly on spots?
No, you should not apply Tea Tree oil directly on your spots. It is always advised to dilute it with a carrier oil.
Conclusion
One of the best natural oils for dark spots treatment is Tea Tree essential oil. Tea tree oil works like a magic remedy and produces the best skin results in 2-3 weeks. The oil effectively heals acne and blemishes while nourishing the skin from the inside out.
The oil's anti-inflammatory and anti-microbial characteristics help it treat skin conditions, including black spots. Therefore, if you haven't tried the tea tree oil-based DIY recipes, do so to get rid of your skin's unsightly and dull dark spots.