If you are fed up with health issues related to your scalp and couldn't find a long term solution for it, you have landed at the right place, where you'll find a natural cure for your hair and scalp problems. 

Tea tree oil is an essential oil that has been used for medicinal purposes for hundreds of years. It can do wonders and make your hair and scalp healthy. Using tea tree oil on your hair and scalp is the most natural way of cleansing your hair without causing any damage or dryness.
It is often said that scalp related problems are genetical, but in today's time, pollution and other environmental factors play a huge role as well. 

Tea tree oil has antimicrobial properties which makes it an excellent cleaning agent. Using it on your hair helps in fighting all many types of bacteria, viruses, and fungi that accumulate in hair and scalp from the environment.

Before we explore how this tea tree oil does wonders for your hair, let's understand a little more about this essential oil.

What is tea tree oil?
The natives of Australia living in Queensland region cultivated Tea Tree shrubs extensively. Tea tree oil is extracted by the steam distillation of fresh leaves and wood from these tea tree shrubs. This essential oil is pale yellow or clear in color and has a fresh camphoraceous odor.

What makes tea tree oil so popular among common masses? At least once, you must have got a recommendation for using tea tree oil for any particular problem related to your body. 

Once the medicinal properties of Tea Tree oil were discovered, it became a popular anti-septic used for curing cuts, burns, and boils.
Tea tree oil has since been used as a medication, from acne to cold sores, blisters to fungal infection, dandruff to bacterial infection and many more. If you have any of the above-mentioned ailments, tea tree oil can become your savior.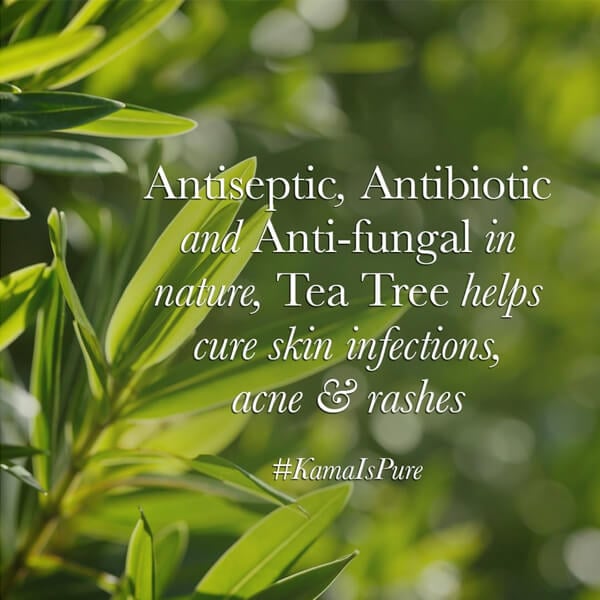 The use of tea tree oil for treating hair and scalp problems is comparatively recent. Today, tea tree oil is used as an ingredient in a lot of hair products. Let's now have a look at the many benefits of tea tree oil for hair and understand how to use tea tree oil to solve our hair problems.
Why use tea tree oil for hair?
When you talk about hair health, it's actually the scalp that you are referring to. The scalp has follicles, the minute openings that are responsible for the growth of hair. When these follicles are clogged by the pollutants which are present in the atmosphere, you start facing hair problems like hair fall.

Tea tree oil has proven to be beneficial in such cases where problems like dandruff and hair loss are prevalent due to improper cleaning of hair follicles leading to clogging of dirt and impurities. 

Overexposure to the sun is another problem for the hair as it depletes the natural moisture of the hair. This hampers the growth of hair resulting in dead skin and dryness of hair. Tea tree oil moisturizes your scalp and provides it with the essential nutrients and supplements that would support the growth of hair.

In the coming section, we'll explore how to use tea tree oil for hair to treat the most common hair problems.

How to use Tea Tree Oil For Hair?
Using tea tree oil is therapeutic for hair. It has anti-fungal, anti-bacterial, anti-inflammatory and anti-oxidant properties that are useful for the hair. Using tea tree oil makes hair follicles more receptive to nutrition and this promotes overall hair growth. 

Now that you know how tea tree oil tends to improve hair and scalp health, let's have a look at a few ways to use tea tree oil for hair and make it a part of our hair care regime. It's important to note that tea tree is powerful and should not be applied directly to the hair.

Daily cleansing with tea tree oil includes using tea tree oil with your shampoo. Take a few drops of tea tree oil and a small amount of shampoo. Mix both the tea tree oil and shampoo so that the consistency of the mixture is maintained. Apply the mixture on wet scalp. This would result in clean hair follicles and ensure good health of hair.

2. Hair Growth Treatment - 
Tea tree oil improves blood circulation and removes all toxins from the scalp, paving way for healthy hair growth. It also stimulates the dormant hair follicles and brings them to life. It prepares the hair and scalp to absorb nutrients efficiently, which helps in hair growth.

To use tea tree oil as a hair growth treatment, mix it with any carrier oil like Coconut, Almond, or Sesame oil. Apply the mixture of oil onto your scalp and massage it. You can even give yourself a hot oil treatment by warming the oil prior to its application. After washing the hair, you'll get a refreshing feeling and your scalp will be free from any fungi and bacteria that may have got deposited over time.

Read - 10 Hair Growth Oils Recommended by Ayurveda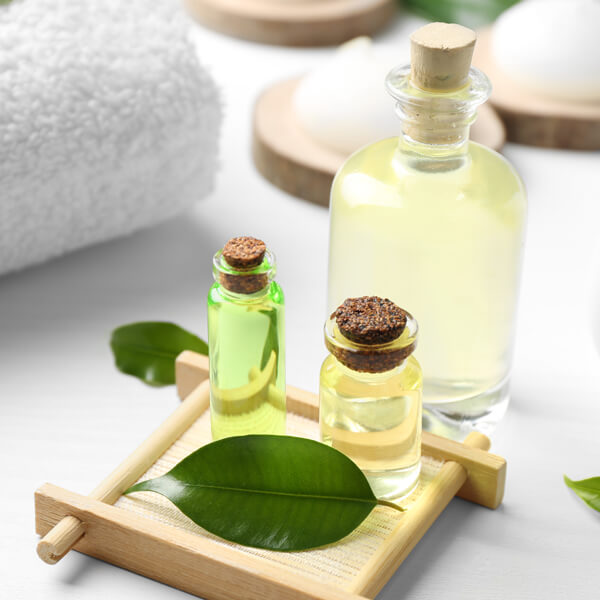 3. For Hair And Scalp Dryness -
Tea tree oil is very useful in treating hair dryness. It provides supplements to the scalp and removes blockages in the hair follicles. With the use of tea tree oil, the hair grows with a healthy amount of nutrients and this prevents hair from becoming dry and brittle. Conditions like seborrheic dermatitis, which lead to scaly dry patches on the scalp can also be treated with tea tree oil.

For treating dryness related issues, you need to mix the tea tree oil with a carrier oil like Coconut oil or Olive oil and massage it for 10-15 minutes onto the scalp. Wash the hair normally and repeat this process daily and you'll observe some changes.

The root cause of dandruff varies from person to person. Oily, irritated skin, bad hair hygiene and skin conditions like contact dermatitis, or fungal infections can result in dandruff. The anti-fungal action of tea tree oil helps in removing dandruff without causing any dryness. 
Add 10-15 drops of tea tree oil with every ounce of shampoo and massage it onto the hair. Let it stay there for at least 3-5 minutes before rinsing thoroughly. By acting as a natural conditioner, it soothes the scalp and prevents flakiness. 

If you have itchiness, dryness or dandruff, then tea tree oil hair mask will help you to overcome these problems. First, choose a base for your hair mask. Both avocado paste and yogurt have a thick consistency and are suitable for this. Add honey to the base along with a few drops of tea tree oil. Apply the mask onto hair and then massage it with fingers onto the scalp. Wash it off after 15-20 minutes.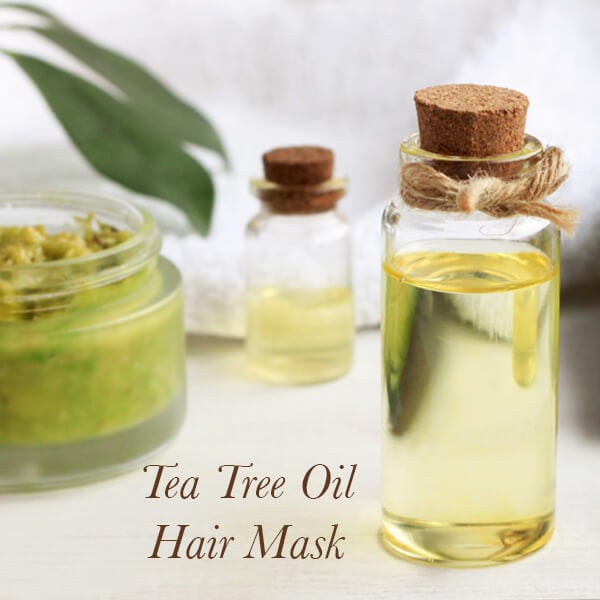 6. For oily scalp -
Tea tree oil controls the excess oil production by the sebaceous glands and keeps the scalp moisturized. It is non-comedogenic which means it does not clog the pores and decreases bacteria on the skin's surface.

You can mix baking soda, tea tree oil, and honey and apply the paste to your scalp. Gently massage it for about 10 minutes. Leave it on for 30 minutes before washing it off. This can be repeated twice a week to maintain the pH of the scalp, remove extra oil and keep the scalp healthy.

7. For getting rid of lice
Hair lice are caused by bad scalp health and are transferred from scalp to scalp. They are harmful to overall health as they suck the blood from the scalp, causing inflammation and itchiness. Tea tree oil has insecticidal properties that help in providing relief from hair lice. Components like 1,8-cineole and terpinen-4-ol are present in tea tree oil which kill lice. The oil also prevents lice eggs from getting attached to hair and scalp.

To use tea tree oil to clear lice, mix about 7-8 drops with a spoon of any vegetable oil and leave it overnight. Wear a shower cap to allow better absorption into the hair. In the morning, remove the shower cap and comb with a fine comb 5-6 times before washing off with a hair cleanser.

8. For daily conditioning
You can make a tea tree oil spray to use as a leave-in conditioner. All you need to do is take distilled water and add some drops of tea tree oil to it. Some people even add chamomile tea to this spray. Irrespective of what ingredients you use to prepare your spray, it should contain about 5 percent tea tree oil. Store this mixture in a spray bottle and spray it on your hair whenever you like to give it a dose of natural conditioning.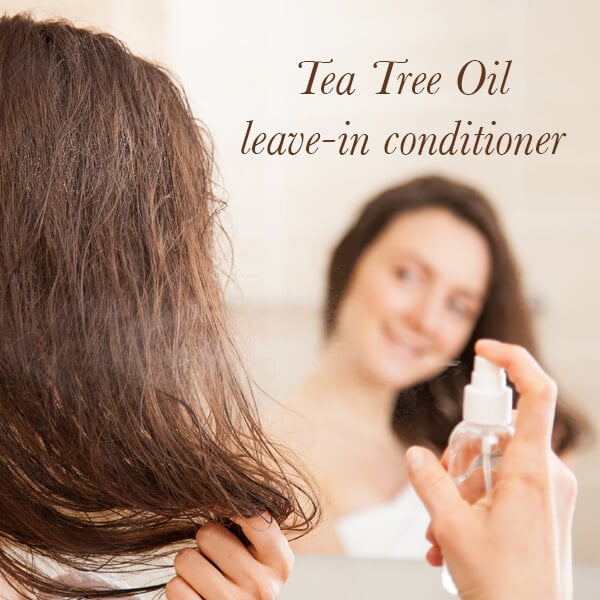 FAQ about using Tea Tree Oil for hair
Can I apply tea tree oil without any carrier oil or shampoo?
It is not recommended to apply tea tree oil directly onto your scalp as it is extremely concentrated and is like to irritate the skin.

For how much time can I leave tea tree oil on my scalp?
Tea tree oil ensures the health of your hair. So, it can be left on hair overnight for deep penetration if it is diluted with a carrier oil. With the continuous use of tea tree oil, the scalp will regain its lost moisture and nutrients resulting in shiny, smooth hair.

Can tea tree oil cause any side effects?
The use of tea tree oil can result in allergic reactions. If you are using it for your hair then, try to get fresh tea tree oil otherwise preserved tea tree oil can result in allergies on your scalp. Before using tea tree oil directly onto your scalp, perform a patch test on your skin.

Which is the best tea tree oil in India?
Kama Ayurveda's Tea Tree Oil is steam distilled from the leaves and twigs of Tea Tree and is 100% natural. It is very beneficial for the health of hair and scalp with its ability to soothe dry flaking, remove dandruff and can even be used for the treatment of lice. It is one of the best tea tree oil available in India.

References -