Vetiver, more commonly known as khus in Ayurveda, is renowned for various purposes, especially in the Indian sub-continent. The healing properties of this aromatic grass render it to be a one-stop solution for many of your skin woes.

According to Ayurveda, Vetiver's earthy aroma has uplifting vibrations and frequencies that reach the mind to bring peace. Think of slightly damp and uncut grass on a warm summer day and you'll have an idea of what vetiver smells like.

Saying this, let us find out a bit more in detail about what Vetiver is, the benefits it provides, and how you could incorporate it into your skin routine.
What Is Vetiver?
Vetiver is a tall perennial grass with aromatic compounds; it is indigenous to India's southern part. The grass flourishes well even in scorching heat and has been estimated divine for centuries together.

Did you know the appeasing aroma of the Vetiver plant carries benefits not only to the mind but also to the body? Vetiver is widely credited for its calming and cooling properties. It also has a natural affinity to the skin, making it is a desirable ingredient in cosmetic preparations.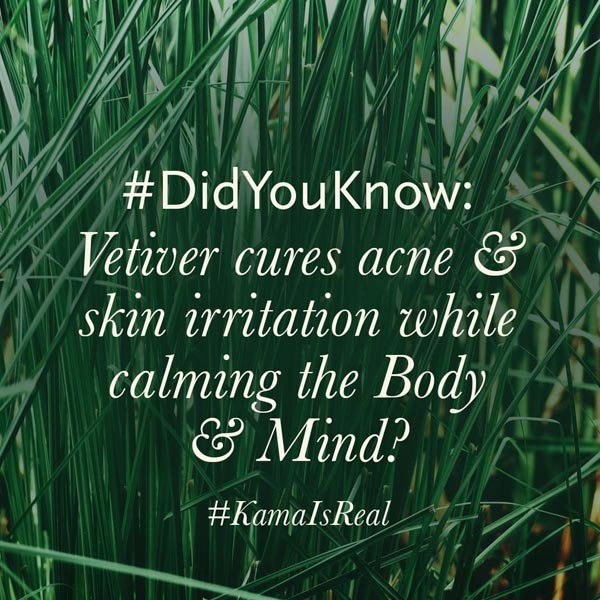 Next, let us find out more about the cosmetic benefits this ingredient bestows. 
Top 5 Benefits of Vetiver for Your Skin
Considering all the advantages that the Vetiver plant provides for the skin, its cosmetic significance is quite underrated. A natural coolant, toner, and moisturizer, Vetiver is a boon for your skin. Let's now look at the benefits of using Vetiver for your skin.

1. Moisturizes And Hydrates The Skin
Did you know that Vetiver can retain water as it has a high water holding capacity? It hydrates and moisturizes the skin without forming any greasy layer. This feature works in favor of the skin by keeping it moisturized for long hours without causing any stickiness. 

A well hydrated skin is the key to prevent the formation of a dry or flaky skin tone. Vetiver also modulates the sebum production, hence keeping the skin's oil content balanced as per your skin type. It reveals a natural glow and promotes healthy skin.

2. Balances Skin's PH And Evens Skin Tone
Our skin's natural pH level is constantly altered by exposure to dust and pollution. Vetiver plays an important role in restoring natural pH level of the skin. It protects the acid mantle present on the skin. This acid mantle aids in combating unwanted influences of the environment, bacteria, or allergens.

Vetiver is also credited to even out discolored and rough skin. It reduces the appearance of any marks or scars caused by acne, zits, pimples, thereby promoting spotless clear skin. It provides overall nourishment to the skin cells and accentuates the skin's regeneration process. It can even boost the growth of new tissue. 

3. Tightens Skin Pore And Reduces Oiliness
Vetiver is considered to be a natural astringent known to tone the skin credibly. It tightens and cleanses the pores and reduces the onset of blackhead or whitehead formation. It can diminish the cell gaps after cleansing, thereby reducing the penetration of impurities. And as mentioned before, since Vetiver can regulate the skin's sebum production, it substantially attenuates its oiliness and greasiness.

4. Reduces Skin Inflammation
Did you know Vetiver's cooling abilities are not restricted to drinks alone but work for the skin as well? It can eliminate sunburns and soothe any redness, as Vetiver possesses anti-inflammatory properties. Whether the inflammation is caused by nasty acne or by the summer heat, either of it could be reduced by using Vetiver.
It even limits the acne outbreaks considerably along with simultaneously healing the skin. Unlike other products, Vetiver is gentle on the skin and is recognized as an exclusive option, especially for sensitive skin.


5. Helps Delay The Signs Of Aging
Vetiver is power-packed with antioxidants. Therefore, it can effectively cleanse the system and eliminate toxins and other free radicals that are the usual cause for unfavorable aging signs like fine lines, pigmentation, discolored skin tone, etc. It even secures the skin from environmental aggressors and harmful chemicals. These are among the reasons for prematurely aging skin. Consistent application of this ingredient could provide firmness to the skin, promoting a youthful glow and, at the same time, diminish aging signs.
Now, as we have learned the advantages Vetiver imparts, next, let us dive into the ways on how to use Vetiver.

How to Use Vetiver for Your Skin
Vetiver, as an ingredient, is used in multiple skincare products. Its combination of nourishing and healing abilities is a treat for the skin. The distinctive use of Vetiver is prominent in the following products.


1. Vetiver Water As A Toner
Vetiver water can reduce the pore size by working as an efficient toner. It has natural astringent properties and can make the skin feel sturdy yet soft. To use the Vetiver water as a toner, all one has to do is collect the Vetiver roots, some lemon slices, and water.

Take some water in the pan (1-2 cups), allow it to boil. Next, add some cold water to it and at the same time add the Vetiver roots and 1-2 lemon slices. Allow it to cool down and remain unstirred for a few hours. Then, add it into a spray bottle after straining, and the toner is ready to use. You could spray it on to your face directly and cleanse the skin with cotton.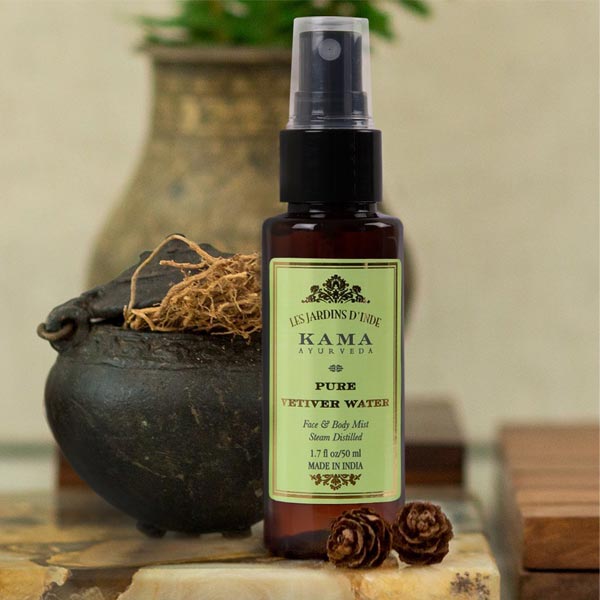 You may even get to buy Vetiver based toner products from the market. To utilize them, you could directly spray them onto your face whenever needed to enjoy refreshed and toned skin.  

We recommend Kama Ayurveda's Pure Vetiver Water. It's 100 percent natural, earthy floral distillation that cools, hydrates and tones leaving skin scented with the refreshing scent of pure Vetiver. Roots of perennial Vetiver grass native to Aligarh Region in north India are used to derive this highly cooling, earthy and rejuvenating Vetiver Water. 
2. Vetiver Soaps for Body
Vetiver's regenerative properties and wholesome nutritive qualities make it a widely marketed soap. Vetiver soap can be utilized, firstly, by making a thick lather and then gently applying it in a circular motion all over the body. Do not rub against the skin. Next, wash the soap thoroughly and you'll be amazed at the instant softness and glow the skin portrays. 

3. Vetiver Essential Oil
Vetiver essential oil also provides benefits similar to Vetiver water. According to Ayurveda, the fragrance of Vetiver essential oil is described to be earthy and woody, which instills a calmness when implementing it. To use the Vetiver essential oil for the skin, add a few drops of this oil to a tablespoon of any carrier oil, preferably virgin coconut oil. Mix it well and avail its benefits as a toner or moisturizer.

4. Vetiver Roots As Exfoliator
You must have purchased a grass-like scrub at least once in your lifetime. Well, you might not know this but that grass is none other than the Vetiver roots. The Vetiver roots are an excellent exfoliator as they cleanse the pores and eliminate dead skin cells. 

Vetiver roots also have cell regenerative properties that provide healthy growth to the skin. To use the Vetiver roots as an exfoliator, remember to immerse it in water for about 15 minutes before utilizing it. Next, apply soap over the skin and gently exfoliate using the Vetiver roots.   

5. As An After Shave Treatment
Vetiver Water extracted from the steam distillation of Vetiver roots works as an excellent aftershave treatment for men. If you prefer to use natural aftershave treatments, Vetiver water is the best choice as it leaves the skin refreshed and hydrated. Vetiver also has antiseptic and healing properties that prevent infections and skin irritation.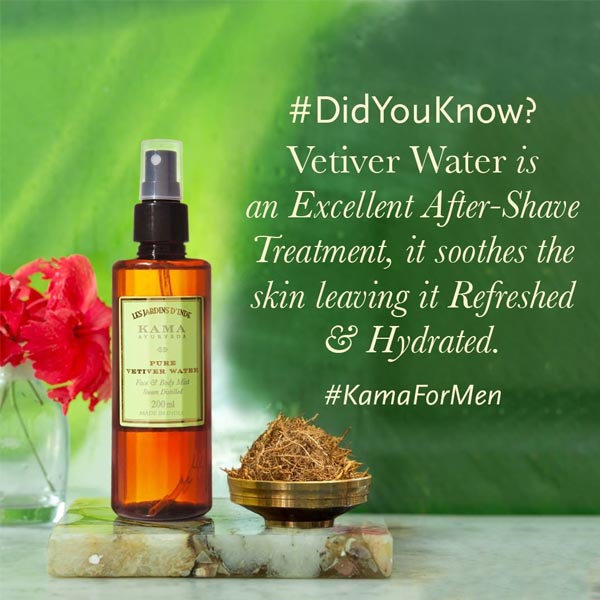 How To Use Vetiver Water In Your Skin Routine?
The Vetiver water is non-toxic and dermatologically safe for use. One could include Vetiver water in their skin routine in the following ways.

1. As A Facial Mist
Usually, the Vetiver Water facial mist is prepared by soaking Vetiver's roots in clay pots, followed by a distillation process to acquire the fragrant water. This process imparts a calming fragrance at the same time aids in toning and moisturizing the skin. It could even clear blemishes and aid in healing scars. To use it as a facial mist, one could directly spray on to the face and avail the benefits.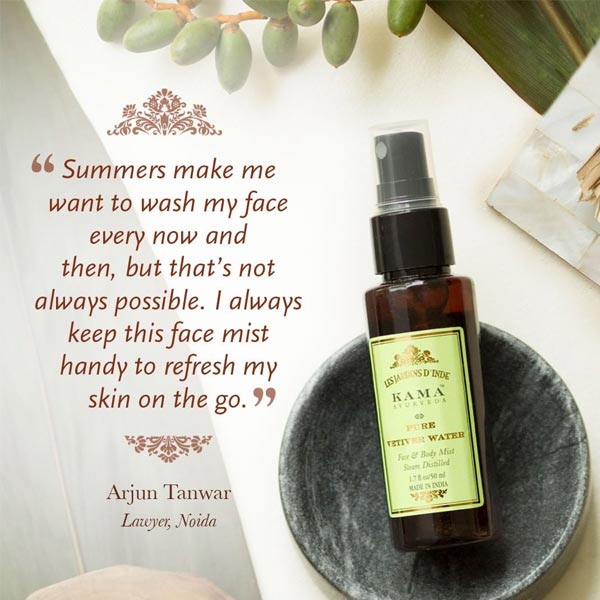 2. In Face Packs
To use Vetiver water in face packs, one could rely on natural home-made face packs or the market's products. To make a home-made Vetiver-based-face pack, you could follow the next steps. 

Take about 10-15 drops of Vetiver water and add it to a spoonful of Sandalwood Powder. Next, stir the mixture well and apply it evenly over your face and neck. Leave it until dry and then rinse it off thoroughly to get moisturized, toned skin. 

We recommend using Kama Ayurveda's Suvarna Haldi Chandan Face Pack with Vetiver water for radiant skin.

3. As A Body Mist
When using Vetiver as a body mist, it leaves a woody and subtle aroma that it possesses. Along with infusing a pleasant fragrance, a body mist having Vetiver as its prime ingredient could also make the skin feel refreshed and moisturized. To use the product as a body mist spray it over the skin, favorably when it's damp or moist. Through these ways, one can easily assimilate the utilization of Vetiver water in the daily skin routine. 

Lastly, as the Vetiver water is relatively mild, it is suitable for sensitive skin type. However, we would suggest consulting with your dermatologist before including any new product in your skin regimen to safeguard from any untoward experiences. 

You can book a free consultation with our Ayurvedic beauty experts to get further guidance in choosing the best products for your skin.