Ah, good old coconut oil, these days, there has been a big surge in people becoming fans of it! Coconut oil - among other oils like olive, jojoba, and rose-hip oils -  has become a staple item for people not only in the beauty community but the skincare and health community as well!
The health and wellness community, in particular, likes to rave about virgin coconut oil, are you aware of the benefits of it? No? Take a look below!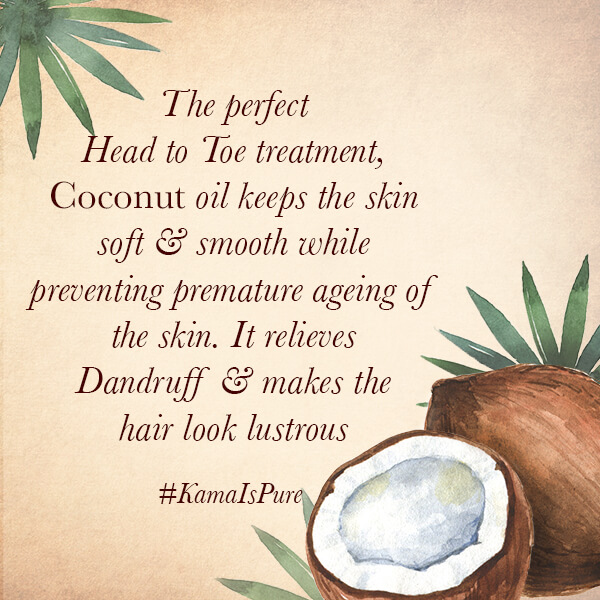 What is Virgin Coconut Oil and Why is it better for you?
Virgin coconut oil is derived from coconuts just like your regular coconut oil is. A big difference between virgin and regular coconut oil, however, is the method used to extract them. Regular coconut oil is made dried kernel of the coconut - copra. The copra is pressed, the oil which is extracted from it is then refined and bleached, it is then deodorized in order to be made ready for your use. 
Virgin coconut oil, on the other hand, is taken from the fresh milk of the coconut, and it does not undergo any refining process like the regular coconut oil does. Virgin coconut oil is left unrefined.
Virgin coconut oil also contains more antioxidants than regular coconut oil. Unlike the regular coconut oil, it is not put through bleaching (which occurs during the refining process for the regular coconut oil), nor is it exposed to any chemicals. Since the virgin coconut oil is unrefined, it also packs a more intense taste of coconut than the regular coconut oil.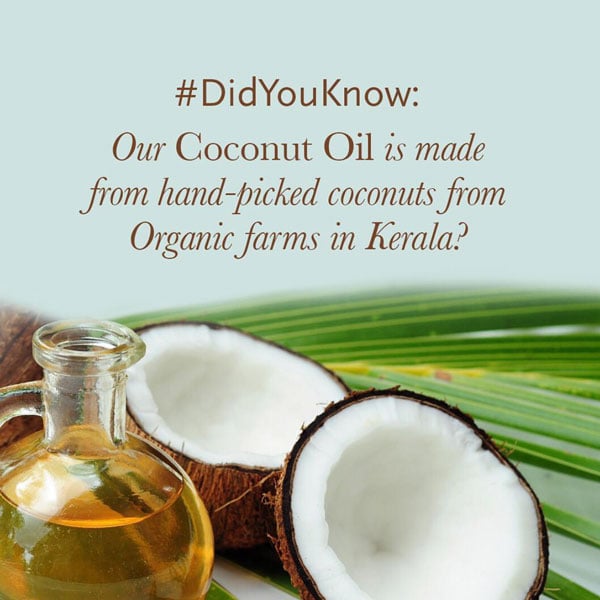 So, now you might be thinking - 'ah so, the virgin coconut oil IS better, then? Perfect, it's on my list for the next shopping trip!' - but how will you tell it apart from the regular coconut oil? Both the regular as well as the virgin coconut oil have little difference in terms of appearance, so it is impossible to tell them apart, especially when they sit on the shelf in a sealed container. 
You will have to check the labels of the pack carefully - look for labels which say 'Virgin' or 'Extra-virgin', if there is no such label, but you are still not sure whether the oil is regular coconut oil or virgin coconut oil, look for labels which say 'refined', it will confirm that the oil is not virgin coconut oil. 
But then, what is Extra Virgin Coconut Oil? Is it even better?
So now you have got at least some idea of the goodness of virgin coconut oil, and you are happily planning on going shopping to get your bottle of virgin coconut oil…if you come across a label titled 'Extra Virgin' coconut oil, don't get confused! 
There is inherently no difference between virgin coconut oil, and extra virgin coconut oil. Some brands use the term 'Extra Virgin' to signify that the coconut oil is of the highest quality, is 100% natural and contains no toxins. 'Extra Virgin' coconut oil is derived from the first pressing of fresh, raw coconut without the addition of any chemicals.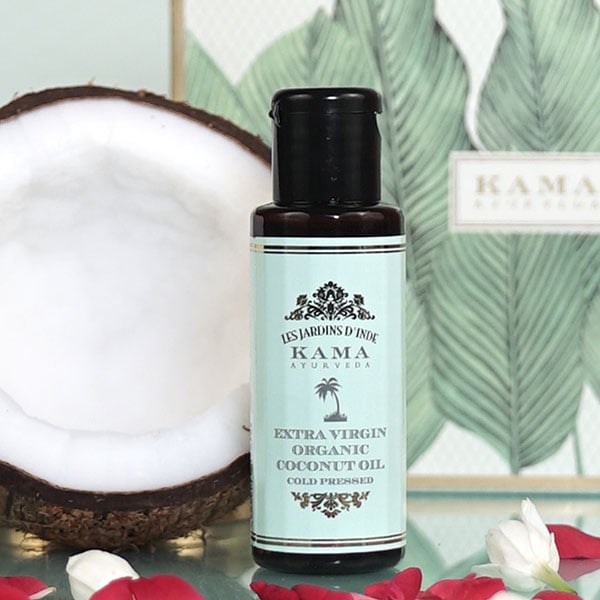 Should I choose Cold Pressed Coconut Oil?
Going off of what we said about reading the labels properly when shopping for your virgin coconut oil, you may come across another label reading 'Cold-Pressed Coconut Oil', and wonder what that means. Being labeled 'cold-pressed' means that coconut oil has been pressed using a mechanical method. 
There are absolutely no high ('high' being defined as higher than 120 degrees Fahrenheit, or 48.8 degrees Celsius) temperatures used during the cold pressing process, this is done in order to help the coconut oil retain its nutrients. Cold pressing is most often done with virgin coconut oil, it produces the highest quality of cold-pressed coconut oil. 
So, yes, you certainly should choose cold-pressed virgin coconut oil if you happen to see it on the label when you shop!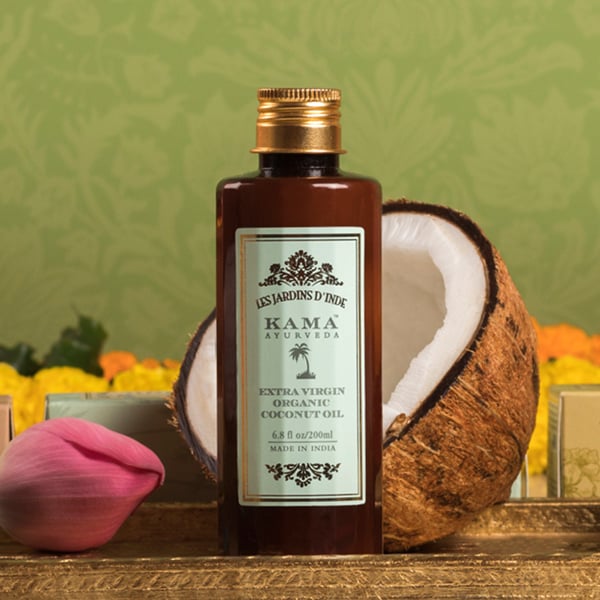 How Does Cold Pressed Virgin Coconut Oil Benefit Hair?
We have been raving about the incredible quality of cold-pressed virgin coconut oil, and you must be wondering - 'how great could it be, really?', worry not, we will not keep you wondering any longer, we will begin by explaining the benefits of cold-pressed, virgin coconut oil for your hair -
1. Prevents hair breakage and split ends
Cold pressed virgin coconut oil helps in protecting the hair strands against damage which can occur quite often with all the products we tend to put in our hair regularly. The damage from the heat of the styling products such as straightening irons or curling irons, as well from the heat of the sun can also damage our hair significantly. The oil offers protection against all this by forming a layer of protection when it coats the hair upon application.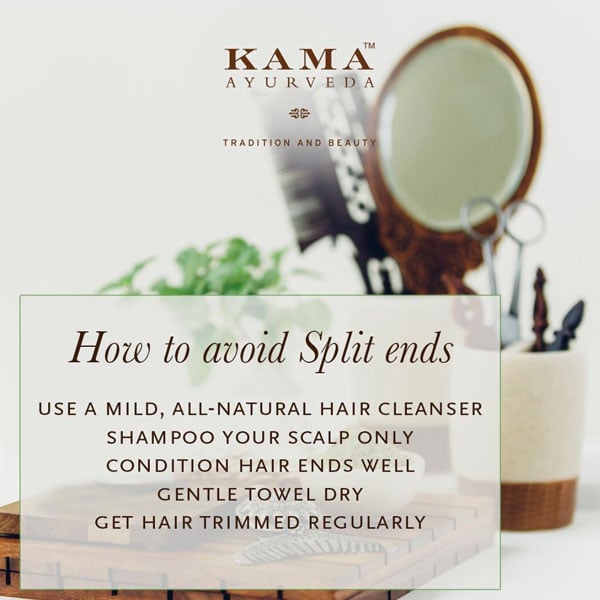 2. Increases the hair volume
As a result of the protection that it offers against breakage and damage of hair, cold-pressed virgin coconut oil helps in the growth of your hair. If you want your hair to be healthy and nourished, try the oil because it contains nutrients which help in strengthening your hair, resulting healthy, luscious, voluminous hair!
3. Helps against graying of hair and adds lustre
Our hair can start to turn gray due to various reasons - it can be stress, the hormones, outside damage to the hair, or lack of nutrients which results in the hair turning gray at a worrying pace. Massaging the hair with a nutrient-rich oil such as cold-pressed virgin coconut oil can help in not only transferring the goodness of the oil to your hair, but it can also improve circulation of the blood to the hair, because of which, more nutrients are carried to the hair through the blood. This can result in your hair becoming much more glossy, bouncy, and healthy-looking.

4.  Moisturizes the hair and scalp
Cold pressed virgin coconut oil helps your hair and your scalp regain the moisture that it often loses in the dry and cold seasons. You can apply some of the oil (slightly warmed up, if you want) liberally to your hair and your scalp while your hair is damp after showering, and it will work wonders for the rough and dry skin that the scalp can become during cold and dry times, and conditions your hair nicely.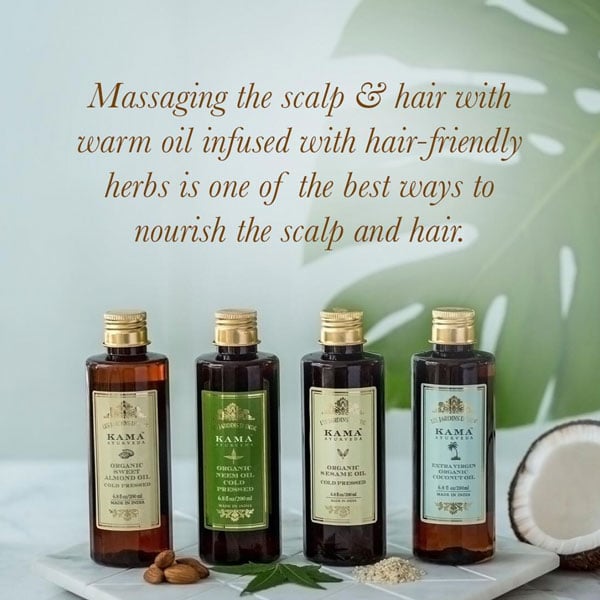 Also read - 10 Best Hair Growth Oils Recommended by Ayurveda
5. Prevents the formation of dandruff
The skin of the scalp can get so dry at times, that a white, flaky layer starts to form over it, we call this dandruff. Dandruff can cause itchiness along with the horrible sight that is a dandruff-ridden scalp. Cold-pressed virgin coconut oil can help fight dandruff off as it contains fatty acids along with Vitamins E and K, which are wonderful for your scalp, and help nourish it back to a state where the dryness disappears, and so does dandruff.
6. Offers protection from lice
Cold pressed virgin coconut oil is an absolute godsend for those who suffer from the attack of lice. It contains antibacterial properties which spread with the oil and repel lice and their eggs from attaching themselves to your hair strands, and therefore, preventing the havoc that lice can wreak on your precious hair and scalp!
7. Soothes boils and scalp irritation
We have talked about the negative effects that the cold and dry winters can have on your hair, and how cold-pressed, virgin coconut oil can help with that problem, now let us talk about the opposite. Those of us who live in hotter areas, or areas which have particularly extreme summers may have a problem as well. 
Due to roaming about in the heat during those months, and sweating a lot, the scalp can develop boils and sunburns (especially if your hair is on the thinner side). As we have talked about the antibacterial properties of such good quality coconut oil, it helps by soothing the burned and irritated skin, along with calming the boils on the scalp. Apply directly on the affected area without creating friction, and let the oil work its magic!
8. Helps reduce frizz in textured hair
All the curly-headed people love oils. If you have coarse, curly or wavy hair, then hair oils are actually your best friends that can help your become more manageable! Textured hair tends to be on the drier side, more often so than straight hair, and so it requires extra effort and care than straight hair.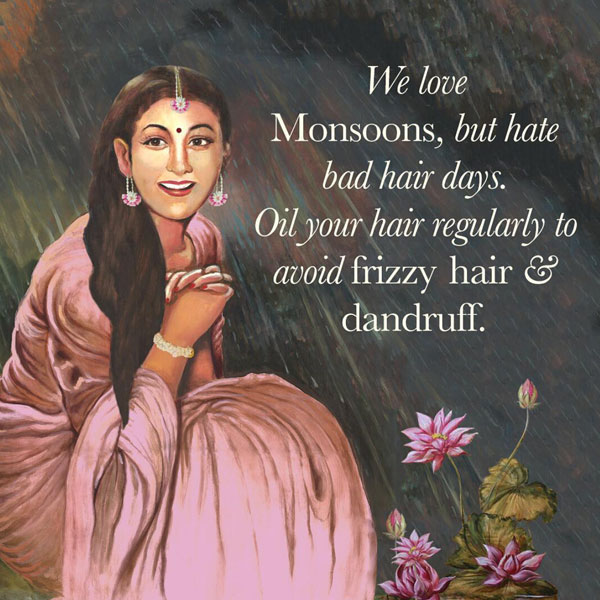 Cold-pressed virgin coconut oil is perfect for helping in the de-tangling of textured hair while it is damp, once the hair dries, the oil helps the curls or waves to become set as they had been combed, as a result, it provides beautiful and defined curls and waves without making them frizz up later on!     
  How does Cold Pressed Virgin Coconut Oil Benefit Skin?
We just told you about some benefits of cold-pressed virgin coconut oil for your hair and scalp, but that is not all of it is limited to! Cold-pressed virgin or extra virgin coconut oil offers several benefits to your body as well, let us take a look at some of the benefits of using it on your skin -
1. Hydrates and Moisturizes the skin
As mentioned before, cold-pressed virgin coconut oil is an extremely nourishing oil as it is nutrient-rich and offers proper moisture to the skin. Apply it on your skin right after you exit the shower or bath, it creates a barrier over your skin and does not let the water escape, thus providing prolonged hydration and moisture to your skin!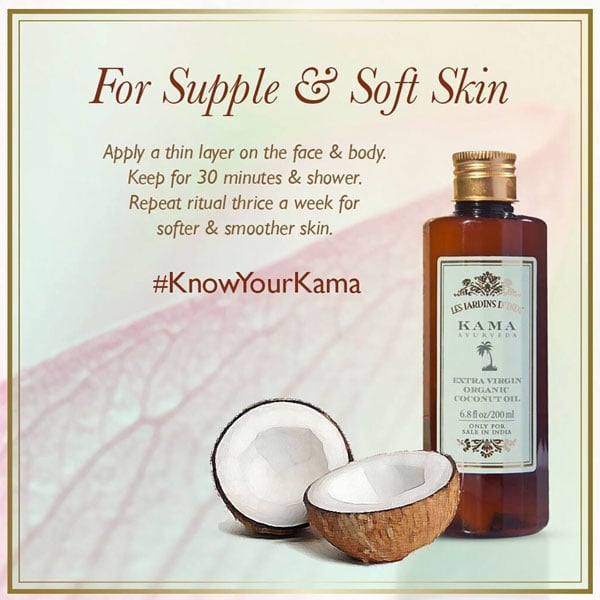 2. Acts as an alternative to shaving cream
By now you know how it works - the oil makes a protective barrier over your skin when applied, and this is why it makes a great alternative to shaving cream! Cold-pressed virgin coconut oil protects your skin from razor burns while shaving by keeping the skin lubricated. 
The hydration and moisture offered by it also keep the skin nourished and prevent any bumps from forming due to irritation of the skin after shaving, which tends to happen quite a lot, usually. Additionally, in comparison to shaving cream, the oil is a much, much cheaper option, and works as well, if not better!

3. Great for use during massages
Cold pressed virgin coconut oil is the perfect choice for a massage oil, it is packed with antioxidants which nourish the skin along with acting as a lubricant for the massage, just warm the oil up a little bit, and voila! Muscle relaxation and skin hydration, both at once!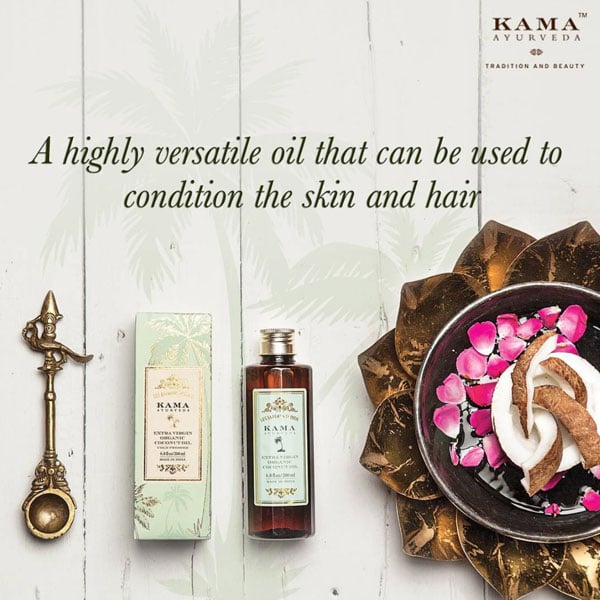 4. Soothes skin conditions like Eczema and Psoriasis
Do you suffer from flare-ups of skin conditions like Eczema or Psoriasis from time to time? We might have a solution to your problems! The soothing, anti-bacterial properties in cold-pressed virgin coconut oil can help reduce the redness, patchy scales, the thickness and the flakiness caused by skin conditions like Eczema and Psoriasis. You should try to apply it twice a day, after soaking the affected area with water (having a bath or a quick shower with light water pressure), and you should see the results after some time of regular application! 
5. A great substitute for skincare and beauty products
Are you a natural beauty lover, but do not want to spend your money on expensive products? We can help! You can use cold-pressed virgin coconut oil as the base and create many of the recipes which are similar to these fancy products. Virgin coconut oil is a great base for DIY body scrubs, just add a few drops of vanilla extract, a few teaspoons of sugar or coffee granules, and mix it up, your fancy body scrub is ready to use!
The oil itself has a slight fragrance naturally, but if you want, you can add a few drops of your favorite smelling essential oil, some natural or food coloring, and you have home-made tinted lip-balm, just like that! 
Also, just like clear petroleum jelly, virgin coconut oil can also act as a substitute for a highlighter for your face and collarbone, especially in the winter, just swipe and dab a little bit here and there, and you're ready to go. You might just get away with never buying some of these fancy products ever again!
We wrap this up here, but we hope you found it useful to learn about the numerous benefits of cold-pressed virgin coconut oil for the hair and the skin. If you think any of these things might be helpful to you, what are you waiting for? Run out to our store or order a bottle of cold-pressed virgin coconut oil today, and use away!
References -