Living with dry and frizzy hair is complex. Not only does your hair look unkempt about 90% of the time, but it is also more prone to damage and breaking. Beyond environmental aggressors, several other factors like lack of hair nourishment can contribute to dry hair. That's where the role of the right hydrating product comes in. Using the best hair conditioners for dry hair can help you keep your frizz-free.
Conditioner is usually the second step in the hair washing routine. While shampoo cleanses off sweat and dead skin cells, conditioner makes your hair softer and easier to manage. Also, it protects hair shafts from damage. 
Best Conditioner For Dry and Frizzy Hair
A hair conditioner helps hydrate and nourish your hair to make it look healthier, softer, and silkier. Hair conditioners contain hydrating and moisturizing ingredients that penetrate your hair shaft and inner layers of hair to restore the lost moisture. 
Further, using conditioners after shampooing is essential to prevent dry, frizzy, and damaged hair as it helps replenish the natural oils in the scalp. So, if you're looking out for the best conditioner for dry and frizzy hair, here are our top recommendations.
If you're looking for a hair smoothing hair conditioner that locks in moisture? Then this hair conditioner is the best suited for enhancing hair manageability and shine. 
Read - How To Make Hair Silky Naturally – 10 Best Hair Care Tips
1. Kama Ayurveda Lavender Patchouli Hair Conditioner
This Ayurvedic hair conditioner is an ideal remedy if you have dry and frizzy hair and turns out to be the best choice if you have split ends. This herbal blend is made with Soy Extract, Almond and Gooseberry, and Lavender Oil, ensuring your hair retains its moisture. Besides, you will be rewarded with shiny, healthy, and lustrous hair with each wash. 
Further, Lavender Oil soothes your scalp, helps improve blood circulation, and prevents hair loss. This natural hair conditioner not only treats your hair issues but also leaves a sweet scent on your tresses.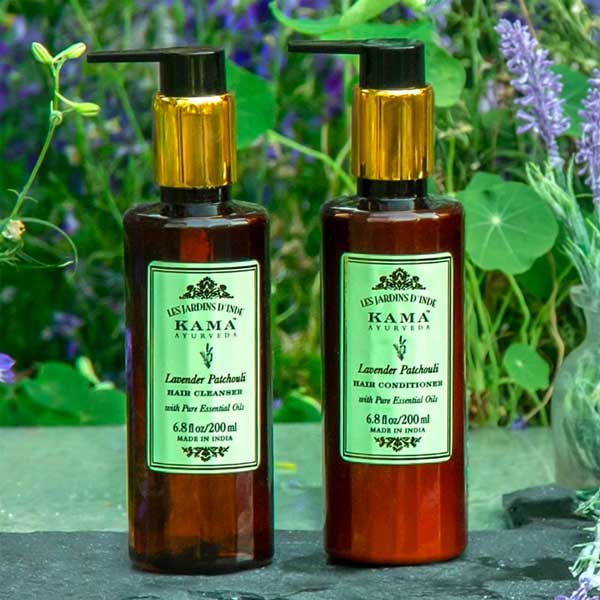 2. Kama Ayurveda Rose and Jasmine Hair Conditioner
According to Ayurveda, Roses help replenish the lost moisture and make your hair more manageable, smoother, shinier, and healthier. This herbal hair conditioner for women contains essential oils like Coconut, Rose, and jasmine mixed with hibiscus extracts and organic aloe vera juice to produce an exemplary formulation. 
Besides,this is an organic hair conditioner and suits even colored hair. Also, it reduces hair thinning, controls damage, and boosts hair regrowth. In addition, it is formulated to improve your hair strength and mitigate the damage caused by coloring, heat styling, and chemical treatments.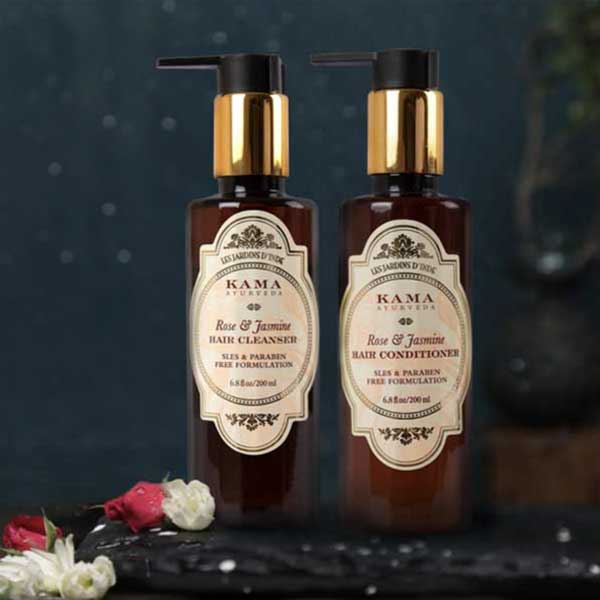 3. Kama Ayurveda Himalayan Deodar Hair Conditioner
This natural hair conditioner is free of sulfates, petrochemicals, and parabens. It can revitalize your hair naturally, thanks to natural ingredients like Amla, Aloe Vera, and Deva Daru. All these ingredients work wonderfully on damaged hair and strengthen your hair roots gradually. Therefore, if you suffer from dry and frizzy hair, this hair conditioner can help restore hydration.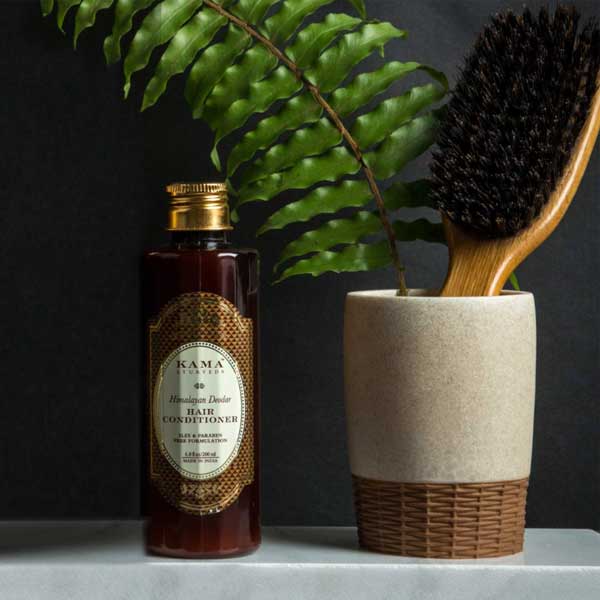 4. Kama Ayurveda Sanobar Hair Conditioner
This hair conditioner is made with essential oils extracted from Cypress and Orange. The conditioner has a repairing formula that hydrates your oily and damaged hair without weighing it down. 
Besides, it is enriched with Almond Oil, Indian Gooseberry, and Soy extracts. Also, it softens, detangles, and increases hair manageability, leaving your strands super soft and nourished.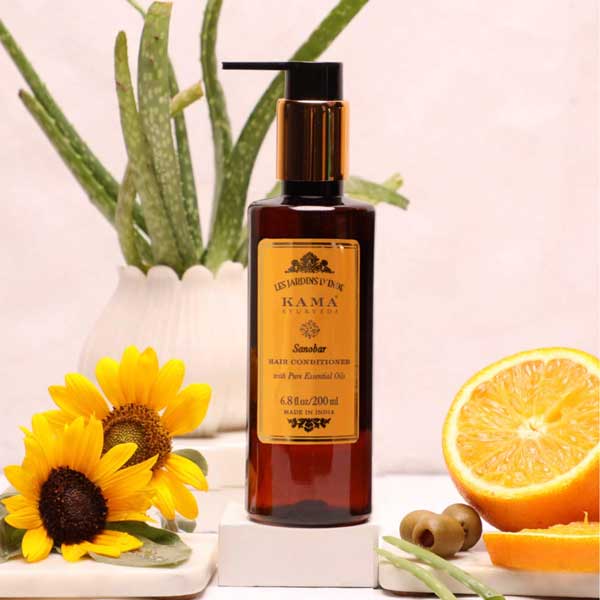 5. Kama Ayurveda Bringadi Hair Conditioner
In addition, Cypress essential oil soothes and tones your scalp to stimulate new hair growth. In contrast, the Refreshing Orange essential oil acts as a natural antibacterial agent that invigorates the scalp and restores a naturally healthy shine to your hair.
Things To Consider Before Buying Best Conditioners For Dry And Frizzy Hair
Sometimes, we unwillingly damage our hair because of not choosing the right hair conditioner. The correct conditioner should suit your hair and provide the right balance of moisture and nutrition. Here is a list of a few things you should consider while choosing the best hair conditioner for yourself.
Hair Type
Your hair type is the most significant factor when purchasing a hair conditioner. However, it should be noted that conditioners meant for curly hair do not suit wavy or straight hair, and vice-versa. Therefore, know your hair type and choose your hair conditioner accordingly.
Ingredients
Always try to find out what goes into the conditioner you are planning to purchase. For example, if you have frizzy and dry hair, look for coconut milk, proteins, and other hydrating and moisturizing ingredients that help control frizz. 
Also, scanning the ingredients list on the product packaging helps prevent allergic reactions, irritation, and rashes caused due to hypersensitivity to any ingredient. Also, avoid conditioners that inherit sulfates, parabens, and other harmful chemicals, as they might strip away your hair's natural oils.
Brand
Choose a brand that delivers everything it claims and aligns with your values. Besides, you can check if a product is cruelty-free, organic, and free of harsh ingredients by checking the label or the brand's official website.
Price
The cost of the conditioner depends on its ingredients and brand. The higher the quality, the higher the price. However, do not pick any conditioner blindly by seeing its worth. Instead, scan the ingredients list to know what it contains and its expected results.
Read - 6 Best Non-Toxic Chemical Free Shampoos and Conditioners For Your Hair
Frequently Asked Questions
Is Conditioner Good For Frizzy Hair? 
Yes, the conditioners are perfect for frizzy hair as they help to smoothen out split ends and dry hair. In addition, conditioning tames tangles and frizzy hair by enveloping each cuticle with a protective layer. Thereby, causing the frayed edges of your cuticle layers to smoothen and settle down, which makes your hair remain untangled and non-frizzy.
How To Use A Conditioner For Frizzy Hair? 
You should apply the conditioner properly. If you have dry and frizzy hair, follow the below steps for the best results:
Gently towel-dry your hair to remove all the excess water after you take a shower.
Now, Apply a leave-in conditioner by following the instructions given on the bottle.
Gently comb through your hair with fingers or a wide-tooth comb but avoid the crown of your head.
Let your hair air-dry and continue to style as usual.
 What Can I Use Instead Of A Conditioner?
Apple cider vinegar, coconut oil, aloe vera etc which are often found in conditioning products, are the best alternatives for a hair conditioner. All these ingredients deeply nourish your hair and revive dullness and damage.