Who doesn't want silky, soft, and luscious hair? It is everyone's dream. But, while we put a lot of money on shampoos, the harsh chemicals in them can destroy the overall quality and health of the hair. This is precisely why we should start investing in a high-quality, chemical-free shampoo that is gentle on hair yet very effective.
Kama Ayurveda's wide range of hair cleansers is completely free of chemicals. In this read, we will share the list of highly effective and chemical-free shampoos to help you on your journey to get lustrous manes. 
But first, let us find out why one should ditch the regular chemical-laden shampoo for a gentle chemical-free shampoo. 
Harmful Effects Of Using A Chemical-Laden Shampoo Regularly
Have you ever encountered the term "Sulphate-Free" while buying shampoo over recent years? Sodium Lauryl Sulphate (SLS) or Sodium Laureth Sulfate (SLES) are the most common sulfates we find on the ingredient lists of shampoos. They are the foaming agents that give a lathering effect to hair cleansers.
While a good lather is undeniably luxurious, foaming agents are unnecessary for cleansing your hair. Moreover, they can irritate your skin and eyes. Sulfates can also affect keratin treatments and create friction that leads to frizzy hair.
The following are the other harmful effects of using a chemical-laden shampoo regularly.
SLS and SLES are also found in other cleaning agents like detergents, bathroom cleaners, floor cleaners, etc. They are so harsh on the hair that they can actually strip off the natural oils and moisture, leaving your manes more dry and brittle. 
Parabens are the preservatives added to shampoos to increase their shelf life. They are so harmful that they mimic the effects of hormones like estrogen when they enter the body. Parabens can also increase the risk of breast cancers. 
Formaldehyde, also labeled as Quaternium-15 on the shampoo bottle, is a known carcinogen (cancer-causing agent). They are added to the shampoos because they are known to act as preservatives and extend the shampoo's shelf life. 
Phthalates, which are included in the shampoos to make them spread quickly over your scalp and hair, are also carcinogenic. Prolonged use of this chemical leads to general health issues as it enters your body and messes with your hormones.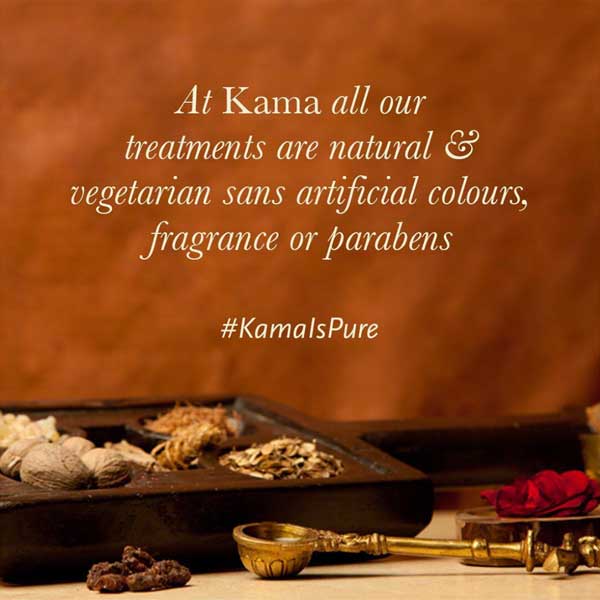 Read - 6 Best Ayurvedic Herbal Shampoos For Hair Fall
What Is A Chemical-free Shampoo And What Are Its Benefits?
Chemical-free shampoos are hair cleansers with only natural ingredients that benefit your hair and scalp. They are free of toxic and harmful chemicals like sulfates, parabens, fillers, etc. Chemical-free shampoos are considered hypoallergenic to some extent and will not inflame any allergies you already might have.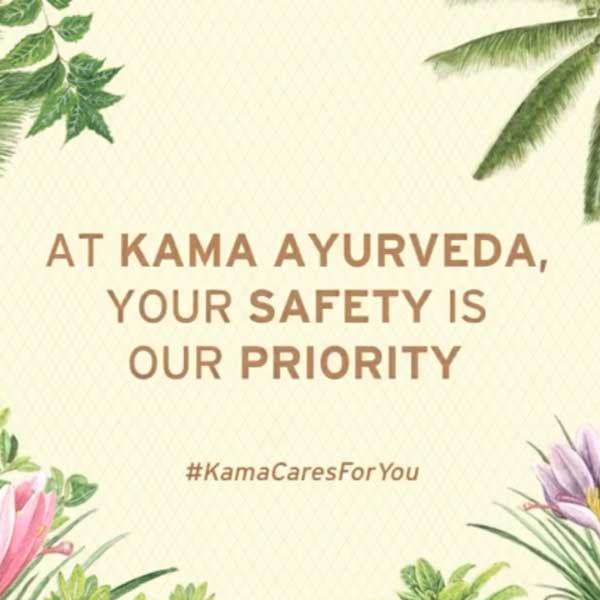 Below are the few main benefits of using a chemical-free shampoo for your hair.
Chemical-free Shampoos Will Not Strip Away The Essential Natural Hair Oils
As discussed above, sulfates, commonly found in shampoos and bubble baths, produce a lathering effect that helps remove dirt and debris from your scalp and hair. As effective as these are in removing dirt and grime, they also strip away your hair's essential natural oils. One of the primary benefits of using a chemical-free shampoo is that your strands will not lose their natural, healthy shine. A chemical-free shampoo helps in locking up extra moisture too.
The Color Of The Hair Is Very Protected
Sulfates in the shampoo can wreak havoc on many different hair types. If you have colored hair, you will notice fading in color. Your hair may also lose its natural luster when using a chemical-laden shampoo regularly. A sulfate-free shampoo keeps your hair color vibrant and glossy.
Your Hair Remains Super Strong
Sulfates are super drying and can lead to damaged and dry ends. On the other hand, the sulfate-free shampoo will not strip away hair's essential natural oils. It protects and strengthens your hair follicles.
There Will Be Zero Scalp Sensitivity
If you have a sensitive scalp, the wrong hair product can worsen an already challenging situation. One of the main benefits of a chemical-free shampoo is that it is very gentle on sensitive scalps. It won't trigger any dryness or itchiness of the scalp. The sulfate-free shampoos are specially-formulated to gently cleanse and deeply nourish your scalp and hair.
Chemical-Free Shampoos Are Especially Good For All Curly-haired Folks
Moisture plays a vital role in maintaining curly hair. No moisture means no curls. Since sulfates dry out the strands, it isn't easy to have a hydrated curl pattern. A high-quality chemical-free shampoo gives your curls a fantastic definition and a splash of moisture.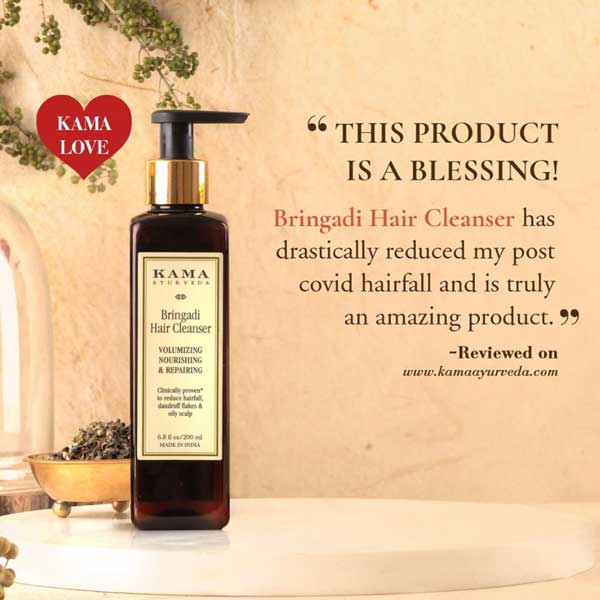 Read - Which Shampoo Is Best For Hair Growth And Thickness?
What To Look For And What To Avoid When Buying A Chemical-Free Shampoo?
Before discussing what ingredients to look for in a chemical-free shampoo, I like to quickly mention what to avoid. Below are the chemicals you need to avoid for better mane health.
What To Avoid -
Sodium Lauryl Sulphate And Sodium Laureth Sulphate - the typical surfactants that cause skin irritation and toxicity to the respiratory and kidney system. 
Methyl, Propyl, Ethyl, and Butyl Paraben - These parabens are very common in herbal shampoos. They disrupt our delicate hormonal balance (early puberty in children). Parabens are also linked to congenital disabilities and organ toxicity.
Phthalates - These plasticizers that boost absorption, increase spreadability, and stabilize fragrance can increase the likelihood of cell mutation. They can disrupt hormonal receptors and have a high risk of congenital disabilities.
DEA, TEA, MEA - These Foam Boosters can cause skin and eye irritations and also lead to contact dermatitis. As they easily penetrate into the skin, they get accumulated in the brain and body organs.
Dioxin - Dioxin is generally found in antibacterial ingredients like emulsifiers, PEGs, and triclosan. It can reduce immunity and cause cancer, nervous system disorder, birth deformities, and miscarriage. 
Formaldehyde - It is a common chemical preservative that causes skin irritation and hair loss and is an animal carcinogenic.
The chemicals listed above are very harmful, and most of them are actually banned by the FDA and EU.
What To Look For -
Hydrating Ingredients - Choosing a chemical-free shampoo helps in preserving your hair's natural oils and moisture in and of itself. But, it is a bonus if the chemical-free shampoo you pick contains extra conditioning and hydrating ingredients.
Free Of All Sulfates - make sure your shampoo is completely free of sulfates. Because some formulas will be free of the most common sulfates like SLS but contain other types. So ensuring that there aren't any other sulfates mixed in the shampoo is a must. 
Hair Nourishing Natural Ingredients - Natural herbs and ingredients such as Bhringraj, Hibiscus, Amla, Indigo, Aloe Vera, Neem and Shikakai are hair nourishing and strengthening.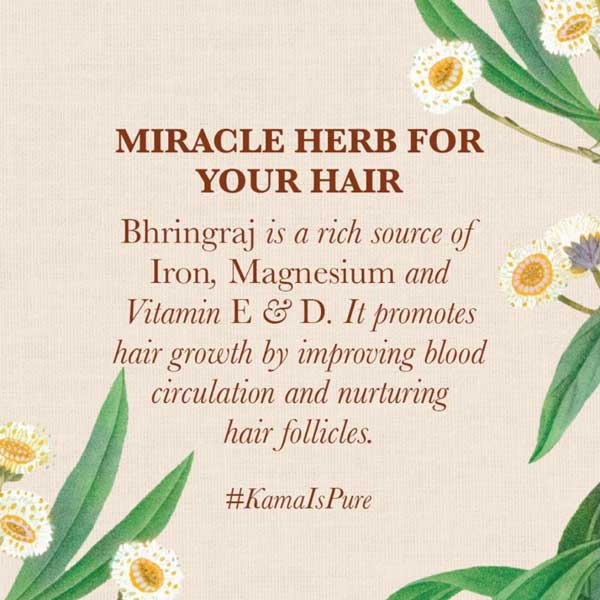 6 Best Chemical-free and all Natural Shampoos That Take Care Of Your Hair
Kama Ayurveda's Bringadi Hair Cleanser
Kama Ayurveda's Bringadi Hair Cleanser is a repairing, nourishing, and volumizing hair cleanser that is clinically proven to reduce hair fall, oily scalp, and dandruff. It is 96% natural and suitable for all hair types (even colored and treated hair). The best part is that this ayurvedic cleanser is sulfate and paraben free and is very gentle on hair.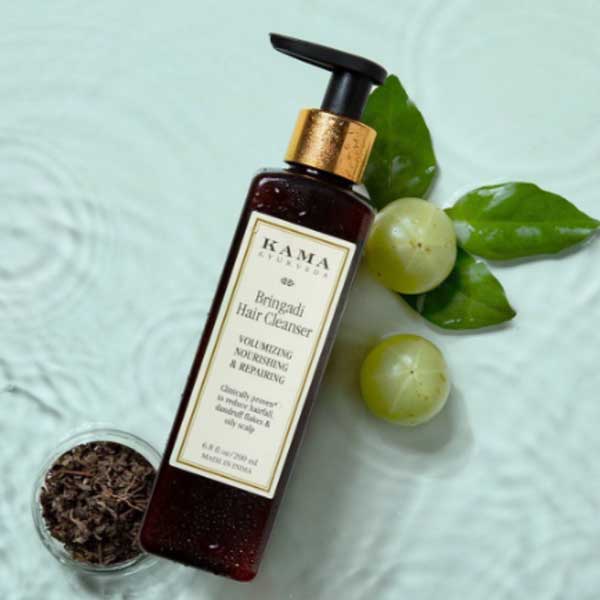 Kama Ayurveda's Bringadi Hair Cleanser is clinically proven to reduce hair fall and oily scalp by 60% in less than a month. Natural ingredients like Liquorice, Bhringraj, and Amla help encourage hair growth while reducing hair loss. Indigo extracts enhance the natural volume of hair after every use. 
The unique formulation of the hair cleanser treats hair by penetrating deep into the scalp. It repairs the ends of your hair (root to tip), improves your health, and protects hair from external damage.
Kama Ayurveda's Himalayan Deodar Hair Cleanser
Kama Ayurveda's Himalayan Deodar Hair Cleanser is a purifying and scalp-toning natural hair cleanser that helps boost the overall health of the hair while fighting hair loss. This ayurvedic shampoo is free of ALES (sulfates), petrochemicals, and parabens. It cleanses hair while giving volume and bounce without stripping off the hair's natural oils.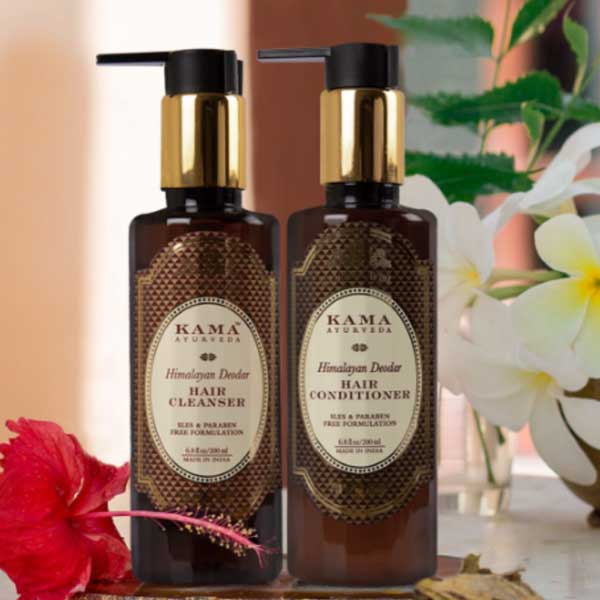 The unique formulation relieves hair loss, reduces breakage, and enhances texture and shine while mitigating the drying effects of sun and environmental damage. Vegetable-sourced Soy Protein binds help boost the tensile strength of the hair follicle and deeply moisturize the hair shaft. The Hibiscus Extracts and Organic Aloe Vera Juice add bounce and volume to your hair by removing only the excess oils from the hair without compromising the integrity of the hair. The Pure Essential Oils Of Himalayan Deodar stimulate your scalp to renew hair growth, thus resulting in stronger, healthier hair.
Kama Ayurveda's Rose And Jasmine Hair Cleanser
Kama Ayurveda's Rose And Jasmine Hair Cleanser is a balancing and restoring cleanser that helps improve hair strength and mitigate damage caused by heat styling, coloring, and chemical treatments. This perfectly safe, gentle natural hair cleanser is free of parabens, sulfates, and petrochemicals.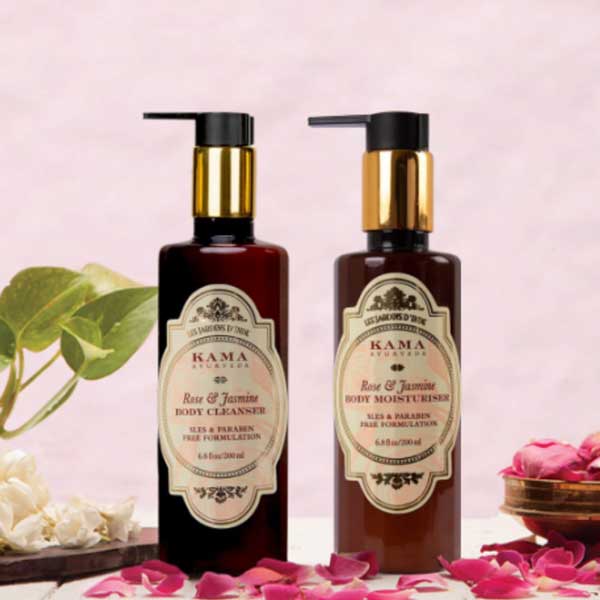 The unique formulation infuses powerful and effective Ayurvedic ingredients that rebuild and revive dry and damaged hair. The Vegetable Source Soy Binds, Hibiscus Extracts, and Organic Aloe Vera Juice help improve hair tensile strength & elasticity, reduce hair loss, and hydrate deeply. The pure essential oils of Jasmine and Rose protect your hair's vibrancy and health.
Kama Ayurveda's Lavender Patchouli Hair Cleanser
Kama Ayurveda's Lavender Patchouli Hair Cleanser is a mild hair and scalp cleanser that calms and soothes dry and damaged hair to naturally protect and nourish hair. Enriched with Hibiscus extracts, this natural hair cleanser adds back lost moisture. It replenishes the scalp for smoother texture and softness.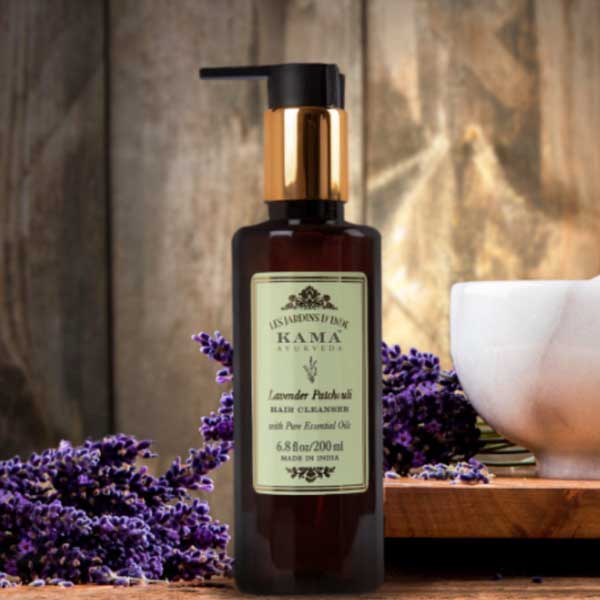 The Lavender Essential Oil helps calm and soothe the scalp while healing irritation and infections. The refreshing Patchouli Essential Oil is a natural antiseptic, antibacterial, anti-inflammatory agent that repairs scalp damage. Simply put, the Lavender Patchouli Hair Shampoo is a herbal blend that naturally smoothens, moisturizes, and protects hair with every use.
Kama Ayurveda's Sanobar Hair Cleanser
Kama Ayurveda's Sanobar Hair Cleanser is a mild scalp and hair cleanser that naturally energizes and nourishes for a thorough yet refreshing hair wash. The nourishing Hibiscus and Neem extracts clarify and tone oily scalp without stripping off the hair's essential natural oils. Cypress and Woody's essential oils revitalize your scalp to boost hair growth. 
The refreshing Orange essential oil is rich in antibacterial properties that help invigorate the scalp and restore a naturally healthy shine to your hair. Kama Ayurveda's Sanobar Hair Cleanser is a herbal blend that helps clean, nourish and protect the hair after every use.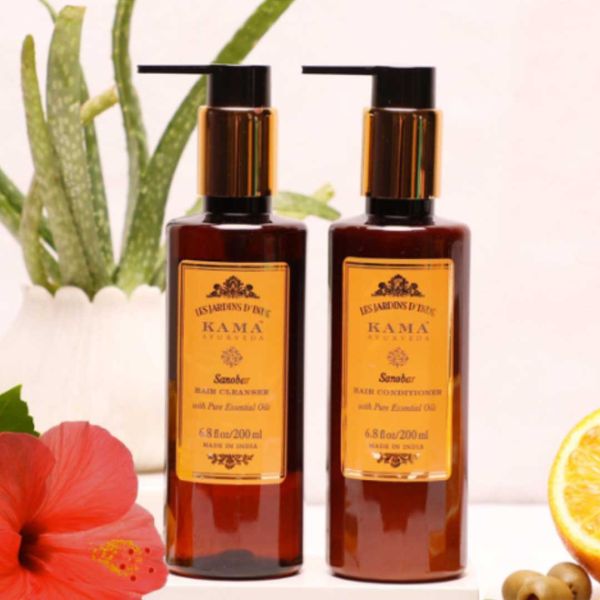 Kama Ayurveda's Kesini Ayurvedic Herbal Hair Wash
Kama Ayurveda's Kesini Ayurvedic Herbal Hair Wash is a unique blend of potent herbs and pulses to nourish and boost the health of your hair. This completely natural hair cleanser is especially suited for sensitive and damaged scalp conditions.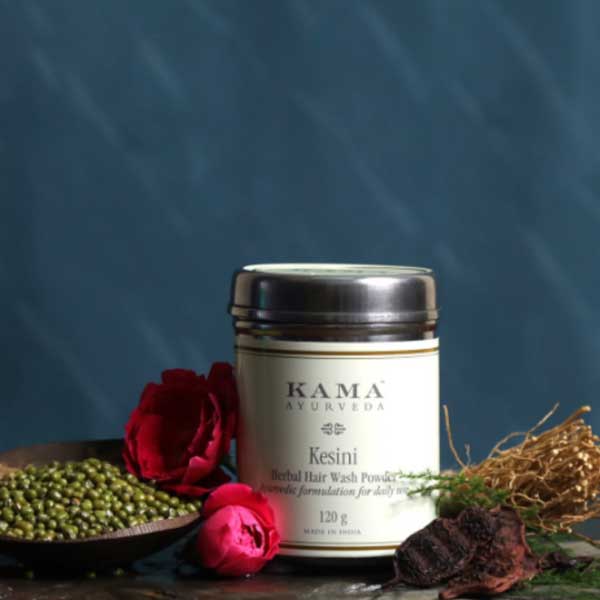 Tulsi, a great source of antibacterial properties, helps prevent premature graying while relieving scalp infections. Shikaki (a traditional Ayurvedic ingredient) is a mild cleanser that cleans the scalp and hair without stripping off the natural oils. Green gram (antioxidant) and Vetiver extracts nourish your scalp while preventing hair loss. You can use the Kesini Ayurvedic Herbal Hair Cleaner daily to keep your hair clean, nourished, and healthy.
FAQs about Chemical Free Shampoos
1. Why Should We Use A Sulfate-Free Shampoo?
Using a chemical-free shampoo is an excellent way to help retain natural moisture in the hair and as well as prolong the life of your hair color. A sulfate-free shampoo is also a great idea for folks with an easily-irritable scalp, as sulfates cause itching and dryness on the scalp.
2. Can I Use A Chemical-Free Shampoo Every Day?
A big yes! Since a chemical-free shampoo only contains harmless natural ingredients and is designed to retain moisture on the scalp, you can use them every day.
3. Does A Chemical-Free Shampoo Cause Buildup On The Scalp?
Since the sulfate-free shampoo doesn't strip away your hair's essential natural oils, you might feel different when you start using it. It is not buildup that is to blame. It might take a few weeks to get used to how your hair feels after every wash.