Chemical-laden shampoos often promise quick results. However, they leave your hair even more damaged and dry in the long term. (1) What's the solution? Switching to natural ayurvedic herbal shampoos, formulated with pure natural ingredients that are safe for hair.
Your hair cleanser is perhaps the most regularly used product in your hair care regime. Therefore, it's essential that you pay close attention to its ingredients. Herbal shampoos are made with natural herbs and oils that not only nourish the hair but also repair hair damage. (2)
For hundreds of years, Ayurvedic wisdom has been used in daily hair care regimes to achieve long and beautiful hair. Ancient Ayurveda scriptures mention the use of natural hair cleansers like Hibiscus, Amla, Shikakai and Aloe Vera as well as certain tree barks. They help maintain healthy scalp, prevent hair fall and promote hair growth.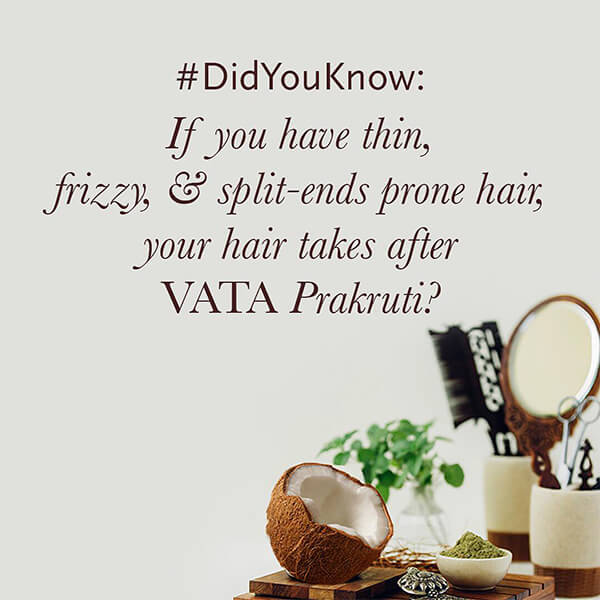 10 Best Ayurvedic Herbal Shampoos For Healthy Hair Growth
In this article, we will walk you through some of the best herbal shampoos to address your hair problems naturally. Massage your hair with a hair growth oil and then wash your hair using a suitable herbal shampoo for healthy hair. Here are our top recommendations - 
1. Bringadi Hair Cleanser - Best for hair fall and dandruff
If you're looking for an all-in-one herbal shampoo to take care of your hair, this is the best pick. Formulated with the best natural ingredients for hair such as Amla, Bhringraj and Indigo, this natural ayurvedic shampoo works to repair, nourish and volumize your hair. 
It has been clinically proven to reduce hair-fall and dandruff by 60 percent in just 28 days. This is based on a 4 week clinical study with men and women who had moderate to severe hair fall and dandruff.
Apart from that, it's also proven to improve hair volume by 5.3x and tensile strength by 6.2x. As a result, you get bouncier and shinier healthy hair. This hair cleanser also helps you get rid of excessive hair sebum, calm scalp irritations and reduce the split ends. 
It suits all hair types and is free of harmful chemicals, sulphates and parabens. You can even use it on treated and coloured hair.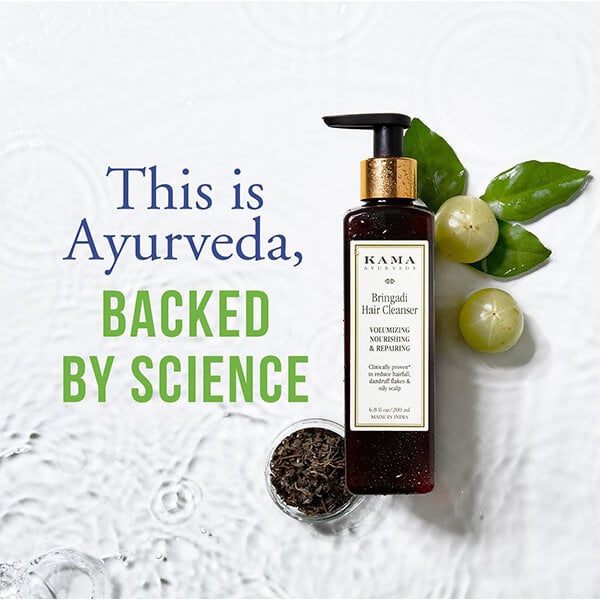 Top Ingredients & Benefits -
Amla - Considered an elixir for hair, Amla is a natural hair and scalp conditioner. It removes the build-up of impurities from the scalp which helps in reducing dandruff and itchiness. Enriched with nutrients like phyto-nutrients, vitamins and minerals, Amla strengthens hair and promotes hair growth. The Vitamin-C rich food also boosts collagen in hair that strengthens the hair and prevents hair breakage and hair fall. (3)

Bhringraj - A wonder herb for hair, Bhringraj is the Ayurvedic remedy for promoting hair growth and treating baldness. It also makes the hair darker naturally and prevents premature greying. Bhringraj is effective in balancing all the doshas, especially Vata to remove excessive dryness. Owing to its immense benefits for hair, it's known as 'Keshraja' in Ayurveda, which means "Ruler of the hair". (4)

Indigo - Used as a natural hair dye for hair, Indigo has many beneficial properties for the hair. It helps condition the hair and smooth out any tangles. It also makes the hair thicker, more manageable and lustrous in texture. (5)

Read - 7 DIY Hair Masks That Work Like Magic

2. Kesini Ayurvedic Herbal Hair Wash Powder - Best for sensitive, damaged scalp
If you're looking for a 100 percent natural herbal formulation, then this hair cleanser is perfect for you. It is a unique hair cleansing powder with a blend of clarifying and cleansing herbs and pulses. The key ingredients like Vetiver, Tulsi, Rose, Moong beans and Shikakai make your hair luxuriant and glossy.
To use it, the powder needs to be mixed with warm water to create a paste which is massaged into the scalp. Then, it should be washed off till there is no residue left.
Since this is a pure herbal shampoo and doesn't contain any chemicals, it's perfect for damaged or sensitive or dry scalp. It doesn't harm hair or scalp in any way. Therefore, it can be used daily without worrying about any side effects.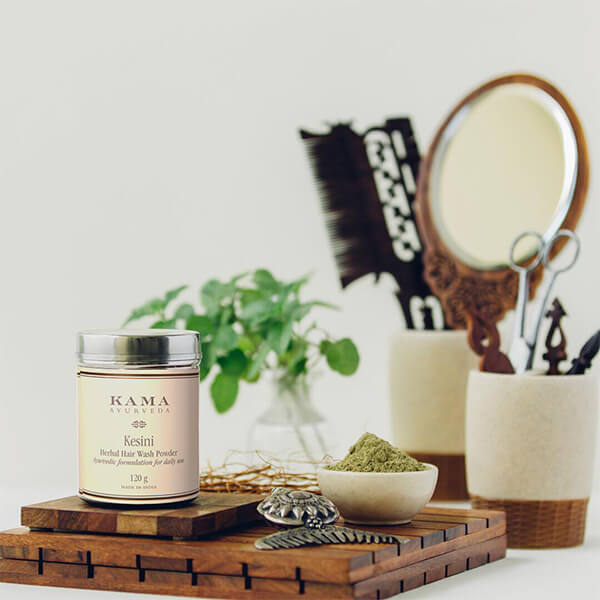 Top ingredients & Benefits - 
Vetiver - Vetiver roots are aromatic in nature and have therapeutic properties which are beneficial for a healthy scalp. It also has strong anti-microbial properties that keep scalp infections at bay. It also promotes healthy hair growth by improving blood circulation in the hair follicles and promoting collagen formation. (6)

Tulsi - Tulsi has antibacterial properties that help with scalp infections. It also rejuvenates the hair follicles and strengthens the roots, which in turn prevents hair loss. Apart from this, it is also an effective treatment for premature graying. (7)

Green Gram - Did you know that green gram is the best hair growth supplement in ayurveda? Almost all herbal Ayurvedic hair oils have it as a key ingredient. In its powdered form, it eases skin irritation and provides a cooling sensation to the scalp. It also balances the oil in the scalp so that it's neither too oily nor too dry. 

Shikakai - A mild natural hair cleanser, Shikakai removes impurities without stripping the scalp of its natural oils. It also has anti-fungal properties that help get rid of dandruff and itchiness. It is rich in nutrients that nourish hair and impart a natural shine. (8)

Read - Your perfect hair spa at home in 4 Simple Steps

3. Rose & Jasmine Hair Cleanser - For colour and heat damaged hair
Have your hair turned dry and brittle due to hair colour or heat styling? Don't worry, this herbal shampoo with natural repairing ingredients such as Soybeans, Hibiscus, Aloe Vera, Rose and Jasmine will help reverse the damage. 

This Ayurvedic shampoo is a mild hair cleanser that is free of SLES (Sulphates), Parabens and Petrochemicals. If your hair is weakened by chemical processes, heat styling, or environmental exposure, the Ayurvedic ingredients in this shampoo will rebuild and revive your hair.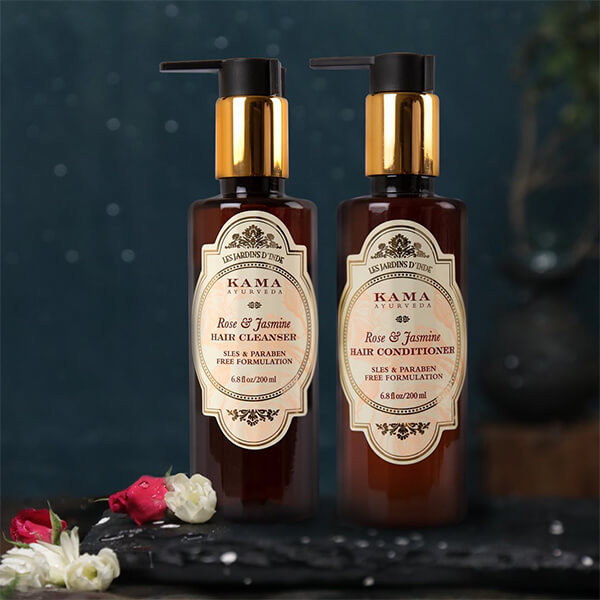 Top ingredients & Benefits -
Hibiscus - Not many people are aware of the hair growing properties of the beautiful flower, Hibiscus. Rich in numerous hair nutrients such as vitamin C, flavonoids, amino acids, mucilage fiber, moisture content, and antioxidants, it is the most effective ingredient to replenish hair. (9)

Soybeans - The high-quality vegetable protein in Soybeans increases the hair's ability to bind and hold moisture. This makes hair appear shiner, voluminous and more manageable. It also strengthens the hair and improves its tensile strength and elasticity. (10)

Aloe Vera - Due to its hydrating properties and nourishing properties, Aloe Vera is an effective treatment for dry and damaged hair. The proteolytic enzymes present in the Aloe Vera gel heal and repair damaged cells in the scalp and revive dormant hair follicles. This in turn, promotes healthy hair growth. (11)

Read - How To Make Hair Silky Naturally - 10 Best Hair Care Tips

4. Himalayan Deodar Hair Cleanser - For thin and weak hair
Excessive exposure to sun and environmental pollution can often lead to thin, dry and weak hair. If you're experiencing the same hair problems and it's leading to excessive hair fall, this mild shampoo for hair growth would be the best choice for you.

The gentle formulation of this Ayurvedic herbal shampoo clarifies the hair without stripping natural moisture. The ingredients such as Aloe Vera, Soybean, Hibiscus and Himalayan Deodar leave hair soft, shiny, more manageable and frizz-free.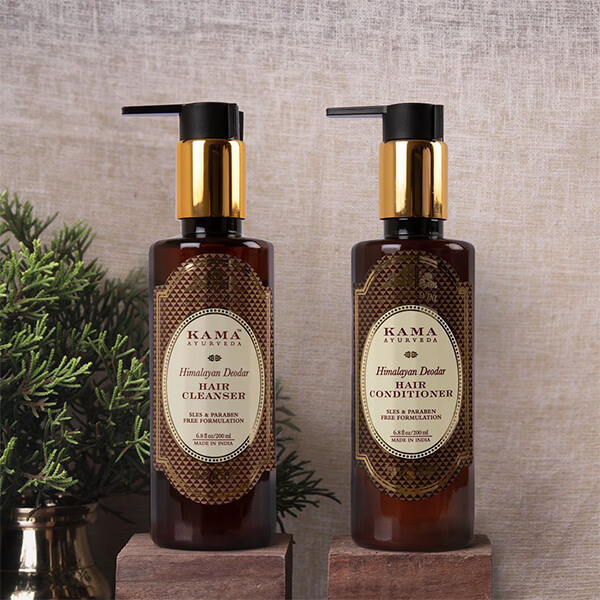 Top ingredients & Benefits -
Himalayan Deodar - Cedarwood essential oil, obtained from Himalayan Deodar tree, promotes healthy hair growth and reduces hair loss. It has unique properties that help balance the oil-producing glands in the scalp.

Soy Bean - The vegetable protein in SoyBean increases the ability of the hair to bind moisture. This helps in improving thickness and the tensile strength of hair.
Hibiscus - For centuries, the colourful flowers of Hibiscus and its leaves have been used to treat hair issues like hair fall, hair dullness and hair thinning. The Hibiscus flowers contain Amino acid which provides the hair with all the necessary nutrients to promote hair growth.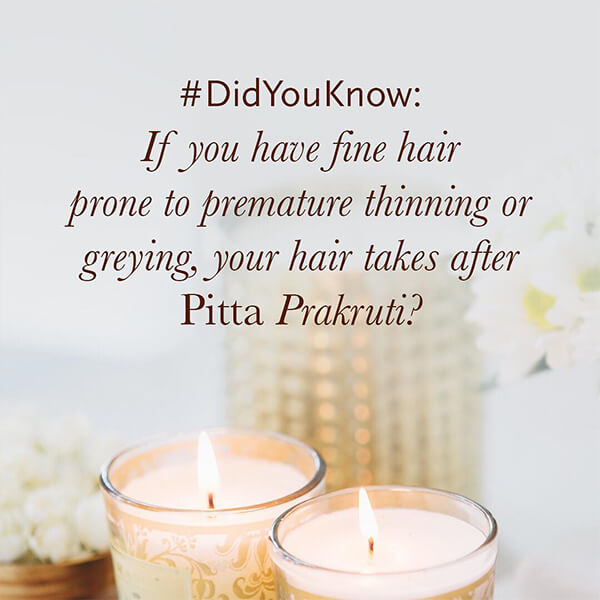 Read - How To Stop Hair Fall - 36 Best Tips & Home Remedies
5. Sanobar Hair Cleanser - For oily and greasy hair 
Are you looking for a herbal blend that will clean your oily hair and scalp without making it excessively dry? Then, this natural formulation of ingredients such as Neem, Bergamot, French Cypress and Hibiscus is the best fit for you.
A mild hair and scalp herbal shampoo will give you a refreshing feeling every time you use it. Expect a healthy shine and deeply nourished hair as a result of using this hair cleanser.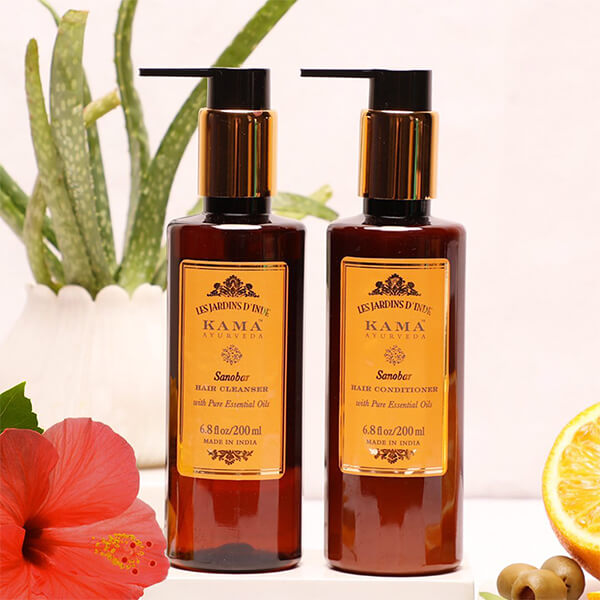 Top ingredients & Benefits -
Neem - This Ayurvedic herb has the reputation of being the best ingredient for the scalp due to its ability to regulate sebum production. It also has a cooling and soothing effect on the scalp. With all the anti-inflammatory, antiseptic, antibacterial, antifungal and anti-viral properties, it's the ultimate saviour of your scalp. You can rely on it to treat most of your hair issues. (12)
Bergamot - Apart from its ability to soothe an irritated scalp, Bergamot is also the best hair growth stimulant. It improves the blood circulation to the scalp and strengthens the hair. It is also rich in antioxidants and antimicrobials that shield the hair and scalp against the damaging oxidative stress. (13)
French Cypress - Well known for its astringent properties, French Cypress also helps in strengthening your hair follicles and preventing hair fall. The strong natural antiseptic properties of the herb helps in keeping your hair and scalp clean and bacteria-free.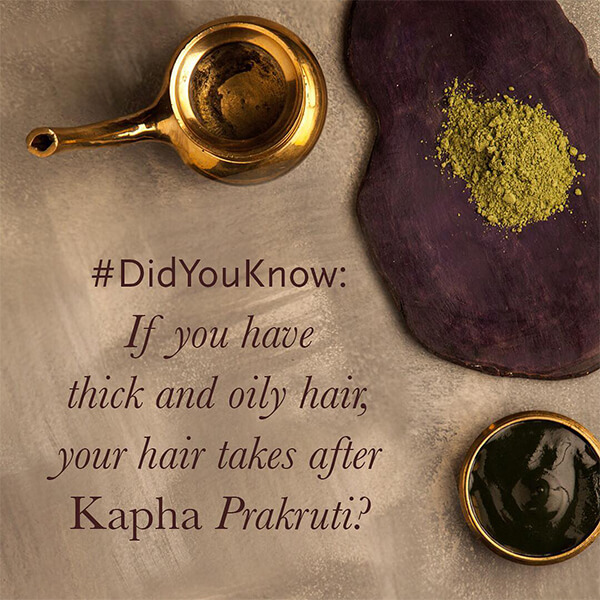 Read - 16 Top Benefits of Neem Oil for your Hair & Skin
6. Lavender Patchouli Hair Cleanser - For dry and damaged hair
If your scalp is dry, damaged or prone to infections, this soothing mild herbal shampoo will be the most suitable for you. Formulated with scalp calming Lavender Essential Oil and refreshing Patchouli Essential Oil, this Ayurvedic shampoo is a blessing for your hair.
The natural hair shampoo moisturizes, smoothens and protects hair with every wash. It lathers easily to leave hair squeaky clean and scented with earthy, floral notes.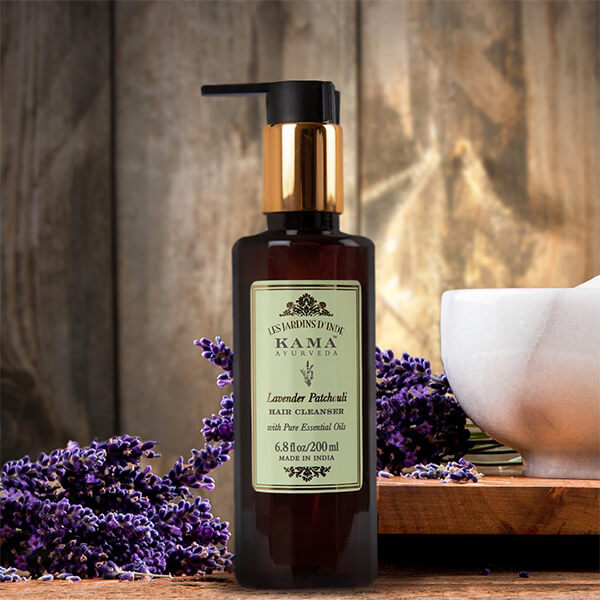 Top ingredients & Benefits -
Lavender - Lavender is most commonly used for Aromatherapy. But did you know that it also has properties that promote hair growth? It also has antimicrobial properties that help prevent bacterial and fungal scalp infections. (14)
Patchouli Plant - Patchouli Essential oil is also popular in Aromatherapy but it also has immense benefits for hair. Its unique anti-fatigue, anti-bacterial and skin repairing properties make it one of the most soothing ingredients for your scalp. Patchouli oil also treats inflammation and dryness related scalp issues.
That's it. With this, we conclude our list of best herbal shampoos recommended by Ayurveda. If you still need help in identifying the best one for your hair, you can book a free consultation with our Ayurvedic beauty experts.