Noticing your hair fall or thinning out can be very disturbing. However, it's important to remember that hairfall is very common. Almost everyone experiences hair fall at some time of their life due to varying reasons. If you wish to add volume to thin hair or want to take some preventative measures to avoid hair loss, you should use only the best shampoos for hair growth and hair thickness.
Unfortunately, in the hustle of our daily grind, it's easy to neglect the health of our hair and end up with hair loss. So, depending on the intensity of your hair loss or hair fall, it might also be helpful to consult with a doctor, trichologist, or dermatologist. 
But if you're experiencing only mild to moderate hair loss, you can benefit from using the shampoos best suited for your hair concerns and promote healthy hair growth. 
Read - How To Stop Hair Fall – 36 Best Tips and Home Remedies
Things To Consider Before Buying A shampoo For Hair Growth And Thickness
Have you ever heard the phrase that shampoos are the enemy of healthy hair? Yes, it's indeed true. Shampoos that contain harsh chemicals can actually strip your hair of its natural oils, causing your hair to become greasy and dull. 
The problem with these types of shampoo is that they can cause even more damage to your hair. It's vitally important to choose a mild natural shampoo that will leave your hair healthy and shiny from root to tip.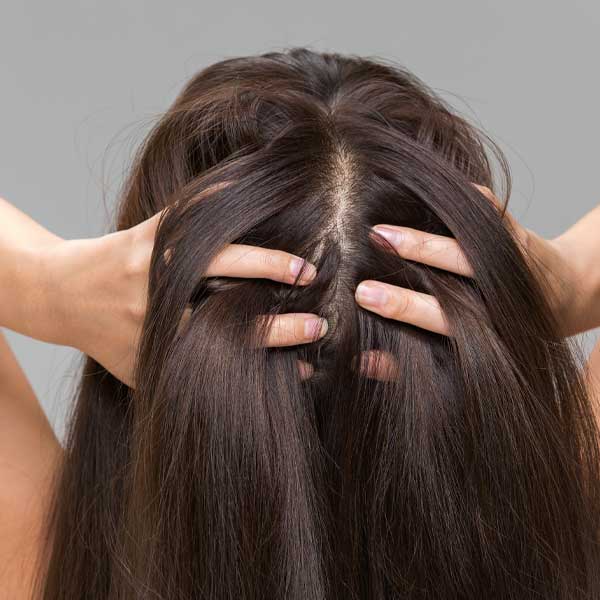 Scalp Type
Analyze your scalp type and keep that in mind when you buy a shampoo. Shampoos act as cleaning agents that can effectively remove the excess oils, product build-up, and dirt from your hair and scalp. 
Suppose you have an itchy or dry scalp, then selecting a suitable shampoo with soothing and calming natural ingredients for your hair is essential. Therefore, knowing your scalp is the first step while choosing the best shampoo for your hair.
Hair Quality
It is crucial to understand the need for your hair before buying shampoo. For instance, dry hair demands moisturizing shampoos while oily hair demands deep cleansing shampoos, and thin hair needs extra care thus, demands mild shampoos. 
You can also look for hair shampoos that have essential oils that are suited for your hair and scalp types. For instance, those who have oily skin type can benefit from using shampoos with Orange Essential Oil that acts as a natural antibacterial agent that invigorates scalp and restores a naturally healthy shine to hair. Kama Ayurveda's Sanobar Hair Cleanser is one such shampoo. 
Acidity - The pH Level
The scalp has a pH level higher than the rest of the hair. If your shampoo has a different pH level, it can make hair follicles brittle, thus resulting in hair thinning and dullness. Therefore, shampoos for dry hair must have a low pH level to moisturize your hair. Avoid using a high concentration of sulfates in your shampoo unless they have moisturizing agents to avoid hair damage.
The ideal pH level of scalp and hair is around 5.5. You can use a shampoo with the same numbers, about 5.5, to avoid any pH imbalance of the scalp and hair. A lower pH balance is excellent for hair. It results in shinier, smoother, and less flyaway, making your hair manageable. In contrast, a high pH level is responsible for making cuticles weak, making the hair look dull and harder to manage. Moreover, you can use pH strips to know the level of acidity present in the shampoo.
Hair Damage
Always choose a shampoo that helps repair your hair damage or treat your top hair concerns. For example, if you are experiencing dandruff, it's recommended to use shampoos that help cleanse the scalp and stop dandruff from occurring. Or, if you have colored hair, use a shampoo that protects and keeps your hair color intact without damaging or drying it.
Read - How To Repair Damaged Hair Naturally Without A Salon Visit
Hair Type
Curly hair might need sulfate-free shampoos to help curls stay intact, thus keeping them moisturized, whereas straight hair might need Keratin shampoos to tame frizzy or unmanageable hair. We recommend using the best mild shampoos for usage as it is suitable for all hair types.
4 Best Shampoos For Hair Growth And Thickness
For most of us, our hair cleanser is the most frequently used hair care product. So it makes sense to choose one based on your hair's unique needs. We've put together the list of our top recommendations for each hair type. These shampoos help get the results when used with the best oil for hair growth and thickness.
1. Kesini Ayurvedic Herbal Hair Wash Powder - For Sensitive, Dry Scalp
This is a pure Ayurvedic hair cleanser made with a unique blend of herbs that keep your hair looking glossy and luxuriant. The product has Tulsi, which inherits anti-bacterial properties and helps prevent premature graying of hair. 
Another key ingredient is Shikakai that works as an effective cleanser for your hair.  It has a low pH and cleanses gently without stripping natural oils. In addition, the Green Gram and Vetiver help nourish your scalp and prevent hair fall. 
So, you can use the Kesini Herbal Hair Wash Powder regularly to keep your hair clean and healthy. The product doesn't lather up much and provides frizz-free hair. It is most suitable for promoting hair growth and thickness.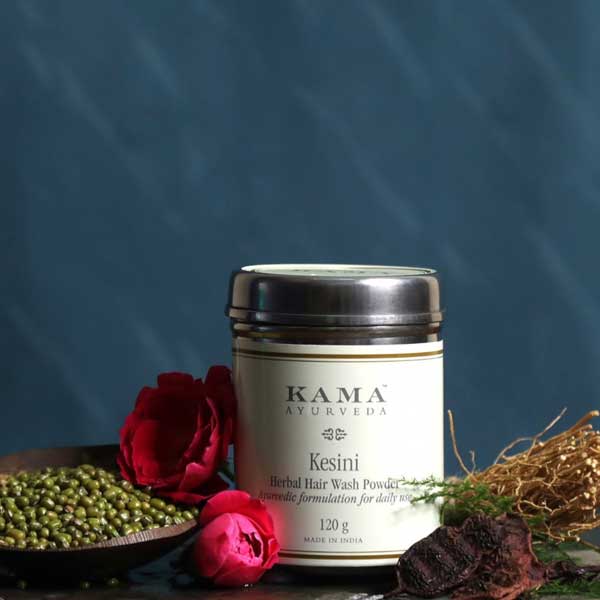 2. Bringadi Hair Cleanser - For Hairfall & Damaged Hair
Kama Ayurveda Bringadi Hair Cleanser is infused with powerful Ayurvedic ingredients and is free of SLES (sulfates), parabens, and petrochemicals. It is the secret traditional Ayurvedic recipe that results in lush, glossy hair. It consists of potent herbs extracted into pure sesame oil and milk.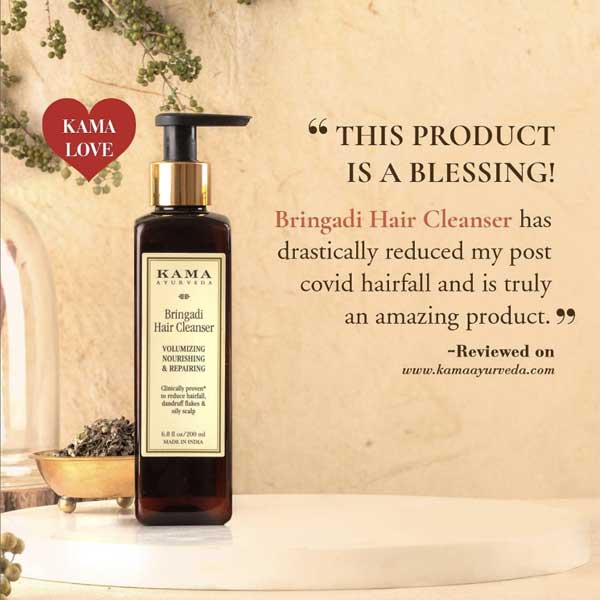 Further, it acts as a natural conditioner that promotes lush hair growth and nourishes the hair while cooling the scalp. It also includes Indigo, Eclipta Alba, and Gooseberry to promote hair growth. In addition, anti-fungal Licorice and antibacterial balloon vine reduce hair loss, promote growth and hydrate deeply. Moreover, it is 100% natural and effective for treating scalp buildup, hair fall and damaged hair.
3. Himalayan Deodar Hair Cleanser - For Hair Loss
Himalayan Deodar Hair Cleanser is a mild hair cleanser, free of SLES (Sulfates), Parabens, and Petrochemicals formulated to gently cleanse hair without stripping its natural oils leaving it soft and shiny. 
The cleanser contains vegetable source Soy Protein that binds moisture and improves hair's tensile strength. In addition, the product contains organic Aloe Vera juice and Hibiscus extract that reduces hair loss, promotes hair growth, and conditions your hair. Further, it is blended with pure essential oils of Himalayan Deodar to give you nourished and healthy hair.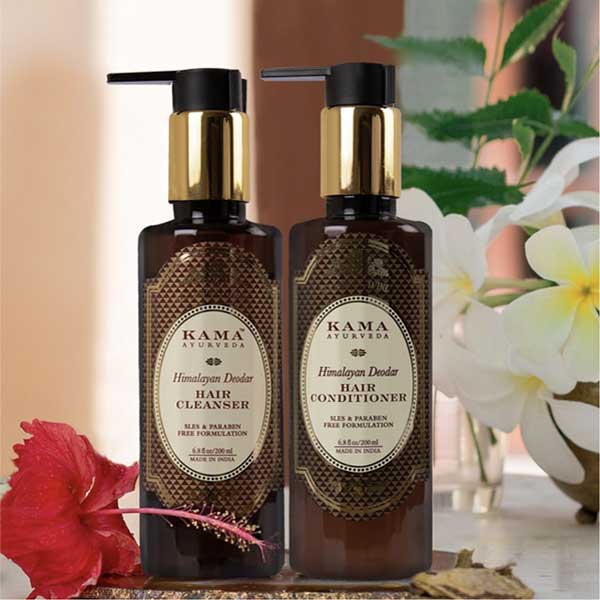 4. Rose and Jasmine Hair Cleanser - For Chemically Treated or Coloured Hair
Kama Ayurveda's Rose and Jasmine Hair Cleanser is a perfectly safe, mild natural hair cleanser free of SLES (Sulphates), Parabens, and Petrochemicals. Instead, it is infused with powerful Ayurvedic ingredients that rebuild and revive dry, damaged hair. In addition, the vegetable source Soy Protein binds moisture and improves hair's tensile strength and elasticity. 
Further, organic Aloe Vera juice and Hibiscus extract reduce hair loss, promote growth and hydrate deeply. Besides, pure Essential oils of Rose and Jasmine protect hair health and vibrancy. It strengthens hair weakened by chemical processes, heat styling, and environmental exposure by gently restoring moisture. Furthermore, Rose and Jasmine hair cleanser cleanses hair and scalp effectively without stripping its natural oils, leaving it soft and shiny.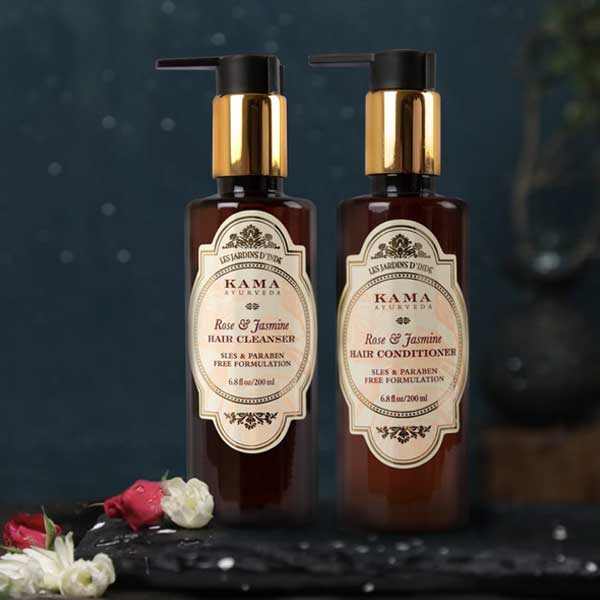 Read - 6 Best Ayurvedic Herbal Shampoos For Hair Fall
Natural Ingredients You Can Add To Your Shampoo To Promote Hair Growth And Thickness
Even the best shampoos for hair growth and thickness can do better when paired with ingredients that nourish hair. So, let's dive into some natural ingredients that you must look out for while choosing a reliable natural shampoo for hair growth.
1. Honey
Honey is a great ingredient to be mixed with your shampoo to make a more robust product for promoting hair growth. Some of the reasons why you should add honey to your shampoo are listed below:
Honey has wound-healing abilities and accelerates the growth of epithelial cells present on your scalp. These cells are responsible for holding follicles and ducts that contribute to hair growth.
Honey acts as a moisturizing agent and helps the hair retain its moisture, promoting the growth of your hair.
Contains keratin, a protein that supports the strengthening of your hair.
Honey can also treat the itchy scalp and prevent your hair from being damaged.
2. Aloe Vera
Aloe vera is an excellent source of hydration as it is made up of 99% of water. This helps in the exfoliation of your scalp and creates stronger hair follicles. During summers, the hair gets drier and brittle, and adding aloe vera to your shampoo can help restore your hair to a much more hydrated state.
Aloe Vera is used to treat hair loss. 
Aloe Vera effectively eliminates dandruff, alleviating itching, preventing hair loss, and accelerating hair growth. 
Aloe Vera plant gel has soothing abilities and helps clear the scalp by unblocking hair follicles that excessive oils may have blocked.
It accelerates membrane fluidity and permeability and the outward flow of toxins and inward flow of nutrients, thus stimulating hair growth.
3. Rose Water
Integrating Rose Water into your hair care routine can nourish your hair. In addition, natural extracts are safe to use for hair growth and improve scalp conditions as they have fewer side effects. So, grabbing on rosewater and using it can be a great savior.
Rose water is an excellent moisturizer that helps maintain the PH level of your hair, and if you have excess oil on your scalp, this natural ingredient helps clear the excess oils on the scalp.
Research has shown that rose water is highly effective in hair loss treatment and repairing damaged hair by increasing blood circulation to your scalp and rejuvenating hair follicles. 
Packed with a wide variety of vitamins, Rose Water enhances hair growth.
4. Lemon Juice
Lemons are packed with nutrients like Citric acid, Vitamin C, Calcium, Magnesium, and Flavonoids, making them excellent for hair care. Lemon, primarily extracted into a juice, has a lot to offer when it comes to hair. Besides, Lemon juice is a great detox agent as it reduces oil and dandruff on your scalp, thus promoting hair growth.
Lemons help in improving your hair growth by boosting the production of collagen.
They help in unclogging your hair follicles and cleanse your scalp.
Lemons inherit antifungal properties that maintain your scalp health.
5. Essential Oils
Essential oils are known for their chemical properties beneficial for your hair health. Their benefits include treating scalp conditions, reducing hair damage, and increasing blood flow into hair follicles, thus promoting hair growth. 
Start by adding 3-4 drops of the suitable essential oil to your regular shampoo and mix it well and apply it like a regular shampoo. Then, wash your hair and repeat the process every 2-3 days to promote hair growth. For instance, Tea Tree essential oil is used to treat dandruff.
Read - 12 Best Essential Oils For Hair That Work Wonders
6. Olive and Castor Oil
Olive oil and Castor oil are known among the hair care community as the most effective ingredients that can do wonders for your hair. The nutrients in these oils help promote smooth and robust strands, reduce hair fall, and strengthen your hair to grow naturally. Add one spoon of Olive or Castor oil into your shampoo and stir well to condition your hair as you wash.
Hair loss is widespread, and if you notice a lot of strands accumulating in your shower drain, don't panic. Instead, you should look for topical products with ingredients that may help stimulate and aid the hair growth process—and stay away from those that might hinder it. Consider the shampoos mentioned above to promote hair growth and thickness. If you need help in choosing the right hair cleanser, book a free consultation with our Ayurvedic beauty experts.