Warm humid weather, sunshine, and unruly, frazzled locks? Yep. You are not alone. 
If you live in humid areas, summertime brings some challenges - frizzy hair is one of them. 
This common mane mishap can be very annoying, especially when nothing seems to tame it. Fortunately, just like how there are hacks to detangle curly hair, we have got some tips and tricks to help fight the frizz. 
But, before learning tips to manage frizzy hair and switching up your hair care routine, it is vital to understand what frizzy hair is and why it happens in the first place.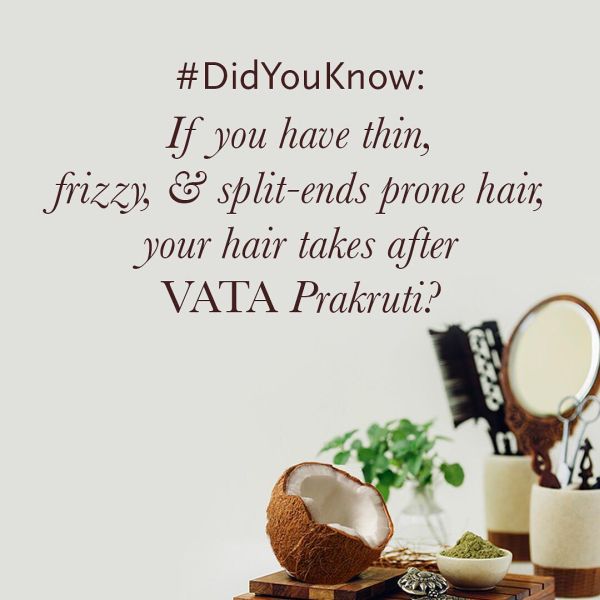 What Is Frizzy Hair?
When different individual hair fibers run in multiple directions, your hair looks untidy, fluffy, frazzled, fuzzy, damaged, or anything in between. Frizz occurs when a hair strand becomes completely worn out and loses its smoothness, suppleness, and natural pattern, making hair unpredictable to manage and style. (1)
Frizzy hair is often associated with "bad hair day," as it cannot hold up its style and shape for long periods. Even the slightest change in the temperature can throw your perfectly groomed hairstyle into a wiry mess of tangles and flyaways in just a few minutes. 
Also, frizzy hair does not necessarily mean curly hair. It might appear slightly curly, but even straight hair can get frizzy when the strands start to wither. 
Why Is My Hair Frizzy? - 7 Causes Of Frizzy Hair
Before we know why your hair is frizzy, it is crucial for you to understand the underlying cause. Frizzy hair appears due to a lack of moisture. Dryness causes your hair to seek moisture from the air around it, and this is why humid weather worsens the problem.

In addition to the lack of moisture and humid weather, there are various other factors that can lead to frizzy hair. Some of the leading causes of frizzy hair are listed below.
Over Shampooing
Just like the skin, our hair also has a natural protective barrier that acts as a shield against the external elements and maintains the balance of the essential moisture. Using harsh chemical based shampoos and over-cleansing your hair strips off this natural barrier leading to breakage, dryness, and frizz. 
Therefore, it is advisable to wash hair on alternate days instead of every day. You may even choose to wash your hair only twice per week, depending on the condition of your hair. We also recommend switching to a natural herbal shampoo to maintain the natural hair moisture.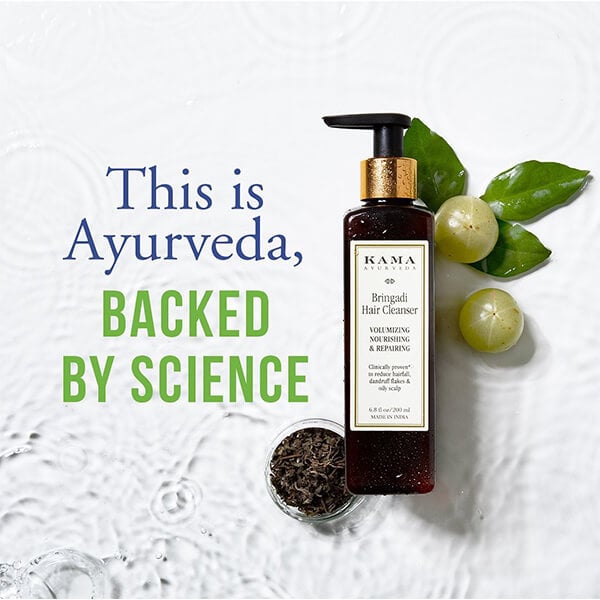 Shop our Natural Ayuredic Bringadi Hair Cleanser For Frizzy Hair
Dryness
Like a sponge, hair that is thirsty seeks moisture from the air around it. The drier your hair is, the more susceptible it is to absorb the humidity from the atmosphere. And as hair absorbs more moisture from the air, the frizzier it becomes. 
Therefore, it's recommended to keep your hair well-hydrated to tame the frizz. This can be done by giving your hair a deep conditioning treatment by hair oiling or hair masks. You can also give yourself a 4-step hair spa at home with natural hair products.
An Open Cuticle
When the hair strand's cuticle layer (the outermost layer) is disrupted, it allows moisture and other essential nutrients to escape and humidity to enter. Signs of damaged cuticles are rough and dull hair, with scales that are either raised or stripped away. 
With a damaged cuticle, the vulnerable core of the hair fiber is exposed. This makes hair highly porous, frizzy and hard to control. Using hair oils, hair serums and post-wash hair masks can help manage open cuticles.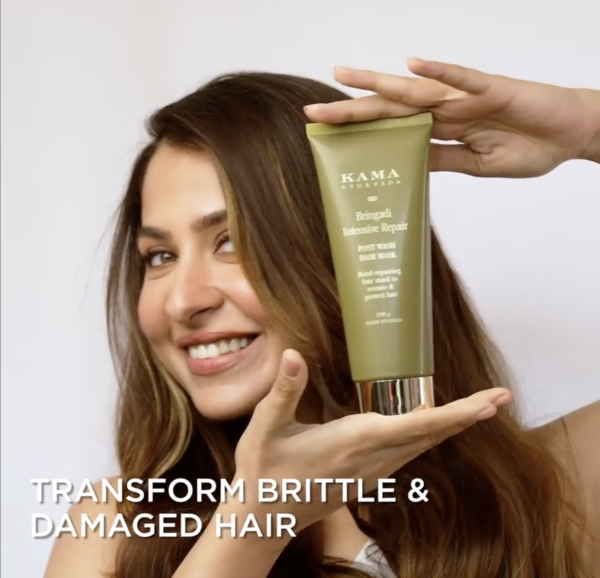 Shop Bringadi Intensive Repair Post Wash Hair Mask To Manage Open Cuticles
Damaged Hair
Damage from environmental aggressors like heat, UV rays, and even friction from brushing and combing can make your hair more prone to frizz. (2)
High Water Temperature In The Shower
The extra hot water in the shower might feel relaxing, but it is not suitable for your hair and skin. Hot water strips your hair off of natural oils, which help keep it shiny and moisturized. Since we know that the lack of moisture in the hair causes frizz, it helps to avoid anything that can rip off the oils your hair needs. 
Humidity
As you already know, humidity plays a significant role in making your hair frizzy. The rainforest-like conditions disrupt the hair's internal hydrogen bonds, causing the strands to frizz, shrink and lose their definition.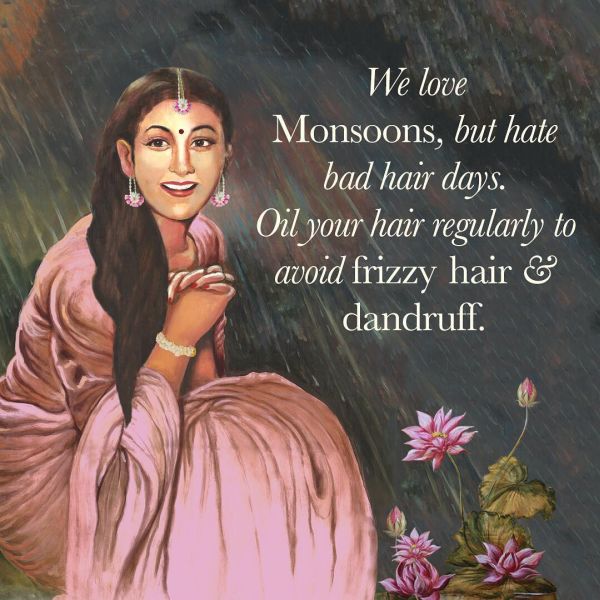 Using Heat Styling Tools Every day
We hate to say it, but the heat styling tools can strip away the moisture from your hair, making it frizzy. These styling tools play a significant role in damaging your hair.

How To Get Rid Of frizzy Hair? 9 Best Tips and Tricks To Handle Frizzy Hair
The flyaway and frizzy hairs make textured hair look dull and messy. Even straight hair becomes hard to handle with frizz. Below are ten tips and tricks to combat frizziness once and for all. They help restore shine and smoothness to the locks.
1. Start With Trimming Your Hair
Split ends and damaged tips travel up the strand and cause more frizz and damage. So, get rid of them by getting your hair trimmed. A fresh trim gets rid of any damaged, frayed ends, thus helping in reducing the occurrence of frizz while keeping your hair smooth and healthy. It is always recommended to get a haircut every eight weeks. (3)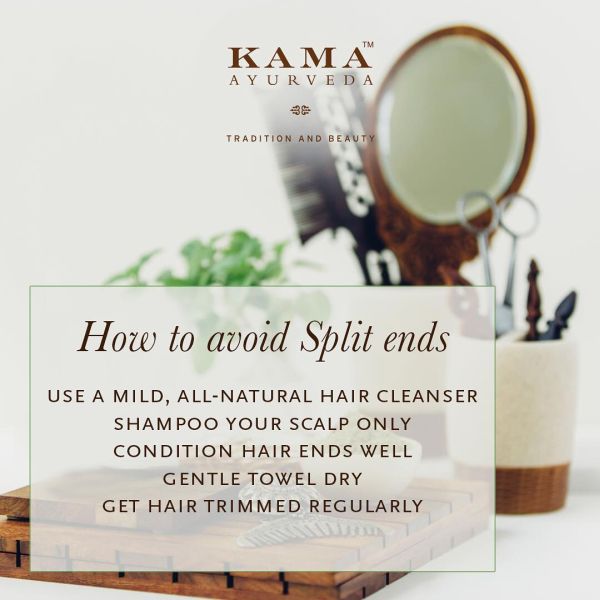 2. Choose The Haircare Products Wisely
While we always encourage you to stay away from products that contain sulfates and parabens, it is especially vital when treating frizzy hair. This is because the sulfates strip and dehydrate the strands, and as a result, you will be left with more dry and frizzy hair. 
One way to avoid this is to use a Pre-Wash Hair Mask to ensure that your shampoo doesn't strip your hair from the essential moisture. 
Also, it is recommended to use products that contain Soy Protein as it helps control frizz by penetrating and hydrating hair deeply. It helps maintain moisture and also shields from daily stresses and external damage. (4)
Not sure where to start your product search? Look no further! Kama Ayurveda's hair cleansers and conditioners help you meet all your frizz-fighting goals, including anti-frizz, strengthening, hair loss and shine to make your locks look smooth and healthy every day. 
Kama Ayurveda's Himalayan Deodar Hair Cleanser
Kama Ayurveda's Himalayan Deodar Hair Cleanser is a purifying and scalp toning hair cleanser that helps fight frizz, promote hair strength, relieve hair loss, and reduce breakage while enhancing shine and texture. 
The ayurvedic shampoo is free of sulfates, petrochemicals, and parabens. It gently cleanses your hair while giving volume and bounce without stripping off the natural moisture. The natural cleanser mitigates the drying effects of environmental damage and the sun. It helps in clarifying the hair, leaving it shiny, soft, more manageable, and frizz-free. 
Vegetable sourced soy protein in the gentle formulation moisturizes and increases the tensile strength of hair follicles. The Hibiscus Extract and organic Aloe Vera juice improve bounce and volume by balancing the natural oils in the hair shaft without compromising the integrity of the hair. The pure Himalayan Deodar Essential Oils help stimulate hair growth for more robust and healthier hair. Use it with Kama Ayurveda's Himalayan Deodar Hair Conditioner for best results.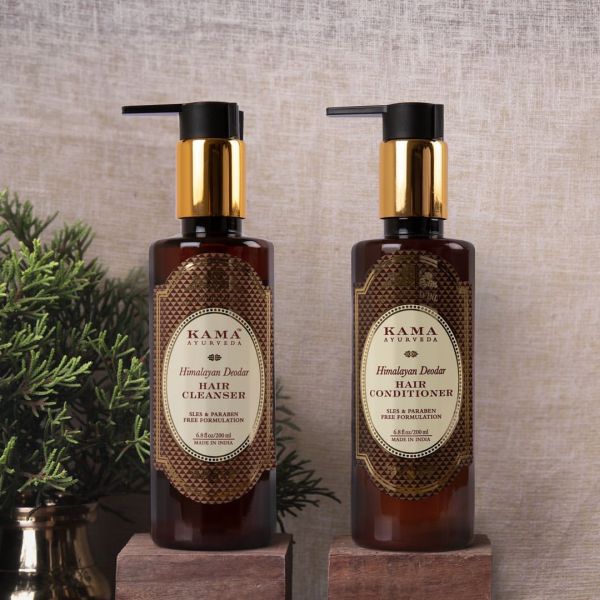 Benefits Of Himalayan Deodar Hair Cleanser
The Himalayan Deodar Hair Cleanser is 97.9% natural. It is also free of harmful sulfates and parabens.
The natural blend tames frizz by providing enough moisture to the roots.
It promotes hair growth and relieves hair loss while softening and smoothening hair making it less prone to breakage.
The pure essential oils of the Himalayan Cedar Wood help condition and manage hair. 
3. Do Not Skip Conditioner
Even a gentle moisturizing shampoo can strip away the natural oils from the scalp. So, one might need a conditioner to add moisture back into your hair after shampooing, as moisture is the best weapon to fight frizz. (5)
If your hair looks good, find a conditioner that doesn't add the unwanted weight. If your scalp feels oil, apply the conditioner from the nape of the neck towards the ends. Use a wide-toothed comb to disperse the conditioner evenly while in the shower. Wait for 2 to 4 minutes to let it penetrate the hair before rinsing it off with lukewarm water. 
Kama Ayurveda's Lavender Patchouli Hair Conditioner
Kama Ayurveda's Lavender Patchouli Hair Conditioner is a luxurious conditioner that helps retexturize and revitalize dry, frizzy, and damaged hair. The rich formula fights dry and brittle hair by sealing in a rich blend of essential moisturizers and lipids to nourish and hydrate the hair continuously. 
Infused with Indian Gooseberry, Almond, and Soy Extracts, the conditioner not only helps balance natural oils but also protects hair from further damage and daily stresses. The Lavender essential oil helps calm scalp irritation and infections. The Patchouli essential oil in this rich formula acts as a natural antiseptic, anti-inflammatory, and antibacterial to repair scalp damage. With every wash, you will be left with beautiful, healthy, and shiny hair. Apply Kama Ayurveda's Lavender Patchouli Hair Cleanser and follow with this conditioner for best results.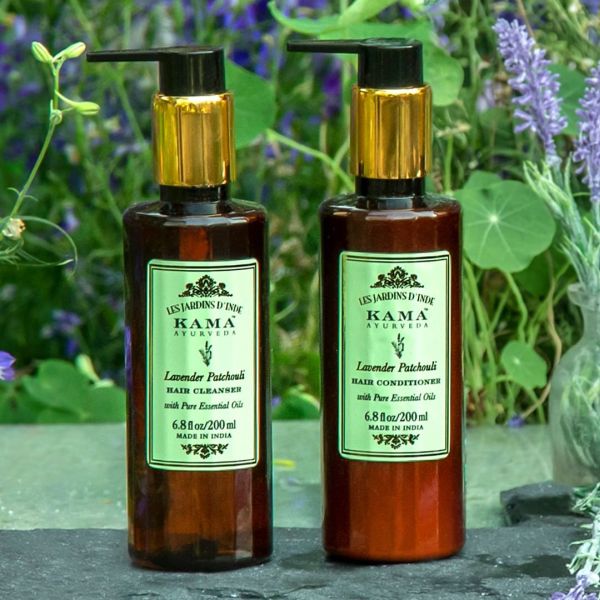 Benefits Of Lavender Patchouli Hair Conditioner
The Lavender Patchouli Hair Conditioner is 88% natural.
It fights frizz, leaving you with tangle-free hair.
The antibacterial properties of the rich formula help reduce hair loss by revitalizing and healing the scalp. It also helps increase the tensile strength of the hair.
The lavender, patchouli, soy, almond, am=nd amla in the conditioner together help promote hair growth.
4. Use A Deep Conditioning Mask For An Extra Boost Of Hydration
Use a high-quality, rich, deep conditioning mask at least once a week for an extra boost of hydration. It not only helps in moisturizing your strands from the inside out but also protects them from heat, split-ends, etc.
Kama Ayurveda's Bringadi Intensive Repair Post Wash Hair mask
Kama Ayurveda's Bringadi Intensive Repair Post Wash Hair Mask is a rich, deep conditioning hair mask that helps repair broken bonds and mitigate damage caused by chemical treatments, heat, and environmental aggressors. The rich and high-quality ayurvedic herbs in the hair mask repair broken hair and prevent hair damage. Regular application keeps your tresses smooth, shiny, and frizz-free.
The wonder herb Bhringraj, corrects imbalances that result in hair thinning and hair loss. It also helps activate hair proteins, promotes hair growth, and improves blood flow. Indian Gooseberry (Amla), being the powerhouse of Vitamin C, reduces dandruff and enhances hair resilience naturally. 
While the Indigo leaf extract revitalizes and conditions the hair, Liquorice Root extracts prevent scalp irritation and infections. Coconut milk helps in restoring dry hair and scalp. 

For best results, use it after massaging your hair with Bringadi Intensive Hair Treatment Oil and Bringadi Hair Cleanser.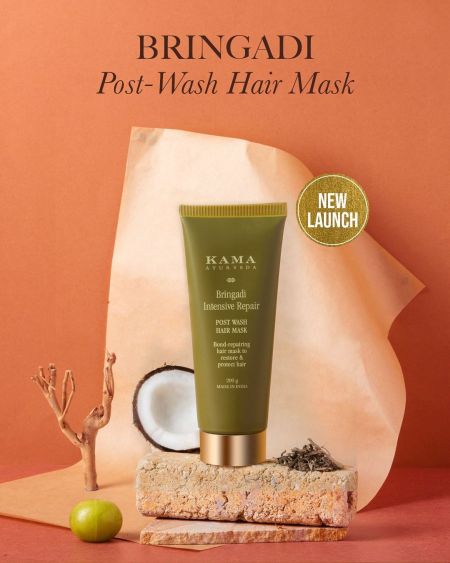 Benefits Of Bringadi Intensive Repair Post Wash Hair Mask
The rich blend helps in deep-conditioning hair and reduces hair breakage.
It helps mitigate damage caused by chemical treatments, heat, and environmental aggressors like the sun and pollution.
This weekly treatment acts as an at-home frizz-free spa.
The Bringadi Hair Mask is also very suitable for colored and treated hair.
How To Use
Post wash, evenly apply a generous amount of the hair mask onto the damp hair. Let it sit for about 15 minutes before rinsing thoroughly with water. Use this mask once a week. 
5. Ditch Your Regular Towel
Using the wrong towel can literally break your hair. As your manes are in their most vulnerable state when wet, any friction with a harsh cotton towel can directly make your hair frizzy. So, always reach out for a plush microfiber towel instead. The soft fabric is more gentle on the strands and can dry your hair faster, thus helping to reduce the swelling that occurs in wet hair (which makes hair vulnerable to damage and frizz).
Read -  How To Take The Best Care Of Damp Hair?
6. Invest In Satin Pillowcase
You might think of it as a bit of extra, but a satin pillowcase can actually help combat breakage, split ends, and frizz. Just like how a cotton towel can be harsh on your hair, a cotton pillowcase can create friction while tossing and turning during sleep, resulting in nothing but frizz, tangles, and breakage. 
Stain, on the other hand, is far more gentle and smoother. It helps maintain the hair's natural oils and reduces the amount of friction and damage the hair is exposed to during the night. 
Read - How To Make Hair Silky Naturally – 10 Best Hair Care Tips
7. Regular Oil Massage
Nothing can beat a hot oil treatment, for all your hair related problems. Along with nourishing, oils also help moisturize your hair giving it a healthy, smooth and frizzy-free look. While you can use any pure organic cold-pressed oil like Coconut oil, Almond oil, and Sesame Oil are best known to tame frizzy hair. Warm the oil and massage it gently in circular motions for about 15 minutes.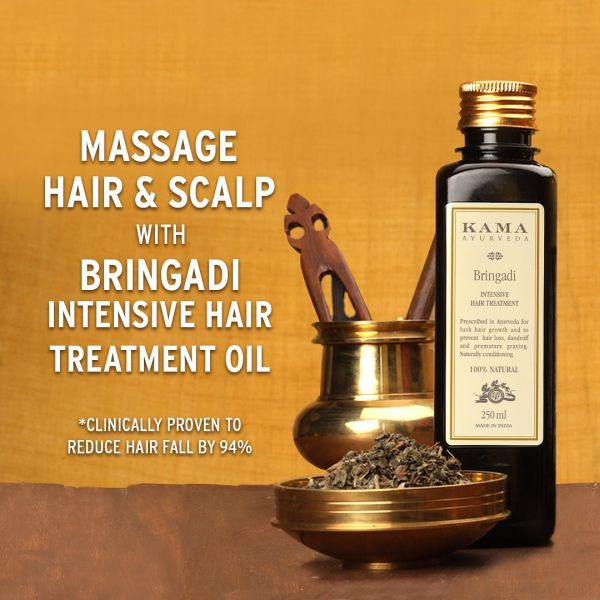 Shop Bringadi Intensive Hair Treatment Oil For Frizzy Hair
8. Shield Your Hair Strands From Heat
Whether you use a curling iron, flat iron, or hairdryer, it is best to minimize the use of heat-styling tools. Or, even better, do away with them altogether. On the days if you just can't put the heat tool down, ensure to apply a heat protectant hair product first. Also, make sure that you use these appliances at the lowest temperature setting. 
Also, never shower with high water temperature. Stick to a short shower with lukewarm water, and your hair will thank you later. 
Read - How To Repair Damaged Hair Naturally Without A Salon Visit
9. Use A Diffuser
The blow dryer is your number one enemy if you have wavy or curly hair. But with a bit of modification, you can turn it into your best frizz-fighting friend. Wondering how? Just attach a diffuser to your regular hair dryer and scrunch your strands from tip to root. While the normal hairdryer creates friction and frizz by tossing hair around, a diffuser dries your hair without any movement, thus making your curls bounce and not fray. (6)
Here we conclude our tips and product recommendations to help you manage frizzy hair naturally. Hope you find this helpful in keeping your hair well-styled during all times.