Your hair is a delicate and fragile part of your body. It turns even more sensitive after a wash. So, it helps if you handle it gently and with utmost care after washing it. To help you with taking care of hair post-wash, we'll talk about some of the best products for your damp hair in this article. 
What is Damp Hair?
When your hair is damp, it means that your hair is still slightly wet, but no water is dripping out from the edges. At this time, you might notice more elasticity in your hair as compared to dry hair. Due to this reason, damp hair is more prone to breakage, and you should take proper care of it. 
Further, when your hair is damp, it becomes more porous and is the best time to apply hair products like leave-in conditioners and oils. So, choose the best products for damp hair as it demands for more care and attention.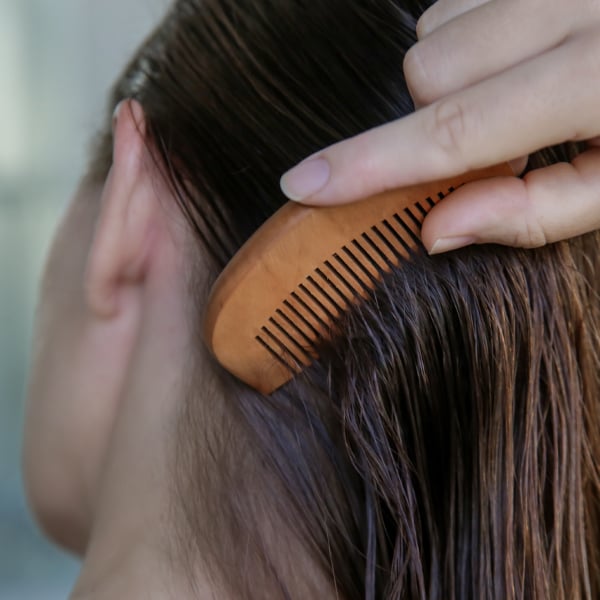 What's the Difference Between Damp Hair and Wet Hair?
Now, there's a myth that damp and wet hair is the same, but it is not so. The moisture level of damp hair is different from that of wet hair. The former is about 70-80% dry, but the latter is entirely soaked and has water dripping. Also, when you apply any styling product like wax, gel, or pomade to damp hair, you achieve a sleek, wet, and gel-styled appearance that differs from the actual wet hair looks.
Does Damp Hair Cause Dandruff?
No, damp hair is not a direct cause of dandruff, but if you leave your hair in damp condition for a long time, it may lead to dandruff indirectly. Dandruff is caused by a microbe always present on your scalp that thrives best in a damp and warm environment. So, if you tie up your damp hair and do not allow the entire hair shaft to dry, it leads to unwanted moisture and sebum build-up on your scalp. 
Also, the moisture from your hair and the warmth of your head will increase the growth of harmful bacteria on your scalp causing scalp infections. All such unwanted developments can make the skin on your scalp flaky and cause dandruff.
Read - How To Get Rid Of Dandruff Naturally – 10 Best Remedies
Why Does Your Hair Smell Damp?
Our scalp is the thickest skin on our body and carries more blood than the rest of the body parts. Also, it contains sebaceous glands that produce sebum, and that sebum protects the hair. 
We often worry about keeping our hair clean, but to do that it's very important to keep our scalp clean. Mildew occurs in hair and scalp when wet hair is left unable to dry for extended periods. The moisture gets trapped in the hair, which further breeds mildew. Hence, it would help if you always make time to air dry your hair thoroughly after hair wash.
Moreover, you should clean your hair after sweaty workouts as excess sweat and sebum on your scalp act as the ideal breeding ground for microbes. In addition, there is also a chance that your shampoo is ineffective against the bacteria responsible for the foul smell. Most shampoos can only remove dirt and sebum from your hair and fail to clean the scalp thoroughly. In such situations, you can choose some natural remedies to prevent the foul smell.
How To Get Rid Of Damp Hair Smell Naturally?
1. Shikakai
Shikakai is a natural cleansing agent that inherits antifungal, antibacterial properties. It is also rich in saponins and vitamins. The use of Shikakai helps remove dandruff scalp infections and is effective for hair growth. Shikakai, being mild, effectively cleanses your hair without opening up the cuticle and over-drying the hair in the process.
2. Neem
Neem is a natural ingredient that inherits antiseptic properties to remove the damp smell from your hair due to the accumulation of bacteria or fungus. It also has regenerative properties that reduce hair fall and increase blood circulation. In addition, Neem contains fatty acids like oleic acid, linoleic acid, and stearic acid that nourish your hair.

Dilute equal parts of Neem Oil with a carrier oil like Sweet Almond Oil or Sesame Oil and gently massage into the scalp. Allow it to work for 30 minutes. Cleanse with natural hair cleanser.
3. Hibiscus
The amino acid in the hibiscus flower offers the hair all the essential nutrients to promote hair growth. It is also helpful to combat dryness and keep hair odor away. Make a natural shampoo by adding a few Hibiscus flowers, leaves, and some Tulsi leaves. Grind them to form a paste with water. Apply this on your hair and wash off after 30 mins. You'll notice that the foul smell from your damp hair is fading away. 
You can also explore Kama Ayurveda's hair cleansers that have Hibiscus as one of the key ingredients.

Read - 12 Amazing Ways To Use Hibiscus For Hair
4. Lavender Oil
Lavender oil has some antimicrobial and antibacterial properties that improve scalp health and fight odor-causing bacteria on your scalp and hair. Further, it also curbs skin inflammation and dryness of the scalp. 
Applying lavender oil to your hair can increase blood circulation to the hair follicles and encourage your hair to grow faster. Take several drops of lavender oil in 3 tsp of carrier oil and apply it on your hair to reduce the smell from your damp hair.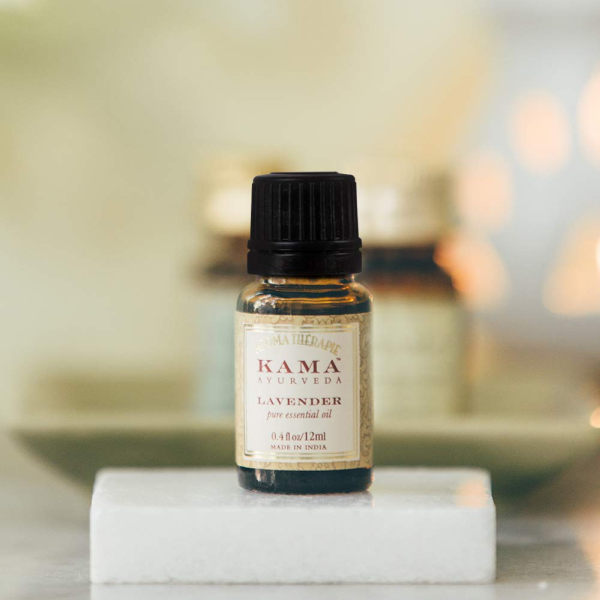 Read - How To Use Lavender Essential Oil For Beauty & Aromatherapy
5. Clove Oil
Clove is a powerhouse of benefits and an excellent Ayurvedic remedy due to its therapeutic properties. It addresses a wide variety of hair problems. Rich in antioxidants and anti-fungal, anti-microbial, and anti-bacterial, you can apply Clove oil to your scalp and hair to prevent damp hair smell.
Best Products For Damp Hair
Damp hair smell can put you in some embarrassing situations. Thankfully, Kama Ayurveda offers natural solutions for it. Ayurvedic texts recommend using some natural ingredients with antifungal and antibacterial properties to cleanse your hair. These Ayurvedic ingredients easily remove your hair's unpleasant smell without stripping off its natural oils.
1. Bringadi Hair Oil
Bringadi Intensive Hair Treatment Oil provides you with a cover against hair loss, premature graying, and dandruff. The secret ingredients of this oil are Amla, Sesame seeds, Bhringraj, Indigo, and Balloon Vine. 
Further, the herbal oil for hair growth is made by extracting some potent herbs into sesame oil and milk and acts as a natural conditioner for your hair. The Bringadi herbal hair oil has an earthy aroma and a dark green color. To get the best results, you can massage this oil into your hair and leave it for 20 minutes before washing.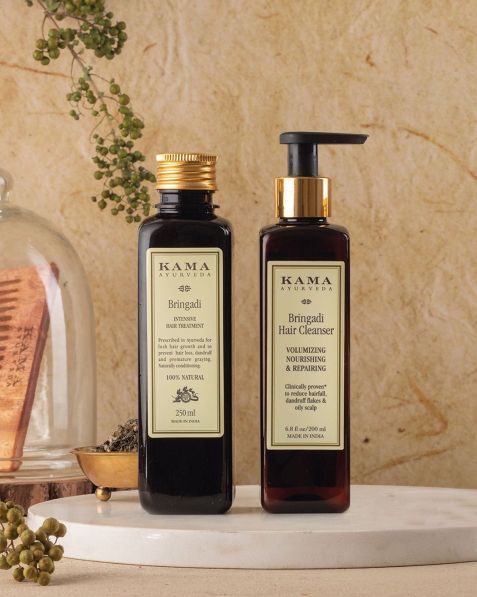 2. Bringadi Hair Cleanser
Bringadi Hair Cleanser is infused with some ayurvedic ingredients like Bhringraj, Amla, Liquorice & Indigo extracts that are effective for enhancing your hair's natural volume after every wash. Also, it is free from sulfates- parabens and is gentle to your hair. In addition, the wonder herb Bhringraj is effective in correcting the imbalances that cause hair thinning and hair loss. 
This product revitalizes your hair from root to tip and repairs your damaged hair. Further, the antifungal properties of Amla prevent fungal infections caused due to damp hair.
3. Bringadi Intensive Repair Post Wash Hair Mask
Bringadi Intensive Repair Post Wash Hair Mask is enriched with precious ayurvedic herbs and repairs broken hair bonds. It consists of Amla, coconut milk, and bhringraj, which help prevent hair damage. 
Further, coconut milk helps restore moisture as it is high in lauric acid, which can penetrate hair easily and strengthen the cuticle. In addition, Bhringraj inherits some antifungal and antimicrobial properties that help in reducing skin irritations on your scalp. It is also dermatologically tested and keeps your hair shiny, smooth, frizz-free, and manageable.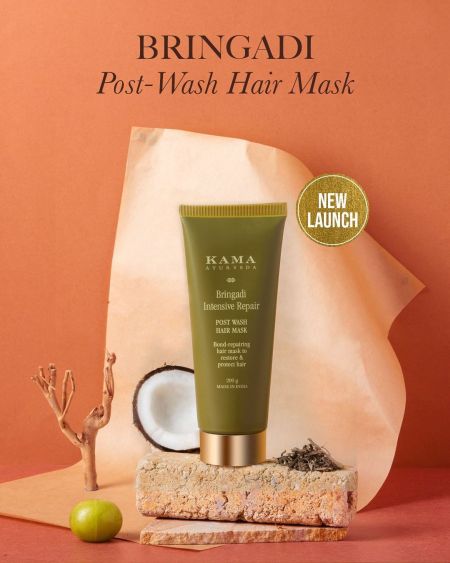 4. Bringadi Kesh Lepam Nourishing & Restoring Pre-wash Hair Mask
Bringadi Kesh Lepam Nourishing & Restoring Pre-wash Hair Mask is a unique Ayurveda-based formulation enriched with botanical extracts and essential oils that strengthens and repairs fragile & damaged hair. 
It is ideal for reducing premature graying, dandruff, & hair fall; it is the perfect step to add to your weekly hair routine. Further, Shatapushpa is known to soothe imbalances and, therefore, helps reduce hair fall. 
Bhringraj activates hair proteins, improves blood flow, and promotes hair growth. Indian Gooseberry is considered a powerhouse of Vitamin C that enhances hair resilience and reduces dandruff naturally. 
Licorice Root Extracts help prevent scalp infections & Indigo helps in conditioning your hair. Pure Rosemary Essential Oil improves scalp and hair health, reducing hair fall. Finally, pure Lavender Essential Oil calms both the mind & scalp and heals irritations.
Should Hair Dyes Be Applied To Damp Hair?
Though there is no thumb rule for applying hair dye to damp or dry hair, experts believe the color is better absorbed in the damp state. In addition, applying dyes to damp hair makes the dying process slightly economical as less color can cover up your entire hair. 
The logic behind coloring damp hair is that damp is more porous than dry hair, allowing it to absorb the dye easily. Apart from easy absorption, the dye is more evenly distributed along the length of your hair when it is damp.

A few drawbacks of applying dye on wet hair are that the added moisture can dilute the color, and you may get a lighter shade. Another problem is that damp application can be made only for semi-permanent dyes which do not possess ammonia. Therefore, you should go for dry hair if you're willing to have a permanent color change.
Read - 2 Best Natural Hair Dyes To Color your Hair Beautifully
What Happens If You Bleach Damp Hair?
When your hair is damp, the cuticles open up, making it easy to bleach. However, bleach is generally applied when the hair is dry as the moisture in damp hair may result in diluting the bleach, and you may get a subtler tone change than required. So, if you plan to bring on a drastic change to your hair color, then the bleach is done on dry hair. However, if you want to go for a softer change of hair tone, you may apply bleach on damp hair.
How To Sleep With Damp Hair?
As discussed earlier, leaving your hair damp for a prolonged period can result in some severe hair problems. The same problems occur when sleeping with damp hair.
While sleeping, the moisture in your hair gets absorbed in your pillow and holds back your hair from drying completely. In addition, the heat released from your head and the humidity in your pillowcase promote bacterial growth. However, if you have no other choice than to sleep with damp hair, we suggest you take the precautions below.
Try to dry some of your hair before going to sleep. If you have a little time, air dry your hair or use a hairdryer for the underside of your hair. The partially dried hair creates a smoother finish and avoids damp smell.
Using a leave-in conditioner can help prevent your hair from getting damaged and give your smooth, soft hair. 
Try to tie your hair into a loose bun by using a scrunchie, as leaving damp hair open while sleeping can cause breakage due to friction.
Damp hair is more prone to breakage, so it's safer to sleep on a satin/silk pillowcase which causes much less friction than a cotton pillowcase.
Flip your head upside down and place your microfiber towel all over your hair and gently wrap the towel around your head. Further, secure the towel with a clip or tie it. You can keep the microfiber towel on while sleeping and fluff your hair in the morning for an effortless, healthy look!
Now that you know about the nitty-gritty of issues related to damp hair, it's time to spring into some action. Apart from the above solutions, it is crucial to always consult a doctor in case of any severe damage to your hair or scalp issues.