Are you searching for a natural hair dye to suit your hair coloring requirements? If yes, then this article is just for you. Traditional hair dyes contain chemical components that are toxic and damaging, like ammonia and parabens. With the growing awareness about their side effects, more and more people are shifting to natural hair dyeing methods.

Natural hair dyes are a safer alternative as they possess plant-based constituents instead of harsh chemicals.

If you want to maintain the health of your hair in the long-term, you need to start investing in the right products for your hair. In this article, we're talking about the top natural hair dyes that we recommend for your shelf - Henna and Indigo Powder.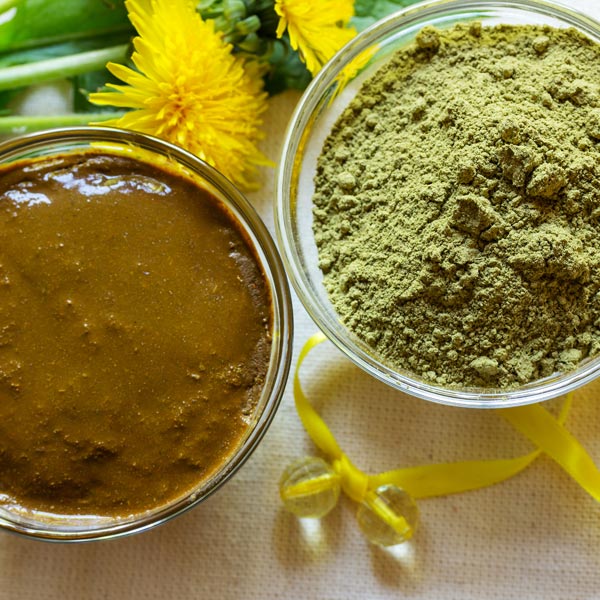 The Two Best Natural Hair Dyes To Color Your Hair
Following are the two best natural hair dyes that can be used to color your hair. These dyes not only perform the responsibility of coloring your hair but are also known to contain components that could benefit your hair to a great extent. Let us dive in to know about them.

Henna belongs to the category of renowned beauty herbs that are used in India and many tropical nations, for their cooling effect. It was first used for body art more than 5000 years ago. Today, it's a well known natural hair dye. Other than covering the greys, Henna provides your tresses with shine and bounce, making your hair easily manageable. Henna also works as a suitable conditioner by covering the hair strands and safeguarding them from external environmental damages.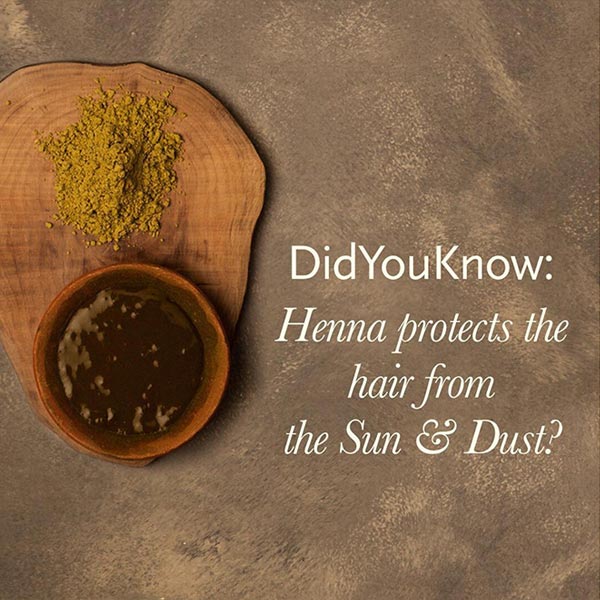 Did you know Henna can boost hair growth and institute the needed volume you may have always desired for? In its powdered form, Henna can even be used to produce an essential oil that nourishes the hair along with enhancing hair growth.

Indigo powder is extracted and formulated from squashed and compressed leaves of the Indigo plant. It has a green tinge in its raw form and dyes the hair with a dark blue shade. To dye hair black naturally, Henna is first as a base after which Indigo powder is applied for a darker color. It is safe to use Indigo as it does not trigger any adverse allergic reactions.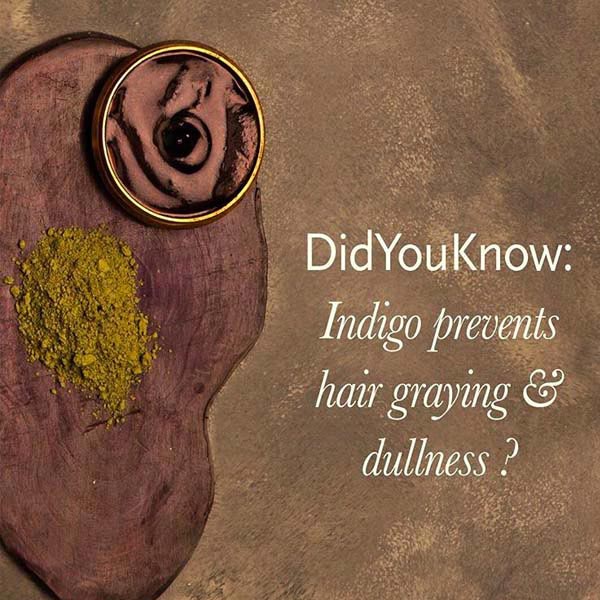 In India, these dyes have been used since ancient ages. Many Indian women advocate the benefits provided by these two powerful ingredients. Now, as we have a gist of Henna and Indigo powder. Next, let us continue to know about each of these ingredients in greater detail.  
All About Natural Hair Dye Indigo Powder
Did you know that Indio powder is among the oldest forms of dye used for hair coloring? In the previous times, and even today Indigo is commonly used for dyeing textiles. It is procured by crushing the leaves of Indigofera plant genre. It was once a rare commodity and being a precious good, it had a high trade value. Hence, it was also referred to as 'Blue Gold'.

There are many varied benefits of using Indigo as a natural hair dye.   

Benefits of Using Indigo Powder as a hair dye
Isn't it amazing how coloring your hair using natural ingredients such as Indigo can not only change the hue of the hair but also nourish the hair! The following are the highly acclaimed benefits of using Indigo Powder as a hair dye.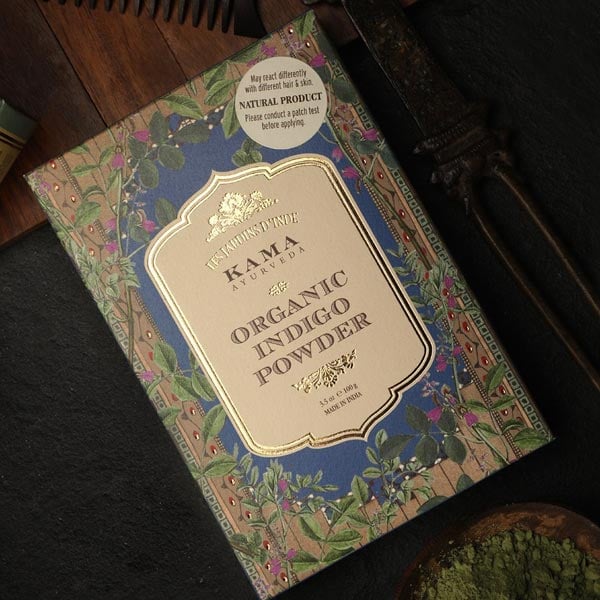 Indigo powder contains ingredients that support healthy hair growth and in turn, adds volume to your tresses. It stimulates the scalp and supports new hair growth. It is an amazing option to naturally reduce or prevent hair fall.  

Indigo contains antimicrobial as well as antifungal components that maintain a healthy scalp and prevents the onset of dandruff. It even conditions the hair and locks in the moisture content thereby reducing the dryness.

Averts the onset of fungal infections
As Indigo powder contains antifungal properties it counteracts against the formation of any fungal infection and heals the scalp. Did you know that indigo powder can soothe the itching sensation and give relief from any infection or redness?

It manages and prevents premature greying of hair strands
The most important benefit that could be considered is the ability of Indigo powder to prevent premature greying of one's hair. It can beneficially reduce the greying of hair strands or darken the hair that has greyed.  

It provides natural luster
 Using Indigo powder, to dye your hair bestows an added benefit of giving a shine to the hair shafts. On making avail of Indigo powder, you will find your hair to be more lustrous, manageable, and even tangle-free.

Now, as we have understood about the benefits Indigo powder possesses, you must be curious to use the same to dye your hair. To learn about the same, keep reading ahead.

How To Use Indigo Powder to Dye Your Hair Naturally?
Now, as we read earlier Indigo colors the hair with a bluish hue. Wondering how you can derive a black or brownish color from a bluish hair coloring dye? To solve the mystery, let us read about how you need to use Indigo powder to color your hair.

If you are looking forward to color your hair with a subtle bluish tinge, you could go ahead and use Indigo powder directly on the hair. But in case you want to darken the hair similar to the shade of your natural black or brown hair then, before using Indigo powder, you would have to prime your hair with a base of Henna. (Remember that the method of applying hair color may vary from brand to brand based on the product you utilize)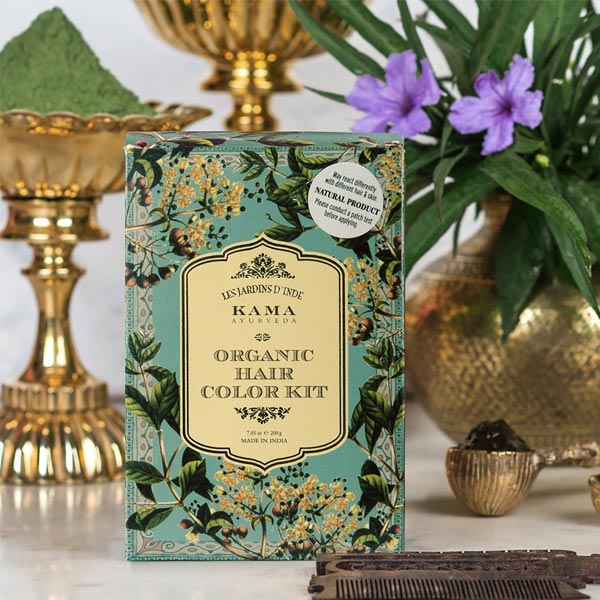 Also, we will be reading more about Henna in the following sections, just to carry on with the method to apply Indigo powder to derive its benefits, keep reading on!

Step1- Tend your hair with Henna


Take a mixing bowl and soak Henna powder as well as either tea water or coffee water overnight. By including coffee water, the reddish hue of Henna would become more visible. You could add a slight dash of Lemon in case you desire.
If you want to further condition the hair you could either add yogurt or egg.
Next day, apply the mixture/paste to your hair. Ensure that your hair is free of any product and it is clean. Allow it to remain for 45-60 minutes (depends on the intensity you prefer), after which you can rinse it thoroughly multiple times but only with water. Do not utilize any shampoo.  
Step2- Tend your hair with Indigo


 After rinsing and drying the hair, mix indigo powder along with warm water. Prepare a paste-like consistency.
Next, apply the hair. Use gloves if you want to apply it with your hands or else you could make avail of the option of a spatula.
Leave it on the hair for a minimum of 45 minutes, based on the intensity you could even leave it on the hair for up to 2 hours for rich dark color.
Next, rinse properly with water, cleanse the hair with a shampoo the next day.
You could color your hair using this method almost two to three times a month.
Next, let us explore using henna as a hair dye in detail.
All About Natural Hair Dye Henna
Henna is a plant-based derivative hence a natural dye. Isn't it amazing to know that Henna is amongst the most popular and widely used natural hair coloring agents on a global fore-front! The origin of using Henna for its cosmetic purposes originates from Egypt.

The extract is derived from the evergreen and flowering Hina/Henna plant of the loosestrifes family. The art of painting the body/hands/legs with henna is quite common, especially during Indian ceremonies.

To know about the advantages of applying Henna on the hair, let us dive further into the article.  

Benefits of Using Henna Powder as a hair dye
Other than dyeing the hair, there are many other reasons why Henna is considered to be a top-class natural, chemical-free dyeing agent. The following are the benefits of using Henna powder as a hair dye.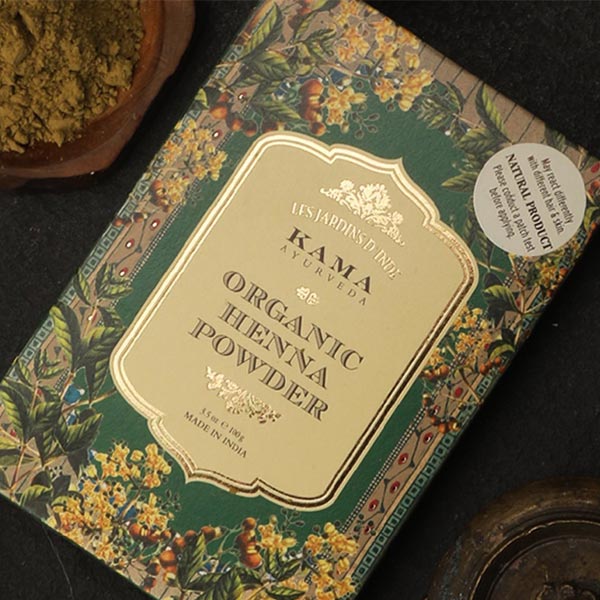 Maintaining the health of the scalp
Henna contains antifungal and antimicrobial properties. This empowers the scalp to fight against the formation of dandruff or any other scalp issues like itchiness, flakes, etc. It even cleanses the hair thoroughly and removes impurities.

Ensures the balance of pH levels
Other than keeping the scalp clean and healthy, Henna even balances the pH, unclogs follicles, and maintains the oil production. It works by pulling out the excess oil from the hair and restoring the regular functions of one's sebaceous glands.
The improved scalp health and well-maintained pH levels allow a perfect environment for the growth of thicker tresses. It stops hair fall and supports healthy hair growth. Did you know, using Henna not only enhances the rate of hair growth but also improves the texture of your hair? 
The ingredients present in henna can repair damaged hair and provide enriching nourishment by sealing the cuticle of your hair and hence providing lustrous hair locks. This in turn even improves the elasticity of the hair and strengthens it.  

Provides conditioning to the hair
Henna works by building a protective barrier around the hair shaft. This property aids to lock the moisture content and condition the hair. It is seeming more beneficial when utilized with other hydrating ingredients. Henna even diminishes the onset of issues like split ends and breaking of hair.

Now, as we have understood about the benefits henna possesses, you must be wondering how to use Henna powder to dye your hair. To learn about the same, keep reading ahead.

How To Use Henna Powder to Dye Your Hair
Using Henna powder to color the hair, gives your locks a natural brownish hue. You could directly apply Henna powder to the hair. Follow the next steps to correctly apply Henna to your hair.

Soak henna powder along with tea water or coffee water overnight. (Adding coffee water enhances the red hue that Henna contains)
You could add a bit of lemon juice in case you wish to and even yogurt or egg for further conditioning.
Next day, ensure that your hair is clean and product free before applying the paste/mixture. Allow it to remain for 2 hours or more based on the intensity you desire.
Afterwards, rinse it with water thoroughly and repeat it till the paste is washed off completely. Do not utilize any shampoo.
The next day use a cleansing shampoo to wash your hair and that's it, you can now enjoy the goodness of your tresses!
In the following manner, you could color your hair with the aid of natural products.

Other natural hair dyes that you can try
We have learned that using Indigo and Henna is stated to be extremely beneficial and suits every other individual. However, in case you wish to further experiment with ways as to how else you could naturally dye your hair, then dive further on.  

Following are the other hair dyes that could be used to dye your hair.

1. Coffee
Did you know that other than giving a caffeine boost and refreshing your mood, coffee can also darken the color of your hair strands?
To dye the hair with the help of coffee, brew a strong cup of coffee. Next, blend half a cup of coffee along with 2 tablespoons of coffee ground. Also, include a spoon of leave-in hair conditioner. Apply this mixture to your hair shafts, allow it to rest for about an hour. Lastly, wash it out once you are done.  

2. Tea
Using tea can darken your hair strands, by two to three shades and thereby cover the grey area. Back tea is known to give a dark hue hence would work the best for darker hair individuals. In case your hair color is blonde you could utilize Chamomile.


On a weekly basis, you could steep 3 to 5 tea bags in 2 cups of hot water. Then, allow it to cool and then apply it over damp hair. You could even apply it along with a conditioner for easier application.    

3. Herbs
Sage is an amazing herb that can help you to naturally dye your hair without any side-effects. Sage can darken the hair, hence those with lighter hair shades would find their hair color deepened after using this herb.


To use this ingredient to dye your hair, add one and a half cups of dried sage in boiling water at least for 30 minutes. The longer you steep the darker the hue would become. So, boil it based on your preference. After cooling strain out the sage. Next, pour the sage water over the hair whenever possible. Allow the tint to deepen, at least for 15 minutes after which you can wash it out.


4. Beetroot and Carrot
Did you know that carrot and beetroot are two ingredients that have the potentiality to give your hair a reddish-orange tint?
To dye your hair by using carrot juice for more of an orange-red based hue blend carrot juice with any carrier oil. Preferably coconut or olive oil. Apply this mixture thoroughly to the hair. Next, take plastic and wrap it around your hair at least for an hour. Lastly, use apple cider vinegar to rinse the hair. In case you want to darken the hue, repeat it the next day

Dyeing your hair with beetroot juice will give it a deep red tint and lighter undertone. The steps to use beetroot juice as a dye is similar to the one mentioned above for carrots. Blend the beet juice with any carrier oil, next liberally massage it into your hair coating the hair strands. Then wrap it with plastic for at least an hour before washing it away.   

5. Lemon Juice
Did you know lemon juice can give your hair natural highlights by stripping the pigment away from your hair? It lightens the hair with consistent use and you will be left with a hair color one shade lighter or more. You could get rid of the lightened hair by cutting it away. 


To make use of lemon juice to lighten the hair, take a spray bottle, and add lemon juice to it. Next, spray the content onto your hair thoroughly. You could comb through your hair to spread the juice evenly. A tip to lighten the hair, even more, is to sit under the sun with this mixture on. Leave it on the hair for about an hour, next, wash it away properly. You could repeat this multiple times the following days until you get the hair tone you desire. 

Conclusion -
Ageing is a beautiful natural process. And the greying of hair is a part of this natural process. You can choose to embrace this change. However, if you like to maintain your hair's natural black or brown colour, we strongly urge you to take care of your long-term health of your hair by choosing only the best quality natural hair dyes.

Kama Ayurveda's Organic Hair Colour kit to get natural black colour without damaging your hair. You can use these natural dyes every month without worrying about hair damage.

Store-bought hair dyes can provide hassle-free instant solutions. However, their chemicals can damage your hair in the long run. The healthier alternative is to use natural dyes such as Henna and Indigo powder that leaves your hair healthy even after frequent coloring.