Even if oiling hair seems cumbersome, it's still totally worth it. Afterit's the most effective way to nourish our hair. Moreover, nothing beats the relaxation we get from an oil massage for hair! 
Most Indians grow up with the awareness of a good oil massage. Our grandmothers and mothers have lauded the benefits of oil massages for ages.  Did you know that oiling your hair can protect your follicles from a harsh and polluted environment?
However, if you're unsure if your hair and scalp will benefit from oiling, this guide will help you out. We'll also cover the best hair oils and explain how to use them to oil your hair the right way. 
Before that, let's address the big question -
Why Should You Apply Hot Oil To Your Hair?
If your hair is dry, brittle, frizzy, color-treated, or prone to split ends, a hot oil treatment is just what you need. 
Apart from providing your hair a good dose of hydration, hair oils even nourish your hair with essential vitamins and minerals needed to keep it strong and healthy.
A good hot oil head massage can heal through the Marmas (the vital points) of convergence that are located in our heads. It can also help in regulating the energy (Vayu) and the driving force of all our body activities, thereby resulting in a healthy mane. 
Further, a hot oil head massage helps in inducing stretching force in our roots, lubricating our scalp, and conditioning our tresses. Thus, resulting in lustrous and healthy hair naturally.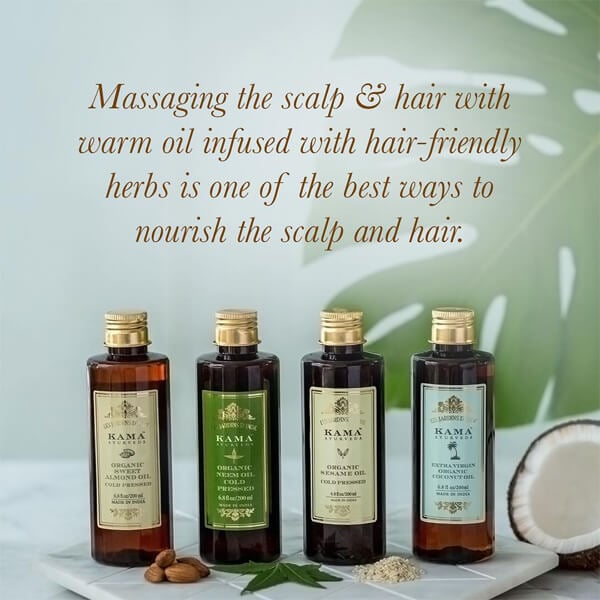 Top 10 Benefits Of Oil Massage For Hair Growth
Did you know that frequent washing of hair often strips them of essential nutrients? Hair oil works as a perfect replenishing agent that provides excellent hair nourishment. 

Massaging the oil on the scalp helps in opening your pores for excellent oil absorption. Regular oil massages can also overturn the harmful effects of the chemicals and hair medications.
Not only this, it also increases blood circulation, strengthens roots, and improves hair growth. Below are a few other benefits of an oil massage. (1) (2) (3)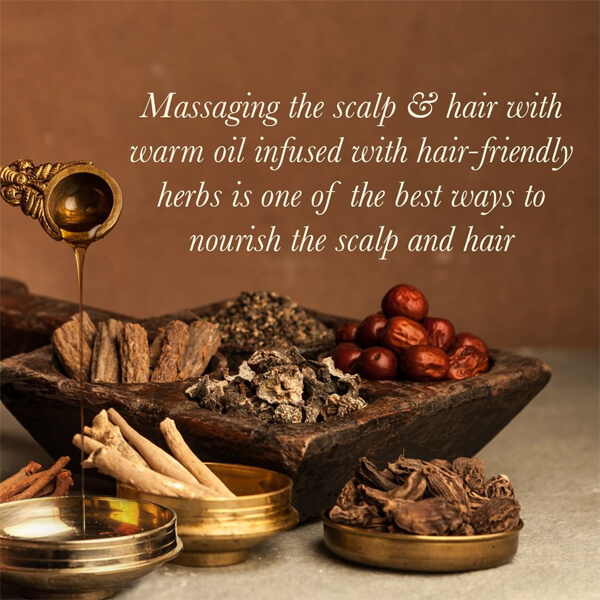 1. Strengthens Hair
Extreme dryness, split ends, hair breakage and flat hair are the signs of weak hair roots. Some of the factors that can cause weak roots are poor diet, heat tools, cold temperatures, certain hair products, and more. 
It is normal to lose 120 to 150 hair strands daily. But if you are experiencing more hair fall, then an oil massage could help you strengthen your hair. Oil massage increases the blood circulation in your scalp and stimulates the transfer of the nutrients to your hair roots, thus strengthening the hair.
Good oil can also unclog pores, allowing better absorption of nutrients and boosting hair growth.

Read - Scalp Massage for Hair Growth - Does It Really Work?
2. Prevents Dandruff
Dandruff, which is caused by scalp dryness, is one of the main reasons for hair fall. It damages roots, causes itching and hair breakage. A regular oil massage for hair keeps your scalp nourished and stimulates oil glands to generate more natural oil. When sufficient oil is produced, it keeps your scalp moisturized and healthy, thus preventing dandruff. 

Also, remember that excess oil can hinder growth by clogging your pores. So it is always recommended to wash your hair regularly with a mild natural shampoo for maintaining a good balance.
Read - How To Get Rid Of Dandruff Naturally - 10 Best Remedies
3. Lessen Frizz
According to Ayurveda, high Vata dosha leads to thin, frizzy, and dry hair. Regular oiling helps in balancing Vata dosha. 
Applying oil to the hair develops a defensive sheath on your hair that staves off the harmful UV rays from making the hair dry and frizzy. Oiling moisturizes the hair, which also helps to lessen frizz and flyaways.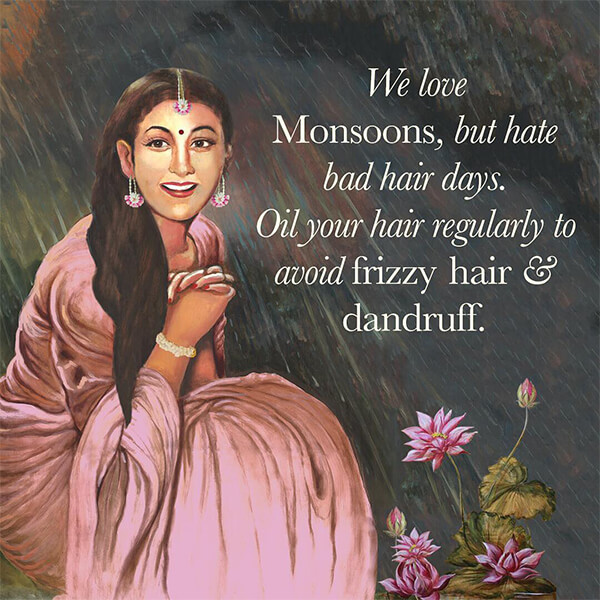 4. Nourishes Your Hair
Oil, when massaged on the scalp, thoroughly penetrates deep into the skin of our scalp in a way no shampoo or hair product can. Therefore, when the oil gets absorbed deep into the scalp, it nourishes your hair tissues and follicles from within. 
Lipids are essential for hair health. However, they are lost due to exposure to pollution or chemical treatments. Oils have fatty acids that help in replenishing the lipids and natural hair shine.
5. Adds Luscious Shine
A luscious glossy finish is the main impressive component of healthy hair. Hair oil increases the shine by turning your hair shaft hydrophobic, which deters the external cuticle from swelling and forming a scaled texture.

A glossy and smooth cuticle contributes to healthy and shining hair. Heat damage makes the hair more brittle that develops the split ends. Oil massage treats the split ends and nourishes your hair from the inside out to maintain the luscious shine. 
Read - How To Make Hair Silky Naturally - 10 Best Hair Care Tips
6. Prevents Premature Greying
Premature hair greying is another common hair concern faced by teens and adults these days. It can happen when your body doesn't produce enough melanin. The more the concentration of the melanin, the darker the hair color. And the lack of the melanin in hair results in greying.

Oil massage provides adequate blood flow and nourishment to the hair follicles that retain the hair color by producing melanin. Regular oiling also forms a defensive sheath across the hair strands. Due to this, our hair gets the much needed protection from the UV rays and pollution (one of the main factors that can contribute to hair lightening).

Read - Home Remedies For Grey Hair - 10+ Ayurvedic Methods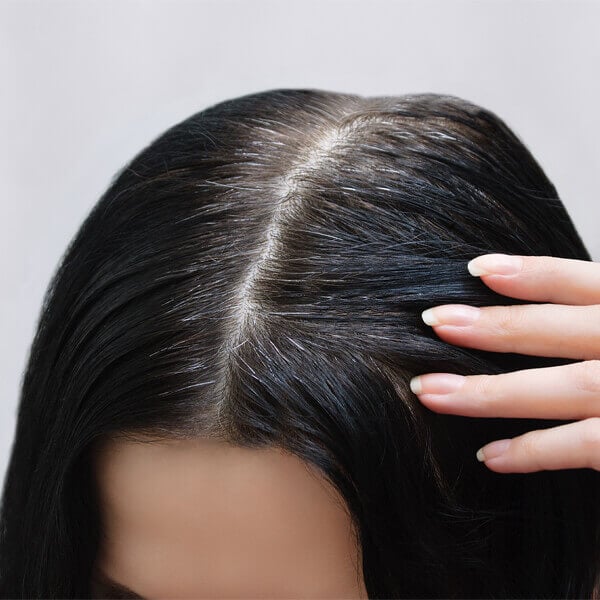 7. Relaxes Mind And Body
Oil massaging your scalp facilitates blood circulation, which soothes nerves and capillaries. Oiling hair regularly relaxes the body and mind, improves mood, and alleviates stress. As stress is the main contributor to hair loss, oil massages could boost hair growth too.
8. Protects Hair
Just as the skin requires protection from the harsh weather and sun, the hair also needs good shielding. Oil massages could help create a protective layer for the hair strands so that the hair develops resistance and doesn't get damaged.
9. Prevents Hair Fall And Split Ends
Hair fall is the direct consequence of an unhealthy hair and scalp. A healthy scalp doesn't shed hair follicles. An oil massage can significantly improve scalp and hair health, thus decreasing hair loss.
Split ends are also one of the main inhibitors hair growth and they can also be treated with a hot oil massage.

Read - How To Stop Hair Fall - 36 Best Tips & Home Remedies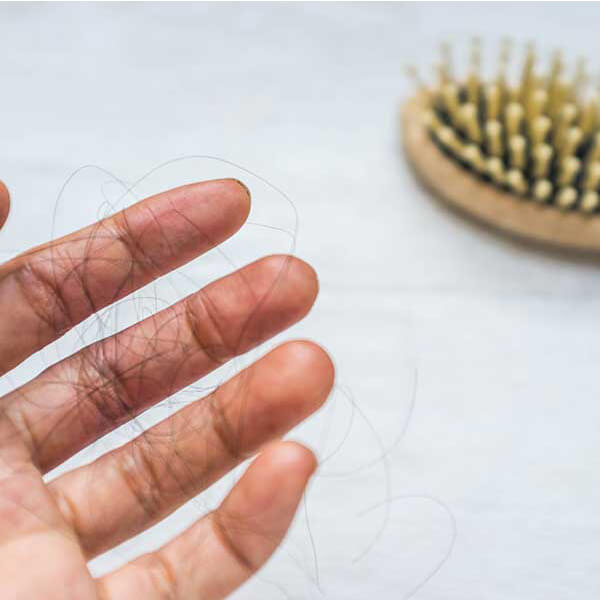 10 Prevents Scalp Infection
The clogged pores on the scalp can lead to many problems like irritation, bacterial and fungal infections, etc. These infections can further lead to dandruff and provide a suitable environment for hair lice. A hot oil massage can nourish your scalp and help prevent any infections.
5 Best Hair Oils For Head Massage
It looks like an oil massage is a definite need to nurture the hair. However, did you know that these benefits can double when you use the right oil? There are a few oils that could do great wonders for the hair which you might not know. All you need is just 10 minutes to crimp your hair strands smoothly with oil-dipped fingers.
Are you ready to find out the best hair oil to massage your hair? Scroll down for the five best hair oils that are well suited for every hair type. These oils are all free from chemicals and are known to offer crucial nourishment and nutrients to the hair. Let's get started! (4)
1. Coconut Oil
Coconut Oil has huge quantities of fatty acids that allow the oil to enter the hair without evaporating. Coconut oil has plenty of minerals, vitamins, and carbohydrates, which are needed for hair health. (5)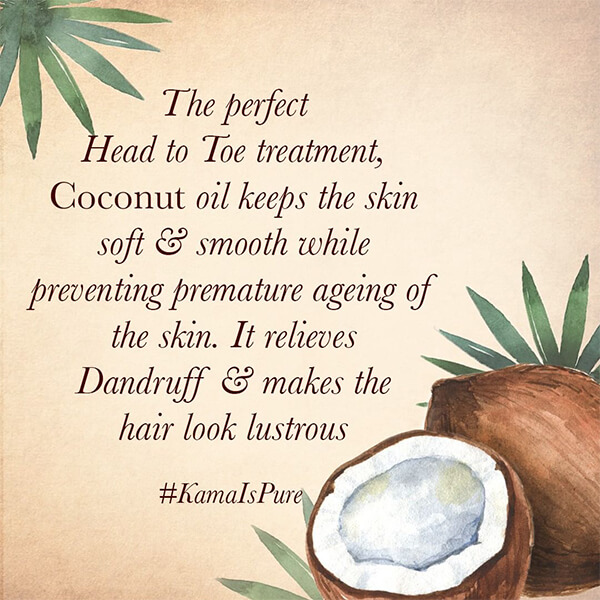 Lauric acid is its primary affinity and works as a hair protein that can easily penetrate the hair shaft. With low molecular weight, coconut oil is very light and offers deep conditioning and natural protection. And the best part is - this oil is a good choice for any hair type.
Read - Why Is Virgin Coconut Oil So Good For Your Hair & Skin?
2. Almond Oil
Looking for an aromatic and light hair oil? Then, go for Almond Oil. Almond oil is another commonly available oil after Coconut oil. It is suitable for any hair type and helps heal frizzy, dry hair with split ends. This non-sticky, light oil is loaded with tons of vitamins to strengthen hair and keep it moisturized. (6)
Sweet Almond oil is best suited for your hair as it's obtained from an Almond tree (Prunus amygdalus var. Dulcis) whose seeds do not contain any poisonous chemicals. It has four most important nutrients for hair - Vitamin E, Vitamin A, Omega-3 Fatty Acids, and Zinc. Adding Brahmi herb to the oil makes it even more beneficial for hair.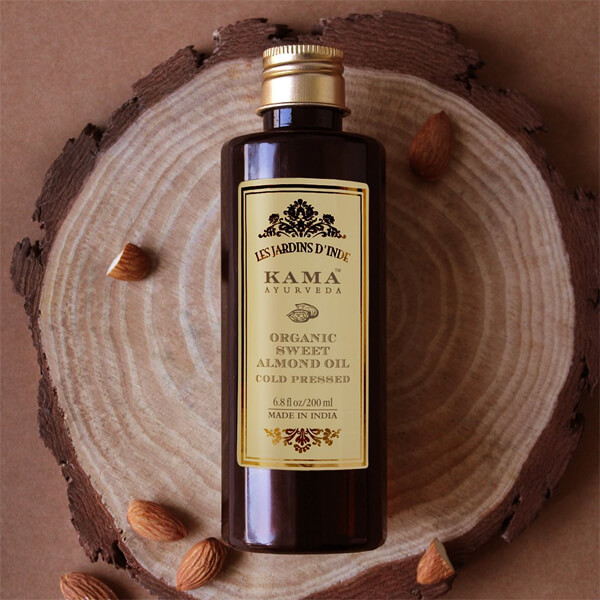 Read - 10 Amazing Benefits Of Almond Oil For Hair
3. Sesame Oil
Say hello, to the Sesame Oil that's better known as a protein shake for your hair. This oil is rich in copper, phosphorus, calcium, vitamin B1, manganese, magnesium, and zinc. The abundant source of these minerals helps in deep conditioning and gives you the smooth, shiny, and lustrous hair you ever wished for.
Sesame oil also has antifungal and antibacterial properties which help prevent dandruff and any kind of scalp infections. (7)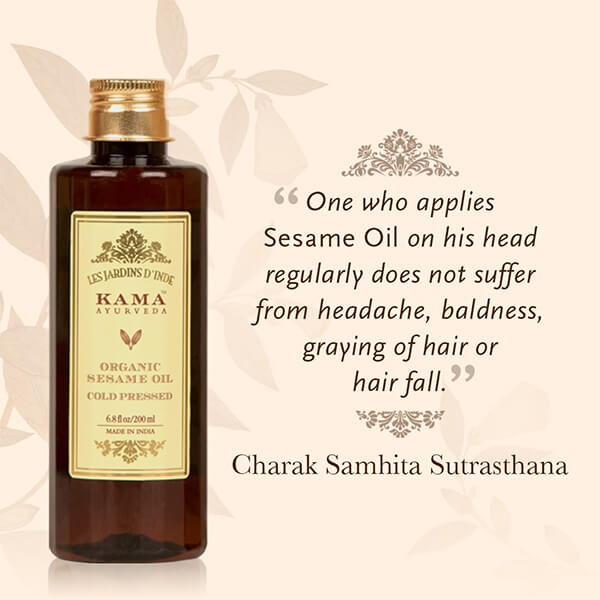 This oil is excellent if you suffer from dry or thin hair that is suffering from split ends. Mixing Sesame oil with ayurvedic herbs such as Hibiscus and Brahmi maximizes the benefits.
4. Bhringraj Oil
Introducing another oil that's very popular in Ayurveda - Bhringraj Oil. Bhringraj oil is known to tackle the whole host of hair crises. The oil is a good source of minerals and vitamins like Vitamin D,  Vitamin E, and Magnesium.
Extracted from the boiling leaves of the Bhringraj, this oil reduces dandruff and offers quick relief to the itchy and dry scalp, thanks to its antibacterial properties. Bhringraj is best known for its earthy smell that offers a meditative and relaxing effect. 
Ayurveda's most revered formulation, Kama Ayurveda's Bringadi Intensive Hair Treatment Oil is made with the finest Bhringraj, and is clinically proven* to reduce hair fall and treat flaky scalp.
This powerful and nourishing earthy oil works like magic when it's massaged on your scalp and hair. It helps in nourishing your hair follicles and promoting hair growth. Bringadi hair oil can also help in darkening your hair and preventing premature greying of hair.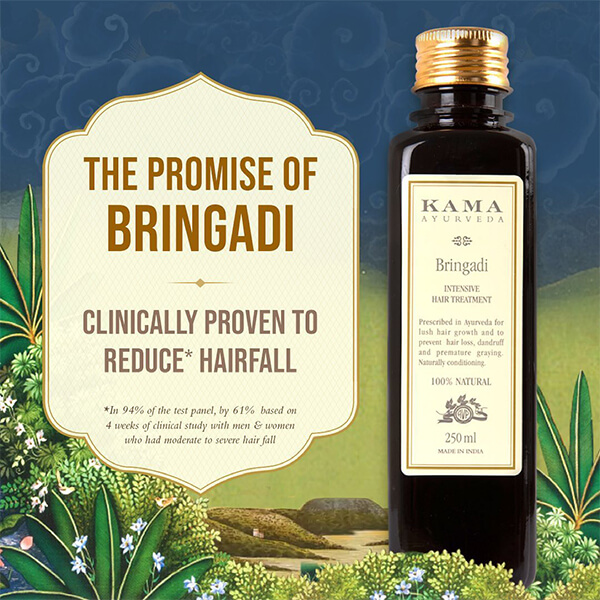 5. Argan Oil
Looking for soft and manageable hair? Then Argan oil should be your go-to oil. Argan oil is rich in antioxidants, minerals, and vitamins. It is an age-old secret and there is nothing that it cannot do to your hair ( right from hydrating to softening your hair). With its richness in antioxidants, vitamin E, and essential fatty acids, argan oil increases the hair's elasticity and restores the lustrous shine from the lifeless and dull hair. (8)
It also helps in treating the hair damage that is caused from the harmful radicals and external factors like the sun, heat, pollution, etc. Whether you realise it or not, our hair gets damaged everyday with chemical treatments, daily pollution, and hot tools. Argan oil can help you in reversing this damage.

How To Do A Hot Oil Hair Treatment at Your Home?
Hot oil treatment is a concept of self-care that brings life back to the hair locks. But that doesn't mean pouring steaming oil on our heads. There is a proper way to execute this treatment much more safely and flawlessly.
Before starting the hot oil treatment, make sure to pay attention to the oil temperature. Never apply hot oil to dirty or dry hair. The cuticle opens when hair is wet, which makes it the best time to use conditioner or oils. Before applying the oil to the scalp, it is vital to know which oil is best for the hair type, so choose one among the five mentioned above.

1. Hot Oil Preparation
Once you decide on the oil to use, it is time to start the procedure. It is always suggested to do the hot oil hair treatment at home when you are free and aren't going anywhere.
Supplies:
Any oil of your choice (coconut, olive, almond, avocado oil, etc) - 2-3 tablespoons 
Glass container or heat-safe bowl - 1
Large bowl - 1
Hot water
Plastic Shower cap - 1
Shampoo & conditioner
Preparation:
Take 2-3 tablespoons or enough of the oil in a glass container or a heat-safe bowl.
Place the glass container or heat-safe bowl in a huge bowl with hot water. Allow the small one to be partly immersed for some time. 
After the oil has surpassed the applicable temperature, do a trial on the wrist before applying it to the hair.
2. Massaging The Scalp And Hair By Using Hot Oil
After you prepare the oil, it's time to get a relaxing massage with the hot oil:
Make sure to brush your hair by splitting it vertically down and creating two equal hair sections on the head.
If you have thick hair, you can split the two sections further into two sections to make it smaller. Clip these sections to keep them away from troubling you while applying the oil.
Now, using your fingers, scoop a bit of oil and spread it onto your palms. Bring it onto  the scalp and massage it in circular motions. Begin from the top of the hair, then work the way down. 
Hold up the sections of the hair to apply underneath them. After finishing half of the hair, then keep your hair down and start with another side.
After applying the oil throughout your scalp, try to pull the product to the hair ends by using a wide-tooth comb.
The hair ends need good moisture so take oil and massage in the mid-shaft of the hair by dragging fingers to the ends.
After coating your whole head with oil, cover it up with a plastic bag or shower cap as it keeps the hair in place as you wait. 
Let the oil sit for 30 minutes. This gives enough time to repair and hydrate your hair.
You can also leave it overnight if you want.
For better results, wrap the hair in the hot towel for 20 - 30 minutes till the oil perfectly sits in the hair.
Now you can hop in the shower and work some lather using a mild shampoo.
If your hair feels greasy after washing, you can shampoo it for the second time and rinse the oil out thoroughly.
You can also apply a good conditioner that leaves the hair feeling healthy, soft, and shiny.
You could use this hot oil treatment three times a week or once a week according to your schedule and your hair type.  
FAQs for Oil Massage for hair
When To Apply Your Hot Oil Treatment For Hair?
Applying hot oil treatment for the hair is much-needed when you are experiencing dryness of the scalp, broken or damaged hair strands, prickling scalp with dandruff, hair thinning, and severe hair fall. Hot oil massage is ideally suited for oily hair too. But, it needs less fatty oil to prevent any oily sediment on the scalp.
Is It Good To Wash Your Hair Before Or After A Hot Oil Treatment?
Well, what if I say both times? Yes, washing your hair before the hot oil massage helps in penetrating the cuticles suitably. It is advised to apply the hot oil on the clean scalp. So, washing the hair thoroughly in the morning or night before applying is good. Hot oil treatment might not have a positive impact if pollutants and dirt plug up the hair roots.
Washing the hair after hot oil treatment is similar to taking a shower after a heavy workout. It restores the activities in the scalp then refreshes your mind and body. Deep natural conditioning to the hair offers better results for the hair. 
Should Hot Oil Treatment Be Done On Wet Or Dry Hair?
Hot oil treatments are more effective on semi-dry hair than damp or dry hair. Pores get opened on the washed scalp, where the moist hair strands absorb oil. Try to avoid a hairdryer and let your hair dry naturally, or just pat dry it by using a muslin cloth. Wash the hair before one hour of the treatment, and you can apply hot oil on the semi-dry hair if you want. 
How Long Do You Leave Hot Oil In Your Hair?
After giving a soothing massage on the scalp for 5 -10 minutes, the oil isn't warm. So, wrap the hair with a hot towel, then leave the oil on the scalp for 20 mins.  You can happily relax by listening to music or reading a book. After your hot oil massage, the average time for leaving oil on the scalp is  20 - 40 minutes.
How Often Should You Use Hot Oil Treatment On Hair?
It should depend upon the hair type.
For dry hair, use hot oil treatment daily for the dry scalp or till the dryness is controlled. 
For normal hair, you can use this hot oil massage treatment 1-3 times a week.
For oily hair, once a week is good.
Frequent hot oil treatment can relieve stress and prevent many hair issues, making it the ideal option.