Most of us ignore the initial gray strands, but it becomes a nightmare when hundreds of hair go grey. So, it is never suggested to ignore your greying hair problems. You need to keep an eye on your diet and take supplements to support mane health.
Just as the skin loses firmness and sag with age, hair goes through the aging process. They start turning gray naturally in your mid-40s, and this can't be reversed. However, finding grey hairs in your 20s can be disturbing. Dealing with and accepting these silver streaks might feel difficult. 
Let's start by understanding the reasons why our hair turns grey before we cover some of the most effective home remedies for grey hair.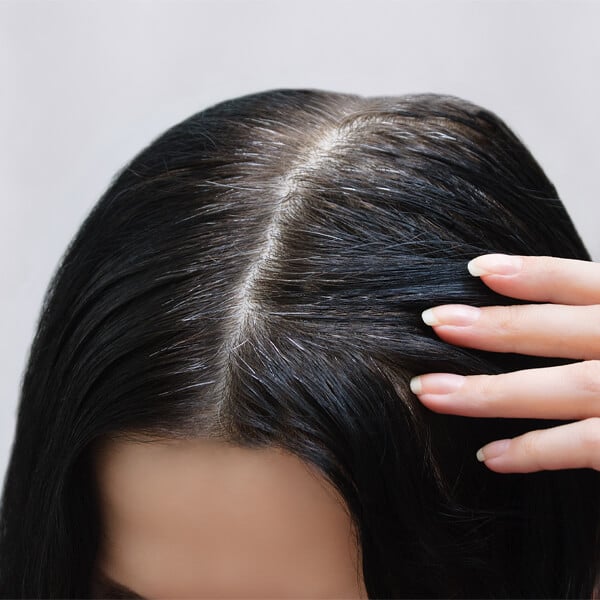 Why Does Our Hair Turn Gray?
For understanding the whole greying process, one needs to understand the basic structure of the hair. Every hair strand consists of concentric layers. The outer surface layer is the cuticle; it is made up of small transparent scales that help protect your hair and give them a shiny finish.
The cortex is the second layer; it is responsible for the color of the hair. Due to some external factors, the cortex can become incapable of producing the color pigment, melanin. Without this pigment, your hair turns white. 
When this white hair blends with your other dark hair, it will give you the grey hair impression. This is one of the main reasons for grey hair. (1)
While heredity, smoking, chewing tobacco, and emotional stress can cause grey hair, lack of nourishment is also one of the main reasons for greying. A few of the external factors behind premature greying can include:
Genetic tendency
A household history of early grey hair
Premature aging circumstances such as thyroid disorder, managerial and progeria
Iron deficiency 
Anemia 
Lessened melanocytes generation
Stress and pressures
Over usage of the soaps and synthetic shampoo 
Exposure to the UV rays which damages the healthy hair follicles
Ayurveda has other reasons for the cause of grey hair. Let us get to know them!
What Does Ayurveda Say About Grey Hair? 
As per the ancestral Ayurveda, the three doshas, Vata, Kapha, and pitta, regulate body activity. Depending upon the environment, geography, and natural genetics, every individual has a different mixture of these three doshas. This harmony is referred to as the intrinsic 'Prakriti' of the person. Any inequality happening in these dosha levels can result in diseases.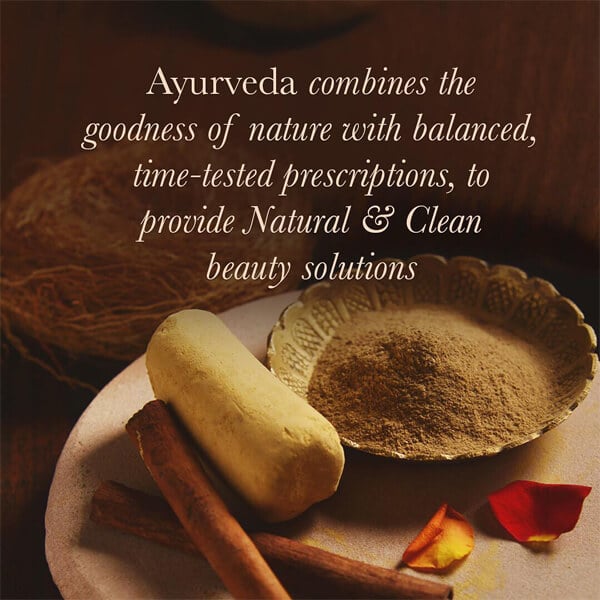 "Premature greying, known as 'Akala Palitya' in Ayurveda, is the outcome of a disturbance in Pitta-Vata doshas. The Bhrajaka pitta, a subtype of the Pitta dosha, is responsible for your hair, skin complexion, and color. 
It is associated with melanocytes that generate melanin pigment responsible for your hair's natural color. Suppose there is any kind of inequality in the Bhrajaka Pitta. In that case, it results in insufficient melanin generation, which in turn results in premature greying.
Home Remedies For Grey Hair
Using hair products with toxic chemicals can result in more greying of the hair. But, don't worry!  Mother Nature blessed us with many natural ingredients, not one or two. Many home remedies will help you get back your dark hair. Help is right in the kitchen. It is possible to get rid of that grey hair naturally. 
It is always ideal to use natural remedies for your hair to get rid of those pesky greys rather than going behind the chemical treatments. Here are the top 10 home remedies for grey hair. These remedies do more than prevent those pesky greys.
1. Curry Leaves And Coconut Oil
Curry leaves do an extraordinary job of revitalizing the roots of the hair. The vitamin B present in the curry leaves helps the hair follicles restore their biological color pigment while keeping premature greying at bay.
Coconut oil is best known as a natural coolant for the scalp and turns as the true combination with the curry leaves to restrain unnecessary Pitta dosha that controls your grey hairs. (2)
Ingredients
Curry leaves - one cup
Coconut oil - one cup
Instructions
Step 1: Mix a cup of curry leaves in one cup of oil
Step 2: Boil this mix till it turns black
Step 3: Strain and cool it. Then store the mixture.Step 4: Massage this mixture into the hair 2-3 times weekly and leave it overnight.
Read - Why Is Virgin Coconut Oil So Good For Your Hair?
2. Almond Oil And Lemon Juice Mask
Both Lemon and Almond oil are the most accessible ingredients in your kitchen. Did you know that both elements assist you in getting rid of your grey hair naturally? Almond oil is an excellent source of Vitamin E that helps nourish hair roots and prevent premature greying of the hair.

Lemon juice helps in accelerating hair growth and adds color, bounce, and gloss to the hair. This mixture of lemon and almond oil works better as the remedy to treat grey hair in millennials. (3)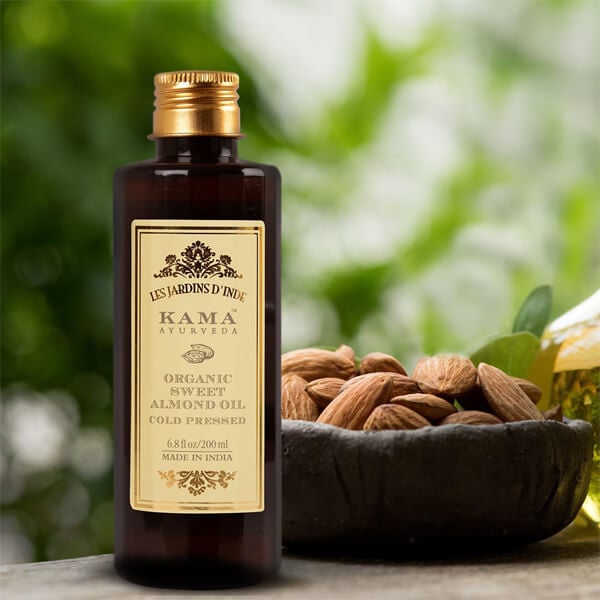 Ingredients
Lemon juice - 2 tbsp
Almond oil - 3 tbsp
Instructions
Step 1:Take a bowl and mix the almond oil and lemon juice 
Step 2: Then massage the mixture generously on your scalp.
Step 3: Leave it for about half an hour. Then wash it using a mild shampoo.

Read - 10 Amazing Benefits of Almond Oil For Hair
3. Amla and Fenugreek Seeds Hair Mask
Amla is a great ingredient that nourishes hair and keeps it healthy. As it's rich in vitamin C, antioxidants, and more nutrients, it can eliminate graying. Both Fenugreek and Amla treat any hair issue while making it strong.

The amino acids in the Fenugreek seeds help the hair follicles fight premature greying. Amino acids that are very helpful for the dark hair color are rich in Fenugreek seeds. Therefore Fenugreek seeds can help you in treating your grey hairs. (4)
Ingredients
Amla - 6- 7 pieces
Oil - 3 tablespoons
Fenugreek powder - one tablespoon
Instructions
Step 1: Add 6-7 pieces of Amla in 3 tbsps oil of your choice (almond, olive, coconut, etc.).
Step 2: Heat it for a few minutes.
Step 3: Then, mix one tablespoon of the fenugreek powder into the oil mixture.
Step 4: Strain, cool, and apply the mixture on the scalp before going to bed. 
Step 5: Use a mild herbal shampoo in the morning to wash it off.

Read - Using Amla for hair - Top 10 Benefits & Ways To Use It

4. Black Tea rinse
Yes, you heard it right, black tea.  Black tea can cover gray hair as it stains the hair then darkens it while adding that shine to the hair. Black tea rinse offers a great keratin and melanin boost that restores the hair pigment. It is known to cover your grey hair effectively. 

So, this black tea is a win-win deal for your hair. It not just covers up the grey hair but makes mane supple and soft. Now you must be thinking about how to utilize black tea. Read on to know!
Ingredients
Black tea - 2 tbsp
Water - 1 cup
Salt - 1 tbsp
Instructions
Step 1: Take 2 tbsp of the black tea, boil it in a cup of water and then add one teaspoon of salt.
Step 2: Cool the mixture and apply it to your washed hair.
Step 3: By doing this once a week, you can get rid of the gray hair.
5. Onion Juice hair mask
Onions are the best remedy and the effective solution for gray hair. It enhances the catalase, an enzyme that darkens the hair. Onion juice is also known to promote hair growth. If it is mixed with lemon juice, it offers more shine to the hair. Being rich in sulfur content, onion makes a noticeable option for the hair. (5)

Ingredients:
Onions juice - 2-3 tsp
Olive oil -1 tbsp
Lemon juice - 1 tsp
Instructions
Step 1: Add 2-3 tsp of onion juice to 1 tsp of olive oil and lemon juice in a bowl.
Step 2: Ten massage your scalp gently in circular motions.
Step 3: After an hour, rinse your hair with a mild shampoo and lukewarm water. 
6. Henna and Coffee 
Henna and coffee mask is the best alternative to dye your hair dark brown. This natural DIY recipe truly adds that rich dark brown with a lovely shine to the tresses without destroying your hair health. 
Henna is an age-old home remedy for hair coloring. But, it is vital to make sure that the henna you picked should be made from organic sources. Because commercially accessible henna comes with many toxic colors and chemicals. (6)
Ingredients
Coffee powder - 1 tbsp
Any oil - 1 tbsp
Henna powder 
Instructions
Step 1: Add one tablespoon of coffee powder to the boiling hot water
Step 2: After cooling the mixture, add the henna powder to make it into a smooth paste.
Step 3: Cover and rest it for a few hours
Step 4: Then add 1 tbsp of any oil (Coconut, Amla or Almond, etc.) and apply all over the hair
Step 5: Then, wash after an hour using a mild shampoo.

Read - How To Use Henna To Dye and Nourish Your Hair?
7. Ghee Mask
What's the main reason for grey hair, lack of nutrition? So, maintaining a healthy diet is helpful, also utilizing ghee could also have positive effects. Vitamins E, K, D, and A in Ghee prevents premature greying. The enzymes in the milk and ghee of cows are known to reverse and prevent the graying process.
Ingredients
Instructions
Step 1: Heat your clarified butter or pure ghee, then massage it on the roots.
Step 2: You can cover your hair by using a hot towel
Step 3: Rest it for 20 minutes, then wash it off

8. Ridge Gourd Oil Mask
Ridge gourd contains enzymes that restore the melanin pigment in your hair root. Coconut oil is known to be a natural conditioner that gives unruly hair. Both Ridge gourd and coconut are surely beneficial ingredients for greying prevention.  
Ingredients
Ridge gourd pieces  - 1 cup 
Coconut oil 
Instructions
Step 1: Add a cup of ridge-gourd pieces in a cup of coconut oil and leave it for about 3-4 days
Step 2: Boil the oil for a few minutes.
Step 3: Then, strain the oil and store it in a container.
Step 4: Massage the oil on your hair and scalp before going to bed, then wash it off with a herbal shampoo the following day.

9. Bhringraj Hair Mask
Bhringraj, also known as the 'King of Hair', is a popular natural remedy for premature grey hair issues. Brahmi Bringaraj is a homegrown herb that deals with heavy stress. This oil fixes the scalp's dryness and prevents the hair from greying.
Furthermore, it lessens hair fall by giving extensive sustenance to the hair roots. It also corrects your metabolism then works on the process of rebuilding the hair's natural color. Bhringraj powder is powerful in retaining color and reducing hair loss.
Ingredients
Bhringraj - 1 tsp
Coconut oil - 2 tbsp
Instructions
Step 1: Take a small pan, put in on low heat, and add 2 tbsp of coconut oil & 1 teaspoon of Bhringraj leaves or powder.
Step 2: Apply this warm mix on scalp and hair 
Step 3: Leave it on for about one hour and wash it off.

Alternatively, you can also use Bringadi Intensive Hair Treatment Oil to prevent premature greying of hair. One of the key ingredients in the oil is Bhringraj herb. It also has other beneficial natural ingredients for hair such as Amla, Balloon Vine, Hibiscus and Indigo.
10. Black Pepper and Lemon juice
Skip all your chemical dyes and turn to this natural hair dye solution to naturally turn the greys into black. Not just maintaining the hair's natural color, Black Pepper can benefit your hair in numerous ways.
Being rich in antioxidants, black pepper helps in fighting all the signs of greying hair. It enables you to maintain your healthy hair by delaying the process of hair graying. Lemon is also a great ingredient to suppress the premature greying of your black hair. 
Ingredients
Lemon juice - 1 tbsp
Ground black pepper - 1 tbsp
Yogurt - ½ cup
Instructions
Step 1: Add 1 tbsp of lemon juice and ground black pepper in half a cup of yogurt
Step 2: Blend it well, then massage it on the scalp and apply to the entire hair from roots to tips.
Step 3: Let it sit on the hair for an hour, then rinse it off with lukewarm water.
Lifestyle Changes As Remedy For Grey Hair
Are you worried about the few gray hairs that you spotted? Then you have to make a few lifestyle changes that could help you maintain the original hair color longer. We know that premature greying results from stress, genetics, poor diet, hormonal imbalance, and lifestyle. 
So, Ayurvedic experts offered advice on certain aspects that can play an important role in reversing your gray hair. Here are the few things which you can put in place to say adios to your gray hair.
1. Healthy Diet
Aging is unavoidable, yet gray hair doesn't need to be! The primary and major way to stop gray hairs is to eat right. It makes a huge difference. Greens, fresh veggies, fruits with lots of yogurts are what you need to eat regularly. Eating right makes your hair soft and smooth. It even helps in achieving long glossy hair without those sparkling white hair strands hanging around.
There are certain foods with rich properties that prevent gray hair. What is the best part? These are simple and delicious and also provide minerals and vitamins that keep the body humming along. So, you can easily add them to the diet and prevent those white hairs -

A.Ginger
Ginger benefits the body, hair, and skin in many ways. It is even effective in protecting your hair against that premature greying. Have a teaspoon of grated ginger mixed with 1 tbsp of honey to prevent grey hairs. (7)

B. Black Sesame Seeds
Do you want hair that is as black as the black sesame seeds? These black sesame seeds are known to be powerful elixirs for grey hair; they boost melanin production, which helps in giving the hair a tremendous pigment. They are super filled with antioxidants which can neutralize your hair's aging effect. Take one tablespoon of black sesame seeds two to three times a week to reverse the hair graying process.
C. Amla Juice
Amla is the best home remedy in terms of treating your hair. As it's packed with antioxidants and Vitamin C  properties, it doesn't just prevent hair from premature graying but can even make it healthy and give the lustrous shine we all desire for. Try to intake six ounces of amla juice daily or massage your hair one time weekly.

D. Wheatgrass Juice
Drink one-two ounces of wheatgrass juice daily. You can also mix one tablespoon of fresh wheatgrass powder into the smoothies or soups. Fresh wheatgrass juice is healthy and offers many benefits for the body. Using it regularly can turn the gray hair back to its natural color. The lesser-known fact about wheatgrass is that it can enhance your hair health too. (8)

E. Ashwagandha
Ashwagandha is also known as Indian ginseng.  The amino acid named 'Tyrosine' in the Ashwagandha helps stimulate the melanin generation in the hair follicles. Ashwagandha also deters melanin loss. So, girls or guys, you can prevent premature graying with Ashwagandha.  
2. Stop Smoking
Did you know that more than 1 billion people smoke across the world? This statistic is very mind-boggling, yet it's true. Smoking has always been linked with the premature aging of your skin and hair.

A study that is circulated in Indian Dermatology discovered that people who smoke are 2.5 times more likely to start greying prematurely than non-smokers. But why? Because smoking produces H2O2 and more toxic free radicals. We also know how much free radicals can break down your color-generating cells, melanocytes.
3. Protect Hair From Sun
Staying long hours in the sun could be the main cause of premature hair greying. Those toxic UV rays from the sun aren't just bad for your skin, but for your hair too. Staying outside in the sun for a long time damages the scalp and hair, which results in grey and dry hair. So, it is advised to cover your hair with a scarf, umbrella to protect your hair from sun exposure.
4. Reduce The Intake Of Caffeine
Not just smoking, even drinking too much caffeine or tea can also cause grey hair. Drinking caffeine can lower energy levels and can make you mal-nutrition which in turn is responsible for premature greying.
5. Avoid Hair Damage
Few hair care actions could damage the hair. A few are listed below.
Bleaching hair
Utilizing a brush than a wide-toothed comb, mainly on wet hair
Applying much heat through a hair dryer or curling iron 
Utilizing harsh shampoo and soaps
Washing hair frequently
6. Yoga And Pranayama
Premature graying of the hair is mostly observed in most young men and women these days. The main culprit is stress and an unhealthy lifestyle. Most of the time, it can be due to a deficiency of nutrients. Trying many hair dyeing medicines might not work yet; yoga and pranayama can save your hair from greying. Both yoga and pranayama are known for increasing the scalp blood circulation that improves healthy hair growth. Few yoga poses even help you in dealing with graying hair and offer natural and healthy black hair.

How To Dye Grey Hair Naturally 
The basic and the most obsolete way to hide your grey hair is by dyeing it. Are you looking for any home remedies to dye hair naturally? We got you covered. There are several healthy alternatives for those synthetic hair dyes. Henna and Indigo natural dyes are an ideal option among those choices.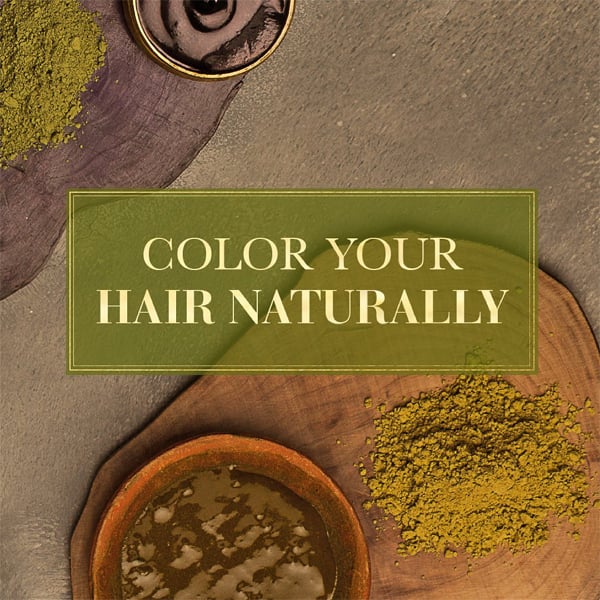 Read - How To Use Henna and Indigo Powder As Natural Hair Dye
What Is Indigo Hair Dye?
Indigo hair dye is a raw dye from the Indigo plant, also known as Indigofera Tinctoria. The leaves of this plant are refined, sun-dried then granulated to a soft powder. When this mix is blended with water, it releases the blue dye. The application of Indigo over hair not only dyes your hair but also offers incredible hair benefits. It improves hair growth and treats scalp infections. The best part is the indigo hair dye is completely free of chemicals, so it doesn't harm your skin, scalp, and hair in any way.
Benefits Of Indigo Powder For Your Hair:
Indigo provokes hair growth.
It is a cure for treating dandruff.
It is an all-time remedy for premature grey hair.
If it's mixed with henna, you get the best source of gorgeous shades of brown.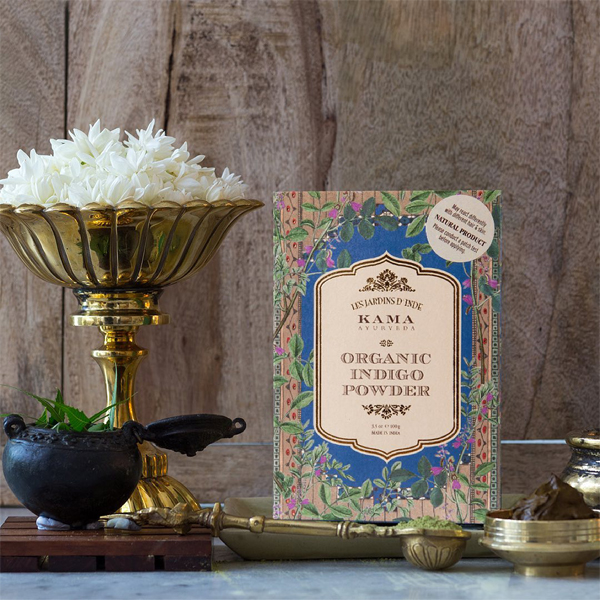 What Is Henna Hair Dye?
Henna is also referred to as Mehndi across India. It is the natural hair dye that comes from the henna plant. We could use dried leaves powder or fresh leaves to dye your hair. To make the henna hair dye, collect the henna leaves, sundry until they are crisp and have no moisture and then powder it finely. (9)

Just like Indigo, henna has huge hair benefits. It conditions and strengthens the hair while also promoting hair growth.

Benefits Of Natural Henna For Hair
Maintains good health of hair and scalp 
It makes your hair thick.
A trustworthy source of hair nourishment.
Act as a natural conditioner for your hair 
Lessens the hair fall 
Repair and treat damaged hair and split-ends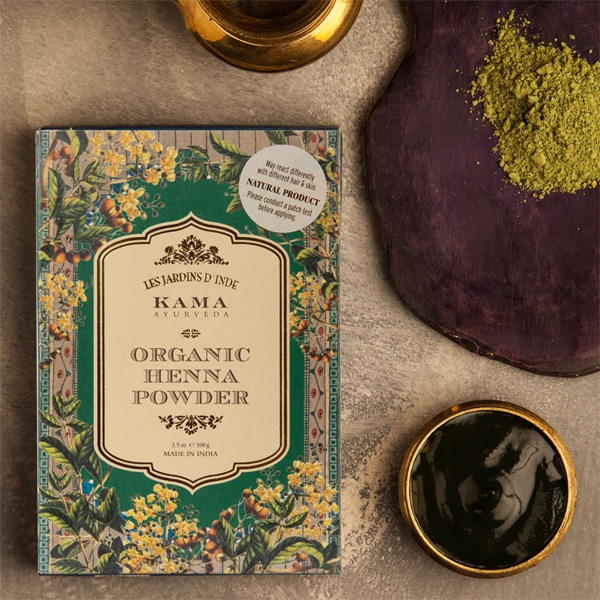 How To Use Henna & Indigo To Dye Hair Black
Make a paste of Organic Henna Powder with tea/coffee decoction & leave overnight. Apply to clean/dry hair.
Post 1.5 to 2 hours rinse clear with only water & let it dry
Make a paste of Organic Indigo Powder with lukewarm water & apply to clean, dry hair, due immediate color release.
Post 1.5 to 2 hours rinse clear with only water.
Patch/Strand test advised prior to global application, as some skin/ hair react to even natural products.
Allow 5-6 weeks if chemical dye used
How To Use Henna as Hair Pack or mask for Conditioning
Mix Henna with curd/egg or water to make a paste
Apply from root to tip wearing hand gloves & leave for 30 minutes. Cleanse off the hair using mild shampoo.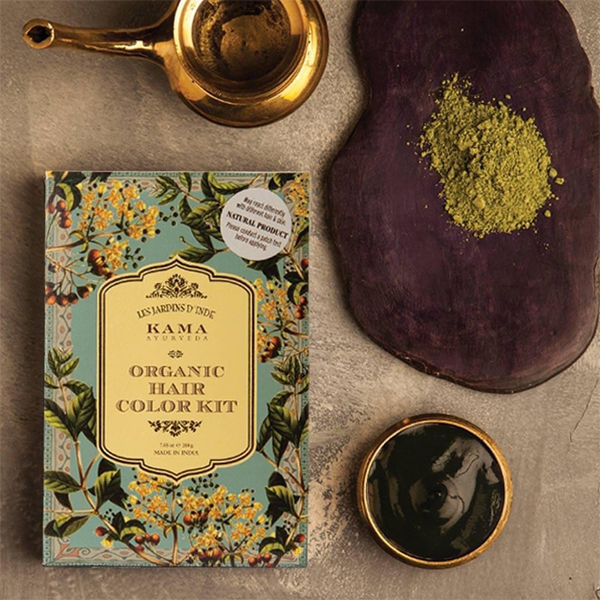 Our Organic Hair Colour kit has Organic Henna Powder as well Organic Indigo Powder. This hair colour kit helps you dye grey hair naturally without harming your hair in any way.
With this, we conclude our top hair greying tips and remedies. If you've any other questions or concerns regarding premature graying, you can book a free consultation with our Ayurvedic beauty experts.