Due to several factors, your face collects lots of dirt, debris, and oil, which gets trapped into your pores throughout the day. This results in blackheads and adult acne. To get rid of them, instead of simply popping your pimples or washing your face repeatedly, you need to go a step further and exfoliate your face.
Exfoliation is a must for every man out there as it is one of the best ways to remove blackheads, improve skin texture and repair scraggly skin. While your cleanser can only eliminate the dirt and excess oils, an exfoliator or a face scrub goes deep within to improve the overall wellness of your skin as well. It smoothes, refines, and cleans below the skin's surface so that you don't need to worry about breakouts.
So, there we said it - every man should include a face scrub in their grooming caddy. It is something they should use regularly, but not too often. Studies have discovered that most men either overuse a face scrub or don't use one at all.
So, how often should we use a scrub? Is it beneficial for our face? What is the best way to use a scrub for men? Which is the best face scrub for men? Let us get into the details about using a face scrub properly in your skincare routine to get brighter and clearer skin.

Is Scrub Good For Your Face?
A face scrub is one the best products that men can use in their skincare arsenal for healthier, clearer, and youthful-looking skin. The primary purpose of using face scrub is to remove dead skin cells that build up on the face and clog pores.
Did you know that the skin cells turn over about every two weeks? This means that your face has new cells every two weeks. If you don't shed the dead cells often, they build up and cause your face to look dull and lackluster over time. Solution? Use a men's face scrub that clears away the build-up and reveals a polished face.
Exfoliation also can do wonders for your shave as well. When you massage the area you want to shave before shaving with a face scrub, it softens up the facial hair and whiskers, allowing the blade to slide more easily. Using a men's face scrub before a shave also will raise the hairs further up from the skin. This means your blade will cut the hair closer to the skin, allowing cleaner, less frequent shaves. (1)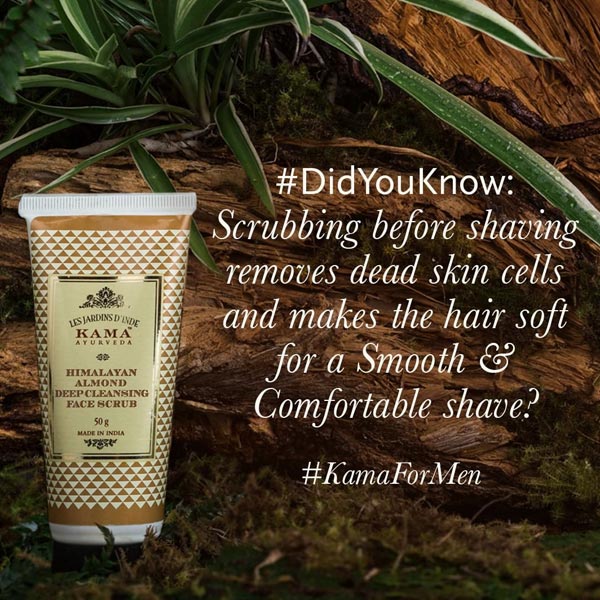 However, a face scrub is only good when you choose the right product. How to choose the right one? Read on to know! Well, there are four basic things you need to keep in mind while selecting the best face scrub.

1. Know Your Skin Type
You need to know what your skin type is before buying a face scrub. For example, if you have dry skin, then using a face scrub that caters to oily skin might cause more damage to your skin than good. So, making sure that you get a face scrub that is well suited for your skin type is crucial.
2. Understand the key ingredients and check whether you are allergic to any
Allergic reactions can be dangerous. Face scrubs are usually made up of a variety of natural and artificial ingredients. These can trigger some allergic reactions. Therefore, it is essential to understand the key elements and ensure that you are not allergic to any of them.
3. Ensure That Your Face Scrub Does Not Contain Any Harsh Chemicals And Go For Natural, Ayurvedic ones
When you exfoliate or scrub your face, you peel off a layer of the skin. So, it would be best if you made sure that there are no harsh chemicals in the product. It is recommended to pot for a natural or an ayurvedic scrub as it will go deeper into your skin than other products.
4. Check Whether They Are Made For Day Or Night Use
Some face scrubs are better suited for night use than morning. For instance, if you use one that has retinol in it, it is more beneficial to use it before going to bed. So get to know whether you want to exfoliate before going to bed or in the morning and choose a face scrub accordingly
How Often Should You Scrub Your Face?
As great as the benefits are of using a face scrub, we need to ensure that we are using it properly. Not using one at all isn't an option. However, overusing a face scrub can also cause issues. Too much scrubbing can make your face look dry, dull, and cause irritation.
So, what is the perfect solution? How often should you scrub your face? Well, one way is to align your facial scrubbing routine to your shaving routine. Scrub gently right before you shave for a smoother skin texture.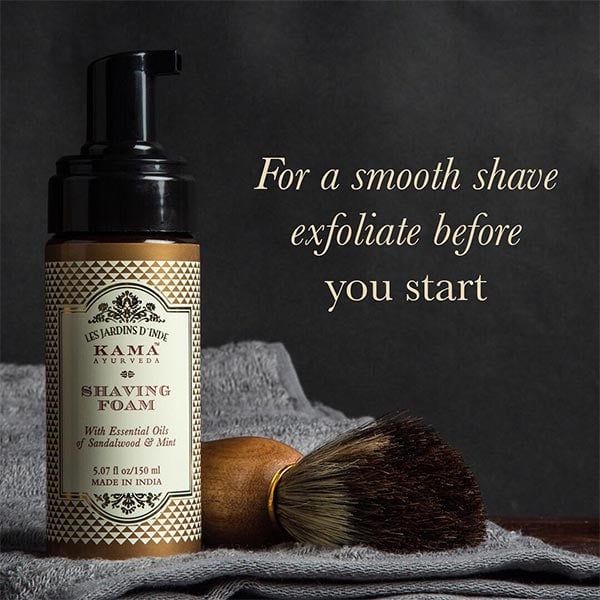 Alternatively, you can decide the frequency based on your skin type. The following list shows the best times to use a scrub -
Normal, Oily, or Combo skin
If you have either normal, oily, or combo skin type, you have the luxury of scrubbing your face one to three times a week without damaging the skin tissues. If you have an oily skin type, exfoliation can prevent excess oil build-up in your pores. However, as mentioned before, do not over-scrub as your skin might end up looking more oily and irritated.
Dry, Sensitive, Or Acne-Prone Skin
If you have sensitive, dry, or acne-prone skin, it is advisable to use men's face scrub, not more than once a week. Also, on days you are using the scrub, it is better to avoid using the cleanser as using both together might dramatically dry out your skin.

Best Face Scrub For Men Skin Care Routine
When looking for a good scrub we advise you to look for products that feature organic and natural ingredients. It is also essential to keep an eye out for any formula that features calming agents and moisturizers to offset the abrasion. With so many scrubs out there in the market, we know it can be a lot of process to choose the right one. But guess what, you got lucky! Kama Ayurveda has done the heavy lifting for you. We came out with the best pick for you.
Kama Ayurveda's Himalayan Almond Deep Cleansing Face Scrub for men is a creamy facial scrub that effortlessly clears oil, dirt, and impurities. It leaves skin soft, polished, and rejuvenated. Specially formulated for damaged and rough skin, this ayurvedic blend helps in exfoliating, smoothening, and promoting new cell growth.
Key ingredients of this face scrub comprise of -
Saffron
Almonds and
Sunflower seeds
Saffron
Saffron is an antioxidant that naturally brightens up the skin. It also helps in improving skin texture, treating ailments like pigmentation, marks, spots, dark circles, pimples, and acne. Saffron is a natural anti-inflammatory agent. (2) (3)
Sweet Almonds
Finely grounded almonds replenish the lost nutrients in the skin. They reduce acne and make the skin look healthier. Rich in Vitamins E and D, almonds nurture, nourish, and soften skin. (4) (5)
Sunflower Seeds
Sunflower seeds are rich in calcium, iron, zinc, magnesium, and vitamins like A, K, and E. These nutrients can be used effectively against inflammation and general irritations of the skin. The seeds also help in improving skin hydration. (6) (7)
With all the best ingredients in it, this Himalayan Almond Deep Cleansing Face Scrub leaves skin softened and ready for a smoother, closer shave.
Benefits Of Himalayan Almond Deep Cleansing Face Scrub For Men
Himalayan Almond Deep Cleansing face scrub is 99.5% natural.
It rinses off cleanly leaving skin clearer and conditioned.
It promises to illuminate complexion by repairing pigmentation, dark circles, spots, and marks.
The face scrub helps in minimizing fine lines and signs of aging.
It also moisturizes and smooths skin.
 How To Use The Best Face Scrub In Men Skin Care Routine

Well, you can find a lot of beauty tips for women, but for men, not as much. Cleansing and moisturizing are not enough to keep male skin clean and healthy. As discussed above, to keep away from dull, brittle, and dry skin you need to use a face scrub to make your face feel fresh and youthful. 

Every guy can benefit from using a face scrub regularly. We just recommend you follow these seven easy steps while using a face scrub.

1. Find a suitable time to scrub
2. Dispense the proper amount
3. Spread evenly over hands
4. Apply gently on the face
5. Rinse thoroughly
6. Dry gently
7. Apply a moisturizer
Let us break down these steps in detail -
1. Find a suitable time to scrub
Generally, you have to exfoliate your face only twice or thrice a week. For greater results, you have to rinse and clean your face before using a scrub. Choose a good natual facial cleanser that suits your skin type. It removes all of the excess oil and dirt from the skins and prepares it for exfoliation. 
You can avoid drying out your skin excessively by opting for a natural facial cleanser along with natural scrub. 
We recommend Kama Ayurveda's Himalayan Deodar Face Cleanser for men. It is a perfect hydrating face cleanser for men with the goodness of Cedarwood (Deodar). This ayurvedic blend is best known for its calming and purifying qualities. Being a source of pure natural ingredients, this face cleanser leaves the skin feeling fresh, supple, clean and preps the skin for a comfortable shave. 
It contains Aloe Vera juice which soothes and heals skin (8), Jojoba seeds which minimize fine lines, promote skin rejuvenation and suppleness (9). Himalayan Deodar face wash is also a great source of Vetiver root and Black Cumin seeds which are anti-bacterial, Lavender oil which acts as an effective toner (10) and Patchouli oil which has anti-inflammatory which tightens and tones the skin.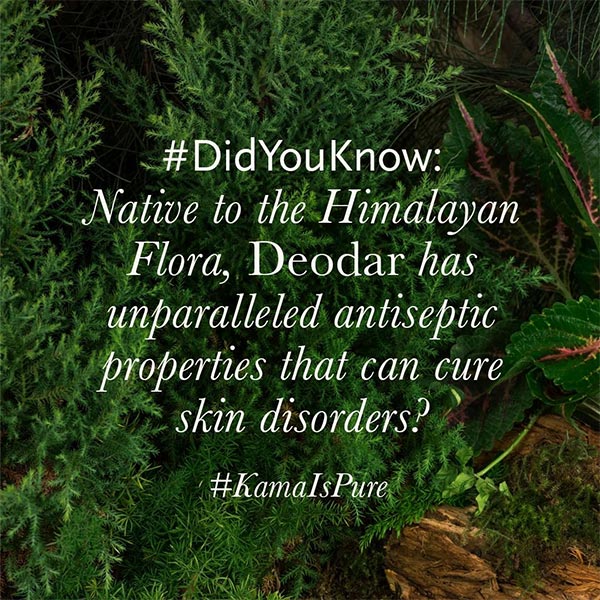 2. Dispense A Proper Amount
After thoroughly rinsing with a good face cleanser, and prepping the skin for exfoliation, take a very small amount of Himalayan Almond Deep Cleansing Face Scrub for men into your hands. Make sure to use a nickel-sized amount of scrub and apply it to your wet face.
3. Spread Evenly Over Hands
Before applying the exfoliating face scrub to your skin, rub both hands gently together to spread the scrub all over the hands. This helps in evening out the application on the face.
4. Apply Gently To Face
After spreading evenly on the hands, apply it to your face. Gently massage the scrub into the skin in a circular motion all over the face for approximately 10 to 15 seconds. Don't rub! Do not pull or stretch your skin while massaging the scrub. As the facial skin is very sensitive, you should not press hard with your hands while applying. Avoid the eyes area because the scrub can irritate. You can even use the scrub under the chin and neck area, as the neck is the extension of your face. If you have a beard, better extend the circular rubbing motion for another 10 to 15 seconds.
5. Rinse Thoroughly
Once the application of scrub is done, you need to rinse your skin thoroughly with lukewarm water. If the water is too hot, it may irritate your skin, so make sure you use water at room temperature.

6. Dry Gently
Dry the skin with a soft towel after rinsing the face with lukewarm water. Gently pat it to dry, and do not rub it. If you have acne, rubbing with the towel may lead to irritation. Use a soft towel to reduce irritation and redness.
7. Tone your skin
After cleansing and scrubbing, your skin needs a natural toner to balance the pH, tighten any open pores and prep the skin for moisturisation. 

We recommend Pure Vetiver Water, which is a refreshing face and body mist that is highly cooling, earthy and rejuvenating. Vetiver grass (Khus) has roots that are bittersweet and aromatic in nature. Due to its earthy and woody scent, it's well-suited toner for men and can also be used as an aftershave astringent.
8. Apply A Moisturizer
After drying your face, apply a moisturizer to keep your skin hydrated. We recommend you use a moisturizer that is specially formulated for men's skin, like Kama Ayurveda's Hydrating Ayurvedic Face Cream For Men or Skin Brightening Night Cream For Men. Applying moisturizer twice a day helps the skin stay young, fights wrinkles, and reduces skin problems. Moisturizer is a must-skincare routine that is safe and also well-suited for daily use.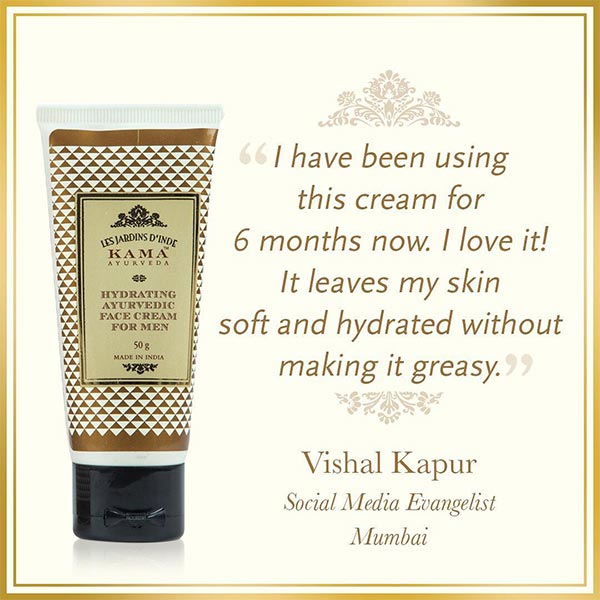 So that's all. In this article, we walked you through one of the best face scrubs for men and also showed you the right way to incorporate it in your skincare routine. If you've any other questions about using face scrubs or any specific skin concern, you can book a free online beauty consultation with our Ayurvedic beauty experts. 

References -