Is flaky scalp and dandruff one of your biggest hair concerns? We know how dandruff can be embarrassing and uncomfortable, especially in winters. But, don't worry! Shampoos specially made to control dandruff can be your new best friend. By using the best shampoo for dandruff you can maintain a clear and healthy scalp throughout the year.
While most of us think dandruff reflects poor hygiene, it is not valid. Dandruff has nothing to do about your hygiene practices. Dandruff is simply a condition that causes scalp flaking due to inflammation.
In this read, let us discover how an anti-dandruff shampoo works, their top benefits, and get to know about some of the best shampoos for dandruff that are available in India.
How Does Anti-Dandruff Shampoo Work?
Shampoos eliminate the excess oil, dirt, grime, and hair product residues that accumulate on your hair and scalp. In addition, they provide nourishment and boost scalp health. Therefore, choosing the right shampoo that can provide you with maximum benefits is essential.
How Dandruff Occurs
Though dry skin can cause dandruff, it is not the prime cause of this frustrating scalp condition. In fact, an oily scalp is more prone to dandruff than a dry scalp. Dandruff occurs when yeast (Malassezia Globosa) builds up on your scalp. This yeast-like fungus feeds off the sebum produced by the scalp and speeds up the cell renewal process, creating multiple layers of dead skin. These layers pile up and fall off in the form of visible flakes.
Though regular shampoos may remove some flakes, they don't treat dandruff. In fact, a regular shampoo might worsen the condition as removing natural oils from the scalp can trigger the overproduction of oils, giving the yeast more sebum to feed on. 
Read - Best Home Remedies To Get Rid Of Dandruff Naturally
How Does An Anti-Dandruff Shampoo Works To Fight Dandruff
Shampoo for dandruff has therapeutic effects that help nourish and soothe your scalp while keeping it flake free. With the potent ingredients that help restore the scalp's health, anti-dandruff shampoo reduces inflammation and irritation on it. It gets rid of the bacteria and other impurities that pay a significant role in triggering dandruff.
An anti-dandruff shampoo also helps control the oil production, which in turn controls yeast that feeds on sebum. It slows down the rate at which your scalp skin cells renew, thus removing the loose flakes.
Top Benefits Of Using An Anti-Dandruff Shampoo
The following are the benefits of using shampoo for dandruff.
1. An Anti-Dandruff Shampoo Eliminates Flakes
Anti-dandruff shampoo helps reduce dandruff flakes from falling on the shoulders by treating dandruff and dry scalp. Using it regularly can boost the health of your hair and scalp, giving you the confidence to style your hair in whichever way you like.
2. A Shampoo For Dandruff Gives Relief For Itchy Scalp
Itchy scalp can be caused due to multiple reasons, and one among them is dandruff. Itchy scalp is due to the scalp being irritated by product buildup, and frequent scratching of the scalp can even worsen the irritation. Therefore, it is always an excellent idea to use the best shampoo for dandruff to get relief from an itchy scalp.
3. An Anti-Dandruff Shampoo Cleans Away Debris
Shampooing your hair regularly helps clean dirt, grime, excess oil, and bacteria. A high-quality anti-dandruff shampoo made from natural ingredients will clean away all the dirt, grime, debris, and product buildup effortlessly to leave your hair and scalp clean and flake-free.
4. A Shampoo For Dandruff Helps Keep Hair Fall At Bay
Did you know half of the people suffering from dandruff also suffer from hair fall? So shampoo for dandruff can actually combat hair fall.
5. An Anti-Dandruff Shampoo Provides Use With A Quick Solution
The best thing about an anti-dandruff shampoo is that it can be used to treat many hair issues along with fighting dandruff. Use it for a few weeks and continue using it if you see improvement in your hair and scalp health.
However, it is equally important to consult a doctor if you don't see any improvements, as it is always wise to check for any underlying causes.
Best Shampoos For Dandruff In India
1. Kama Ayurveda's Bringadi Hair Cleanser
Kama Ayurveda's Bringadi Hair Cleanser is a nourishing, repairing, and volumizing hair cleanser that is clinically proven to reduce dandruff, hair fall, and oily scalp. It is 96% natural and is free of sulfates and parabens. The ayurvedic hair cleanser is best suitable for all hair types, including colored and treated hair.
Kama Ayurveda's Bringadi Hair Cleanser is clinically proven to reduce oily scalp and hair fall by 60%. Natural potent ingredients like Bhringraj, Amla, and Liquorice, help boost hair growth while reducing hair fall in just a month. In addition, the Indigo extracts help in naturally enhancing the volume of your hair after every wash.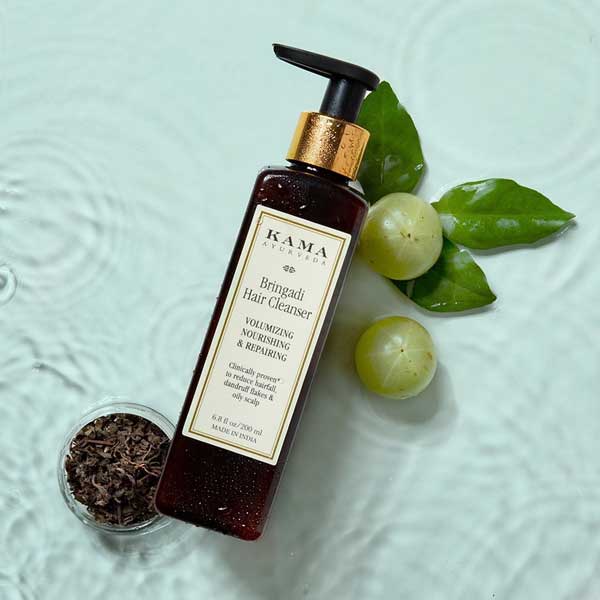 The unique Ayurvedic formulation of the Bringadi hair cleanser treats your damaged hair by penetrating deep into the scalp. It can repair the hair (from root to tip), protect hair from external environmental factors and boost hair and scalp health.
Kama Ayurveda's Lavender Patchouli Hair Cleanser
Kama Ayurveda's Lavender Patchouli Hair Cleanser is a mild scalp, and hair cleanser that calms and soothes dry and damaged hair. Enriched with nourishing Hibiscus extracts, the regular hair, and scalp Lavender Patchouli shampoo help add back moisture while replenishing the scalp for smoother texture and softness.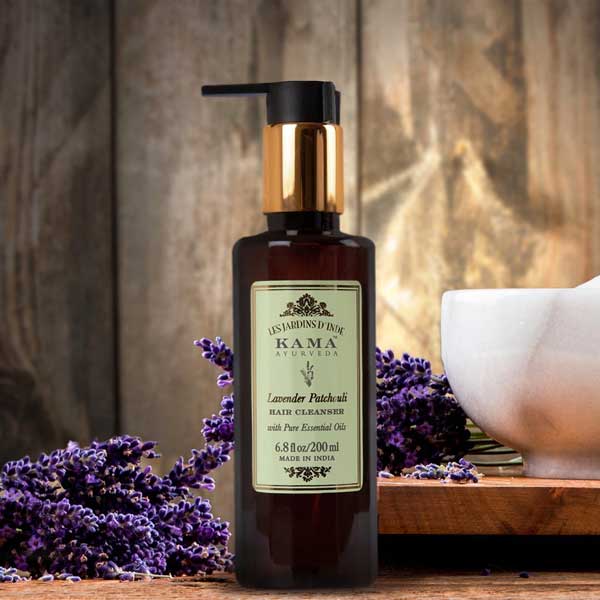 The Lavender Essential Oil in the nourishing and protecting hair cleanser calms and soothes the scalp while healing infections and irritations. The refreshing Patchouli essential oil, being an excellent natural antiseptic, antibacterial, and anti-inflammatory agent, repairs damaged scalp visibly. The other potent ingredients like Neem and Hibiscus are rich in antibacterial properties that help treat dandruff and reduce hair fall.
How To Use An Anti-Dandruff Shampoo The Right Way?
The natural ingredients in an anti-dandruff shampoo help boost the scalp's health. However, some of these ingredients might not work to their fullest if you don't use the shampoo properly. Even over-the-counter medicated shampoos can cause allergic reactions if not used correctly. So whether you are using a regular anti-dandruff shampoo or a medicated one, read the label thoroughly and follow the directions precisely.
Wet your hair and scalp thoroughly with clean and fresh water.
Take enough of the shampoo and cover the entire scalp area. Now, gently massage the scalp and comb through the hair. 
When rich lather is produced, leave it on for about 3 to 5 minutes, allowing the active ingredients in the shampoo to work on your scalp.
Later, rinse and clean your scalp and hair using lukewarm or cold water. It is advised not to use hot water as it makes your scalp and hair drier.
You can repeat this procedure every day or as directed on the label. If dandruff alleviates and no flakiness and irritation are seen, you can switch to regular mild shampoos.
However, experts recommend using an anti-dandruff shampoo once a week to prevent dandruff from reoccurring.
Falling flakes and scalp itchiness shouldn't ruin a perfect hair day. So, ensure that you treat your dandruff as early as possible to prevent it from worsening. Try to choose natural hair products as they only do good to you and your hair. Opt for a high-quality shampoo that helps maintain a clean scalp and lustrous hair.
Common Mistakes To Avoid While Using An Anti-Dandruff Shampoo
The following are a few of the most common mistakes to avoid while using an anti-dandruff shampoo.
1. Do Not Apply An Anti-Dandruff Shampoo Before Getting Your Hair Wet
Applying shampoo before getting your hair wet is not a wise thing to do. This is because shampoos are viscous liquids and can stick to your hair if no water is applied.
2. Never Apply An Anti-Dandruff Shampoo Directly On To The Scalp
Applying shampoo directly to the scalp or hair is an ineffective way. Instead, try taking some of the shampoos onto your palms, rub them together to build some lather and then massage it to your scalp and hair.
3. Use Your Fingertips and Not Nails To Rinse The Shampoo
Using nails is one of the most common mistakes people make while rinsing an anti-dandruff shampoo. Nails can cause damage to the scalp.
4. Never Use Hot Water
Hot water bath in cold weather can be very tempting, but it is not a good option for your scalp. Water above a specific temperature can damage your hair follicles and make your hair and scalp dry.
5. Rinse Clean The Shampoo Thoroughly
After massaging the shampoo for a good two to three minutes, it is crucial that you ensure that the entire shampoo is rinsed off your hair and scalp in a gentle yet thorough manner.
FAQS
1. How Can One Tell That They Have Dandruff Or Dry Scalp?
One of the primary differences between dandruff and dry scalp is that dandruff is a medical condition, and a dry scalp is not. Therefore, while you can avoid dry scalp by simply shampooing less frequently, you can not prevent dandruff unless you treat it.
Read - Dandruff Vs Dry Scalp – What's The Difference?
2. How Can You Get Rid Of Dandruff Permanently?
Dandruff, also known as Seborrheic Dermatitis, is a chronic and recurring condition of the scalp. While using a shampoo for dandruff at least two to three times a week can treat dandruff, chances are that it will reoccur after some time. So, when dandruff reoccurs, you should start using the shampoo again.
3. How Should I Treat Dandruff Fast?
If you have mild to moderate dandruff, try brushing your hair and shampooing more frequently. If you have severe dandruff, switch to a shampoo specially made to treat dandruff.
4. How Often Should One Use A Shampoo For Dandruff?
The answer to this entirely depends on how often you wash your hair. If you opt for natural anti-dandruff shampoo, you can typically use it as often as you lather up. You can also alternate between your typical shampoo and a dandruff-specific shampoo.
5. What To Look For In A Dandruff For Shampoo?
The following are the top three ingredients to look for in the dandruff shampoo you choose.
Anti-Fungal Ingredients - the anti-fungal ingredients in a shampoo help curb the impact of microorganisms and bacteria that might be responsible for your dandruff. Therefore, everyday ingredients like Zinc help in reducing dandruff.
Soothing Elements - Ingredients like lavender oil, rosemary oil, green tea extract, and mangosteen are rich in antimicrobial, antiseptic, and anti-inflammatory properties. Though these might take a longer time to impact dandruff, they are very effective in the long run.
Color Protection - If your hair is color treated, ensure the shampoo you choose is color safe. Though the anti-fungal ingredients are very effective in impacting dandruff, they can be harsh on color and cause premature fading. Therefore using a color-safe shampoo can not only help you keep the flakes at bay but also extend the life of your hue.