There aren't many downsides to the warmer months of the year, but humidity and frizzy hair are two less desirable outcomes of summer. In warm temperatures and climates, our hair becomes frizzy and prone to drying out. Besides, no matter how much time you spend styling your hair to combat frizz, without using the appropriate products, your hair will become fuzzy and a little messy before you know it. 
Therefore, to help you fight the summer heat and humidity, we have gathered two of the best shampoos for frizzy hair. With every wash, all the ingredients present in these shampoos will work towards controlling frizz and leave your hair sleek and shiny.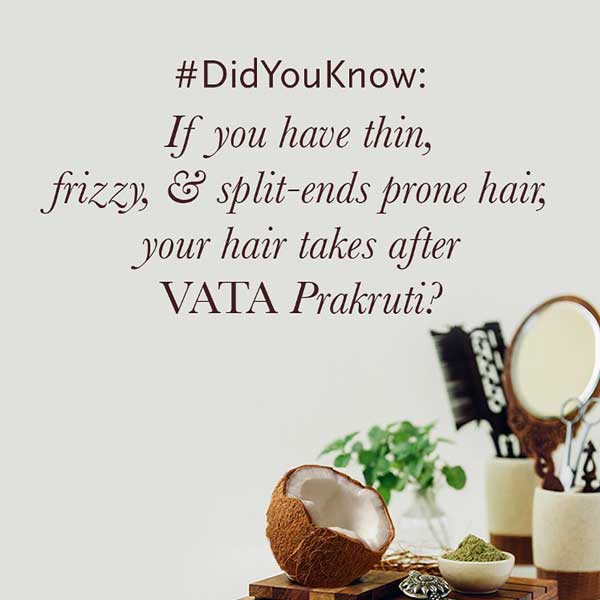 Benefits Of Using A Shampoo For Frizzy Hair
It's not an easy task to manage dry and frizzy hair. It gets inconvenient to take care of them daily, and lack of proper maintenance can lead to several other hair problems. Therefore, getting a shampoo for dry and frizzy hair is best.
Let us now understand the importance of shampoo for dry and frizzy hair in a better manner. Below are some of the advantages:
A shampoo specifically meant for dry and frizzy hair will offer faster and more effective results. 
It makes your hair easily manageable, so you can style it any way you desire.
These shampoos are infused with natural and mild ingredients that nourish your scalp. 
These shampoos do not over-dry the scalp and hair. 
Shampoos for frizzy hair repair damage and reduce hair fall and breakage.
You get silky, smooth, and shiny hair. 
Read - How to Get Rid of Frizzy Hair: 9 Best Tips to Tame Frizz
Things To Consider Before Buying A Shampoo For Frizzy Hair
Choosing a shampoo that suits your frizzy hair the best can be a challenging task. You'd want something effective and safe for your hair so your hair problem does not worsen. Therefore, if you are planning to buy a shampoo for frizzy hair, the following things should not be missed.
Ingredients
Always look for a shampoo that inherits moisturizing and hydrating properties. Shampoos that contain nourishing ingredients like Almond oil, Jojoba oil, Argan oil, Shea butter, Keratin, Coconut milk, and are rich in protein are considered suitable for frizz-control and dryness. 
Besides, these ingredients tame the frizziness and reverse the damage. Further, mild yet effective shampoos help maintain the adequate pH balance of your scalp and keep your hair healthy. Furthermore, try to avoid buying a shampoo that carries parabens and alcohol.
Inherit Damage Control Properties
Frizz may aggravate your hair damage and breakage. Therefore, buying a shampoo that repairs and heals your hair becomes necessary. An anti-breakage shampoo with frizz and dryness control works the best to keep your hair thick, bouncy, shiny, and healthy.
Hair Issues
Buy shampoos that address specific hair issues. For example, if you have problems like dandruff or itchiness, buy shampoos that address these issues besides frizz control. Also, if you have colored hair, look for a mild SLS-free shampoo, as this helps in reducing hair breakage and frizziness.
Cost
The cost of shampoo depends upon the quality ingredients used. A good quality shampoo contains chemical free, nourishing, and safe components compared to regular anti-frizz shampoo. As a result, they can be costlier. Therefore, try to opt for a decent mid to high-range shampoo with good ingredients. However, always remember to check the reviews of shampoo before buying. Further, you can also try sample-size products to be extra sure.
Quick Lather
The shampoo must have an excellent lathering effect to clean your scalp and hair properly. This allows you to clean your scalp thoroughly so that the product penetrates deep into your scalp and does proper nourishment. Moreover, a fine and quick lather will make washing your hair easier with a bit of shampoo. 
Good Fragrance
Even though this factor is not that important, some people desire to have good-smelling hair. This will prevent hair odor and also enhance your bathing experience. However, the shampoo must use only natural fragrance as the added fragrance can sometimes trigger allergies or skin irritations.
2 Best Shampoos For Frizzy Hair
Here, we have rounded up the best Ayurvedic shampoos for your frizzy hair. So go ahead and find your pick. These shampoos have a nourishing formula that does the job of gentle cleansing while giving your hair that significant dose of moisture.
1. Kama Ayurveda Himalayan Deodar Hair Cleanser - For Men
Himalayan Deodar Hair Cleanser is a mild hair cleanser, free of SLES (Sulfates), Parabens, and Petrochemicals formulated to gently cleanse hair without stripping its natural oils to make it soft and shiny. 
The cleanser contains vegetable source Soy Protein that binds moisture and improves hair's tensile strength. In addition, the product contains organic Aloe Vera juice and Hibiscus extract that reduces hair loss, promotes hair growth, and conditions your hair. Further, it is blended with pure essential oils of Himalayan Deodar to give you nourished and healthy hair. Furthermore, the shampoo makes your hair resilient against daily environmental aggressors while protecting it from heat damage and brittleness. In addition, it is effective in taming frizzy hair, strengthens the follicles, and detangles your tresses with its moisturizing and nourishing properties.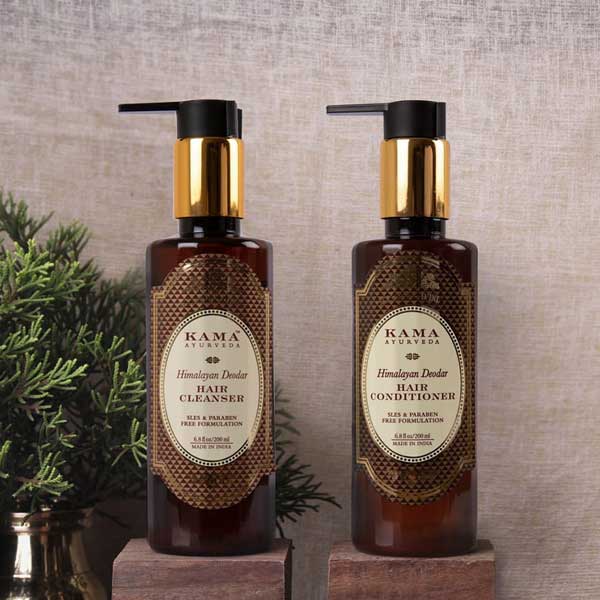 2. Kama Ayurveda Lavender Patchouli Hair Cleanser - For Women
A mild hair and scalp cleanser soothes and calms dry and damaged hair to naturally nourish and protect while cleansing. Kama Ayurveda Lavender Patchouli Hair Cleanser is a regular hair and scalp cleanser specially formulated for frizzy and damaged hair. 
It is enriched with nourishing hibiscus extracts. These hibiscus extracts add back moisture and replenish your scalp for smoother texture and softness. Besides, the lavender essential oil soothes and calms your scalp to heal irritation and infections. Also,refreshing patchouli essential oil acts as a natural antibacterial, antiseptic, and anti-inflammatory activity to repair scalp damage. Further, a herbal blend naturally moisturizes, smoothens, and protects hair with every wash.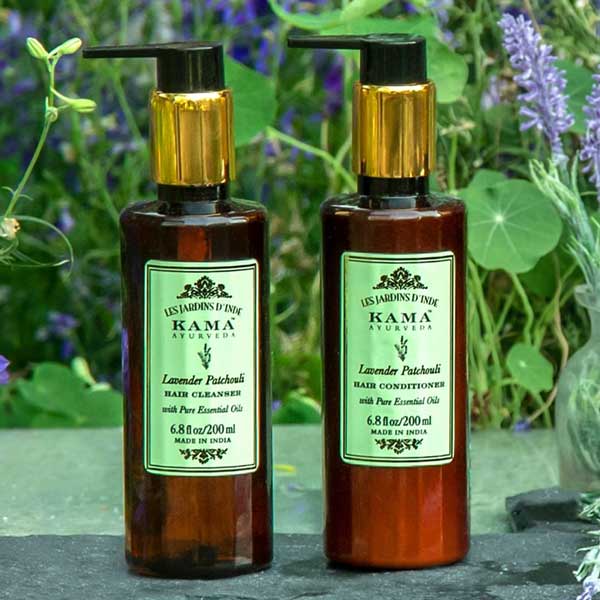 Right Hair Care Regimen To Fight Frizziness
Several factors contribute to frizzy hair, but a good hair regime can help you fight it. It can also help you in solving multiple hair problems at the same time. Below are some things that can help you maintain your hair quality and texture. So, if you follow these steps without skipping any, we are sure nothing can stop you from counting your smoother hair flips.
Apply coconut or any natural oil to your hair for effective hair care.
Always try to wash your hair only twice or thrice a week. Do not wash your hair every day. 
Try using a mild shampoo that consists of natural, ayurvedic, and other superfoods necessary for managing dry hair. 
Apply the shampoo evenly to wet hair while cleansing.
Massage your scalp and create lather.
Rinse thoroughly and ensure no soap or shampoo residues are dwelling in your hair or scalp. 
Remove the excess water from your hair and take a coin-sized conditioner onto your palms. Rub it with your hands and fingers.
Emulsify it only on your hair and never on the scalp, and rinse it thoroughly. 
When your hair is damp, pour a small quantity of serum on your palm and fingers and detangle your hair gently. 
Do not depend on blow dryers to complete drying your hair.
Read - 
FAQs
How do shampoos for frizzy hair work?
Interestingly, some anti-frizz shampoo formulas contain anti-humectants that prevent your hair from absorbing too much moisture and, thus, preserve its natural texture. Besides, this is usually useful for smoothing out coarse, curly, and coiled hair or for those who experience excess frizz due to high humidity levels. On the other side, you might also be experiencing frizz and flyaways because your hair lacks moisture so a humectant will be your ultimate savior.
Are shampoos for frizzy hair safe for all hair types and textures?
Yes, shampoos for frizzy hair are safe. But, it is recommended to look for one specifically geared towards your hair type and texture. Lighter, clarifying shampoos will smooth more delicate hair without weighing it down, while rich formulas with ingredients such as shea butter are great for coarse, porous hair.
Should I wash my hair daily? 
No, you should avoid washing your hair daily as it unwinds the natural texture, quality, and health of your hair. Also, it can result in extreme frizziness and lifeless hair that will misbehave with you most of the time. Further, washing your hair at least twice or thrice a week is recommended. Shampooing your hair every day will lead to hair fall and thinning of hair. 
Is it necessary to use a conditioner for dry hair? 
Dry hair becomes prone to multiple hair breakage, split ends, and hair fall. In addition, this malnourished hair requires too much moisture and natural oil to maintain the nutritional status of your hair. A container is like a moisturizer that helps in the easy detangling of hair and offers hydration and deep nourishment. Thus, you must own a conditioner if you possess dry and especially curly or wavy hair. 
How to maintain frizzy hair after shampoo?
While a good shampoo is needed to manage frizzy hair, you also require some extra aftercare. To begin with, start oiling your hair before washing it. Also, follow the shampooing complementing conditioner and finish the routine with a leave-in serum.
Conclusion
There is no doubt that it is essential to take care of your hair regularly; otherwise, it can become frizzy, dry, and damaged. So, the best way to keep your hair nourished is by properly oiling them and washing it with a shampoo that adds up nourishment to your hair. In this article, I have listed the best shampoos for frizzy hair that you can use and say goodbye to dry & damaged hair. So, grab the best shampoo for your hair, and get smooth and silky hair today!