Love dozing on the hammock, sipping your pina colada, among the palm trees? That tranquilness along the coast is perfectly therapeutic! Well, you might not know this but this wonderful palm tree also provides us with one of the most popular and widely used beauty ingredients - Coconut Oil.
Every part of a palm tree can be productively used in some way or the other. And it is the seed of this tree 'The Coconut' that yields the popular Coconut oil that is well known for its many benefits not only for our hair but also for our face!
Yes, don't be surprised! You might have used Coconut oil only for your tresses but the ancient science Ayurveda emphasizes the many benefits of using Coconut oil for face. According to Ayurveda, Coconut oil is a natural coolant that helps in diminishing the fire elements in a person's mental, physical, and emotional character.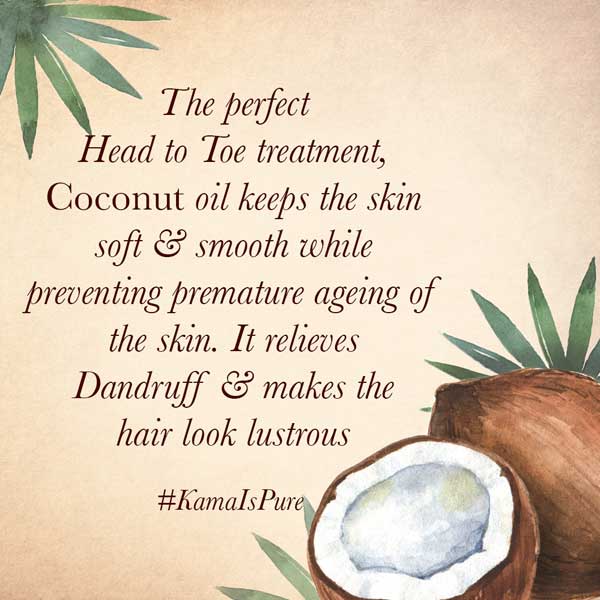 The oil has special therapeutic and healing properties. For this reason, it has found use everywhere - for your hair, for your skin, for massage, for aromatherapy, and even for cooking!
If you're still getting used to the idea of applying Coconut oil on your face, let's walk you through some of the many uses and benefits of the oil.
Benefits Of Using Coconut Oil For Face
The main component that sets coconut oil apart among the oil clan is the existence of lauric acid / dodecanoic acid and caprylic acid. These acids aid in decreasing inflammation and enhancing immunity. Also, their presence makes coconut oil filled with rich antimicrobial properties. 
It's important to note that only 100 percent natural, pure, and organic Coconut oil will provide the best benefits for your skin. We recommend Kama Ayurveda's Cold Pressed Extra Virgin Coconut oil for application on the face.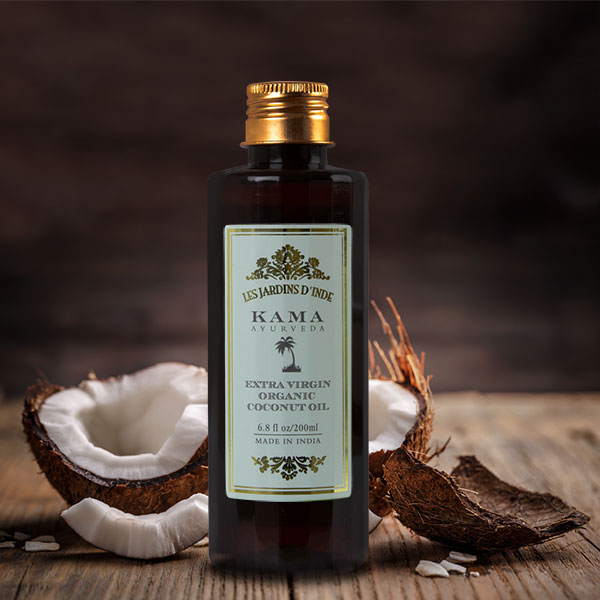 Read - Why Is Virgin Coconut Oil So Good For Your Hair And Skin?
1. Fights dark-circles and hyper-pigmentation 
Just one weekend of binge-watching series or even binge studying over-night is sufficient to find that uninvited guest, right under your eyes! However, Coconut oil could assist you. It could lighten the areas under your eyes and even help in reducing the spots caused by hyperpigmentation. It even diminishes the puffy look of the eye bags since it consists of anti-inflammatory properties. However, be certain about the cause of the dark circles since in some conditions they can even be an indication of underlying health implications.


2. Induces relaxation
With an increase in stress despite the work from home profile and worries of lay-offs in recent times, the need to relax has augmented like never before. Massaging your face with a slight amount of coconut oil could do the trick of soothing your skin and relaxing your facial muscles. Also, its subtle aroma can calm your senses.


3. Works as a moisturizer
Don't we all dream of skin that is smooth, supple, and free of dry patches. Coconut oil with its hydrating capacity owing to the high amount of fatty acids makes the skin feel delicate and supple by penetrating the skin's deepest layers.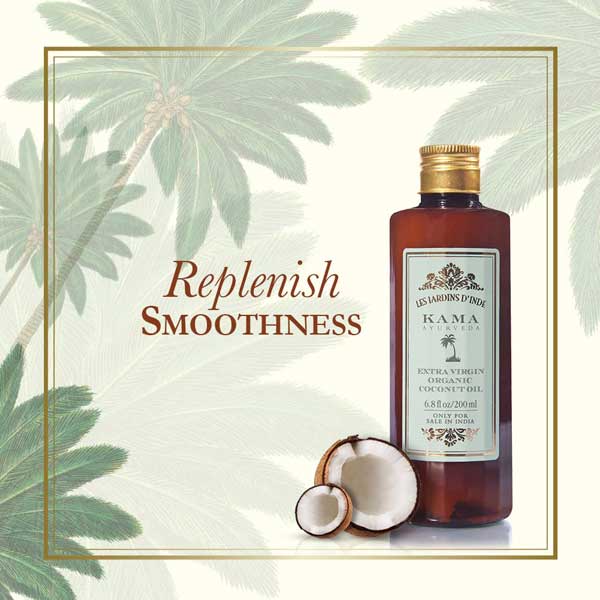 4. Acts as a sunscreen
Applying Coconut oil before heading out into the sun for a short while or before taking the dip in the swimming pool would be beneficial for you. It secures your face by acting as a barrier between the skin and the harmful radiations that could cause skin burns or tans. It has an SPF of 4-5 which is not sufficient for long hours of sun-trauma. But if it's for a short period this natural sunscreen would work.
5. Make-up remover
Coconut oil in a large quantity is quite oleaginous and slimy. This property works effectively to cleanse your skin and pulls off the makeup seamlessly. It not only removes water-resistant make-up formulas but also leaves your skin feeling moisturized.
6. Consists of anti-aging properties
Coconut oil contains antioxidants and vitamin A as well as vitamin E. This reduces the damage caused by free radicals of the sun which leads to quicker aging. Due to the promotion of collagen production, it aids in reducing the fine line as well as wrinkles. 
The research stating its benefits on wrinkles is insufficient, however, it is proved that a higher amount of collagen helps in tightening the skin and improving its elasticity which should surely work against wrinkles.
7. Works As Natural highlighter
Have a video conferencing call but feel lazy to apply make-up just for that short span. Go ahead and dab a light amount of coconut oil on your cheekbones, bridge of your nose, and finally under your brow bone. This would make your cheekbones prominent and accentuate your facial features in a subtle yet effective way.
8. Enhances those eyelashes and eyebrows
Grooming your eyelashes and eyebrow is quite common among girls, however, to groom it well, nourishing it also has paramount importance. Coconut oil can provide that needed subsistence and assist in maintaining your lashes and brows. Apply Coconut oil on the brows and lashes to improve their texture and thickness.
9. Heals bruises and blemishes
Bruise your face with that scrubber, or in case you discover the scratches on your face after the party caused by that pointy- sharp ring, coconut oil could help. This oil has the superpower to heal wounds and ease the pain as it contains monolaurin (derived from lauric acid) which is a fatty acid renowned for its antibacterial properties. High-quality coconut oil could also keep the risk of infection within healing wounds at bay. To top it all, it even prevents scarring and blemishes after the skin is restored.
10.  Works as a lip gloss
Ditching the lipstick and going nude and glossy by employing coconut oil for your lip duties could give you a magical look. It not only enhances your overall look but also being a natural-product you would not even have to bother taking it off. In addition, it does the double work of moisturizing your lips as well. So no more dry and chapped lips!
Should I use coconut oil for the face?
Despite all the benefits stated, like every other super ingredient even coconut oil has its drawbacks. Coconut oil is best suited for people, specifically having to deal with dry skin. Even though there are studies claiming coconut oil to be gainful in treating acne-related issues since it has antimicrobial, anti-bacterial, anti-viral, anti-inflammatory properties, all of which work against acne formation, there are studies which contradict these claims.
So, is Coconut oil good for the face?
It has been stated that coconut oil ranks among the highest in the comedogenic ratings, this means that it has the unfavorable impact of clogging pores. Thereby making acne-related complications, whitehead, or blackhead severity more tortuous. It has been implied that the way the comedogenic products affect our skin depends on various other factors like the size of the pores, also it would work differently on oily skin as compared to the drier skin types.
This refuting issue has made the use of Coconut oil to treat acne significantly controversial (As a reason we didn't include the assertion of 'coconut oil curing acne' among a benefit). 
Thereby, the application of coconut oil on your face is not recommended in case of acne or oily skin related issues as it could be risky and only worsen your concerns. 
Note - You can avoid many side effects of using Coconut oil for face by choosing only 100 percent pure, natural, and organic options. We recommend Kama Ayurveda's Cold Pressed Extra Virgin Coconut oil for application on the face.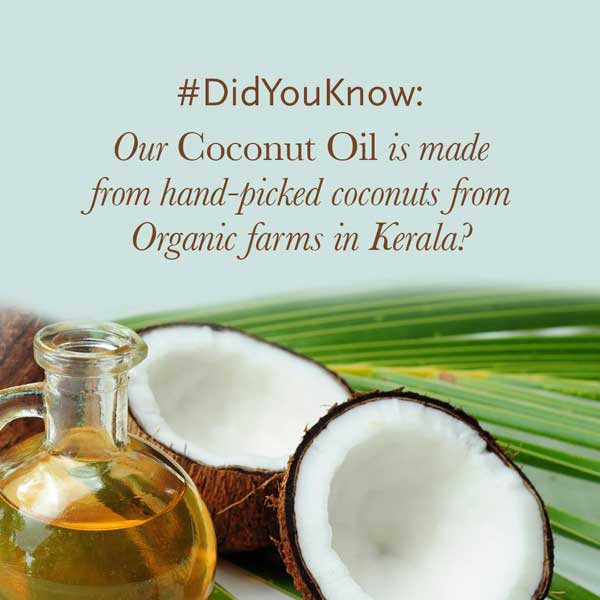 On the brighter side, there are many medical conditions for which Coconut oil is a scientifically proven treatment. If you suffer from any of these skin conditions on your face, you can benefit from using Coconut Oil.
     In common terms, this disease is also known as 'Eczema'. It usually affects the pediatric population. The physical symptoms include redness and itching sensation. Presently, there is no cure for Eczema or it may heal over a while, however, the flaring symptoms could be alleviated or controlled.

The presence of lauric acid in coconut oil owes to its antimicrobial properties which makes it advantageous in controlling bacteria, fungi, and viruses. Thereby, posing as an effective remedy for such a skin condition
This bacteria causes serious infections including pneumonia as it hinders the functioning of your upper respiratory tract in most of the cases. With regards to the skin, it can form an abscess, dry scaly patches, boils, furuncles, and cellulitis which are painful.

Studies claim that to modulate the immune system Virgin Coconut oil might be used. In many cases, this bacteria occurs along with the presence of Atopic dermatitis and the benefit of coconut oil for it has been mentioned afore.
This skin condition is also characterized by itchy, scaly, and dry skin. The skin barrier function seems to be affected here. Studies state that Coconut oil has helped patients by improving their skin hydration and has significantly increased the lipids at the skin surface level. Thereby, it has been proved that coconut oil is an effective moisturizer and as beneficial as mineral oil.
How To Use Coconut Oil For Face?
If you want to start using Coconut Oil for face as a part of your skin care routine, there are many ways to do it. You don't need to apply Coconut oil on your face overnight. There are many ways in which you can introduce it in your skincare regime to reap its benefits. 
Coconut Oil As A Face Cleanser
Pour Coconut oil on your palms (you can be generous with the amount) and rub them together. Apply the oil thoroughly all over the face. Massage it for some time to allow penetration into your skin. This will help in dislodging the impurities and dirt from the skin.

Next, take a cotton cloth and wipe the oil away. In case your skin is dry, wash your face with plain water. For other skin types, follow up with cleansing of the skin with a mild natural cleanser.


Coconut Oil As A Moisturizer
Before hitting the bed, take 1- 2 drops of coconut oil rub it within your palms just to warm it a bit and gently massage it on to your face and neck. You would be surprised to wake up with silky smooth skin. This routine could even be followed after having a shower to maintain your face moisturized throughout the day.

Note - We do not recommend the overnight application of Coconut oil if your skin is acne-prone or oily.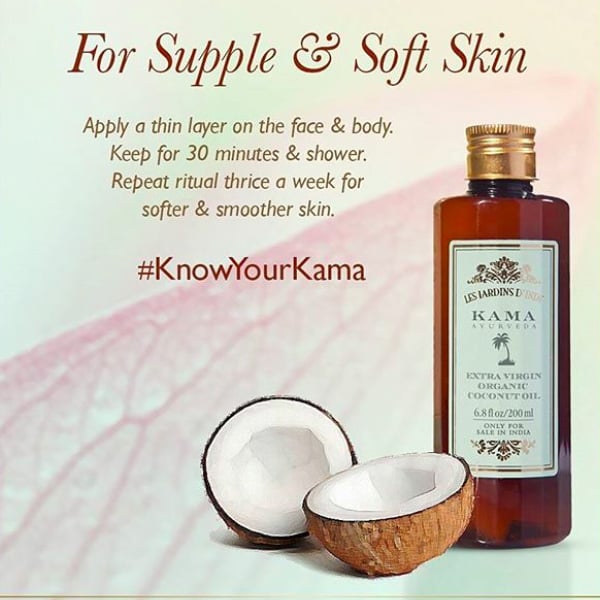 Coconut Oil As A Makeup Remover
Being able to use a natural product to remove make-up would surely do justice to your skin. There are two ways you could coconut-oil to get rid of the make-up, depending on the quantity of makeup
Removing Light make-up: Apply Coconut oil on your face, rub it gently all along melting and smudging away the make-up. Do not do this for long since cosmetic products contain chemicals and mixing them all over your face would do more harm than good. So, immediately wash away with your regular face wash as soon as you smudge them.
Removing Heavy make-up: Dip multiple cotton balls in coconut oil. Keep them aside. Next, gently smear the makeup beginning from the mascara, eyeshadow, eye-liner. Take another cotton ball and wipe away the lipstick. After this, you can use two different ones to clean the T- area of your face (forehead, bridge of the nose, chin) and the other to wipe off the products applied on your cheeks.

When you have applied different products like mascara, lipstick, blusher, eyeshadow, highlighter, etc this method of removing make-up will work better for you. Finally, wash your face using a mild face-wash along with warm water.
Coconut Oil As A Face Scrub

Coconut oil along with brown sugar can work out as a perfect scrub for your skin-care procedure. Add two tsp coconut oil to two and a half tsp brown sugar in a bowl. Mix it well and immediately scrub your face gently in a circular motion. Be careful to be delicate throughout, especially under the eyes. As facial skin is comparatively thinner, being too aggressive while scrubbing could cause abrasions. Next, wash out the scrub after rubbing for half a minute and wash your face with luke-warm water. 
Coconut oil will assist in adding and maintaining the moisture of the skin and sugar would function as an exfoliator, helping to pull out the dark heads, whiteheads along with the dead skin cells. This is an ideal scrub for those prone to facing dust pollution. Depending on the exposure the frequency of applying this face scrub could be every alternate day to twice in a week.
Coconut Oil As A Face Mask
Coconut oil can be utilized along with various other natural ingredients to maximize the benefits.
1. Coconut Oil with Honey for Dry Skin
Honey is rich in antioxidants and can collectively foster collagen production. Take out that natural sweetener from your shelf and give it a role in your skincare functions. It can do wonders for your skin when used with Coconut oil.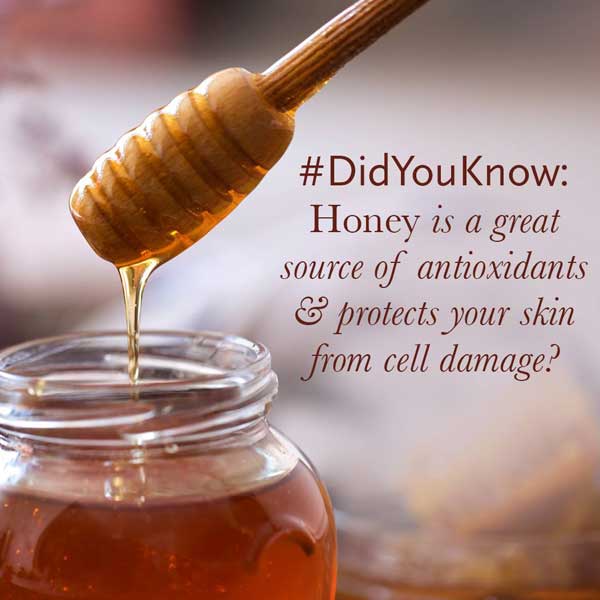 To get on with the procedure, mix one tsp coconut oil along with one tsp honey in a bowl. Coconut oil and honey both are adhesive. Due to this, the resultant product would be extremely gooey and sticky. Apply a thin layer of it over your face and relax for 10mins to 20mins. After that wash the mixture with regular water and pat dry. Your skin would surely be glowing radiantly after a couple of applications.

2. Coconut oil with Lemon for Tanned Skin:
Suffering from a tanned skin? This mask could be at your service. Lemon being a citrus fruit, is pretty high on the pH index level and filled with vitamin C which helps as an anti-oxidant and at the same time reduces the melanin.
Lemon even decreases excess oil from the skin and embodies anti-inflammation properties. To make the mixture, squeeze half a lemon in a bowl and add one tbsp of Coconut oil to it. Apply it generously over the face. Leave the product for 10 minutes and later rinse it off with lukewarm water. This mask can be effectively applied twice a week. Care must be taken to not use this mixture in case of excessively dry skin. 
3. Coconut oil with Baking Soda For Gentle Exfoliation:
Ever thought these ingredients used in your baking could also aid with your skincare. Baking soda acts as a natural toner, it gives a firmness to the skin especially saggy skin. It also contains mild exfoliating properties. As it is alkaline it seamlessly maintains the pH level of the skin.
 To get on with the procedure add 2tsp coconut oil to 1 tsp baking soda. Make a paste by mixing the product. Gently apply this product over your face, be careful that you do not allow the mixture to enter your eyes or mouth. Leave it to dry for 10- 15 minutes. After this wash your face with cold water and pat dry.

4. Coconut oil with Turmeric for Glowing Skin: 
Turmeric is used favorably in every other cuisine across the globe. This ingredient is even used extensively for providing a natural glow to your skin. Turmeric contains antioxidants and anti-inflammatory properties which makes it ideal for reducing redness and puffiness along with reviving your skin complexion and bringing back that faded radiance.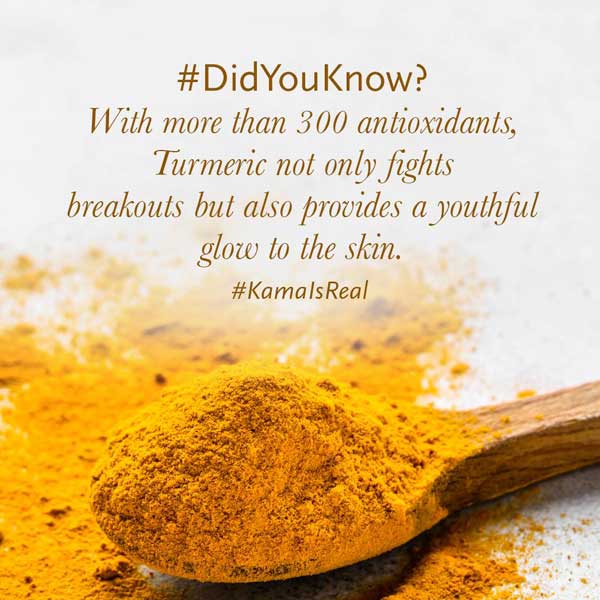 By using turmeric along with Coconut oil, you get benefits of both the magic ingredients, leaving your skin wholly nourished. To form this mixture, blend half tbsp turmeric along with two tsp coconut oil into a thick paste. Apply this mixture over your face and leave it for about 20 minutes. Wipe the mixture off with a damp cloth and then rinse the face with warm water. Surely, you'll be amazed at how replenished and soft the skin would feel. 
Conclusion
It is always advisable to do a patch test before using any skin product whether it is natural products like coconut oil or synthetic ones. You could apply a small quantity of the test product on your elbow, wrist, or neck. Wait for 24 hours and if your skin seems comfortable with it you can induce it in your daily skincare routine. 
We would also like to remind you that it's important that you use only pure, organic, and natural Coconut oil on your face to prevent any reactions or side effects. We recommend Kama Ayurveda's Cold Pressed Extra Virgin Coconut oil for application on the face.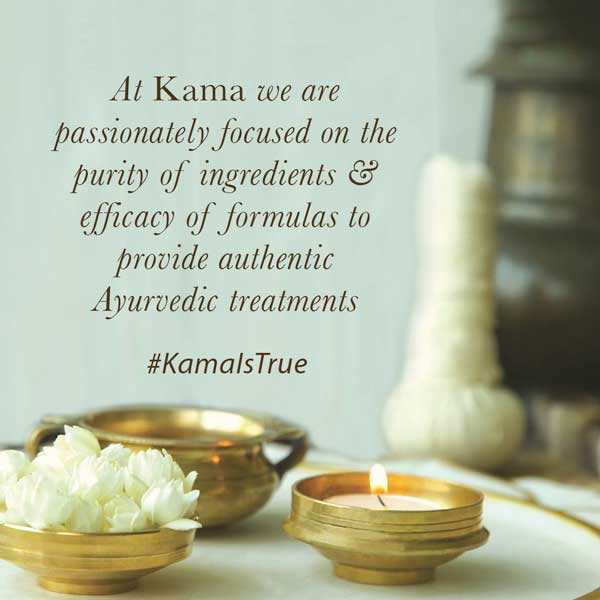 Coconut oil's every benefit and drawback has been backed by science. The utilization of it depends on the skin type you possess and your need. So, go ahead if it suits you and reaps the mesmerizing benefits of this amazing oil that nature has gifted us.
References:
https://www.ncbi.nlm.nih.gov/pmc/articles/PMC6817632/
https://apic.org/monthly_alerts/staphylococcus-aureus/
https://www.medscape.com/viewarticle/586673
https://pubmed.ncbi.nlm.nih.gov/15724344/