There is a lot of thought, mental-preparation and care that goes into 1) deciding to colour your hair  and, 2) choosing your hair colour. When it comes to experimenting with your hair (even if it's just an edgy haircut)  women especially, are sceptical about taking the plunge. After all, your hair is a big part of your personality.  Add to it the many warnings (and some myths) about hair colouring and its after-effects that have been making rounds on the internet. The decision, we do understand, is not an easy one.
You might spend a lot of time and effort on anti-ageing skincare and treatments, but grey hair is probably the biggest tattle-tale of ageing and that's why we recommend you take care of it, and do it the right way, using the right products.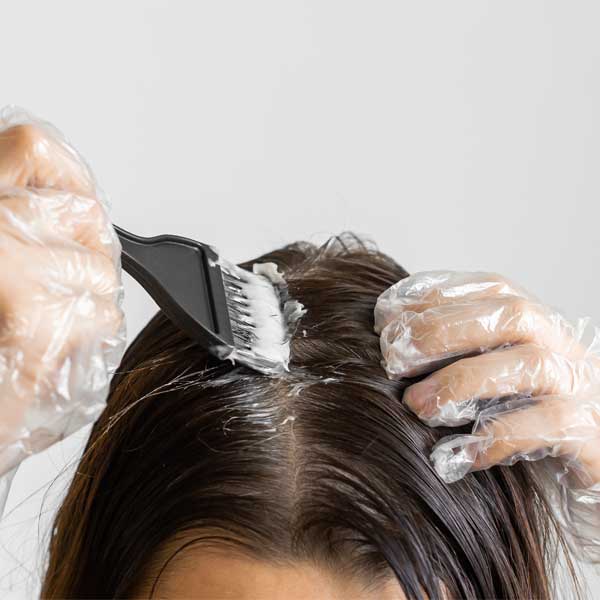 Wondering how to colour hair naturally black at home? In this article, we'll talk about everything you need to know to colour your at home and that too with organic, safe-to-use, ayurvedic natural hair colour for men and women that won't cause any damage to your hair and successfully cover your greys with natural brown hair colour or natural black hair colour, as per your preference.
Why choose a natural hair colour?
colouring your hair should not mean damaging it! Most non natural brown hair colour and black hair colour come with strong pigments and chemicals to make the colour last longer but in the process do irreparable damage to your hair over time. They can damage your hair follicles permanently and deteriorate the health and quality of your strands, making them rough and dry. Some people also experience increased hairfall and their hair feels very rough after colouring the hair.
Experiencing hairfall? Try Bringadi Hair Cleanser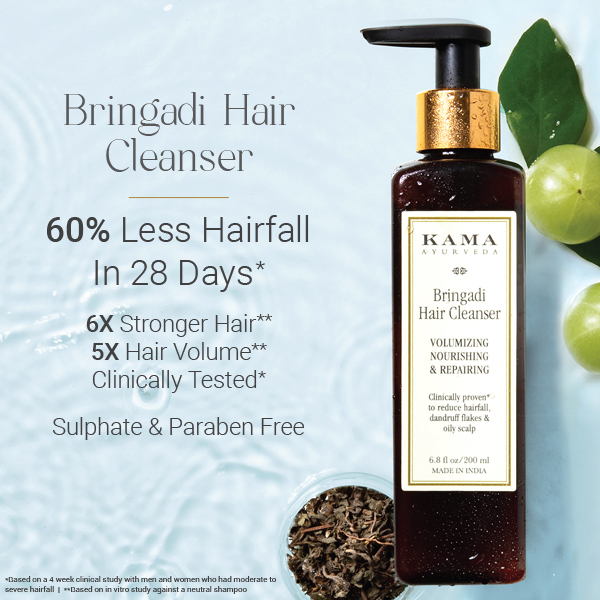 Chemical hair colours also often cause scalp irritation and dryness that can cause more hair problems like breakage, dandruff and flaky skin. Think of all the chemicals seeping into your scalp! Not a comforting thought, we imagine.
Another reason to opt for natural colour is the fact that most regular hair dyes have chemicals which at high exposures might cause skin and respiratory irritation (especially caused due to ammonia) and are sometimes even linked to compromising your immunity and causing cancer.
Hence, it is always recommended to use natural hair colour to cover your greys or to experiment with your hair.
Benefits of using a natural hair colour
Natural hair colours rely on plant-based dyes in different combinations and proportions to give you the desired shade like natural brown hair colour or natural black hair colour. Two of the most common natural hair dyes are henna and indigo, which have been known to naturally dye your hair without any side effects, while also nourishing them. 
Hair greying is a natural process of ageing for both men and women and one must consider natural hair colour options which not only add colour but also condition and moisturise hair, just like Kama Ayurveda Organic Henna Powder and Organic Indigo Powder. After all, why settle for hair colours that only help you cover your greys when there exist natural henna and indigo colours that also better the health of your hair?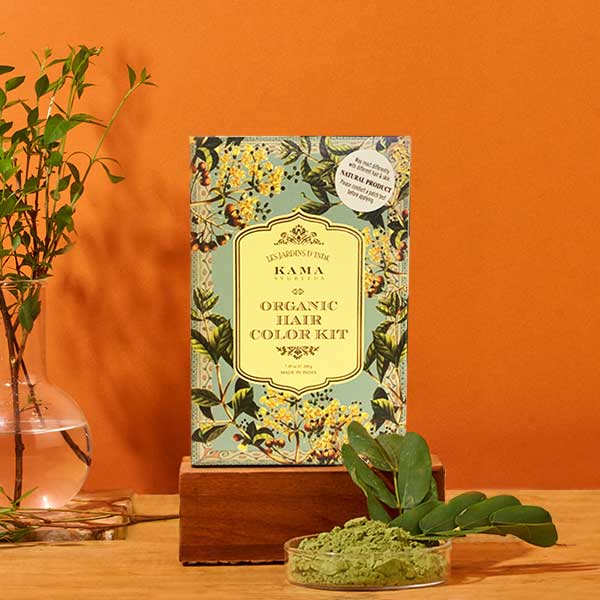 How to colour hair at home naturally?
How to colour hair naturally black or in natural brown hair colour at home is no rocket-science. However, the quality of the outcome will depend on multiple things. Here is a complete guide to help you in the process.
Step by step guide to colour your hair at home naturally like a PRO
Step 1: Choose the colour you wish to achieve
It is important to carefully choose the right shade to colour your hair, one that goes with your skin and complements your natural hair colour. Additionally, always keep a spare box of colour so that you don't run out of the product midway.
Step 2: Get your tools ready
Hair colouring can get messy, so choose a setting in your home that is easy to clean (your bathroom might be your best bet) and use disposable gloves and clothing. Keep the other things you might need handy, such as wet wipes, hair clips to section your hair, comb, etc.
Step 3: Test the colour mix on a strand
Before applying the hair colour on your hair do a quick patch test on a hair strand, dry it and wash it to see the final results.
Step 4: Take measures to prevent staining
An easy way to protect your hairline and neck area from getting coloured is applying a natural water repellent like a lip balm or natural glycerin in all the areas that are prone to staining.
Step 5: Divide your hair into sections
Untangle all the hair knots and divide your hair in 5-6 neat sections to ensure full and even coverage all over your hair.
Step 6:  Apply the hair colour
It is advisable to colour from roots to tip and from your back to the front of your head. You can also comb your sections after applying the colour to further ensure even colouring.
Step 7: Wait
Natural hair colours take a longer time to fully seep into your hair and coat them. Make sure you're covering your head with a shower cap while you wait.
Step 8: Rinse and wash
Rinse off the natural henna hair colour or indigo hair colour thoroughly with water. Wash it off the next day.
FAQs
1. How to colour grey hair black naturally at home?
Use Kama Ayurveda Organic Hair colour Kit at home that comes with complete, clear instructions of the steps you need to follow. It contains natural henna hair colour that beautifully covers the greys and a natural indigo hair colour that imparts a dark finishing tint on the hair, along with disposable gloves and shower cap.
2. How to get your natural hair colour back after bleaching?
You cannot get the hair colour black on bleached hair. The best solution is to let your hair grow out so that you can cut off your bleached tresses.
3. What is my natural hair colour?
Knowing your natural hair colour is an important step to dye your hair flawlessly at home and choose a hair colour that will best complement your natural shade. There are various hair colour charts online that you can match your hair colour against. Part your hair and match the darkest section of your with the hair colour chart in natural lighting.
4. How to find natural hair colour for men?
Kama Ayurveda Organic Hair colour Kit is one of the best natural hair colour for men. Simply follow the steps listed on the box to get the desired results. 
Read also: How to use Organic Hair colour Kit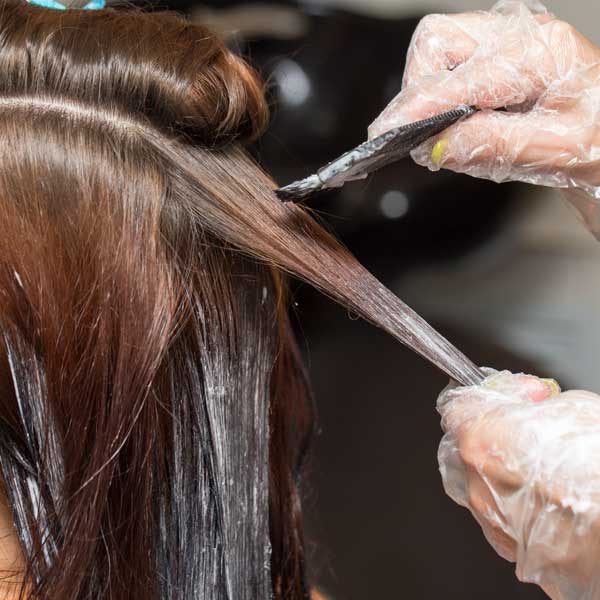 Tips to colour your hair at home naturally:
Here is a quick checklist of tips that can help you get the best results while dyeing your hair with natural henna hair colour at home: 
Find an ammonia-free, natural henna hair colour like Kama Ayurveda Organic Hair colour Kit to dye your hair safely at home. 
Make sure your hair hasn't been washed in 2-3 days for the best results as the natural oils in your hair help retain the colour better.
Always remember to apply natural hair colour on completely dry hair as the water in damp hair might dilute the dye. 
For an even coverage, be sure to remove any knots or tangles from the hair.
Test out the colour on a strand of hair to see the finished look before applying it to the whole head.
To protect your forehead, earlobes and neck areas from getting coloured, apply a natural lip balm on these areas.
Divide your hair in sections to ensure full coverage and always start applying the colour from the hair roots.
Wear gloves while applying natural hair colour at home.
Wear a shower while waiting for your colour to dry.
Make sure to wash your hair with a colour-protecting, sulphate-free shampoo the next day and also deeply condition it with a natural, chemical free hair conditioner.
So now you know everything about dyeing your hair naturally at home. We hope this article helps you achieve your desired look, right in the comfort of your home!
Sources
https://opendermatologyjournal.com/VOLUME/12/PAGE/90/FULLTEXT/
https://www.researchgate.net/publication/332035960_Health_Risks_of_Synthetic_Hair_Dyes_Advantages_of_Natural_Hair_Dying_Agents_in_Unani_Medicine
https://www.forbesindia.com/article/brand-connect/hair-dye-and-its-side-effects/71773/1
https://innovareacademics.in/journals/index.php/ijpps/article/view/3683/19341
https://www.ncbi.nlm.nih.gov/pmc/articles/PMC3927172/