When it comes to hair color, we want a product that covers our greys, doesn't damage hair and looks natural too. At Kama Ayurveda, we make the most of authentic, time-tested formulations and to get you the best natural hair color, we recommend our Organic Hair Color Kit. Recently, actor Sameera Reddy, whose a busy mom of two, tried Kama Ayurveda's Organic Hair Color Kit, and loved the results.
Want natural hair color in the comfort of your home? Here's everything you need to know about our Organic Hair Color Kit
The kit comes with 
100% organic henna powder: natural colorant and conditioner
100% organic indigo powder: impart a dark tint after applying henna
Shower cap 
Disposable gloves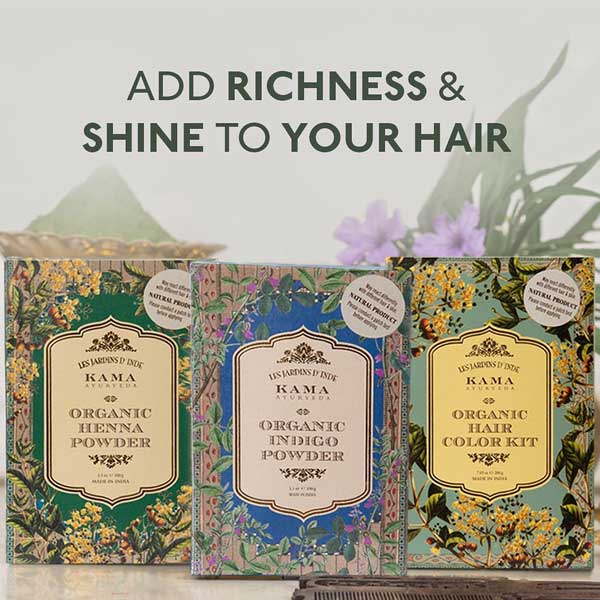 How To Use Organic Hair Color Kit
To make the most of this Organic Hair Color Kit, we advise you to apply it to clean hair. Also, do a patch test if you're trying this for the first time.

Start by prepping the night before. Soak henna powder with coffee water overnight, preferably in an iron skillet. (You can soak 100 gms for short hair, 200 gms for shoulder-length hair, 300 gms for long hair)
Come morning time, and you can apply henna paste to your roots with the help of a hairbrush. It's best to wear an old t-shirt when applying henna.
Keep the henna paste on your hair for 60-120 minutes. Henna is a natural hair color that will cover your greys but is widely used as a hair mask for its conditioning properties.
Rinse henna off with water.
Now mix organic indigo powder with water and apply it to dry hair. Keep it on for 60-120 minutes. The indigo powder is 100% natural and is what neutralises the orangish tint of henna, imparting a dark tint. Remember, you can customise your hair color by choosing how long you keep it. 
Rinse off Indigo paste, and voila, you have successfully colored your hair, naturally!
You can wash your hair the next day.
Pro Tip: If you have previously used a chemical color, keep both henna and indigo powder for up to 2 hours.

So there you have it, an easy-to-follow natural hair color routine in the comfort of your home. 

Still not convinced? Let us put all your worries at rest. Here are some of the most common concerns when using natural hair color…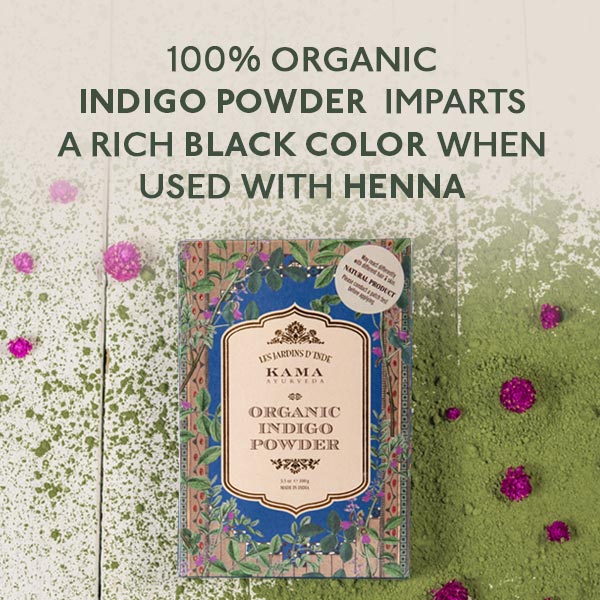 How Can I Avoid Or Tone Down The Orange Color After Using Henna? 
Well, henna's natural color is a natural red tinge which sometimes looks orange after application. Indigo is a natural bluish-black color and helps tone down the orange-red tint left by henna, giving you natural brown hair color. 
To make henna darker, soak henna powder in water, with coffee the night before. 
Make sure you invest in organic henna powder, free of additives. 
And lastly, apply Indigo powder immediately after using henna.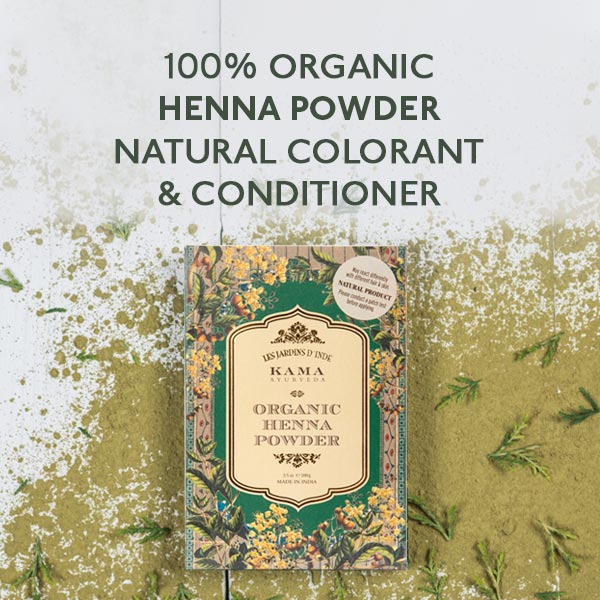 Will Henna Cover Grey Hair After I've Used Chemical Hair Color?
For colored hair, it can take a few applications to get the shade you want, but don't worry...your greys will be covered. However, it is suggested to wait 5-6 weeks between chemical treatment and hair coloring.

If you have any questions, or want to customise your hair color routine, feel free to schedule a complimentary online beauty consultation with one of our experts.
About the Reviewer
Dr. Kanchan Kachroo
Certified Ayurvedic Doctor (Central Council of Indian Medicine) working in Kama Ayurveda as an Assistant Training Manager.