Treating your skin concerns is more important than covering them up. However, taking good care of the skin isn't straightforward. From understanding what your skin needs to determining the cause of the concern and using the right product that suits your skin type, there is more to skin care than just cleansing-toning-moisturizing. 

Every skin type has its own set of concerns. Dry skin looks dull, oily skin is more acne-prone and sensitive skin can become inflamed just about any time *phew*. Therefore, there is no permanent respite from the skin issues. Not only the environmental factors like pollution, cold, etc. but also lifestyle habits such as over-washing and switching products can drive your skin to freak out in one way or the other.

So, how to keep your skin calm, balanced, hydrated and healthy? Your answer might just be - introducing the best essential oils for skin in your skincare routine! Essential oils are plant extracts that are made from seeds, leaves, and flowers. The following are the 12 best essential oils that have properties to treat different skin concerns. (1)
Does your skin itch all the time and have a flaky, rough texture? Chances are that you're suffering from a dry skin condition. Worry not! Try Lavender essential oil and heave a sigh of relief. Derived from the lavender plant, Lavender Essential oil is being used across the globe for more than 2500 years. The abundant uses of this miracle oil range from cosmetic to aromatic to even medicinal.
You might have heard, Lavender essential oil is great for sleep and relaxation, but this multipurpose oil does a stellar job in treating dry skin issues as well. Along with its numerous other benefits, Lavender Essential Oil is especially great in maintaining the skin's oil balance. It helps in regulating your skin sebum in a way that your skin will never feel too dry nor too oily. It can even help treat dry skin disorders like Eczema, etc. (2)

Did you know that even dry skin can also lead to acne-related issues? When your skin is excessively dry, it can trigger the dermal layer to overproduce sebum causing acne. Our knight in shining armour, Lavender Essential Oil will also help avoid occurrence of this type of acne while preventing dryness.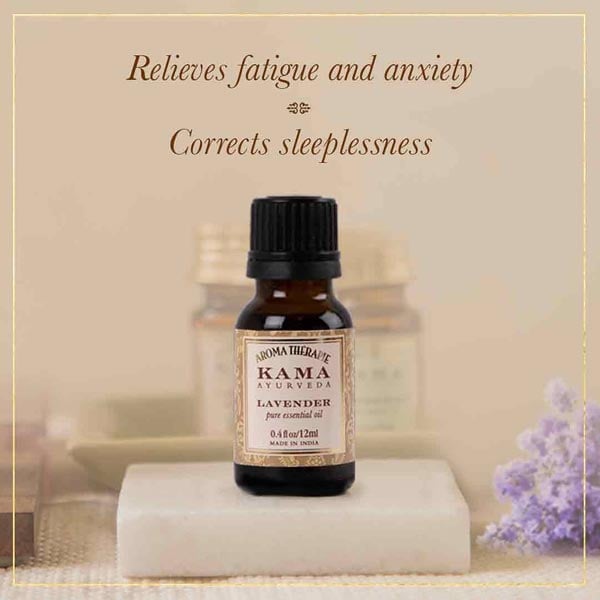 Read - How To use Lavender Essential Oil For Beauty and Aromatherapy

Collected from the twigs, stems, and leaves of the needle-bearing cypress tree, the French Cypress Essential oil has a fresh, clean, woody aroma. It can be used as a bath oil or as a massage oil for balancing your mind and body. (3)

When applied to the skin, this oil instantly energizes, revitalizes and intensely refreshes you. Not only the clean and grounding aroma will stimulate feelings of vitality, and wellness, but it also will help you with anxiety and depression. French Cypress Essential Oil also benefits the skin in numerous ways, it is best known for skin tightening.
When applied topically to the skin, the clarifying effects of French Cypress oil helps in tightening the pores and controlling sebum levels. The main function associated with cypress oil is contraction. So, cypress oil makes hair follicles, skin, and even muscles contract which results in tightening and strengthening loose or sagging skin. You can feel your skin getting firmer with regular usage.

You might have used Lemongrass as a cooking ingredient, but it is also very popular as herbal medicine. Obtained from the stalks and leaves of the tropical plant, lemongrass, the lemongrass essential oil possesses a strong citrus scent and is used as a raw remedy for proving infection and healing wounds.   

Lemongrass oil is often used in aromatherapy. It's well known to lessen inflammation, ease indigestion, relieve stress and headaches. This magic oil is known to be rich in antimicrobial, anti-fungal, and anti-bacterial properties. Just like its distant cousin, Lemon, it is a natural astringent for the skin. (4)
Lemongrass essential oil is best known as a natural astringent for the skin for its serious antiseptic properties. The best astringents promise to remove oil buildup, impurities, detoxify, and prevent breakouts.  

As an effective astringent, this Lemongrass essential oil is known to reduce pores, restrict the oil secretions, and help with tightening up saggy skin. You can use Lemongrass Essential oil as a toner to impart a fresh natural glow to your skin.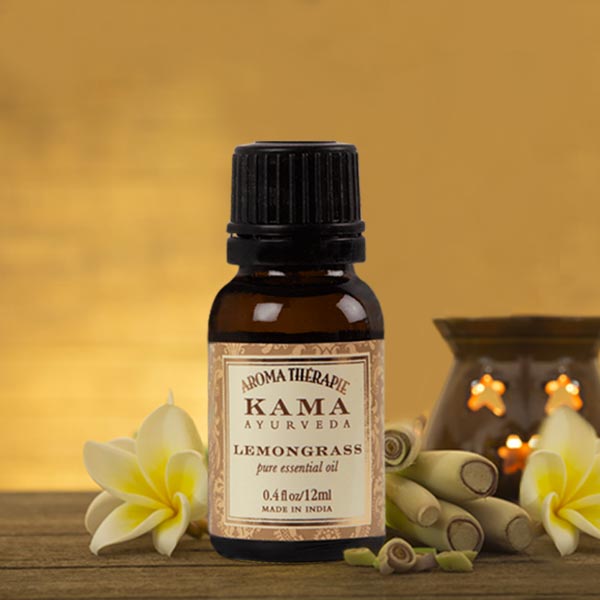 Read - 12 Health and Beauty Benefits of Lemongrass Essential Oil
Cinnamon oil is a widely popular spice across India, but do you know it does more than just enhancing your food taste? Obtained from the species Laurus Cinnamomum, the cinnamon essential oil is mainly utilized in aromatherapy. Right from stimulating heart health to lowering blood sugar levels and treating skin diseases, you can get everything done in one place with this miracle oil. It is also a host of numerous beauty and health benefits. 

Cinnamon oil helps in removing dead skin cells, which leads to supple and smooth skin, offers your facial skin good moisturization and enhances the blood flow to the area. Its antibacterial and antifungal properties reduce skin inflammation and boost your complexion and make your skin glow.

Not only does Cinnamon Essential Oil have potent antioxidant, antibacterial, anti-fungal properties, it also is a great source of anti-inflammatory properties. Cinnamon oil, as an anti-inflammatory agent, promises to lessen inflammation and calm down skin conditions like rashes, itching, and dermatitis. (5)

Cinnamon oil also helps in fighting acne concerns like postulate, nodules, and cysts. Try to include cinnamon oil in your skincare routine if you are facing severe inflammation issues.
Is acne your biggest skin concern? Then, the last thing you need on your face is a breakout or a nasty rash.  If you are looking for a natural skin treatment that can fade all your acne concerns, then you are at the right place. Introducing you to the tea tree essential oil to save you from skin breakouts. 

Tea tree oil, referred to as melaleuca oil, is obtained from the leaves of an Australian tree called Melaleuca Alternifolia. This oil has been used as a healing therapy for numerous skin conditions for about 100 years across Australia.

Tea tree oil is mainly known for its antibacterial activity. When it is used topically on the skin, it can treat specific skin conditions and boost overall skin appearance. The antiseptic properties of tea tree oil might contribute to combating oily skin. Its anti-inflammatory properties reduce the discomfort due to itchy skin. (6)
Many studies proved that applying tea tree essential oil to the skin can help with reducing acne. As per research, people who are using tea tree oil for their skin experienced less irritation, acne, and reduced skin breakouts. Tea tree oil was found to be effective in treating moderate to mild acne breakouts, thanks to antimicrobial and anti-inflammatory properties. 

Tea tree oil is packed with Terpene. Terpene is known to fight propionibacterium, a bacteria that causes acne. This oil has several other properties that impede the development of harmful parasites on the skin. Tea tree oil is known to be a saviour for those of us who suffer from persistent acne issues.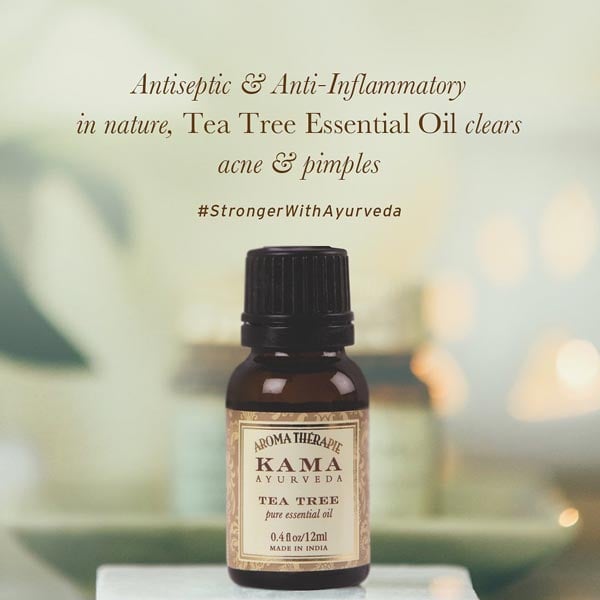 Apart from its extraordinary scent, as well as aromatherapy power, this fresh peppermint essential oil is known to be the most unique essential oil to stock in the medicine and skincare line. It is even the fifth-most generated oil across the world for its numerous benefits. Peppermint oil has a wide variety of purposes and uses, so just as Lavender oil, it even bagged the status of being the versatile oil out there. 

Peppermint oil has antibacterial and antiseptic benefits and works as a natural choice to clean acne-prone skin. It is known to balance sebum production, which prevents clogging pores. Did you know peppermint oil adds a protective barrier to your skin that prohibits external aggressors from harming your skin? This miracle oil is best known to cool rashes and redness on the skin.
Peppermint Oil is a host of cooling properties. The cooling sensation of the oil is known to provide relief from any discomfort on the skin - rashes, inflammation, redness, and itchiness.

Chronic pruritus, an itching disorder known to cause itching for over 6 weeks, could be dealt with the help of peppermint oil. Irritated skin rashes caused by any allergies or acne can be healed slowly by the tropical use of Peppermint oil. (7)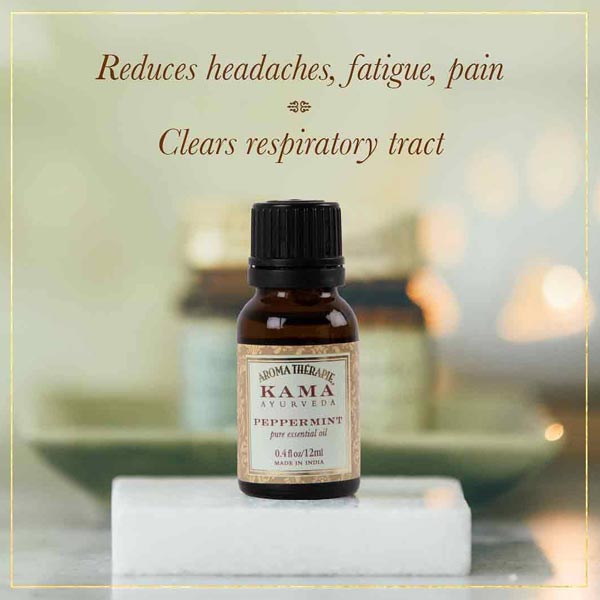 Read - 16 Incredible Uses of Peppermint Oil For Health and Wellness


Tea Tree and Lavender essential oils are a few of the well-known essential oils that are utilized in skincare but did you know Eucalyptus Essential Oil can also help in enhancing beauty? 

Eucalyptus oil has already been used in many treatments for tired and sore muscles, to ease the pain of arthritis, etc. Eucalyptol is composed of powerful anti-fungal, antiviral and antibacterial action, this can explain the conventional utilization of the oil as a therapy for respiratory ailments. Eucalyptus Essential Oil is also best known to help with painful sunburns. 

For its abundance of cooling properties, the Eucalyptus Essential Oil is known to heal painful sunburns. The oil is also a host of pain-relieving, anti-bacterial and anti-inflammatory properties. These properties help in alleviating sunburn, and even protecting the sunburned skin from any kind of infection. (8)

Eucalyptus has very similar properties to peppermint oil and therefore, it can potentially help in getting good relief from the irritation, pain, and other disturbances caused by sunburns.

Who doesn't love a perfect complexion and flawless clear skin? But with factors like hormonal changes, free radicals, sun exposure could damage the skin that leads to dark spots and patchy pigmentation that make you look older. Want to have a permanent solution for reducing pigmentation and uneven skin tone? Try Ylang Ylang Essential Oil. 

Obtained from the Cananga odorata flowers, ylang-ylang is an essential oil known to provide many health benefits. It is used for relieving pain, lessening inflammation, enhancing mood, healing wounds, reducing the appearance of scars on the skin, and improving libido. Additionally, ylang ylang essential oil is known to act as a natural insect repellent. (9)

Ylang Ylang Essential Oil not only can create balance mentally and physically, but it also helps in inhibiting skin pigmentation. It helps in lightening scars, dark spots, etc. It works great for blemishes and breakouts too. (10)

Read - How To Use Ylang Ylang Essential Oil For Better Health?
You might know orange as a fruit or as a food flavouring agent. But research shows that its essential oil has immense benefits for health and beauty purposes. Orange essential oil, when used for aromatherapy, is known to ease anxiety and stress. When used topically on the skin, it helps with lessening acne while giving skin a radiance glow.

You might come across different types of orange essential oils. The bitter orange essential oil, coming from the Citrus aurantium rind, is mostly included in topical application, and aromatherapy. (11)
Orange Essential Oil works effectively in treating premature skin ageing. Rich in Vitamin C, this oil enables collagen generation which slows down the ageing process by eradicating wrinkles, fine lines, etc.

So, despite opting for pricey anti-ageing skin therapies, go with an orange essential oil massage once or twice a week. This improves your skin cell regeneration, decreases the appearance of age spots and sunspots, and promotes youthful skin.

Have you ever imagined a traditional Christmas tree can be used to save your skin from irritation? Yes, Pine Essential Oil, obtained from the pine tree needles, is known to fight irritation and have an invigorating and clarifying effect on the skin. 

Pine Essential Oil is best known for soothing inflammation, redness, aches, soreness, etc.  It can also help in treating burns, wounds, scratches, and cuts and stimulating the regeneration of fresh skin. (12)
For many years Pine essential oil has been used topically in the cosmetics industry. Because of its powerful restorative, cleansing, as well as antibacterial properties, pine oil treats an extensive range of skin irritations and is known to resist swelling and redness. 

The antimicrobial and antiseptic properties of this Pine Essential Oil are found to be very helpful in treating dryness, itchiness, and any discomfort on the skin. This essential oil even helps with the skin irritations caused by acne, sores, burns, psoriasis, and eczema.
11. Bergamot Essential Oil
Oily skin is always a challenge to manage. Sebaceous glands help in keeping your skin shiny and moisturized, but too much sebum leads to oily skin. However, Bergamot essential oil is known to lessen the symptoms of oily skin without any expensive skincare regimen.

Earlier, roots of bergamot are traced straight to Southeast Asia, but it is presently grown in several parts across the world. Yet the plant achieved its name and prominence within Bergamo town in southern Italy (hence the name). Fresh and steam distilled bergamot oil is popularly known for aromatherapy. The citrusy aroma from the essential oil is found to show a relaxing effect on the body and mind. (13)

Not just for aromatherapy, Bergamot Essential Oil has a wide range of benefits on the skin when used topically. Bergamot oil has a host of anti-inflammatory and antibacterial properties which makes this oil the best spot treatment for people who are facing acne issues.
Thanks to its abundance of antibacterial properties, Bergamot Essential oil is known as a natural cleanser and it is particularly good for oily skin. It helps with balancing sebum levels and unclog pores.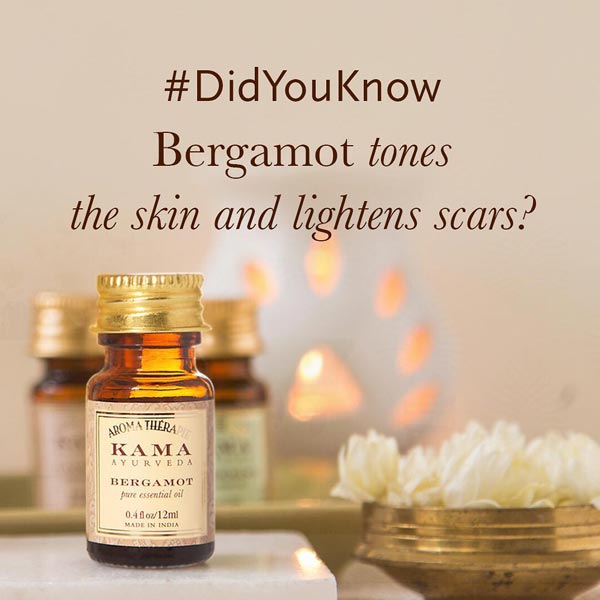 Looking for an essential oil to aid in skin brightening? Sweet Basil Essential Oil accomplishes the job perfectly. Sweet Basil has a long history, going back over 5000 years. It is highly esteemed by both the traditional Ayurvedic and modern cosmetics industry. It contains several compounds that are known to enhance health. These compounds include linalool which is shown to reduce stress levels in many studies (14). Sweet Basil Essential Oil is also a popular ingredient in aromatherapy for treating respiratory issues and migraine. 
Sweet Basil is an effective ingredient that can brighten up the skin instantly. Right from skin repairing, nourishing, calming, balancing to exfoliating it does everything to give you the perfect looking skin you ever desired for. 

When used topically and massaged into skin, it adds luster to dull-looking skin. Its oil-absorbing properties strip away excess scalp grease or product buildup in hair while adding shine.

Create a dreamy beauty regime and boost your skin by including a few drops of Basil oil in your skincare products or in your bath.
How To Use Essential Oil For Skin - Dos and Don'ts
Essential oils can be either inhaled or used directly on the body. But, it is not safe to ingest them. It is always advisable to use a patch test before topically applying it to the skin to make sure you are not allergic. Place a small amount of the diluted essential oil on the skin, say your forearm and wait for about 24 hours before using it on a larger area of skin. The following are more do's and don't while using essential oils.

DO Check the Quality
Do check the quality of the essential oil before buying and look for a trusted producer that makes pure oils without anything added. Because you are more likely to have an allergic reaction if your oil is mixed with other ingredients. But, not all extras are bad, some added vegetable oil may be normal for certain expensive essential oils.

DO Toss Out Older Oils
Don't keep any oil for more than three years, do toss them if they cross their expiration date. Older oils may not work well and could even irritate or cause an allergic reaction on the skin. They are also more likely to be spoiled because of exposure to oxygen. If you observe a big change in the way the oil feels, looks, or smells, you should throw it out, they are the signs of spoiled oil.

DO Tell Your Doctor
Your doctor or beauty consultant can make sure if the oil is safe for you or not, as some oils may affect your prescriptions. For example, Eucalyptus and Peppermint oils can change the way your body absorbs the cancer drug, 5-fluoroucil from the skin. So, if you are taking any medical drugs, do ask your doctor about using essential oils.

DO Dilute Them
Never forget to dilute the essential oils as undiluted oils are too strong to use straight. You can dilute the oils with vegetable oils, bath gels, creams, etc. to a solution that only has 1% to 5% of the essential oil. It is very important to mix them correctly as the higher the percentage of the essential oil, the more likely you are to have a reaction.
DO Consider Age
Elderly people or young children may be more sensitive to essential oils. So, you have to dilute them more. Also, do not use the essential oils on a baby unless your paediatrician says it is ok.

DO Stop Using if Your Skin Reacts
If your skin doesn't love essential oils and you notice a few rashes, little bumps, boils, or just itchy skin, then take a break. As more of the same oil on the skin can make it even worse. Gently wash it off the skin when your skin reacts.

DON'T Trust Buzzwords
Just because an essential oil is extracted from a plant, doesn't mean it is safe to use on the skin, or eat, or breathe. Even if it is pure, natural substances can be toxic, irritating, and cause allergic reactions. Like everything else, it is better to test a little bit on a smaller area and see how your skin reacts before using it in larger areas.

DON'T Put Edible Oils On Your Skin
Cumin Oil, which is safe when used in food, can cause blisters when used on the skin. Some citrus oils too can be bad for the skin, especially when you go out in the sun. And the vice versa is true too. Sage or Eucalyptus oil may have numerous benefits when applied topically on the skin, but swallowing them can cause some serious complications like a seizure.

DON'T Forget to Store Them Safely
As the essential oils are very concentrated, they may cause some serious health problems especially if they are used in the wrong way or at the wrong dose. If you have younger children, keep out of their sight and reach, Do not make Essential Oils too handy.

DON'T Overdo It
More of a good thing is not always good, and this applies to essential oils too. Even when you dilute, essential oil can cause a bad reaction when used too much or often. 

References -