Healthy hair is often a combination of your physical and mental state of being. Environmental factors like sun damage and pollution, hair products, along with your lifestyle and food habits (known as Ahara-Vihara in Ayurveda) together have a vital role to play in ayurvedic hair care.
In this article, we will go through the best ayurvedic hair care tips to improve hair growth and also recommend the best natural & ayurvedic hair care products.
Bookmark these 11 tips for healthier, shinier hair
#1. Opt for a regular hair massage with oil.
According to Ayurveda, this simple secret to hair health is regular oil massage. Best oil for hair fall includes coconut oil, almond oil, sesame oil, and neem oil (when used with a carrier oil). However, Ayurveda gives special significance to Bhringraj oil, which is beneficial to reduce hair fall, dandruff & premature greying. Kama Ayurveda's Bringadi Oil combines Bhringraj with other hair-friendly herbs like Amla, Indigo, Sesame, and Balloon Vines that makes it a complete authentic treatment for your hair. It's clinically tested to reduce hairfall in 28 days.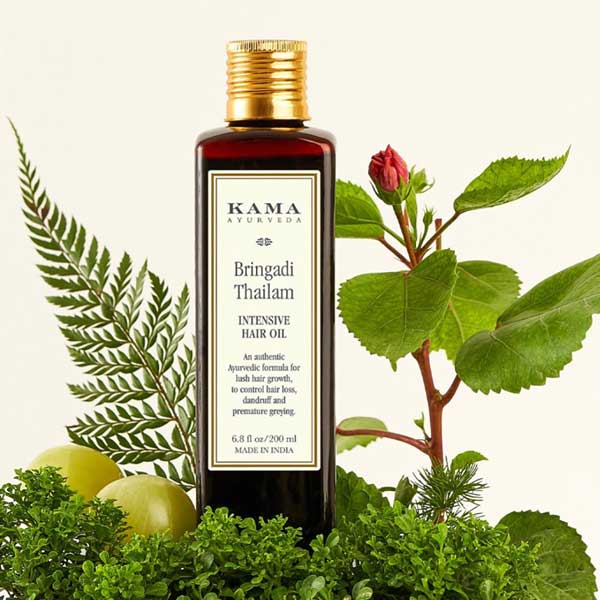 #2. Follow an Ayurvedic Hair Care Routine
In order to maintain strong and shiny hair, it's best to follow a consistent routine which includes a hair oil massage with coconut, almond or bhringraj oil. If time allows, give some steam to your hair with a hot towel. After oiling your hair, steaming it helps the oil get deeper into the hair and scalp so that the nutrients can be more effectively absorbed.  Use a gentle ayurvedic hair shampoo like Kama Ayurveda Bringadi Hair Cleanser and a paraben-free conditioner. Enriched with Amla, Bhringraj and Indigo (the holy trinity of ayurvedic hair care), this shampoo is *clinically proven to reduce hairfall by up to 60% in just 28 days. It also strengthens hair and enhances natural volume of the hair.
*based on a 4 week clinical study with men and women who had moderate to severe hairfall
#3. Follow your hair wash with an Ayurvedic hair mask
You may be using the best Ayurvedic shampoo but it is important to make sure to lock in your hair's natural hydration and moisture levels with the help of a deep conditioning hair mask like Kama Ayurveda Bringadi Intensive Repair Post Wash Hair Mask. If your hair is damaged due to environmental factors, colouring and heat-styling, then you need a hair mask in addition to your conditioner to repair your hair faster. This ayurvedic hair mask contains the power of the wonder herb Bhringraj that is known to reduce hair loss by activating hair proteins and improving blood circulation. It also contains amla (a powerhouse of vitamin C and a natural anti-dandruff ingredient), liquorice root that fights infections, indigo leaf that is a natural hair conditioner and coconut milk that nourishes and moisturises the scalp and hair.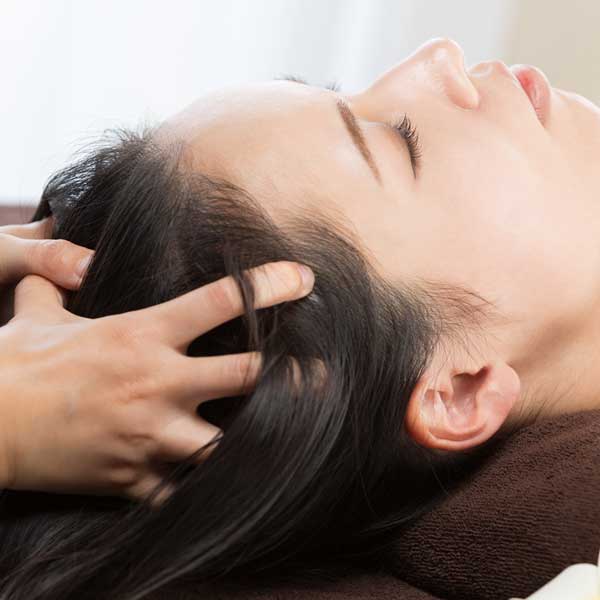 #4. Try To Manage Stress With Exercise, Yoga & Supplements
Living regularly in a state of stress can lead to excessive falling, premature greying, dry, dull-looking, lifeless appearance of hair. It's best to start the day by practising yoga, and staying active during the day. Try to meditate for up to 10-15 minutes every day to help avoid telogen effluvium and stress-induced hair loss. Additionally, you might choose supplements containing Brahmi and Ashwagandha, which reduce tension. Lastly, you can also add pure essential oils to your wellness routine.
Opt for a balanced diet
A balanced diet is just as important for the health of your hair (and skin), as it is for your hair. Including seasonal fruits and vegetables, lentils, and whole grains in your daily diet makes a huge difference. Avoid processed foods and try to eat clean as much as possible. Add superfoods such as white sesame seeds, almonds, walnuts, avocado, ghee, dates, raisins, along with herbs and spices to your daily diet. For good digestion, avoid drinking too much water during meals. Drink water before you eat or 30 minutes after a meal.
 #5. Add Amla To Your Hair Care Routine and Diet
Amla, also referred to as Indian Gooseberry, is a superfood for hair and one of the most popular natural ingredients high in vitamin C. It is the best dietary addition you can make for healthy hair. Rich in Vitamin C, minerals and amino acids, it strengthens hair, stops hair fall and even relieves dandruff. 
Here's how you can apply amla:
Simply heat organic coconut oil in a double boiler and add amla powder. Wait for it to cool down and apply to scalp & roots for 30-60 minutes.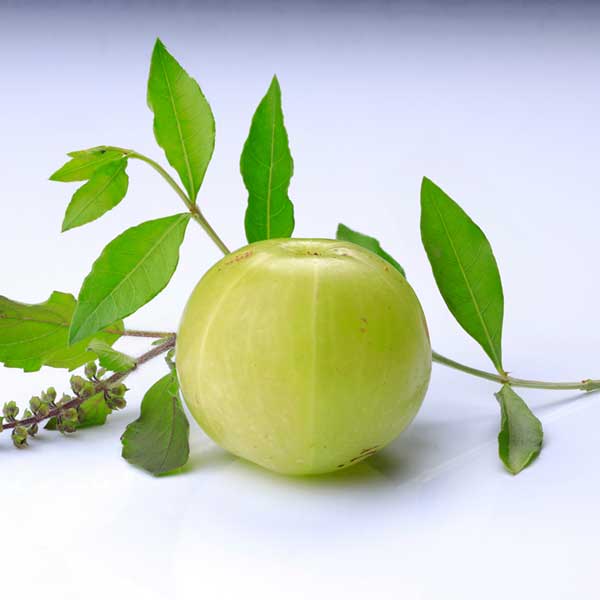 #6. Make the most of Tea Tree Oil
Tea tree oil has antifungal, anti-bacterial, anti-inflammatory and antioxidant properties that are useful for the hair. It's important to note that tea tree oil is powerful and should not be applied directly to the hair. If you use a lot of hair products, or have a clogged hair scalp, add tea tree oil to your Ayurvedic Hair Shampoo to clean and soothe your scalp, while also reducing itchiness.  
You can also dilute tea tree oil with any carrier oil like Coconut, Almond, or Sesame oil and apply on hair to boost hair health.
#7. Add Hibiscus For Hair Growth
In ayurvedic hair care, hibiscus is one of the most well-known herbs for fostering hair growth.There are a number of studies indicating that hibiscus extracts lessen alopecia areata and baldness. Both hibiscus flowers, as well as hibiscus leaves, are used to cure hair problems in ayurvedic hair shampoo and hair oils. It has amino acids which help bind keratin, the building blocks of your hair as well as mucilage which acts as a natural conditioner. 
You can make your own hibiscus oil by grinding 10-12 hibiscus flowers and infusing them in coconut oil.
#8. Try an Ayurvedic DIY Hair Pack
Once a week, make a thick paste by stirring together 4 tablespoons of coconut milk, 4 tablespoons of crushed hibiscus, and 3 tablespoons of honey. Apply the paste on your hair and scalp. Leave it on for 30 to 40 mins before washing. This ayurvedic hair mask nourishes and softens hair while also promoting hair growth.
#9. Opt for natural hair colours
Hair dyes consist of chemicals like ammonia, this can damage hair and cause protein loss from the hair shaft, which makes the hair appear thinner. It is better to use a combination of henna powder that covers greys and indigo powder that gives your hair a black tinge. Go for natural hair colouring products such as Kama Ayurveda Organic Hair Colour Kit with natural henna and indigo that gives your hair a natural uplift while covering all your greys, without making your hair brittle or prone to damage.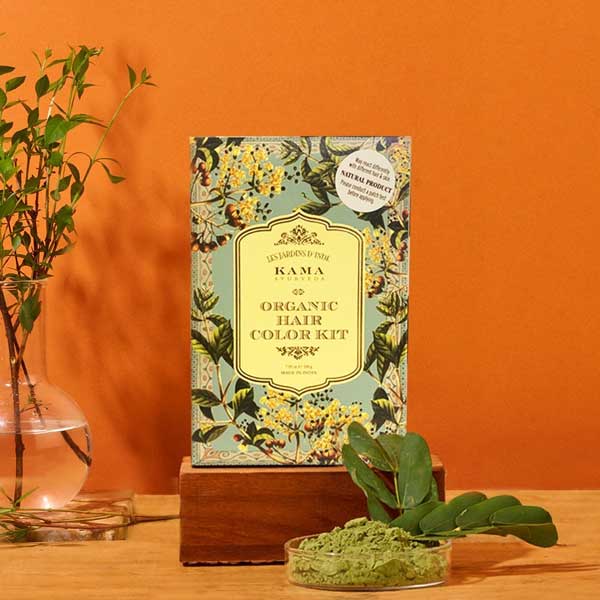 Read more
#10. Be gentle and tender with your hair
Your hair already bears the brunt of bad weather, pollution and everyday damage. It is extremely important to treat it with gentleness while brushing it, styling it and washing it. Even while oiling your hair make sure you're not massaging with too much pressure or the friction caused will only make matters worse. Your hair is most vulnerable when it's wet, so make sure you're not tugging or brushing it until it's almost dry to protect it from damage. When detangling wet hair, use a wide-toothed comb; once dry, brush your hair with a regular comb.  Avoid blow-drying every time you wash your hair and allow your hair to air dry. Additionally, don't tie your hair in tight ponies and buns and opt for pillowcases made of hair-friendly fabrics such as satin.
#11. Get enough sleep
A good night's sleep is crucial to our well-being in more ways than one. It affects our hormones, our stress levels, our skin and even our hair. The human body produces a hormone called melatonin which regulates sleep as well as hair growth. Poor quality or inadequate sleep results in decreased levels of melatonin which has a direct impact on hair loss. Sleeping is also how the human mind copes with stress and rebalances itself. Insufficient sleep can cause more stress which results in more hair loss. 
It is rightly said that if you take care of the smaller things, the bigger things are going to fall into place. Follow these simple yet effective tips as part of your everyday hair care routine and you'll be able to solve your biggest hair woes. The combination of the right lifestyle, diet and ayurvedic products is key to having healthy, shiny hair!
Sources:
https://www.nih.gov/news-events/nih-research-matters/how-stress-causes-hair-loss
https://www.ncbi.nlm.nih.gov/pmc/articles/PMC5397031/
https://www.researchgate.net/publication/319289583_A_case_study_on_Ayurvedic_management_of_Alopecia_areata_Khalitya
https://www.ijhsr.org/IJHSR_Vol.9_Issue.4_April2019/34.pdf
https://www.ncbi.nlm.nih.gov/pmc/articles/PMC3800921/
https://www.researchgate.net/publication/340033822_Concept_of_Hair_Problems_and_its_Treatment_in_Ayurveda