Kumkumadi, one of the most renowned beauty secrets from the ancient science of Ayurveda, has recently gained popularity. Kumkumadi face glowing oils have become a must-have product for anyone who wants to brighten their skin naturally. 
However, the truth is that not all Kumkumadi Oils are equally effective. Kumkumadi is an exceptional special blend of 24 Ayurvedic herbs. One of its key ingredient Saffron, is one of the most precious spices in the world. It plays a special role in providing Kumkumadi Oil its skin illuminating properties. 
Kumkumadi oil is most effective when it's formulated with the highest quality ingredients in their purest form.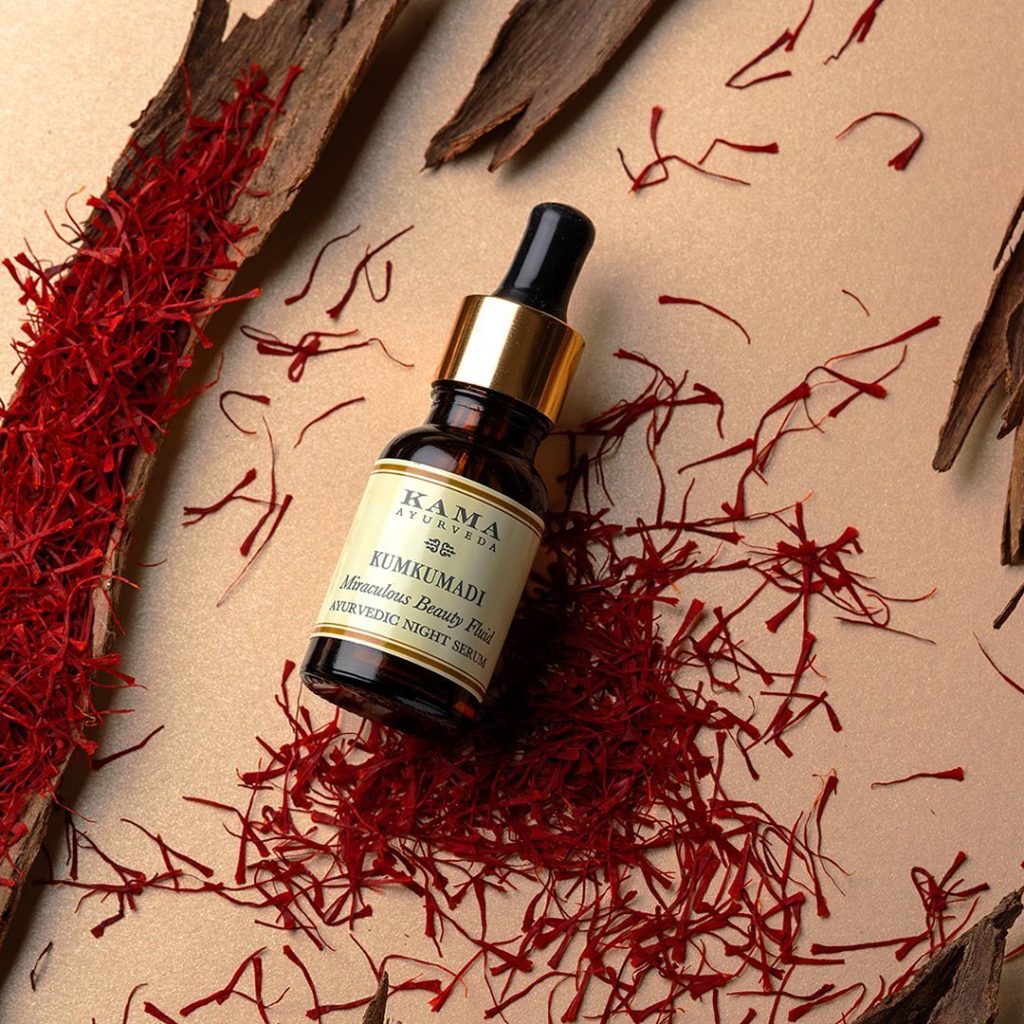 To get the best benefits of Kumkumadi for your skin, it's important to choose the right products. This guide will walk you through some of the best facial skin care products formulated with Pure Kumkumadi Oil as the key ingredient.
Before that, let's answer the important question - 
What is Kumkumadi Face Glowing Oil?
Kumkumadi face glowing oil, also known as Kumkumadi Thailam, is an Ayurvedic facial oil. It's a concoction prepared by infusing 24 special herbs into Sesame Oil. Some of those herbs are Saffron, Sandalwood, Indian Madder, Lotus Flower, Indian Redwood, Licorice, Vetiver, and Himalayan Cherry.

Each ingredient has unique properties that are immensely beneficial for the skin. Kumkumadi oil is based on Ayurvedic concepts and heals the skin in a slow, sustained manner. You can see early signs of improvement within three weeks of using the oil.

Read - Kumkumadi Tailam - Ultimate Guide To The Miracle Beauty Oil
Top 3 Benefits of Using Kumkumadi Face Glowing Oil 
We've talked about the natural ingredients that make Kumkumadi Thailam. But why do you need to use this face glowing oil? Here are some skin problems that the oil solves most effectively.
1. Reduces Pigmentation
All the products formulated with Kumkumadi Oil repair pigmentation and skin discoloration. It also helps in treating dark spots. If you're regularly exposed to the sun, including Kumkumadi Oil in your skincare regimen will inhibit the enzyme responsible for pigmented skin.
2. Locks In Moisture
Kumkumadi is a highly effective oil for skin hydration. One of its key ingredients, Dashamool, is a powerful mixture of skin moisturising herbs. Together, they help restore and maintain the skin's natural barrier. This in turn, ensures that your skin is never stripped of essential moisture content. 
3. Illuminates Skin
Saffron, one of the key ingredients of Kumkumadi, has unique skin brightening properties. It rejuvenates skin cells and promotes blood circulation, which results in a glowing complexion. The oil also has Sandalwood, which is also an effective natural skin illuminating ingredient. 
Do you struggle with any of the above-mentioned skin issues, or simply desire healthy, glowing skin naturally? Then, you must craft a skincare routine that delivers all the goodness of Kumkumadi to your skin day and night. 
5 Best Kumkumadi Face Glowing Oil Products For Skin Brightening
There are more than one ways to incorporate Kumkumadi Oil in your skin routine. Here's how you can give your face a natural glow. 
Clinically proven to brighten & illuminate skin and delay signs of aging, this is a skin-nourishing and hydrating night serum. This Pure Kumkumadi Oil with the highest quality Kashmiri saffron, Kumkuma, helps give your skin an everlasting natural glow.
Top Ingredients -
Pure Kumkumadi Oil (also known as Kumkumadi Thailam)
Top Benefits for skin -
2.5 X improvement in Skin Brightening ** in just four weeks
20% Reduction in Pigmentation in 28 days*
15% reduction in Wrinkles, fine lines in 28 days*
*Based on clinical trials conducted over 28 days **x represents skin conditions before product usage
How and when to use it - 
Apply this serum as a night-time ritual after cleansing and toning your face. Moisten skin with Pure Rosewater or a natural water-based toner, and then massage the Kumkumadi gently in upward strokes until fully absorbed. Allow it to work overnight for best results. We recommend 2-3 drops for Normal to Oily Skin and four drops for Dry Skin.
Note - Do not use this product if you have active acne. Patch test for sensitive skin.
Are you looking for a face mist that has the benefits of Kumkumadi oil? Then, this product is perfect for you. You can spray it at any time of the day as it is super light-weight on the skin.
If you've never heard of bi-phase essence, it is a formula that has two different compositions. In this case, it's water and oil that come together in a power-packed face mist. 
Lotions or creams are emulsions that have water and oil phases bound together by an additional ingredient called the emulsifier, which renders them less effective.
Kumkumadi bi-phase essence is emulsified by simply shaking the bottle and needs no additional emulsifiers. This allows the delivery of higher concentrations of oil and water-based active compounds to your skin. It is a simple, effective, and lightweight formula that plumps, softens & illuminates skin.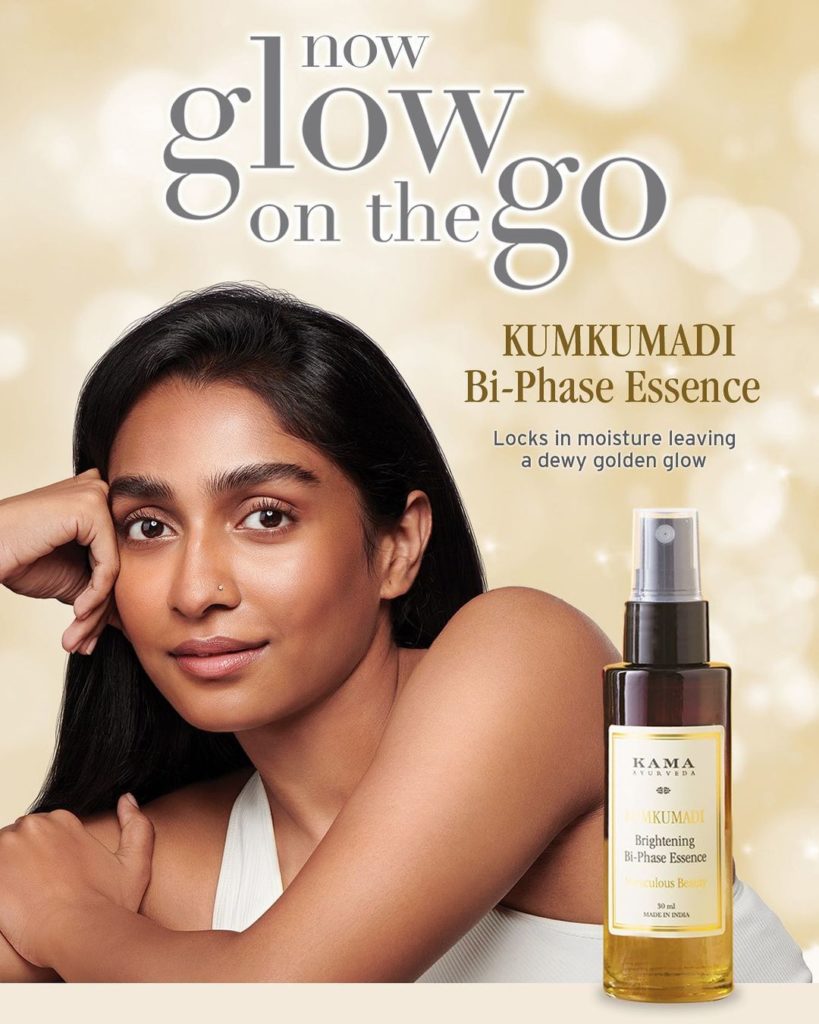 Top Ingredients -
Pure Kumkumadi Oil, Aloe Vera, Vitamin-E, Plant Based Emollients
Top Benefits for Skin -
Imbues skin with a golden, dewy glow
Preps the skin for serums and creams
Hydrates and illuminates
Locks in moisture & strengthen skin's natural barrier
How and when to use it -
Shake the bottle vigorously to mix the two phases. This is to make sure you get the best of both worlds: water phase and oil phase. Apply after cleansing and toning, spritz onto the face and neck.
Day - You can apply your day cream after. Remember to wear SPF when stepping outdoors.
Night - You can supercharge your night time routine by adding our essence to it. Lock in moisture with a scoop of Rejuvenating & Brightening Night Cream or Kumkumadi Miraculous Night Serum after spraying the essence.
Enriched with Kumkumadi Thailam, this deep cleansing, hydrating face oil brightens skin & removes makeup. It is a lipid-replenishing cleansing oil that lightly lathers into a creamy cleanser and gently removes excess sebum, impurities, environmental pollutants & makeup.
Add this new formulation to your daily skincare routine to get soft, supple & glowing skin post-cleansing.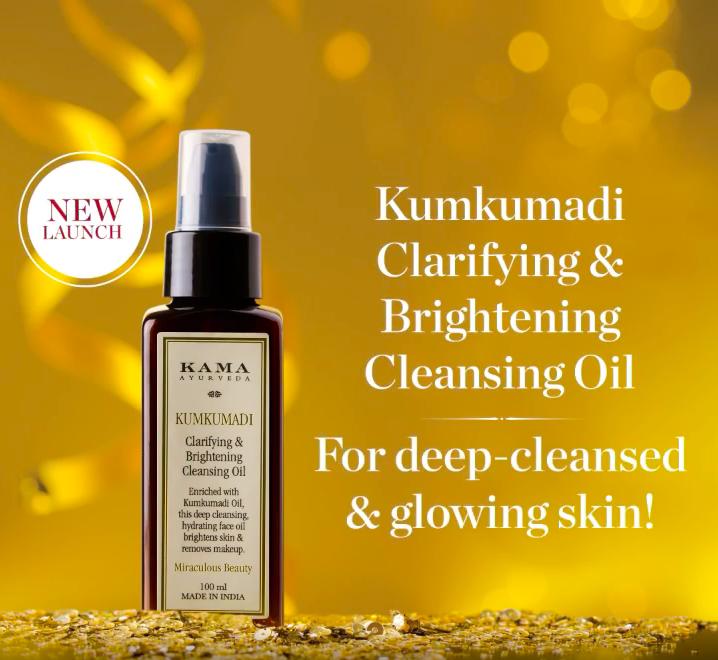 Top Ingredients - 
Pure Kumkumadi Oil, Centella Asiatica, Citron Fruit
Top Benefits for Skin -
Adds a dewy, golden glow
Reduces pigmentation 
Stimulates skin's collagen production and repairs skin damage 
Provides a boost of Vitamin C that enhances and nurtures the skin
Double cleanses and maintains skin's natural barrier
How and when to use it -
Shake well before use. Take 1-2 pumps and massage the oil gently on the dry face and neck. Then, wet your face for mild lathering & massage for 10-30 seconds. Rinse with plain water. Pat dry. Follow the Miraculous Beauty Regime. Tone and hydrate with Kumkumadi Brightening Bi-phase Essence & moisturise with Rejuvenating & Brightening Night Cream. 
You can also use it to cleanse and prep your skin before makeup effectively. Use this cleansing oil to break down sunscreen, makeup & remove pollutants from the skin at the end of the day.
Are you looking for a luxuriant face exfoliator that combines the potent Ayurvedic Kumkumadi oil with a host of other skin-repairing ingredients? This face scrub is perfect for you. It is made with 12 precious traditionally known ingredients to help even skin tone and reinforce its natural elasticity. It is clinically proven to smoothen, brighten & firm skin.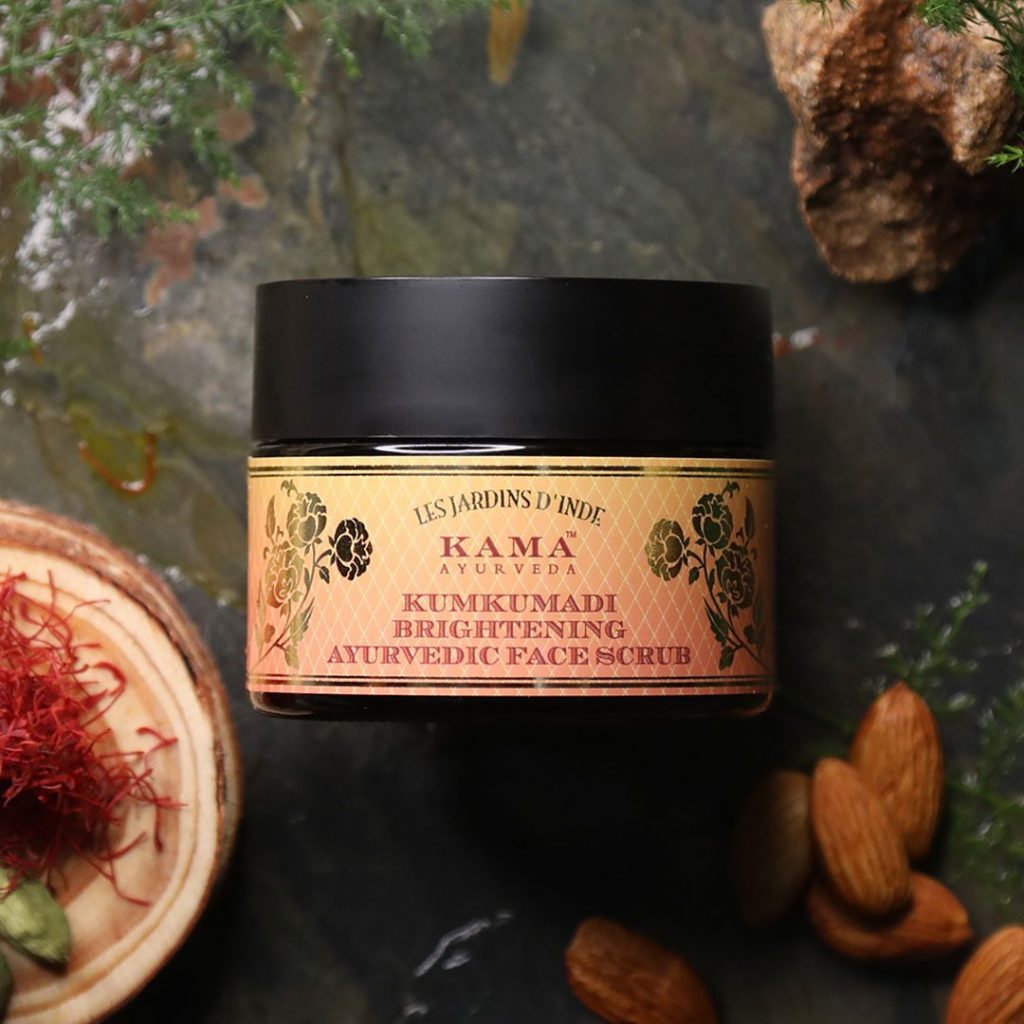 Top Ingredients - 
Pure Kumkumadi Oil, Walnuts, Almonds, Sunflower Seeds, Lotus
Top Benefits for Skin -
● Visibly smoothens skin by 34%*
● Reduces pore size & Firms Skin by 24%*
● 97% of the panel showed improved skin smoothening*
● 85% of the panel had significantly brighter skin*
*Based on clinical trials conducted over 28 days
How and when to use it - 
After cleansing with a mild, natural cleanser, dampen the face with lukewarm water. Take an appropriate amount of the scrub and apply it to your face. Massage gently into the skin and rinse off. Use it twice a week.
Read - Which Natural Face Scrub Is Best Suited For Your Skin?
This one is a perfect leave-in night treatment for youthful, naturally radiant skin. Formulated with Kumkumadi Oil and a unique blend of precious and rare ingredients, it's an effective, rich, and non-greasy formula. Moreover, it's clinically proven* to reduce signs of aging and brighten skin tone.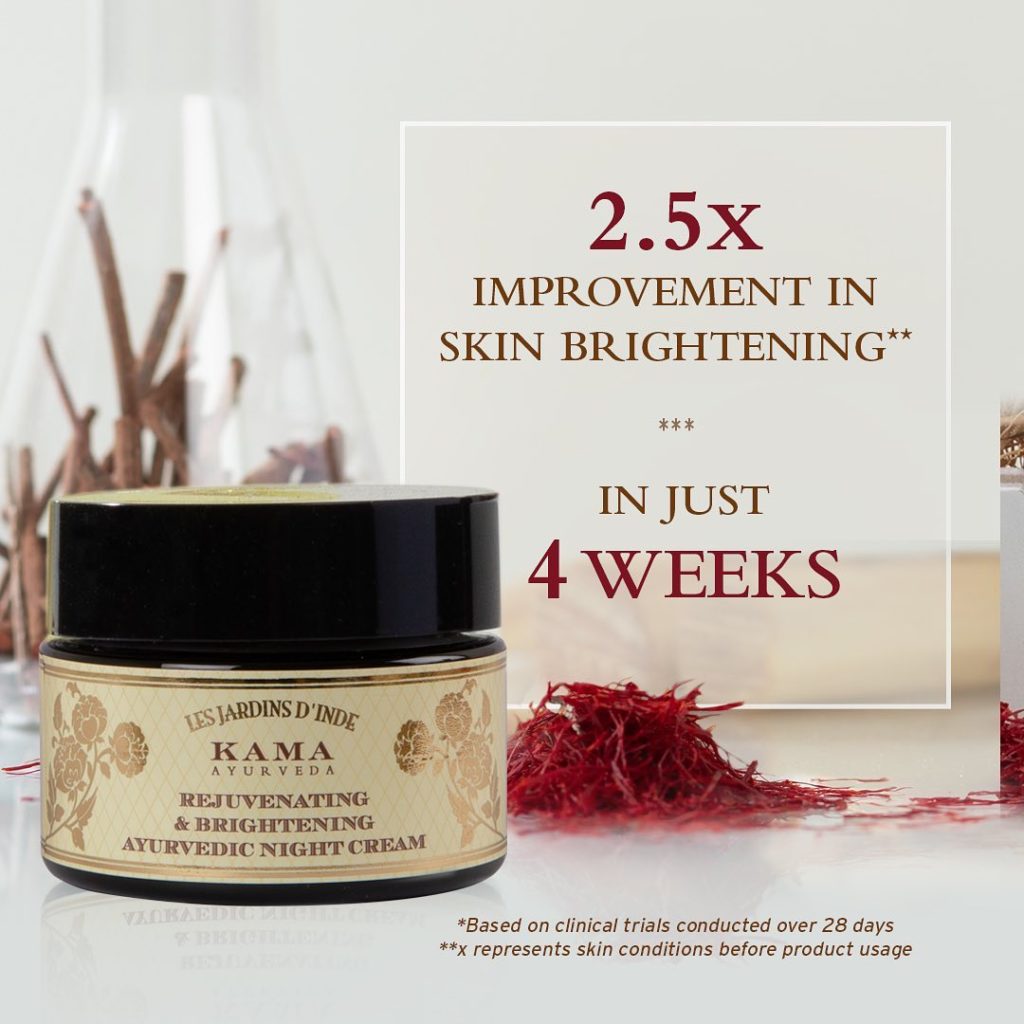 Top Ingredients -
Pure Kumkumadi Oil, Aloe Vera, Mulaithi, Manjistha, Lotus, Vetiver
Top Benefits for Skin -
2.5 X improvement in Skin Brightening ** in just four weeks
20% Reduction in Pigmentation in 28 days*
27% improvement in Moisturisation in 28 days
97% of the panel showed improved skin brightening
Reduces the appearance of wrinkles and crow's feet by 10% in 28 days*
*Based on clinical trials conducted over 28 days
**x represents skin conditions before product usage
How and when to use it - 
Use it at night post cleansing and application of Kumkumadi Bi-Phase Essence. 
How To Use Kumkumadi Face Glowing Oil?
To obtain all the benefits of Kumkumadi face glowing oil for skin, we recommend the following routine. It incorporates the best Kumkumadi Oil formulated products into your day as well as night routine -
Day Routine -
Cleanse - Wash your face with a mild, natural cleanser to get rid of impurities.
Tone - Next, spray a natural toner to balance your skin pH and prep the skin.
AM/PM Serum - Now, your skin is ready for the goodness of Kumkumadi. Shake vigorously and spritz Kumkumadi Bi-Phase Essence to plump, soften & illuminate skin.
Sunscreen - Before stepping out, apply a generous amount of sunscreen.
Night Routine -
Apart from this, use Kumkumadi Brightening Ayurvedic Face Scrub twice a week for best results.
In this article, we've covered everything that you need to know about using Kumkumadi Oil for a glowing face. If you would like to learn more about Kumkumadi Oil and understand which products are best suited for your skin, book a free online consultation with our Ayurvedic Beauty Experts.