Remember all the times when Mom surprised you with the one gift you thought you were never going to get? What about every occasion when Mom had a ready piece of advice to help you through a financial crisis, a bad relationship, or even just a bad cold?
Mom has been giving you thoughtful gifts all the way. Kama understands your desire to return the love ten-fold, and has curated special gifts, so that there is one that is perfect for your Mom, so unique and loveable in her own ways.
FOR MOMS ON THE MOVE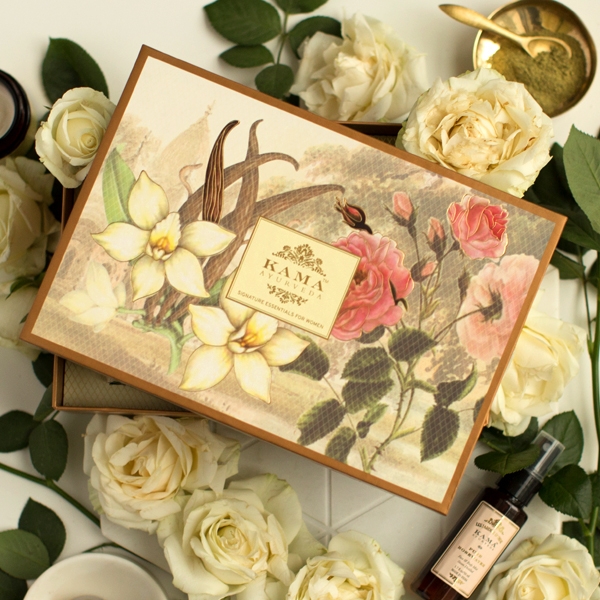 Mom's work commitments may take her around the country, and the globe, often. Yet, she finds ingenious ways to be there for you when you need her. Kama's Signature Essentials for Her, featuring our remarkably softening Mridul Soap Free Cleanser, instantly soothing Pure Rose Water, and gently decadent Vanilla & Oatmeal Soap and Eladi Hydrating Ayurvedic Face Cream, is a wonderful way to to help Mom pamper herself when she is travelling. If she has minimalistic tastes and likes to travel light, choose the Rose & Jasmine Face Care Gift Box, quintessentially Kama with the Signature Rose-Jasmine Essence Blend.
FOR THE CURATOR OF PRETTY SOAPS
There is no explanation for why Mom likes to collect Soaps. It is simply one of the endearing things she does. Kama can help you make her feel spoiled for choice. The Gardens of India Gift Box features the all-too familiar favourites, Rose, Khus, and Tulsi. Our Three Traditional Treatment Soap Box contains the purifying and therapeutic Sugar & Tamarind Deep Cleansing Soap, Turmeric & Myrrh Skin Brightening Soap, and Red Sandalwood Ayurvedic Soap. The Natural Soap Gift Box reigns in exuberant, mood-uplifting Essential Oils, in the Rose, Cinnamon & Orange Soap, Nutmeg, Ginger & Lime Soap, and Vanilla & Oatmeal Soap.
FOR LOVERS OF THE HOME SPA RITUALS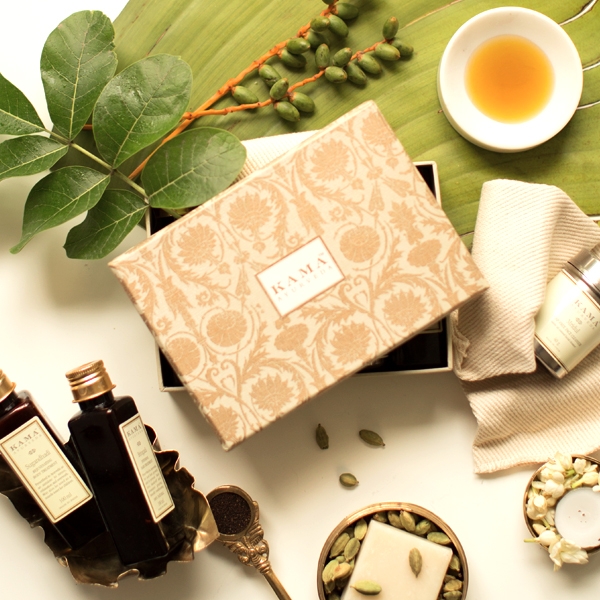 Moms and grandmothers tend to be steadfast believers in the simplistic, no-nonsense efficacy of natural beauty regimes. If this sounds like your Mom, gift her Kama's Ayurvedic Facial Gift Box, Ayurvedic Wellness Gift Box, or Pure Ayurvedic Soap Box. Each is an ode to unadulterated, pristine, top-to-toe Remedies, steeped in ancient Ayurvedic prescriptions for revitalised skin and hair, and a rejuvenated, relaxed body.
FOR MOMS WHO NEVER SAY NO
Is your Mom never able to take a breather, because she always does everything, for everybody? Pamper her with Kama's Rose Essential Gift Box, a curation of sheer daily indulgence, especially in the Rose Jasmine Bath & Body Oil. A Mom who is always on her toes needs luxuriant, relaxing massages (even if she does not agree). Choose the Body Oil Gift Box, featuring healing, protective Massage Oils infused with intriguing Essential Oils, or the Home Aroma Box to create the perfect environment for a self-care session.
FOR MOMS WHO LOVE THE OUTDOORS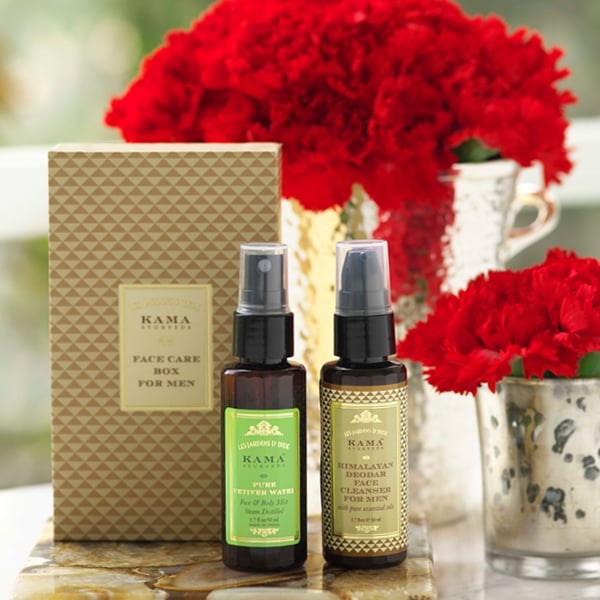 Our Ultimate Suncare Regime will give Mom's skin long-lasting protection, healing, and outward radiance. Now, you will understand how Mom felt when you thought she was over-preparing you for the time you wanted to spend outdoors as a child! The Floral Mist Box features handy and convenient bottles of Kama's Pure Rose, Lavender, and MograFace and Body Mists, the only natural skin toners and travel-friendly refreshers she will ever need.