If you've a dry skin, then choosing the right face wash can be a difficult task. 

Most facial cleansers do the job of cleaning the dirt, excess oil, and makeup from your skin quite well. Unfortunately, with regular use of some of these face wash, our skin's natural moisture content is also lost. For those who have dry skin, the natural moisture locked inside the skin barrier is extra precious. 

The best face wash for the dry skin is the one that takes care of your skin hydration just as much as it takes care of cleansing. 
Cleansing With The Best Face Wash For Dry Skin Is An Absolute Essential
Do you know that the outermost layer of our epidermis is known as the 'skin barrier'? For a healthy skin, we need this skin barrier to keep out the irritants while locking in the natural oils and the moisture.

Without a healthy skin barrier, our skin is left excessively dry and prone to dry skin issues like Atopic dermatitis (Eczema), scaly patches, rough and tight skin, excessive itching sensation, redness, dull and flaky skin.

Unfortunately, many times even these natural oils essential for our skin are stripped away by face cleansers. 

But, we can't do away with face washes completely, can we? Facial cleansing is the most important and staple part of our daily skin care routine, afterall. What we can do is make smart and informed decisions about the skin products that we choose.

Read - How To Build Your Own Skincare Routine?

When it comes to dry skin, a face wash can typically make or break your skin and hence, should be chosen with utmost care. A good face wash for dry skin is the one that focuses on hydrating and replenishing the skin. 

In the next section, we'll talk about some simple steps that you can take to identify the best face wash for your skin.
How To Choose The Best Face Wash For Dry Skin - A 3 Step Guide
It is always advisable to use natural products for your skin routine be it face masks or scrubs. Similarly, even to combat dry skin problems it would be a wise choice to consider natural cleansers with zero face-drying ingredients over those with chemical ingredients.
Step 1 - Confirm that your skin-type is 'dry'
Getting to know your skin better is the first step towards making the right decisions about your skin care products. To identify whether dry skin is your major concern, check if your skin displays the following signs which are specifically pertaining and indicating the presence of dry skin.
Skin tightness and dryness- it would feel as if your skin is getting pulled
Roughness, Redness and itching sensation
Excess flaking or scaling on the surface
Skin cracks and skin fissures
Other than these signs one can utilize a blotting sheet to detect the skin type. Gently tap a blotting paper on different areas of the face. Then, hold the paper against a source of light and observe it. If the paper holds little or no oil it indicates a dry skin type. If the oil is visible at the nose and forehead area it indicates a normal skin type. However, if the paper is filled with traces of excess oil it signifies an oily skin category.

You can also book a free online consultation with our Ayurveda Beauty Experts to understand your skin and to verify if the products that you're using are best suited for your skin.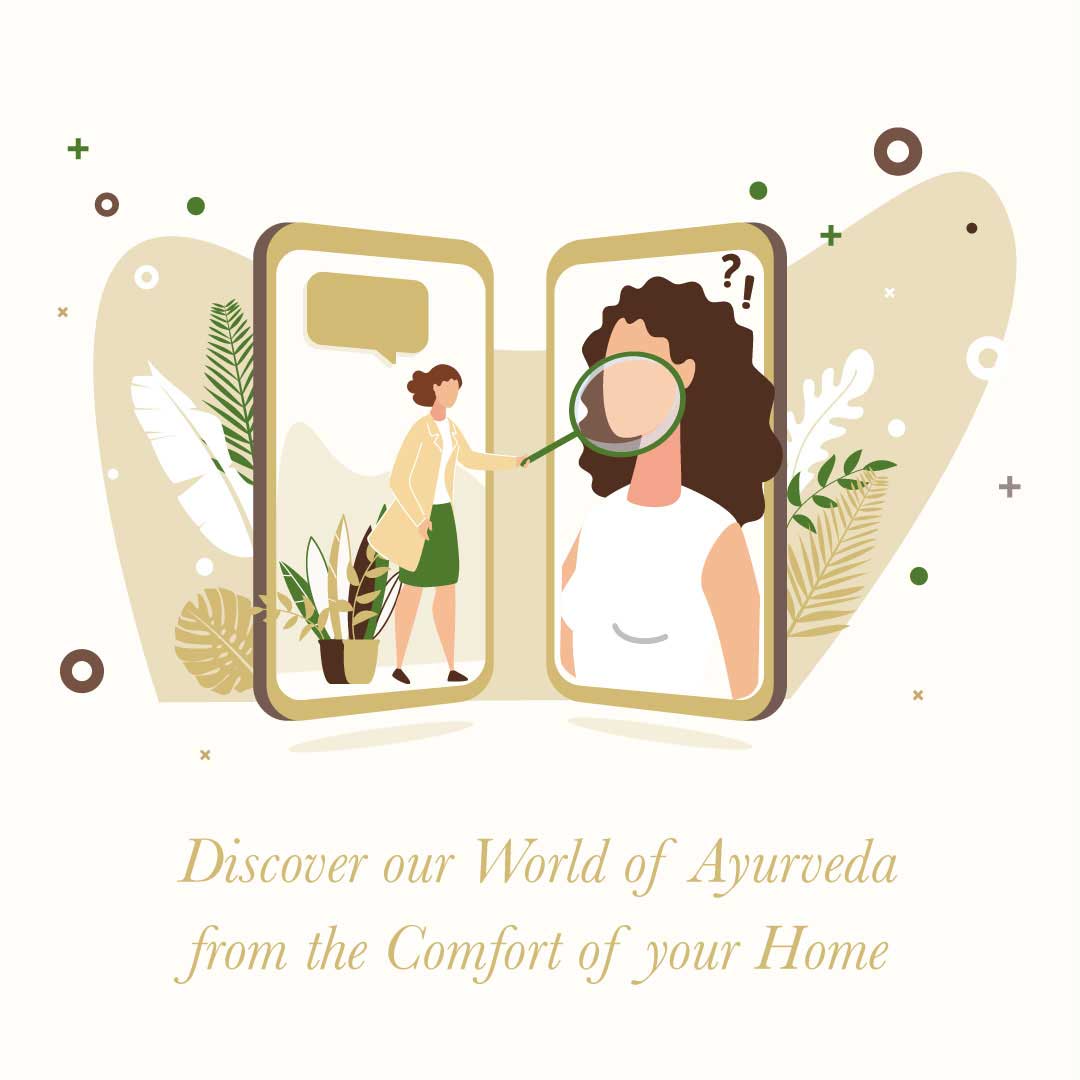 Step 2 - What To Avoid
Since face cleansers are important, it is imperative to note the ingredients that could worsen your skin concerns.

Sodium chloride, isopropyl alcohol, sodium lauryl sulfate, ammonium lauryl sulfate, salicylic acids are some of the ingredients to avoid in your face wash. These chemicals have a bad reputation of worsening the dry skin complications by stripping off the required moisture content.

We recommend using natural skin care products that are free from chemicals like sulfates. Also avoid fragrant products as some of the chemical ingredients used for fragrance could irritate your skin, even causing eczema breakouts. No matter how pleasing the fragrance is for your senses, it might not be pleasing for your skin.

Step 3 - What To Look For
With such a wide range of options available globally, it might seem a herculean task to figure out what exactly the skin needs and which ingredients are best suited for our skin. Let's start by understanding a little more about our skin.

Our skin possesses a natural pH of around 5.5 which is slightly acidic, this is formed when the sebum mixes with the lactic acid and amino acids present in our sweat. Our skin has a protective film over it called an acid mantle which maintains this pH. While selecting a cleanser it is necessary to consider that this pH level is maintained and not hampered.
Some hydrating face wash ingredients that maintain the skin's natural properties are -
This acid is a sugar that is found even under natural circumstances in our skin and it holds water and helps in skin renewal. Hyaluronic acid has a marvelous property of being able to hold moisture 1000 times more than its weight. 

Thereby, this acid helps to keep the skin looking hydrated. It has retaining properties and prevents the moisture from being evaporated. This acid even contains anti-aging properties and feels quite weight-less against the skin. It has been recommended to utilize hyaluronic acid serum along with a moisturizer. 
Glycerine acts as a humectant, which means that it can retain as well as preserve the moisture content of the skin. The major issue with dry skin is the lack of moisture content. Using glycerine restores this moisture and locks it in. 

To top it all, glycerine is not a comedogenic product which means it would not block your pores or cause any clogged pores related problems like pimples. It not only moisturizes but also smoothens the skin and reduces blemishes.

Ceramide is a lipid that is also found naturally on the skin. Almost 50% of the outer skin layer is made by ceramides. It induces cellular functions and helps in securing the epidermis by preventing it from environmental damage as well. It can create a barrier by disallowing permeability and locking-in the moisture content. It also works against fine lines and wrinkles formation thereby constitutes anti-aging properties.

While these ingredients are great for dry skin, it's important to check the label of your face wash to understand what other ingredients they are combined with. Sometimes, other elements in the face wash could trigger skin dryness or irritation.

A safer solution is switching to an all natural face wash for dry skin. If you're thinking of investing in a natural cleanser, look for the following ingredients. 
Best Natural Ingredients In Face Wash For Dry Skin
The benefits of utilizing Ayurveda and natural products for dry skin are immense. It not only has detoxifying properties but also keeps away most of the unfavorable side-effects that could be caused by other chemical ingredients.  

Aloe Vera contains soothing properties and makes the skin soft and rejuvenated. Since it contains hydrating elements it is quite suitable for dry skin and seals the moisture.

Having a slimy texture people assume that aloe vera could clog pores however, on the contrary, it helps to unclog the pores leaving the skin feeling supple and silky. It even has antibacterial properties to cleanse the pores as well as keep it free from bacteria formation.

Sandalwood contains an ingredient called α-santalol which has therapeutic properties. The sandalwood oil acts as an excellent moisturizer, and also is quite beneficial to prevent dry skin issues.

It contains anti-bacterial and anti-inflammatory properties because of which any kind of skin irritation caused by dry skin is eased with its use.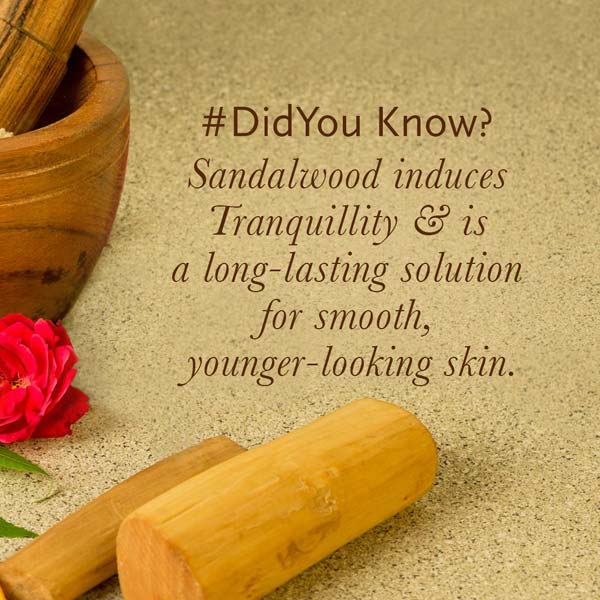 Calendula oil is extracted from the marigold flower. It carries anti-fungal, anti-bacterial, anti-inflammatory components making it ideal for dry, irritated, reddened, or chafed skin. 

It even helps to heal and reduce the pain in case of cuts caused by excessively dry skin. It can restore the skin's glow as well as hydrate the skin. It works against eczema and provides a hydrated smoothness to the skin.

Jojoba oil has structures similar to the natural oil present on the skin. Therefore, it has quicker absorbing properties as compared to the other oils. The redness and abrasion that comes along with dry skin can be prevented by the usage of jojoba oil.

It is rich in Vitamin-E and also contains B-complex vitamins which can reinstate the lost glow, reduce the fine lines, and prevent further drying and dulling of skin. Hence, it rejuvenates the skin and also gives it a soft texture.


Rose essential oil is extracted from the rose petals and is widely used in aromatherapy. It has hydrating as well as anti-aging properties. It works against skin diseases like eczema and rosacea which can facilitate dry skin formation.

It aids in keeping the skin energized and youthful. It helps to propagate the radiance of the skin and also possesses anti-inflammatory properties because of which the redness gets diminished.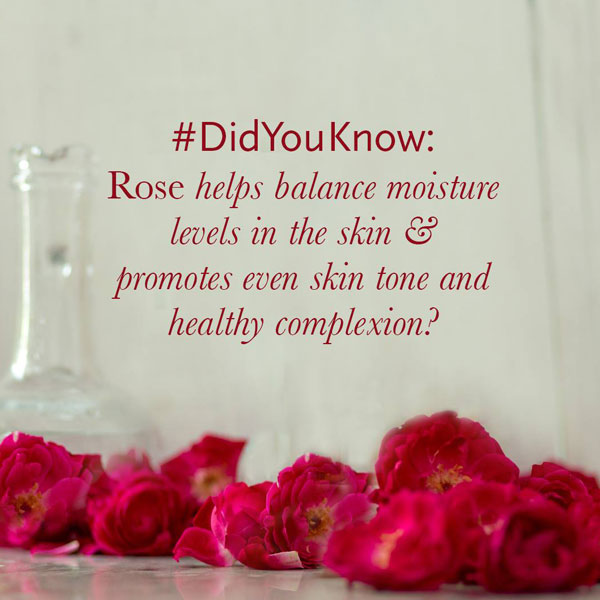 Now that you know what to look for in the product label of a natural face wash, let's talk about some of the best face wash for dry skin that contain these naturally hydrating Ayurvedic ingredients.
Best Face Wash For Dry Skin
Here, we've summarized some of the best natural face wash for dry skin. These recommendations have found their way to the list due to their unique ability to cleanse and nourish dry skin. 

This face wash is most suitable for those with delicate and dry skin. The constant worry of cleansers stripping away the skin's natural oil can vanish, as this foam-based product retains the natural moisture of the skin and only removes the impurities and the excess oil. 

It enables the pure Sandalwood oil containing anti-inflammatory and anti-bacterial abilities to soothe the skin, keeping away any kind of irritation, sensitivity, and redness. Significant hydration is provided by the cold-pressed Aloe vera juice. Maintaining the firmness of the skin, it also keeps flaking and redness away. Finally, Calendula secures the skin from any environmental based irritants and pollutants. This product renders the skin with a comfortable and healthy feel.
How to use:

Dampen your skin first. Take out the necessary quantity on your palm and then gently massage on your skin using circular motions. Later, rinse it clean and pat dry.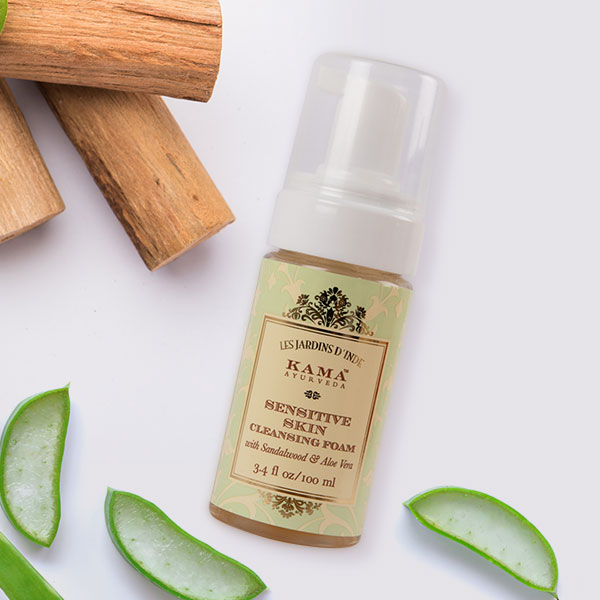 This is an ideal hydrating face wash. It contains natural ingredients like Aloe Vera leaf juice, Vetiver roots, and Black Cumin seeds. These ingredients help to cleanse the skin, remove light makeup, smoothen as well as protect it from pollutants. The Jojoba seed oil and Rose oil keeps the skin hydrated, rejuvenated, supple, and moisturized. The presence of Jasmine makes it an effective toner, reducing blemishes and scarring with constant usage.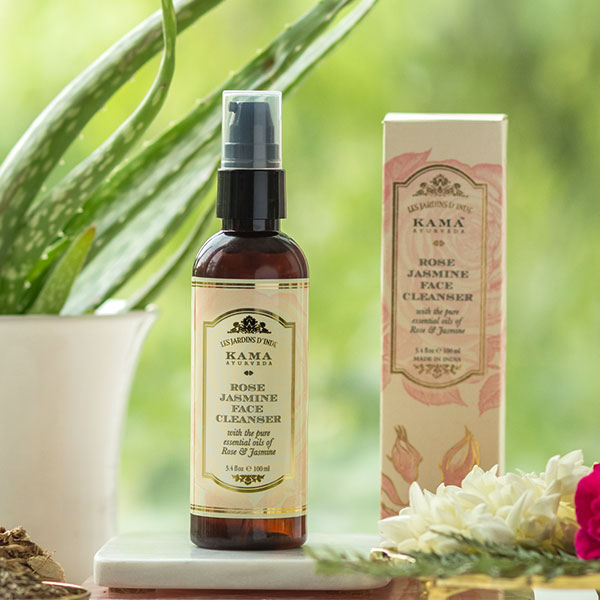 How to use: 

Pump approximately twice or thrice. Take the amount and massage it lightly over dampened skin. Rinse it efficiently with water and pat dry.

This non-drying product helps to mildly exfoliate the facial skin. It consists of a mixture of grounded pulses, cereals, and herbs thereby even suiting the sensitive and damaged type of skin. Fennel, Sandalwood, and Green Gram retain the skin's natural oil while cleansing dirt and dead skin. The skin tone is leveled out using Sandalwood, Turmeric, and Rose. The grounded Almonds present in the cleanser smoothen the skin's appearance.
How to use:

Blend 1-2 teaspoons of the powder with water and make a paste. Mix it with yogurt/ milk for dry skin. Apply the paste and gently massage in a circular motion to moist skin, later rinse it well.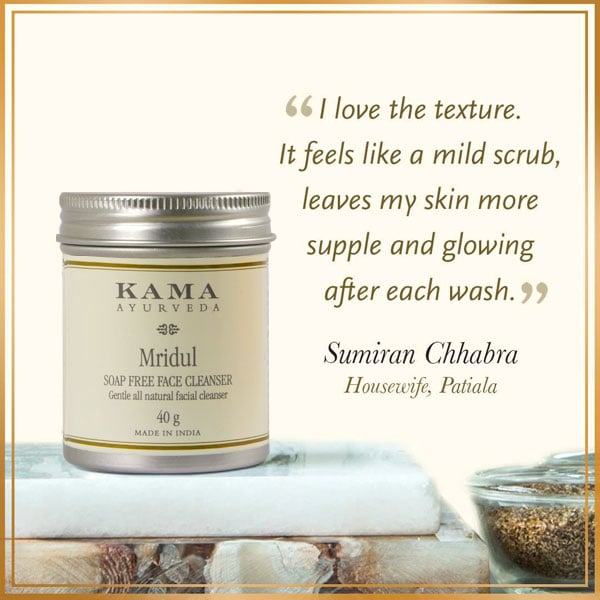 When you use a gentle face wash to take care of your dry skin, you might worry about their ability to cleanse your skin well. Sometimes, we might have stubborn makeup or sunscreen that can not be removed with a mild face wash. In that case, we recommend that you dry double cleansing for dry skin.
Double Cleansing For Dry Skin

Just as the name suggests double cleansing is washing and cleaning your face twice. The first time it could be with the help of oil containing cleanser and the second time it would be by a deep water-based cleanser.

But, is double cleansing for dry skin any different?

First of all, double cleansing for dry skin doesn't have to be a daily ritual. You can do it once in a while when you want to clean your skin more thoroughly, perhaps after using makeup products or after heavy exposure to dust and pollution.

Secondly, we use natural oils like Coconut Oil or Almond Oil in the first step of cleansing due to their moisturising and healing properties for dry skin. 

Coconut Oil - is the simplest and purest form of cleanser that one could use. Other than helping in the cleansing process, you would be delighted to know that it even can reduce pigmentation and blemishes.

It contains antimicrobial, anti-aging, and anti-bacterial properties which could cleanse your skin, keep every kind of bacterial formation at bay, and at the same time hydrate it. 

Almond Oil - possesses emollient properties and is also rich in vitamin A, Vitamin E, Omega-3 fatty acids as well as Zinc. Almond oil helps to soothe as well as soften the skin. It can enhance the skin tone, the complexion, and keeps it moisturized. It is suitable for all and does not cause any allergic reactions on most of the skin types as it is stated to be hypoallergenic.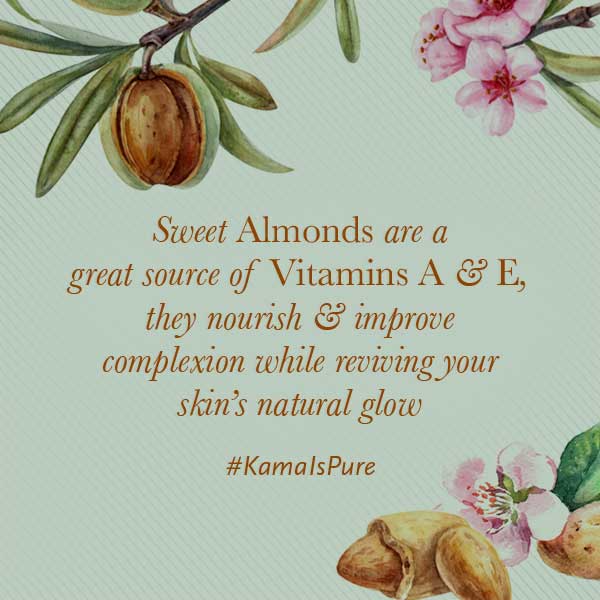 Using either of these oils followed by a gentle cleanser could do wonders on your dry skin. Now, to conclude, let's discuss some other ways you can take care of dry skin other than using only the best face wash.
How To Take Care Of Dry Skin
Other than cleansing and moisturizing, there are a couple of other essential points that need to be followed for anyone with a dry skin. Let's look at some simple skin care practices that you can include in your routine to take care of your dry skin.
After a shower or bath, apply the moisturizer when the skin is still a bit moist. This helps to lock the moisture and keep the skin hydrated. 
Usage of soothing ingredients, with less or zero content of acids, fragrances, and dye is beneficial in case of sensitive skin.
Keep yourself hydrated by drinking plenty of water everyday.
Try and moisturize your skin at least twice a day.
Use of humidifiers to prevent skin dryness in winters
While making use of a cleanser or any other soap-based products, do not lather excessively nor use an excess quantity. Use the right amount that is sufficient to clean the skin.
Use lukewarm water to take a shower. Using excessively hot or cold water could dry out the skin.
Do not wipe yourself dry as it would pull the skin, always gently pat yourself dry.
Remember to keep your lips moisturized as well, it has more sensitive skin as compared to other parts of the body.
During winters do not sit directly in front of any heat source as it may give you short term warmth but it dries out your skin quite extensively.
References: