Too much of anything is bad and this especially true when it comes to oily skin. The natural oils in your skin may help maintain your skin barrier, but they can also go into an overdrive at any time. As a result, you might find yourself reaching out for your anti-sebum powder, blotting paper or compact. 
However, did you know that with the right face cleanser, you need not depend on these cosmetic products to keep your skin free from excess oil? The right cleanser will help in controlling excess sebum production and keep your skin matte for a long time. In this article, we will help you find the best face wash for oily skin.
Cleansing with the best face for oily skin is an absolute essential
The right face cleanser will help in removing makeup, pollutants, bacteria and unwanted debris off your face. Moreover, cleansing your face with the right cleanser will prepare your skin to absorb products that you apply later such as your toner or serum. Clearing out the pores will allow the serum or the moisturizer to penetrate into your skin and work more effectively. 

Also, while choosing the cleanser, you need to keep your skin type in mind. If you have oily skin, you might be tempted to use harsh cleansers to get rid of the greasiness. But, irrespective of your skin type, you need to use a gentle cleanser because harsh soaps might trigger your skin to produce more oil. 

Likewise, if you use soap on your face, it can give that tempting squeaky clean feel, but it may also strip away all the good oils from the skin. When the skin is stripped off these essential oils, it reacts by going into an overdrive and producing even more oils.

Therefore, oily skin types need a good face wash that removes the excess oil without stripping away the good oils. (1)

Read - How To Build Your Own Skincare Routine?
How To Choose Best Face Wash For Oily Skin - 3-Step-Guide
As an individual with oily skin, you have to keep in mind that face washes with heavy moisturizers clog your pores. So, you need to invest in a natural face wash that can balance your oil production while deeply cleansing your skin.

Remember the face wash that you choose shouldn't leave your skin feeling tight and dry after every wash. Therefore, maintain your distance from alcohol-based and oil cleansers that can further trigger oil production. To choose the best face wash for oily skin, follow the below 3 step guide.

Confirm Your Skin Type Is Oily
The first step towards making the right decisions about your skincare products is to get to know your skin better. To check whether oily skin is your major skin concern, observe if your skin has the following signs.

1. Your face usually appears greasy and shiny later on in the day despite thorough cleaning.
2. Makeup seems to melt quickly.
3. The oilier areas of the face will have frequent breakouts, pimples, blackheads and other types of acne.
4. The pores on your nose, forehead, and chin are visibly enlarged.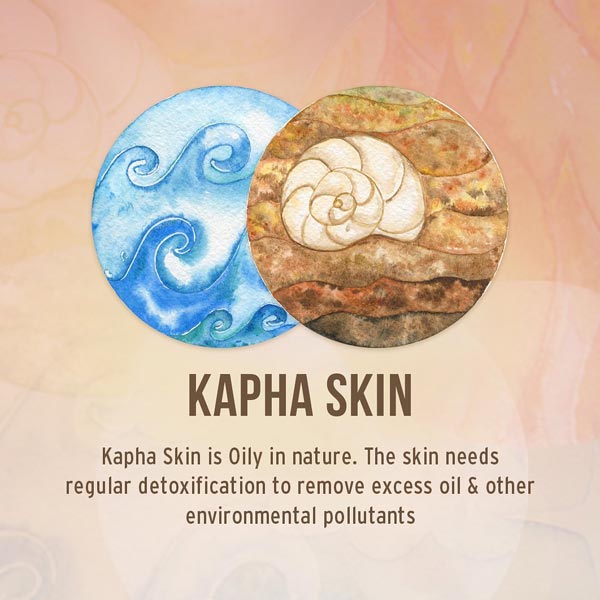 Other than these to confirm that you have an oily skin type, you can make use of a blotting sheet. All you have to do is gently tap a blotting paper on your face. If you have oily skin, the paper will be filled with traces of excess oil. But, if the oil is visible only in areas like the nose and forehead, then it indicates that you have a normal skin type.

Or else, you can book a free online consultation with Kama Ayurveda's beauty experts. They will make you understand your skin and will verify the products you are using are well suited for your skin.

Oily skin is caused by the sebaceous glands that are present under your skin. These sebaceous glands are responsible for producing oil and sebum. The sebum is generally composed of fatty acids and triglycerides which help in keeping the skin hydrated and protect it from infections and irritations. When the oil or sebum is produced excessively, it makes the skin greasy. 
What To Avoid
Not all face washes are good for oily skins. There are ingredients that can worsen your skin concerns. The following are such ingredients that you want to stay away from.
Sodium Lauryl Sulfate
Have you ever experienced the squeaky clean feeling you get after cleansing your face? That is because of Sodium Lauryl Sulfate. Sodium Lauryl Sulphate is a common ingredient that is added to face washes. It is also a very common ingredient in shampoos. But, not just in the beauty aisle, it is also used in engine degreasers, garage floor cleaners, and car washes. (2)

The main concern with Sodium Lauryl Sulphate is that it will not only remove excess oils but also strip the skin off of its natural oils which are used for skin's protection and hydration. And because it removes the natural oils too, the skin compensates by producing excess oil. (3)
Face Oils With High Oleic Acid
Natural face oils are commonly used in all our products for various reasons. But, they don't always work for everyone and especially with oily skin types. Though they are beneficial for dry skins, they can clog your pores if you have oily skin.

Often, natural oils that have a higher percentage of Oleic Acid are comedogenic and tend to sit on top of the skin making it even more greasy. Some of the natural oils with higher oleic acid content are - 

Coconut oil
Camellia oil
Sunflower oil
Hazelnut oil
Instead of these, you can choose oils with a high percentage of Linoleic content like Rosehip oil, Tea Tree Oil, Hemp Seed Oil, Grapeseed oil, Moroccan Oil, and Evening Primrose oil. (4)
Fragrances
When you look at the ingredient list of any household product (from face washes to laundry detergents), you will come across the word "fragrance". While this word may sound harmless, it can represent hundreds of chemicals. The added fragrances to face washes can cause irritation, itchy skin, allergies, acne, eczema, and psoriasis. 

So, it is best to avoid products that are overly scented, instead, go for the ones that use fruit and plant extracts or essential oils to scent their formulas. 
Alcohols
Alcohols are the most common ingredients used as a base for many products. They are often used for mainly two reasons - to make the products feel almost weightless and to help other skincare products like Vitamin C, retinol penetrate deeper into the skin. Though they can help other products work effectively, they can get very damaging to the skin, especially for oily skin types. They are extremely drying and will strip away skin's natural barriers. 

Therefore, to keep your face hydrated and healthy, we recommend you avoid alcohols like isopropyl alcohol, SD alcohol 40 and ethyl alcohol. (5)
What To Look For
Always look for the face washes that help in removing just the excess oils without stripping the natural oils. These natural oils help trap the moisture in your skin, and make you less likely to look dry and scaly during winter months. They also protect your skin from the signs of ageing. So, if you have an oily skin type, consider yourself lucky as no one wants a dull complexion.

Look for face washes that contain natural ingredients as they are gentle on the skin, cause less damage to the skin, keep skin healthy, and are very sustainable.

Read - 8 Best All Natural Face Wash and Soaps For Your Skin

The following are some of the natural ingredients that work great for oily skin types. 
Best natural ingredients in a face wash for oily skin
These natural ingredients not only have detoxifying properties but also keep you away from the unfavourable side effects that are caused by the chemical ingredients.
Honey
Honey is known as the natural humectant. That means, it will absorb moisture from the environment and lock it into our skin, thus keeping it well-nourished and hydrated. This in turn will help in preventing the excessive production of sebum and controlling the oiliness of the skin. (6)

Honey is also a powerhouse of antibacterial and antiseptic properties which works effectively in getting rid of acne and pimples. It also has the ability to soak excess moisture from the clogged pores and dehydrate the acne-causing bacteria. Furthermore, this miracle ingredient will also help in balancing the skin's pH level. With all these amazing benefits, don't you think it should be one of the ingredients in your face wash? (7)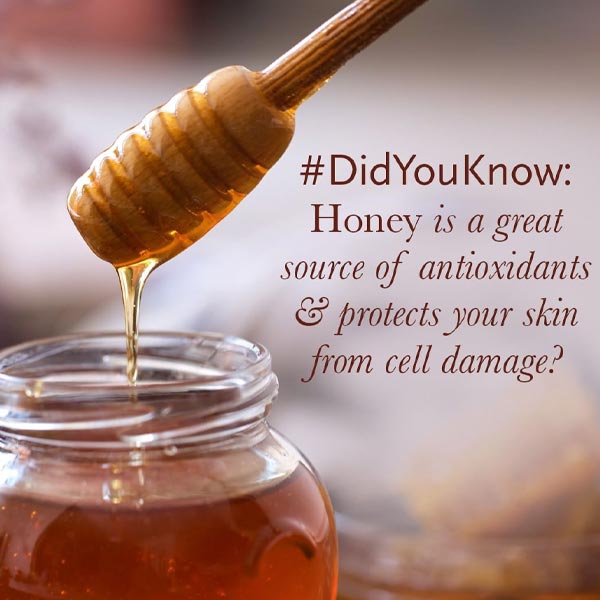 Aloe Vera
Aloe Vera is a host of antimicrobial properties and is really soothing for irritated and inflamed skin, and because it is in gel form, it is very much suitable for oily skin too. 

Aloe Vera gel is very effective in regulating oil production in the skin. It helps in treating numerous bacterial and fungal infections that are caused due to grease and improper hydration. Moreover, the anti-inflammatory properties of Aloe Vera gel make it an excellent remedy for oily and acne-prone skin. This wonder plant is also known to be one of the best natural astringents, which makes it effective in cleansing the skin and tightening the pores. 

Therefore, a face wash with Aloe Vera as the base ingredient can do wonders to combat oily and acne-skin woes. (8)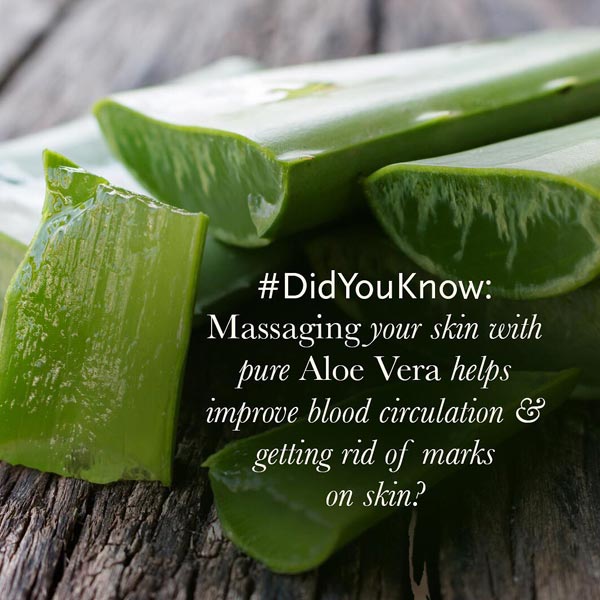 Read - How to use Aloe Vera for a glowing face and clear skin?
Tea Tree
In the world of beauty, when it comes to skincare, tea tree oil is an ingredient that is continuously drawing attention. The reason behind its popularity is its amazing soothing and anti-inflammatory properties that calm irritation relieves itching and redness on the skin. It is also best known for its antimicrobial properties that control breakout-causing bacteria. Tea tree oil works wonders in controlling sebum and therefore settling on it is a perfect decision for people with oily skin types. 
Moreover, tea tree oil also moisturizes and restores the skin's natural oil balance to bring back its natural glow. It is no wonder why a lot of skincare experts suggest tea tree oil cleanser for oily skin types. (9) (10)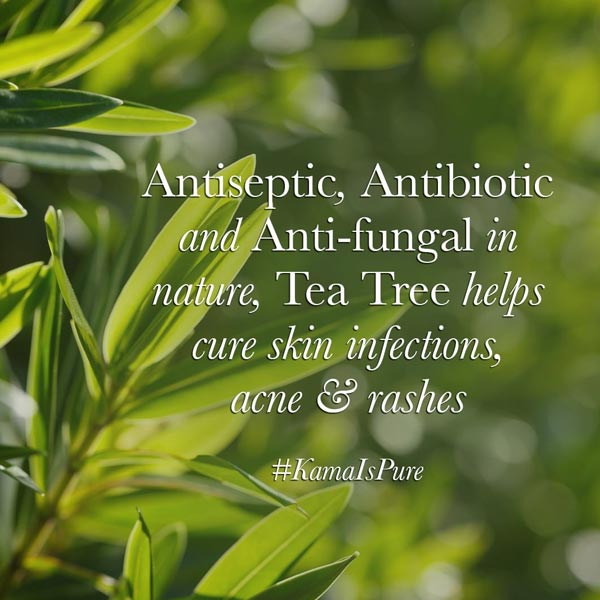 Jojoba Oil
As mentioned above, oily skin needs an oil that is high in linoleic acid to balance out the skin sebum production. Tea tree and grape seed oils are some of the examples of such oils. Jojoba oil isn't actually recommended for oily skin as there is a more lightweight option available out there. But why do we see many beauty experts recommend using jojoba oil for oily skins? 

The reason behind it is - Jojoba is very similar to skin's own sebum. So, when we apply it, our skin is fooled into feeling like there is enough of the lipid barrier on it. In other words, the oil tricks our skin into thinking that there is enough oil present, and so it doesn't have to produce more of it to protect itself. Applying Jojoba oil is like using reverse psychology on your skin.

Moreover, jojoba oil also helps in treating acne and acne scars. (11)

Sandalwood Oil
Believed to be the Fragrance of Paradise; one of the many describing the scent of Lord Krishna's body. The Pure Chandan Oil in Suvarna is from sustainably sourced trees in Maharashtra, the heartwood of which has taken 60 years to mature. It induces Saumanasya Janana (Tranquillity, Placidity, Mind-Body Union) & is a long-lasting solution for smooth, taut & younger-looking facial skin.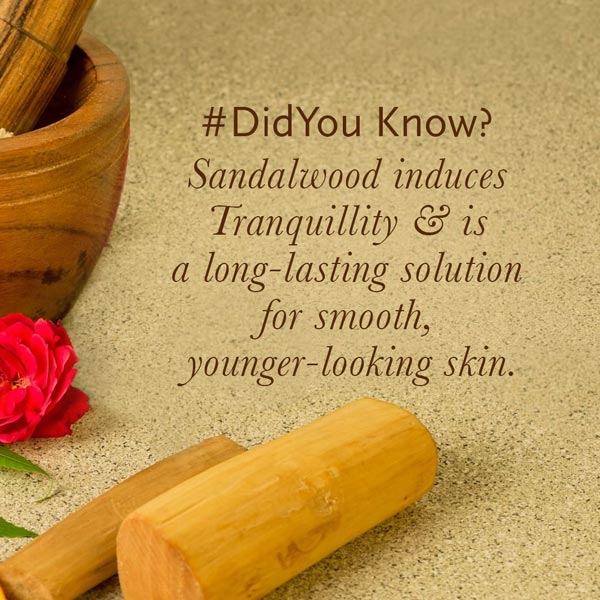 Now that you have gone through the list of what to avoid and what to look for in the ingredient list of a face wash, next time you are shopping for a face cleanser, pick up the best non-comedogenic one.
Best Face Wash For Oily Skin
Good news! We have made your hunt for the best face wash for oily skin a lot easier. The following are some of the best natural and non-comedogenic face washes for oily skin.

Sensitive skin cleansing foam is a lightweight foam that is ultra-gentle on the skin and has softening properties. It is best known to calm distressed skin, and replenish lost moisture and glow.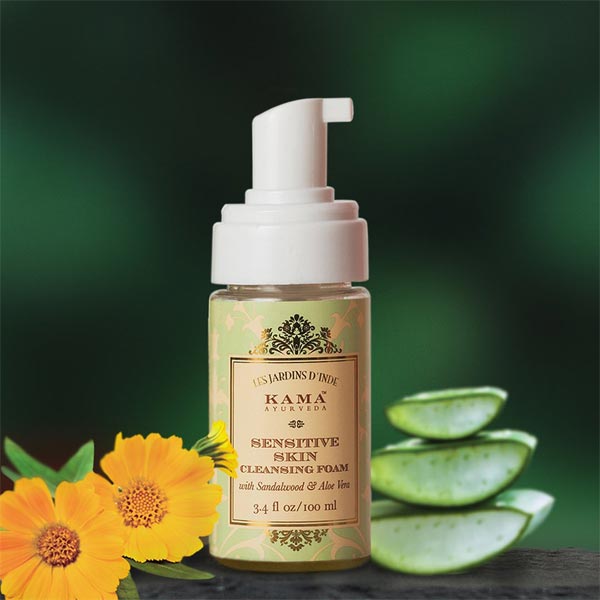 "Sensitive skin cleansing foam," the name itself says that it is perfect for delicate skin. This foam removes impurities and excess oils, without stripping away skin's essential moisture. Pure Sandalwood oil in this cleanser has anti-inflammatory and antibacterial properties which help to soothe reddened or irritated skin. Aloe Vera Leaf Juice provides great hydration, while also controlling redness, flaking and tightness. Naturally restorative calendula keeps the skin protected by healing damage caused by environmental irritants and pollution. Thus, the Sensitive Skin Cleansing Foam promises a healthy feeling of fresh and comfortable skin.

Benefits:
Sensitive skin cleansing foam is 100% natural.
This foam is dermatologically tested.
It soothes & softens skin and is anti-inflammatory.
It controls redness and dryness 
How to use it?
Take the required amount of the product onto your palm. Apply the foam to the skin and gently massage it in circular motions. Rinse it with water and pat dry.
The anti-acne cleansing foam is a lightweight foam meant for deep purification. It dries out active acne, tightens and unclogs skin pores. This face wash also helps in reducing the frequency of breakouts.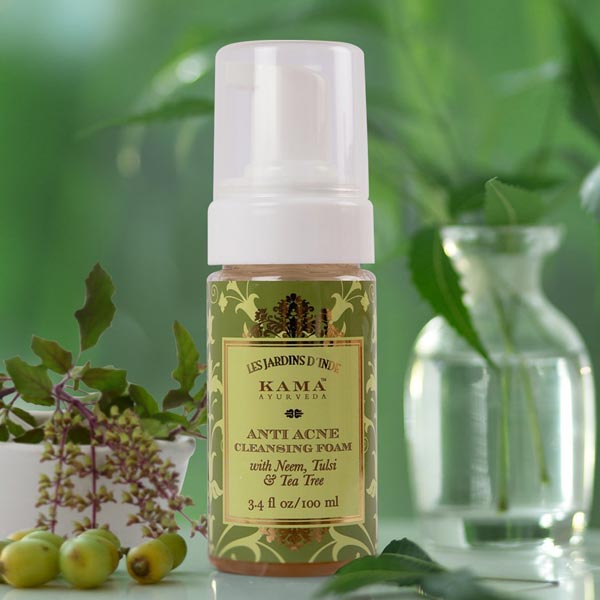 Anti-acne cleansing foam uses safe plant-derived acids instead of synthetic variants. This foam is gentle yet great at reducing breakouts and blemishes for healthy and soft skin. Neem oil, the main ingredient of this face wash actively reduces pimples, while lessening post-acne scarring. It also helps in restoring lost moisture to the skin. The detoxifying tulsi in it clears blocked pores and protects against further swelling without over-drying. 

Clarifying Tea Tree combined with wintergreen-derived Salicylic acid help in deep cleansing and reducing breakouts while boosting the process of skin renewal. Pure Calendula Flower and Aloe Vera cool and soothe acne-ravaged skin, making it smooth and comfortable. Last but not least, Comfrey-derived Allantoin in the cleanser conditions and heals damaged, distressed skin tissue.

Benefits:
The anti-acne cleansing foam is 100% natural.
It clears, prevents breakouts, unclogs and tightens pores.
The anti-acne cleansing foam is dermatologically tested.
It is antibacterial and anti-Inflammatory.
How to use it?
Take a required amount onto your palm. Apply the foam to the skin and gently massage it in circular motions. Rinse clean and pat dry.
Rose Jasmine face cleanser is a gentle foaming cleanser that is a rich blend of Ayurvedic ingredients to effectively cleanse and remove impurities and makeup.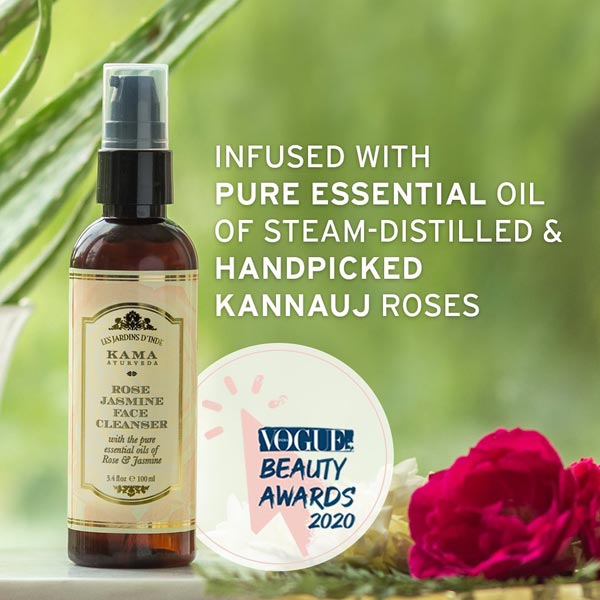 Rose Jasmine face cleanser is a perfect face wash for oily skins as it cleanses skin gently without ripping the skin off of its natural oils. The Aloe Vera leaf juice in the face wash is responsible for smoothening and healing the skin. Antibacterial Vetiver root and Black Cumin seeds protect the skin from pollutants. 

This cleanser also contains deeply conditioning Jojoba seed oil that helps in softening and rejuvenating the skin. It also promises to minimize fine lines and promote skin suppleness. Rose Jasmine face cleanser has pure Rose essential oil that has excellent hydrating properties. It also keeps the skin soft, moisturized and young. 

Benefits: 
Rose Jasmine face cleanser is 100% natural.
It helps in smoothing skin and removes makeup.
This cleanser minimises fine lines and keeps the skin soft.
How to use it?
Take an appropriate amount of cleanser on damp skin. Massage it lightly in circular motions and then rinse with water to pat dry.
How To Take Care Of Oily Skin
Just like how important cleansing is for oily skin types, there are certain practices you need to follow to maintain the good condition of your skin. Let us look at some of those essential points.
Keeping Your Skin Clean
Wash your face twice daily - Rinse clean your face twice daily (both morning and at night) with warm water and any of the above mild cleansers. At night, you need to remove all the dirt, debris and make-up that pile up during the day. In the morning, you must clean all the impurities your skin has let out during the night.


Use oil-free cosmetics - It is very essential to use cosmetics that will not exacerbate skin oiliness. Check the labels and always opt for water-based or oil-free products. Try to keep your makeup minimum.


Use moisturizers selectively - Many people with oily skin types will maintain their distance from moisturizers thinking that their skin doesn't need further lubrication. But, this is not true. People with oily skins still need to moisturize their skin regularly. However, you need to use moisturizers selectively. Avoid oily moisturizers or anything that can further clog up your skin. So, we recommend you to use oil-free moisturizers as they can help you achieve the balance in your skin.


Do not over wash your face - To tackle the oil build, you may be tempted to wash your face all throughout the day. But, washing your face more often will dry out the skin and cause irritation. Limit washing the face two times a day (morning and evening).


Be mindful of what touches your face - Even though your skin type is mostly genetic and the oil is produced underneath your skin, you still need to be mindful of what is touching your face. For example, if you have greasy hair and it is falling all over your face, some of its greasiness will get transferred to your face as well. Also if you're often touching your face with grubby hands, you will be spreading the dirt and grease all over the skin. So, always keep your hands off your face.
Tackling Excess Oiliness
Try using a face mask - Clays and face masks work best in drawing out the oil from the skin. But, using them too often can also result in excess dryness and irritation. We recommend using masks only on the areas of the skin that are the oiliest. You can also opt for the products that are especially designed for oily skin.


Use blotting pads - It can be really upsetting when your skin gets oily continuously throughout the day. And frequently washing will only make it worse, So, what should you do? Use simple blotting pads that will help you in removing the excess oil present on the surface of the skin. You can also use a tissue or some toilet paper. Make sure to be gentle with your skin. Don't scrub it!


Talk to a medical professional or a skincare expert - Even though you are using the right skin care products, if you still feel like you cannot diminish the oiliness, it is better you consult a medical professional or a skincare expert. They will guide you to further steps or may prescribe some medication.
Looking After Your Skin
Recognize what causes oily skin - The amount of the oil produced is different for different people. After puberty, the oil production in the skin will subside but the problems that are caused due to oily skin can continue into adulthood. Oily is often caused due to humid and hot weather conditions. Recognize what is causing your oily skin and avoid those situations. Because without knowing the cause you cannot treat the issue.


Reduce your stress levels - Heightened stress levels can exacerbate the issues, if you are having oily or acne prone skin. So, to combat oiliness, don't stress, but rather try to find out ways to relax. Try doing some deep breathing, or meditation, or some gentle yoga. Go out for a walk, get some exercise and clear your head.


Have a healthy diet - Don't believe when people say that greasy foods lead to greasy skin and acne, it's just a myth. But, to promote a good overall health of the skin and well being, you need to have a healthy diet. Foods that are rich in carbohydrates like bread can trigger acne, so avoid taking those. Also minimize the hours you spend in the kitchen, as the greasiness in the air can stick to your skin and clog your pores.


Apply sunscreens - It is an absolute essential to protect your skin from the harmful rays of the sun. When you buy a sunscreen, look for matte or oil-free options or the ones which are designed especially for oily skin types. As heavy sunscreens add new oiliness to your skin and will clog your pores. Use a sunscreen that has a broad spectrum with an SPF of minimum 30. Apply at least 20 minutes before you come in contact with the sun. And don't forget to apply daily, even at home, and during winters.

Read - Which sunscreen lotion is the best for you?
References -