Pollutants, oil, grime, dirt easily stick on to your skin through the day, but did you know that using chemical-based products to get rid of these impurities could prove harmful for your skin? Regular face washes and soaps contain chemically processed synthetic ingredients. When you apply these to the skin, they deprive the skin of the required moisture content and even dry out the skin excessively.
Regular usage of such chemical-based products can also cause the damaging components to slowly seep into the skin resulting in detrimental effects.
Thankfully, there's an alternative that is slowly gaining popularity - the use of natural face wash and soaps for your skin.
Using natural products with zero chemicals keeps the skin safe and no side-effects altogether. To add a cherry to the cake - using natural face wash and soaps could give you added long-term skin benefits, unlike synthetic ones.
Now, you must be wondering which natural face wash and soap would be most suitable for your skin. Keep reading on to discover some of the best natural face wash and soaps, the ingredients they contain, and why they should replace the chemical-based products on your shelf!
Best Natural Cleansers For Your Skin
Suitable for - All skin types. Useful for those having scarred, uneven dry skin type.
Top Natural Ingredients - Rose and Jasmine essential oil, Aloe Vera, Black Cumin seeds, Vetiver, Jojoba oil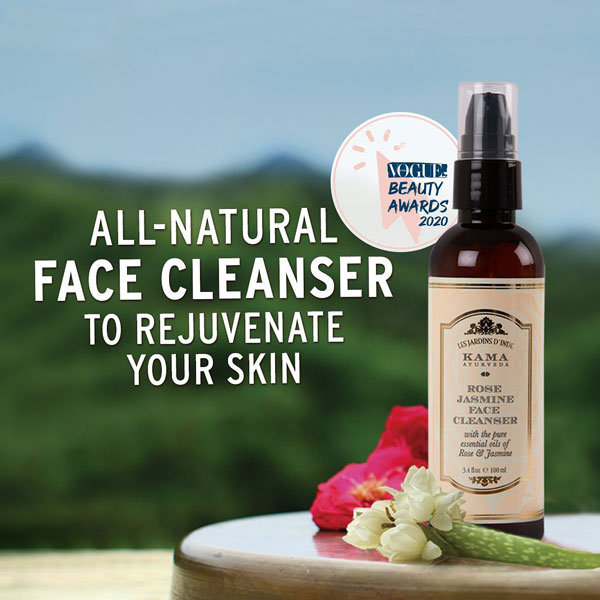 Shop Kama Ayurveda Rose Jasmine Face Cleanser
Rose and Jasmine face cleanser is non-comedogenic. This cleanser would allow your skin to breathe and will not block nor clog the skin pores. Let's now look at some of the benefits that its top ingredients provide.
Rose and Jasmine Essential oil -
Did you know Jasmine's sweet and pleasant aroma is used in few of the world's best-known perfumes? The essential oil of Rose and Jasmine are extracted from their respective flowers. Jasmine essential oil contains antiseptic and anti-spasmodic components. This could help in healing any bruises or scars left by previous acne breakouts. Rose essential oil is used for various health-related purposes. It is known to hydrate dry skin as well as heal conditions such as eczema and rosacea.
This ingredient is famously referred to be the miracle plant in Ayurveda. The juice of Aloe vera leaf can heal and smoothen the skin. It is rich in Vitamin C, E as well as beta carotene. Each of these components wonderfully nourishes the skin.
The essential oils extracted from Vetiver are aromatic and contain strong anti-inflammatory and antibacterial ingredients. Acne-causing bacteria find it difficult to sustain the oil present in vetiver essential oil, thereby preventing it.
The nut of the jojoba plant is used to derive Jojoba oil. This ingredient works as a humectant, hence retaining and preserving the moisture of the skin. It is incredibly suitable for those with dry skin complaints.
Suitable for - Works best for those having oily and acne-prone skin. This product dries out the existing acne and tightens the skin pores also preventing future acne breakouts.
Top natural ingredients - Tea Tree oil, Neem oil, Tulsi
Shop Kama Ayurveda Anti Acne Cleansing Foam
Made with a powerful blend of Essential Oils of Neem, Tulsi and Tea Tree, this gentle yet potent Anti-Acne Cleansing Foam reduces breakouts, blemishes, and clears blocked pores. 100% Natural, this cleanser leaves the skin calm, smooth & comfortable, protects against further inflammation, and boosts the process of skin renewal. Let's look at the benefits of its key ingredients.
Tea tree oil is an essential oil extracted from the crushed leaves of the tea-tree plant. It's commonly used as an alternative to regular conventional skin treatments. Tea tree oil is a popular acne treatment because of its anti-inflammatory and antimicrobial properties. It even helps prevent and reduce acne scars, leaving you with smooth, clear skin.
Tea tree oil can diminish itching and irritation caused by dry skin. It's stated to be much more productive than zinc oxide in healing eczema. It contains antiseptic properties that can effectively combat oily skin as well. The anti-inflammatory properties relieve discomfort and soothe itchy skin. Isn't it amazing to know that this single ingredient can improve your skin's appearance to a great extent?
Neem oil is derived from the seed of the tropical neem plant, called Indian lilac. Neem contains many ingredients that are beneficial for the skin. These include antioxidants, limonoids, fatty acids, vitamin E, and even triglycerides.
Did you know that neem leaves can cure chronic skin conditions? Research states that using neem oil could be beneficial for prolonged acne treatment. It is anti-bacterial and also aids in keeping the skin's elasticity intact.
Tulsi, also commonly called Basil, is said to be the 'Queen of Herbs'. Tulsi is renowned for its medicinal advantages and would be found quite commonly in every Indian household. When used on the skin, this ingredient can clarify and brighten the skin as well as cleanse it effectively.
Did you know that using this ingredient in your regular skin-care routine can get you blemish-free skin? The anti-bacterial and anti-fungal constituents in Tulsi limit and prevent acne breakouts along with reducing existing scars. It also works as a wonderful skin toner, thereby giving you soothed and toned skin after every use.
Suitable for - The best option for those possessing the sensitive and delicate skin type.
Top natural ingredients - Aloe vera, Calendula, Sandalwood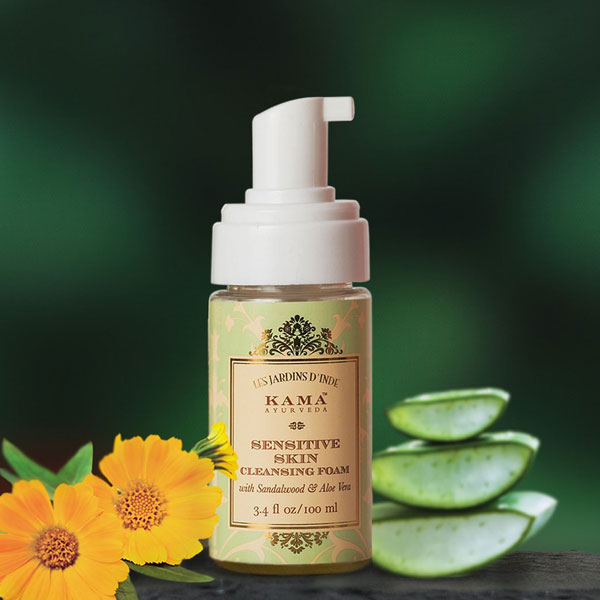 Perfect for delicate skin, this ultra-gentle Sensitive Skin Cleansing Foam calms distressed skin, removes impurities & excess oils without stripping skin's natural moisture.
Shop Kama Ayurveda Sensitive Skin Cleansing Foam
Aloe vera is a fascinating ingredient as it can do marvels for your skin. It is rich in antioxidants, vitamin A and vitamin C. The anti-inflammatory properties of aloe vera aids in reducing and treating burns, acne as well as scars.
In this product, the Aloe vera is cold-pressed, thereby providing intense hydration and controlling flaking, irritation, tightening, and redness. Did you know that aloe vera contains enzymes that can smoothen the skin by effective exfoliation? This does not cause any abrasions and is especially suitable for sensitive skin.
Calendula oil is another remarkable ingredient; it is a natural oil extracted from marigold flowers. Calendula purports to contain anti-fungal and anti-inflammatory properties, making it an effective remedy to heal the skin and keep infections like eczema at bay. It can also be utilized as an antiseptic.
Did you know that Calendula can augment your skin's complexion by diminishing wrinkles, pigmentation, and fine lines? In case you are looking out for a cleansing agent that protects the skin and heals damage caused by pollution and other environmental irritants. This product would surely do you good, as Calendula does these wonders!
Sandalwood oil is an essential oil that is derived from the process of steam distillation of sandalwood trees. It can allow the coagulation of skin proteins. This protects the skin from allergies and breakouts. It allows the soft tissues of the skin to contract slightly, causing the pores to tighten. Hence this ingredient works as a fantastic toner as well.
It can even soothe reddened and irritated skin with its anti-bacterial and anti-inflammatory properties.
Read - Which Is The Best Face Wash For Dry Skin?
Suitable for - Will suit anybody, including those with dry and damaged sensitive type of skin.
Top natural ingredient - Turmeric, Sandalwood, Almonds, Neem
Shop Kama Ayurveda Mridul Soap Free Cleanser
An authentic Ayurvedic formulation of herbs, cereals & pulses, Mridul Soap Free Face Cleanser helps cleanse your skin without stripping it of its natural moisture.
Turmeric powder is an ingredient that is quite renowned for its wide range of uses and health benefits, including dermal advantages. It contains as many as 300 antioxidants, making it a powerful healer. It has antifungal properties that guard the skin, keep breakouts away, and enhance the skin's youthfulness.
Sandalwood is primarily used in various cosmetic products. Did you know that sandalwood is considered to be one of the finest ingredients that treat blemishes, rashes, acne, and even tan? Sandalwood even contains strong antiseptic properties that aid in clearing blackheads and spots.
Almonds possess goodness that can help you achieve the smooth and supple skin; you have always desired! They are rich in Vitamin E and antioxidants, making it the perfect ingredient that replenishes the skin's lost nutrients, heal damaged skin, and nourishes it. The oil extracted from almonds are often used for massages, as they even function as a mild moisturizer and smoothen the skin's texture.
Mridul soap-free face cleanser contains a blend of various robust ingredients, one of them being Neem. Neem has natural moisturizing properties that nourish dry skin cells. Did you know that Neem can restore the skin's pH balance and work to revamp its youthfulness? It also functions to lessen pigmentation and scars.
Suitable for - Suitable for Men. Preps the skin for a comfortable pre-shave that suits every skin type.
Top natural ingredient - Aloe Vera, Black Cumin seeds, Vetiver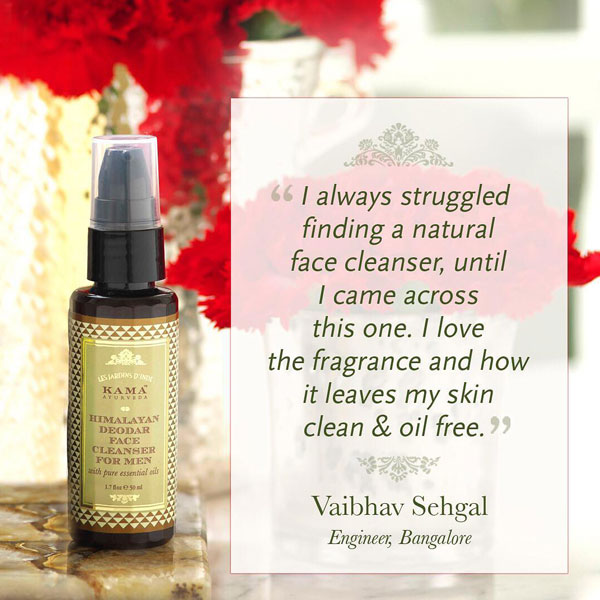 Shop Kama Ayurveda Himalayan Deodar Face Cleanser For Men
Himalayan Deodar Face Cleanser is a purifying face wash for men with Cedar Wood extract that soothes and tones while the Aloe Vera juice heals and smoothens.
Aloe vera is a water-rich plant and is known for its cooling and hydrating properties. Isn't it amazing that aloe vera gel heals the skin and smoothens it considerably! It has anti-inflammatory components therefore making it an ideal pre-shave ingredient as it reduces redness and inflamed skin.
Black cumin seed is a miraculous ingredient with a sundry of benefits for the skin. It has antibacterial properties that can combat acne and oily skin. It can also improve the texture and even out the complexion making it a perfect pre-shave ingredient. Black cumin seeds contain anti-bacterial and anti-fungal components that aid in healing cuts and rashes.
Vetiver roots are aromatic and are loaded with anti-bacterial properties plus anti-microbial ingredients. Did you know that Vetiver is stated to be among the best natural remedies to treat blisters and acne-breakouts? It prevents any sign of premature aging along with a complimentary benefit of nourishing the skin.
Best Natural Face Soaps For Your Skin
Suitable for - Red Sandalwood soap could do wonders on acne-prone skin. It also shows effectiveness in combating blemishes and hyper-pigmentation.
Top natural ingredients - Sandalwood, Coconut oil, Mulaithi, Spiked ginger lily, Beeswax, Common fig, Castor oil plant
Shop Kama Ayurveda Red Sandalwood Ayurvedic Soap
Treat acne, scars, & blemishes with this handcrafted Traditional Ayurvedic Soap with unadulterated ingredients that nourish & protect while enhancing your complexion.
In Ayurveda, Red sandalwood is stated as a prescription to heal numerous skin-based issues, they include sunburn, blemishes as well.
Red Sandalwood soap contains cold-pressed extra virgin coconut oil, and this ingredient is highly acclaimed for its hydrating and moisturizing properties. The oil is even stated to prevent bacterial infections on the skin, owing to its antibacterial components.
Did you know that Mulethi bestows a cooling sensation to the skin? It is renowned for its ability to reduce itchiness, redness as well as inflammation.
Spiked ginger lily possesses anti-microbial properties that can heal inflammations and small bruises. It can even tone the skin and cure numerous skin-related illnesses. Spiked ginger lily provides an antifungal as well as anti-microbial protection to the skin.
Beeswax is stated to be an efficacious remedy to maintain the hydration level of your skin. It creates a protective layer and safeguards the skin from environmental pollutants. Did you know that beeswax could give high-end benefits to those facing topical allergies such as eczema? It also nourishes the skin and keeps it soft and moisturized.
Figs are packed with vital minerals and essential vitamins such as Vitamin A, B1, and B2. They are rich in important nutrients that effectively nourishes and soothes the skin.
Did you know castor oil is significant in fighting against various skin diseases and skin ulcers? It reduces the signs of aging and lessens blemishes as well.
Suitable for - Turmeric and Myrrh skin brightening soap is an efficacious Ayurveda treatment, in case you have dull, damaged, and hyper-pigmented skin this product could put all your worries to rest!
Top natural ingredients - Bael fruit, Coconut oil, Beeswax, Common fig, Castor oil plant, Myrrh, Turmeric, Vetiver.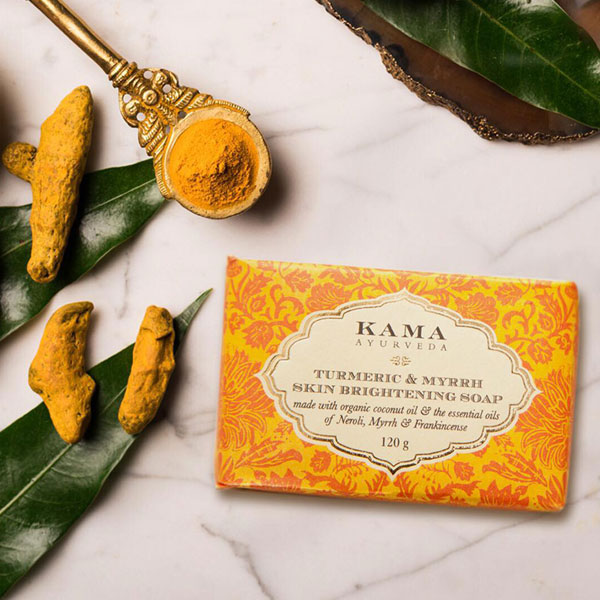 Shop Kama Ayurveda Turmeric & Myrrh Skin Brightening Soap
Brighten your complexion while protecting your skin with this Ayurvedic face and body soap with the essence of Turmeric for glowing skin.
Bael fruit is a powerful ingredient in the soap, known for its ability to cool and soothe the skin. It contains natural astringent properties that help in tightening the pores and toning the skin.
Turmeric and Myrrh skin brightening soap contains cold-pressed extra virgin coconut oil that can deeply nourish and hydrate the skin. Did you know that regular use of coconut oil is even stated to lighten the skin tone?
When used cosmetically, Beeswax creates a protective barrier but at the same time allows the skin to breathe by not clogging the pores. It aids in diminishing premature aging signs such as wrinkles, blemishes, and hyper-pigmentation, thereby brightening the skin tone. It even soothes irritation and provides relief from itchiness.
Studies state that fig contains anti collagenase and anti-oxidative effects that diminish the amount of wrinkle depth. This ingredient is also known to provide hydration to the skin and is used as a remedy to combat hyper-pigmentation as well!
Castor oil can soothe sunburns and inflamed skin type. It is even referred to as a natural acne remedy. Did you know that Castor oil is useful in restoring the skin's natural moisture and hydrating ability?
Myrrh primitively works as an anti-oxidative agent; it contains antiseptic components that have numerous healing abilities. Isn't it mesmerizing to know that Myrrh can also fight away the infection-causing microbes! 
Turmeric has loads of advantages for the skin. It contains antioxidants and anti-inflammatory components. Turmeric can even heal scars and prevent acne break-outs.
Vetiver essential oil deeply moisturizes the skin and provides a firmness to it. It even prevents the detrimental effects on the skin caused by the environment.
Suitable for - Sugar and Tamarind Ayurvedic deep cleansing soap are recommended for those with oily, rough, and uneven skin.
Top natural ingredients - Soap nuts, Tuberose, Tamarind, Coconut oil, Vetiver, Beeswax, Castor oil plant, Black Cardamom, Cane sugar
Soap nuts are famous in Ayurveda for its ability to prevent skin-related diseases. It works as a foaming agent in this product that aids in lifting away the dirt and excess oil.
Tuberose is even referred to as the 'Night Queen'. Tuberose can stimulate blood circulation, thereby nourishing the skin cells. Did you know that the aroma of tuberose is also useful in reducing stress and anxiety?
The pure tamarind extract used in this product cleanses and refines the pores and also heals the skin. It reduces the blemishes and keeps the oil content in check, without dehydrating the skin.
Beeswax aids in promoting cell regeneration and the newer growth of skin cells. It even possesses anti-inflammatory and anti-viral components that can prevent the growth of harmful bacteria.
Castor oil is an elixir for supple and moisturized skin. Castor oil contains omega 6 and 9, which are considered vital components contributing to the healthy growth of skin.
Black cardamom is widely renowned for its astringent properties. It can tone the skin, improve your complexion, and even work as an effective skin purifier by diminishing existing blemishes.
Cane sugar is a powerful fruit acid that cleanses the skin gently yet productively by acting as an exfoliator. Did you know that cane sugar possesses glycolic acid that micro-exfoliates the skin, removes the dirt and dead skin cells? Cane sugar is even stated to polish the skin and support the circulation for the regeneration of new cells.
And with that, we complete our round-up for the best natural face wash and soaps recommended for you. We've talked about the top natural ingredients in each product to give you a complete understanding of their benefits. For best results, use a natural toner and a moisturiser after using face cleansers.
Read - How To Build Your Own Skincare Routine?
You could safely use either one or more of these natural products, based on your suitability and skin-preference. It is highly recommended to perform a patch test before utilizing the product to keep in check any possible chances of an allergy.