Research shows that pimples and acne marks can become a reason for your lousy mood a few times. Some people struggle with self-esteem issues and find it challenging to deal with acne problems. They start to look for options to get rid of pimples and marks overnight, which often do more harm than good. You don't need harsh chemical-laden products to prevent acne. Simply changing your daily skincare products and using the best face wash for pimples and marks can help you a long way.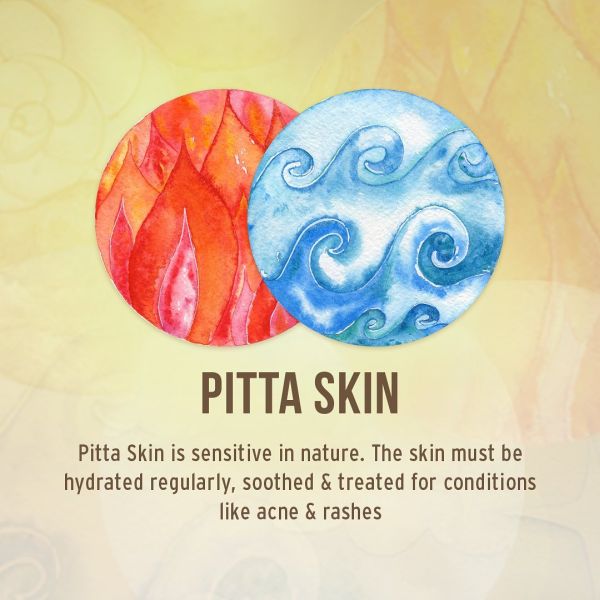 Read - How To Get Rid Of Pimples Naturally – A Complete Guide
Your skincare habits help in managing pimples. For instance, stop reaching your hands over to pop your pimples as that will only leave you with stubborn pimple marks. And make sure that you wash your face regularly with a face wash that prevents the growth of acne-causing bacteria and cleanses your pores thoroughly to avoid clogging.  
3 Best Face Wash for Pimples and Marks 
Choosing the best face wash or a cleanser can be challenging because it requires a lot of research. There are a plethora of face cleansers for pimples and blemishes on the market. Still, most of them serve only as a regular cleanser with zero benefits for acne-prone skin.

We are here to provide you with all the information around the best washes for acne, pimples, marks, their top ingredients and benefits. 
Face cleansers or face washes with natural ingredients have long-term effects and do not cause any adverse effects on the skin. We have come up with a list of the top three face washes for acne and blemishes that are organic, natural, and safe for everyday use. 
1. Anti Acne Cleansing Foam
The lightweight anti-acne cleansing foam helps in the deep purification of your skin. It minimizes the frequency of breakouts by drying out active acne, unclogging, and tightening skin pores.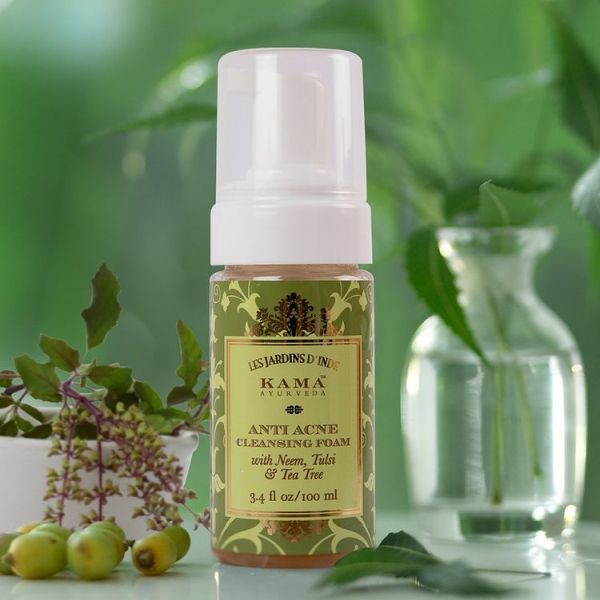 Key magical ingredients
Instead of synthetic acid variants, this cleansing foam uses harmless plant-derived acids: Salicylic acid and Allantoin. They are very gentle but effective in reducing acne marks, blemishes, breakouts and results in soft, healthy skin. 
Neem Oil's potent anti-acne properties help minimize pimples while reducing post-acne scarring and rehydration of the skin. 
Tulsi purifies the skin without overdrying it, clears clogged pores, and prevents additional inflammation. 
Clarifying Tea tree and Salicylic acid extracted from wintergreen help in deep cleansing, preventing breakouts, and renewing the skin. 
Why choose this face wash? 
100% natural foam face wash, especially effective for acne and blemishes. 
Dermatologically tested and is very safe to be added to your daily skincare routine. 
Has antibacterial and anti-inflammatory properties, beneficial for fighting acne and pimples. 
Prevents breakouts on your skin. 
Helps in deep cleansing and tightening the pores. 
2. Rose Jasmine Face Cleanser
With a rich blend of Ayurvedic herbs, this delicate and soothing foaming herbal face cleanser thoroughly cleanses and lifts away make-up and pollutants from your face, leaving zero dirt.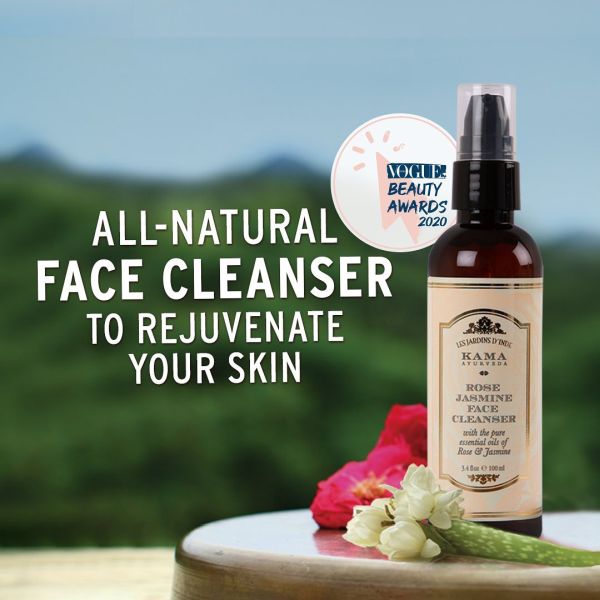 Key magical ingredients
This is a moisturizing face wash containing natural ingredients that clean skin softly and completely while also removing light makeup. 
Rose Essential oil lubricates and moisturizes, keeping the skin supple, youthful, and hydrated. 
Jasmine Essential Oil in this face wash acts as a toner and helps in removing skin blemishes and scars. 
Antibacterial Vetiver roots and Black Cumin seeds that guard against pollutants. It also has Aloe Vera leaf juice that helps cure and smoothen the skin. 
Jojoba seed oil in this face wash is a deep conditioning oil that helps rejuvenate skin, reduce fine wrinkles and promote soft and glowing skin. 
Why choose this face wash? 
Made with 100% natural ingredients. 
Keeps your skin hydrated, moisturized, and happier than ever. 
Fights acne, acne marks, and other skin-related issues. 
Minimizes the appearance of fine lines on your face. 
Helps in providing natural nourishment to your skin. 
3. Mridul Soap Free Face Cleanser
The daily use of this soap-free face wash delicately cleanses and removes dirt for fresh, healthy, and radiant skin. The face cleanser effectively treats skin-related issues, without drying your skin out after its usage.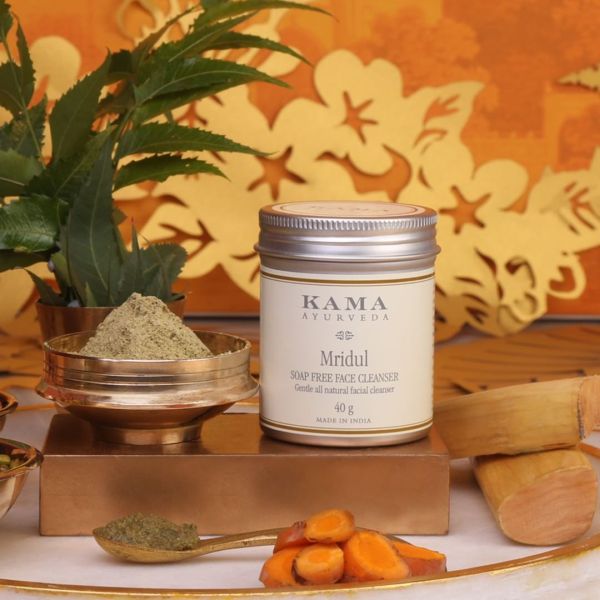 Key magical ingredients 
It has Turmeric extracts that help fight bacteria and remove dirt from your skin. 
A classic fusion of herbs, cereals, and pulses ground into a detoxifying powder that gently exfoliates the face's skin. 
It is a non-drying formula that will have you replacing your regular harsh foaming cleansers. Mridul Soap-free face cleanser is very suitable for sensitive and damaged skin. 
Clarifying Green Gram, Sandalwood, Neem and Fennel are natural ingredients that gently cleanse dirt, dead skin, and impurities from the skin without peeling it off its natural oils. 
The brightening Sandalwood, Turmeric, and Rose work beautifully to even your skin tone. 
Ground Almonds help in smoothing the skin's texture. 
Why choose this face wash? 
100% natural and Ayurveda-friendly face cleanser suitable for sensitive skin. 
Natural ingredients like Neem, Green Gram, and Fennel remove impurities from the deeper layers of the skin. 
Helps bring a healthy glow to your skin without drying out your skin after its usage. 
How The Best Face Wash Treats Pimples and Marks?
Face washes containing natural ingredients like Rose, Aloe Vera, Turmeric, Sandalwood, and Neem show better long-term results than face washes with heavy chemicals. Natural face wash does not cause any harm to the skin even with regular use. 
These face washes with natural ingredients wash off all the dirt from your face while also fighting bacteria that primarily cause acne and other skin-related issues. Effective acne cleansers and face washes contain ingredients to fight acne and improve the overall texture of your facial skin. They suit every skin type and are safe for use, making them the obvious choice for acne-prone skin.
Acne-fighting ingredients like Salicylic acid, Sodium Sulfacetamide, or Benzoyl Peroxide in cleansers help clear up the skin. Research shows that Salicylic Acid aids in the clearing of clogged pores and reduces the swelling and redness from your skin.
Read - Which Is The Best Face Wash For Oily Skin?
6 Skin Care Tips for Acne-Prone Skin 
It's so hard to fight pimples and blemishes, especially when you have acne-prone skin. However, it is essential to take care of your skin while providing proper nourishment with the help of effective skincare products. Here are some vital tips and tricks to help you cultivate better skincare habits - 
1. Always Keep Your Face Clean 
Whether you have acne-prone skin or not, it is critical to cleanse your face at least two times daily to remove dead skin cells, impurities, and excess oil from the skin's surface. It is recommended to use lukewarm water while using a gentle facial cleanser to wash your face. Some of the face cleansers listed above can provide good results.

Avoid applying harsh soap or face wash to cleanse your face because it can irritate inflamed skin. Scrubbing your skin harshly using a washcloth or a loofah should also be avoided. Instead, wash your face gently using your hands. Always rinse off your face wash thoroughly before patting your face dry using a clean and soft towel.

Read - How To Clean Face Like A Pro – 6 Simple Steps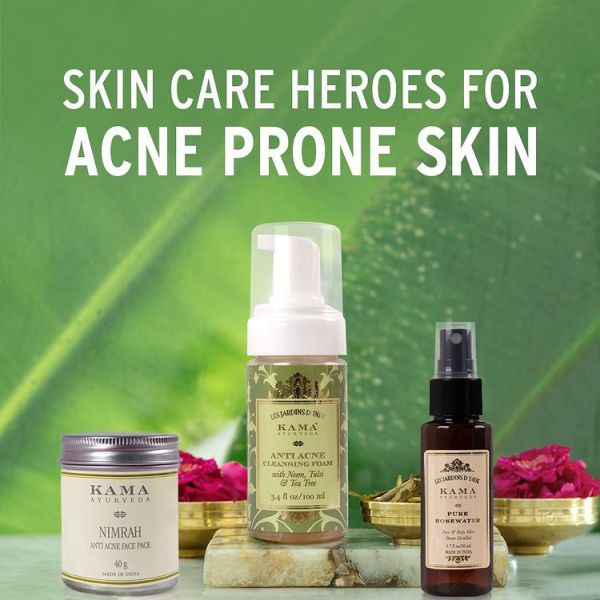 2. Properly Moisturize Your Skin Daily
There are so many anti-acne skincare products that contain ingredients that lead to skin dryness. Always use moisturizers that reduce dryness and peeling of the skin. When buying a moisturizer, look out for the term "non-comedogenic" with the list of ingredients. Non-comedogenic products don't clog the pores and prevent acne. Moisturizers can also help in treating acne by maintaining the sebum balance. We recommend Eladi Hydrating Ayurvedic Face Cream for daily use.

Read - 14 Best Moisturizers For Dry Skin – Safe and Organic

3. Avoid Makeup When Having Active Breakouts
Avoid wearing too much foundation, powder, or blush when you're having breakouts on your skin. Whenever you wear make-up, always remember to wash it off thoroughly using a gentle cleanser at the end of the day. 
Acne cosmetica, acne caused by makeup, is a common occurrence for some women. It leads to multiple tiny bumps on your face. These bumps and pimples may appear on the cheeks, chin, or forehead. 
Try to opt for oil-free cosmetics with no added chemicals or dyes. Look out for makeup products that are "non-comedogenic" because they're safe to use for acne-prone skin. Always read the ingredients list before buying the makeup products. 
Double cleansing is one of the best ways to remove all the stubborn makeup and impurities from your skin. We recommend Kumkumadi Brightening Cleansing Oil that lightly lathers into a creamy foam to remove impurities and makeup gently.

Read - How To Get Clear Skin – 13 Expert Tips That Work
4. Do Not Touch Your Skin All The Time 
Always try to keep your hands away from your face. You can spread the bacteria to other areas of your face and increase irritation on your already inflamed skin. Also, avoid picking and popping your pimples just because you may find it "oddly satisfying." Never do this to your skin, or else it will increase the chances of skin infection and lead to more and more scars on your face. 
5. Cover Your Face When Stepping Out In The Sun 
The UV rays reaching us by the Sun can lead to inflammation and redness. Prolonged exposure can lead to dark discoloration or hyperpigmentation. Try to wear a broad-brimmed hat to cover your face and limit your time in the sun. Whether you have acne issues or not, it is always advisable to use sunscreen with at least SPF 21 or higher.

Applying sunscreen 20 minutes before getting out in the sun is advisable. Look out for sunscreens that are non-comedogenic so that they can work better for treating your acne. We recommend Natural Sun Protection, non-chemical daily-use sunscreen that provides full-spectrum sun protection. It also has Natural Glycerine, Olive Oil, and Shea Butter that keep skin hydrated.

Read - Which Sunscreen Lotion Is The Best For You?
6. Exercise Regularly 
Exercising every day is very beneficial for your body. You will witness a natural glow on your facial skin after exercising, even for a week continuously. It's the best way to eliminate toxins from the body that may lead to acne and breakouts.

However, always remember to take a bath right after you're done with your exercise and wash your face to avoid the accumulation of sweat. The build-up of sweat and dirt in pores can lead to pimples and breakouts.