Natural hair oils of Almond, Sesame, Olive, Grapeseed, Jojoba, Coconut, Argan are considered supreme oils, best suitable for healthy hair growth. They can be applied directly on the hair as well as the skin. Even essential oils consisting of Lavender and Lemongrass have numerous qualities that help nourish and strengthen the hair. These are the best hair oils that not only bestow an amazing fragrance but also contain enriching properties that benefit your hair to a great extent.

With the increase in the number of people opting for healthier lifestyles, including adopting organic and GMO-free food products, a similar shift in trend is visible even in the beauty market. Did you know a survey suggested that many women are now keen on using natural cosmetics and green beauty products are rapidly gaining popularity? Because of the raging increase in the available options, people are confused about choosing the best hair oil to suit their needs.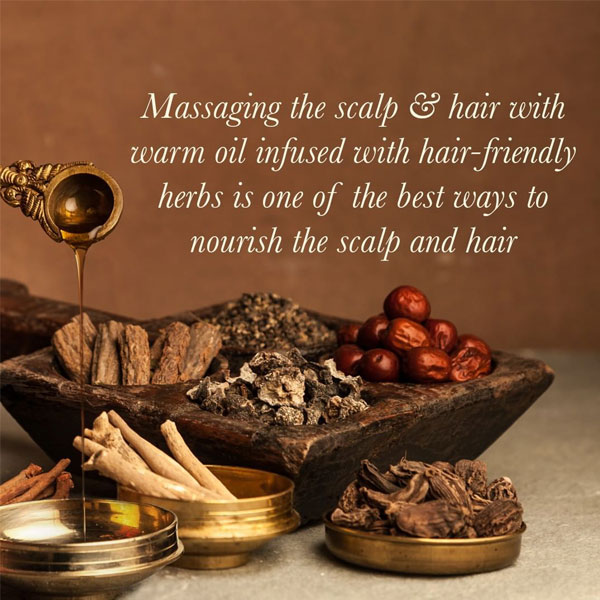 So, the following is a guide that would help you in your pursuit of choosing the right type of hair oil to nourish and encourage healthy hair growth. 

`1. Coconut Hair Oil
As the name suggests, Coconut oil is derived from coconuts. It is an extremely versatile oil with numerous applications that include benefits for one's skin and hair.

Coconut oil contains lauric acid, which is a medium-chain triglyceride (Saturated fat). It can assimilate into the body quickly and completely. Hence, this oil penetrates the hair deeply and does not evaporate. There are many varieties of coconut oil that include refined, unrefined, and extra-virgin.

Read - Why Is Virgin Coconut Oil So Good For Your Hair and Skin?

Ideal for- Coconut oil is suitable for every hair type, but it is particularly recommended for those with damaged, dry, and lifeless hair. It works by repairing brittle hair and prevents split-ends. Also, those with slower hair growth can use it to enhance the rate of hair growth.

Benefits - Coconut oil contains a high amount of moisturizing and water-retaining properties. It provides suppleness and softness to the hair making it easily manageable. It is even stated to protect the hair against heat damage, and regular application of this oil would promote nourished hair growth and a healthy scalp.

How to use it - Using Organic coconut oil is recommended whenever possible. Coconut oil could solidify at lower room temperatures; therefore, heating it before using would allow easier application. In the case of oily scalp, coconut oil should be applied to the hair alone and not on the hair strand's roots. And those with dry scalp can massage the oil to the hair thoroughly, including the roots. Treating your hair with coconut hair oil once a week is sufficient to derive its benefits. After application, allow the oil to remain for at least 30 minutes and then rinse it with a shampoo free of alcohol.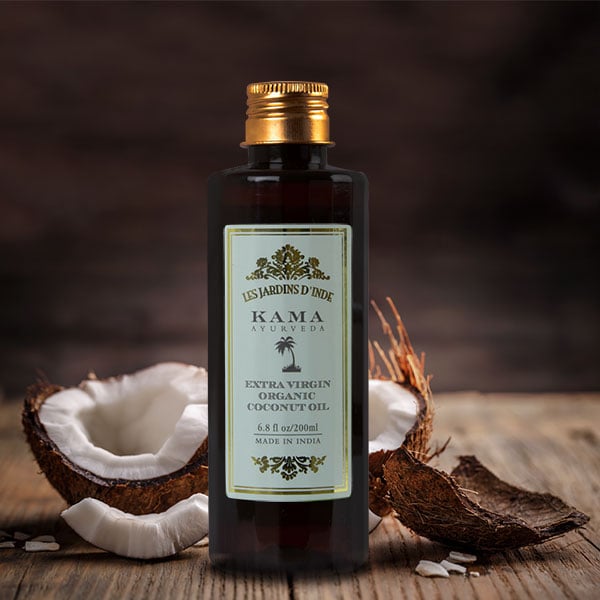 Shop Kama Ayurveda Extra Virgin Coconut Oil 

2. Brigandi Hair Oil
Brigandi hair oil is made by extracting the herbs into pure sesame oil and milk. The oil also has a combination of few other ingredients, which include Indigo, Gooseberry and Eclipta Alba, sesame seeds, Bhringraj and Balloon Vine.

Did you know each of the ingredients has its benefits? They include properties that enhance thicker and fuller hair growth, reduce itchiness, and clear the buildup of impurities on the scalp.

Ideal for- Brigandi hair oil could be used by anyone who faces excess hair loss. Even dandruff and dry hair could be prevented from the usage of this oil. It also prevents premature graying of hair. This oil works as a remedy for most hair problems and is suitable for everyone.

Benefits - The oil gives relief to hair loss by strengthening the roots of the hair. Brigandi hair oil possesses antifungal and antibacterial properties that prevent scalp infections. It also has a calming earthy smell that soothes the nerve and uplifts the mood, reducing hair fall caused by stress factors.

How to use it- Pour the Brigandi oil onto your palm and rub it well. Next, gently massage your scalp and hair to ensure that the whole scalp is covered with oil for the best results. It would work as a natural conditioner when left for 20 minutes and then rinsed away with Mild hair shampoo and lukewarm water. You could also leave it overnight if not suffering from hair fall or sinusitis.

Shop Kama Ayurveda Bringadi Intensive Hair Treatment
3. Sweet Almond Hair Oil
Almond oil is derived from the kernels inside almonds. The sweet oil is specifically made from edible almonds that are grown to contain a sweet flavor.

Sweet almond oil is wonderful for your hair. It is rich in vitamin E, fatty acids, antioxidants, and magnesium. These ingredients lessen the breakage of hair and aids in hair growth. Those who suffer from mineral deficiencies often have slower hair growth. For such individuals, eating almonds is recommended as a part of the diet as well. Using natural and organic sweet almond oil is recommended as it does not contain added chemicals or preservatives.

Read - 10 Amazing Benefits Of Almond Oil For Hair, Body and Skin?

Ideal for - Sweet almond oil is suitable for those with dry, damaged, and dandruff prone hair. It is also suggested for those with hair loss and slow hair growth-related issues.
Benefits - Sweet almond oil can moisturize and protect the hair from environmental pollutants. It would even prevent hair loss and breakage of hair strands. The regular application would aid in longer and thicker hair growth.

How to use it - To use sweet almond oil, warm a tablespoon of the oil and massage it into your scalp. It could be left through the night and washed in the morning. It could also be used after shampooing your hair to prevent split ends and dry hair.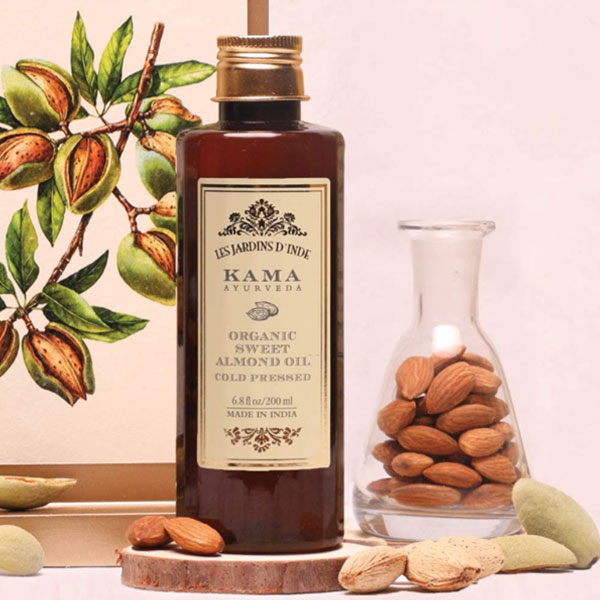 Shop Kama Ayurveda Organic Sweet Almond Oil 

4. Olive Hair Oil
Olive oil is again extremely versatile with varied applications. It is derived from pressing olives and contains moisturizing as well as protective functions. 

On topical application on the hair, this oil is known to coat the hair strands and shield the keratin, which is an essential component of the hair. Hence, it is known for its protective ability. The combination of olive oil and lemon juice is a boost for those seeking ways to eliminate dandruff. On regular application, olive oil is stated to replace the need for conditioner and hair smoothing products. The best variety of Olive oil is the organic, extra virgin Olive oil as it contains natural antioxidants and lacks additive chemical ingredients.

Ideal for - Those who are dandruff prone or have dull and damaged hair would benefit from using Olive oil.

Benefits- As Olive oil coats the hair shaft, it protects the hair from environmental pollutants. Did you know that Olive oil could repair the damage caused by heat and dyes? If you are looking for a hair oil that could boost hair growth and, at the same time, protect your hair, olive oil would be a very suitable option. Olive oil application leaves the hair feeling smoother, sleeker, and healthier.

How to use it - Olive oil could be used every week on damp hair or dry hair. Apply a generous quantity of this oil to your hair and cover your hair with a shower cap. Now, allow it to penetrate your hair shafts by leaving it for around 30 minutes before rinsing it thoroughly with a shampoo. You could skip the use of conditioner after treating your hair with Olive oil. 


5. Grapeseed Hair Oil
Grapeseed oil, also commonly known as grape oil, is manufactured from cold-pressed grape seeds.

Did you know that grapeseed oil is rich in nutrients, antioxidants, and contains components like stearic acid and Vitamin E essential for the healthy growth of hair and skin?

Ideal for - Those facing massive hair loss and stunted hair growth would find relief using the Grapeseed hair oil. It conditions the hair; hence would work wonders with those having dry hair as well.

Benefits - Grapeseed oil conditions and moisturizes the hair. It encourages a healthy and robust growth of hair. It could even work against the split-ends formation and reduce the frizziness. You would be pleased to know that grapeseed oil stops DHT production, which is a hormone that yields hair loss.

How to Use it - Grapeseed oil is relatively light in weight compared to the other oils present in the list. Hence it could be applied to the hair and scalp regularly. Also, it is suitable for those who dislike strong scents as this oil is odorless. For deep conditioning, use this oil and leave it for 10 minutes. Next, rinse it with cold water. You would find yourself with shiny, moisturized hair. It would even work as a great carrier oil for the upcoming essential oils.

6. Sesame Hair Oil
Did you know Sesame oil is an ingredient used in various cosmetic products ranging from moisturizers to shampoos? The oil is extracted from the sesame seeds and was used for hair since ancient times.

Sesame oil is high in Vitamin E, which is also a natural source of antioxidants. It includes other beneficial ingredients such as Zinc, Magnesium, Vitamin B6 as well.

Read - How To Use Sesame Oil For Hair?

Ideal for- This oil benefits those who face premature graying. It is beneficial for individuals facing hair fall and hair lice related issues as well. 

Benefits - Sesame oil prevents the onset of premature graying. It contains properties that can darken your hair and resist free radicals' buildup as it is packed with antioxidants. The oil also works like a protective coat against UV rays by using it as a sun-blocking agent.
How to use it - Pour sesame oil into a bowl & warm it indirectly (through double boiling method) before treating your hair and scalp with a thorough massage. You could leave it on for 20 minutes or more and later rinse it off with a Mild hair cleanser. One could apply this oil once or twice a week.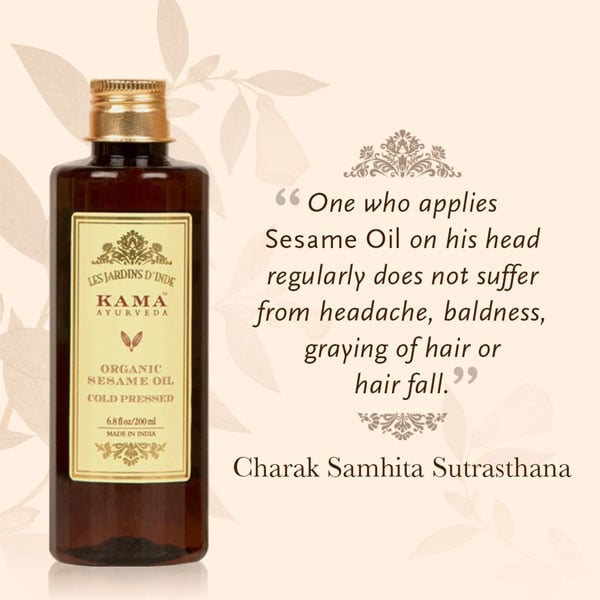 7. Argan Hair Oil
Argan oil is native to Morocco, and its tree is famously known as the 'Tree of Life'. It contains a high amount of fatty acids, antioxidants, and vitamin E. 

These properties contribute to the appearance of healthy hair, skin, and even nails. Did you know that Argan oil is often called 'Liquid Gold' as the oil possesses a rich golden hue? The minimally processed natural and organic Argan oil is best for usage as it won't contain any additive or unwanted harmful chemicals.

Ideal for - Those with frizzy hair, dry and brittle hair would find optimum benefits while utilizing Argan hair oil, especially if your hair is prone to frequent heat-based styling. It is also suitable for those with greasy hair.

Benefits - Argan oil application softens the hair without leaving any greasy or sticky residue. It diminishes dandruff and dry scalp. It protects the hair from UV rays and heat as well. Argan oil contains moisturizing properties making it manageable along with imparting a lustrous shine.

How to use it - Argan oil is quite viscous and could be poured easily at room temperature. This oil isn't greasy and could be applied more than once or twice a week. To use this oil, take a few drops in your palm and rub them together. Next, apply the oil to your hair, and avoid the hair's roots. It could be used on dry or damp hair and would work best as a quick anti-frizz treatment.
           
8. Jojoba Hair Oil
Jojoba oil is pronounced as ho-ho-ba oil, which is not an oil but is more of a liquid wax ester derived from the jojoba plant. 

You would be surprised to know that Jojoba oil is well known for its chemical characteristics. It is known to contain properties that resemble those of sebum, which is naturally produced by the human skin and scalp. Jojoba oil penetrates the hair shaft and follicle, deeply conditioning it inside and out. Jojoba oil contains antibacterial qualities.
Ideal for - Those with dry hair, damaged hair strands would benefit from using Jojoba oil, making the hair knot-free and more manageable. It even prevents dandruff formation and eliminates dry scalp related issues. It stimulates thicker, stronger, and longer hair growth.

Benefits - Jojoba oil conditions the hair, protects it from damage, and enhances the luster. It does this without making the hair feel heavy or greasy. It contains a vitamin B complex that allows it to maintain the hair's texture, color, and even strength.

How to use it - Jojoba oil could be used in various ways. Even this oil is viscous and could be easily poured at room temperature. You could use it as a leave-in treatment as well by applying it 30 minutes before shampooing your hair. You could even leave Jojoba oil applied on your hair throughout the night. One could even use it to condition the hair by adding and mixing a few oil drops to the conditioner.

9. Lavender Essential Oil For Hair
Did you know that lavender has been the most used essential oil globally for over 2500 years? Just like all other essential oils, Lavender essential oil should be used along with a carrier oil. It is derived from the lavender flowers.

Many studies state that the topical application of lavender oil encourages healthy hair growth. It has components that could increase the number of hair follicles, allowing fuller and dense hair growth. It contains anti-microbial properties. Therefore it is ideal for those with dermatitis.

Ideal for - The lavender essential oil is suitable for every other hair type. It is explicitly useful for those with oily hair in the front and back regions but dry scalp in other areas. 

Benefits- Lavender oil promotes hair growth and possesses no side-effects caused by topical hair growth products. It is known to moisturize the hair and can even balance the sebum production. Also, the oil aroma can relieve one from stress, which is often a hidden factor of hair loss.


How to use - Lavender oil needs to be mixed with a carrier oil. Add 2-3 drops of lavender oil to one tablespoon of any carrier oil and massage into the scalp. You could leave it covered overnight and wash it the next morning.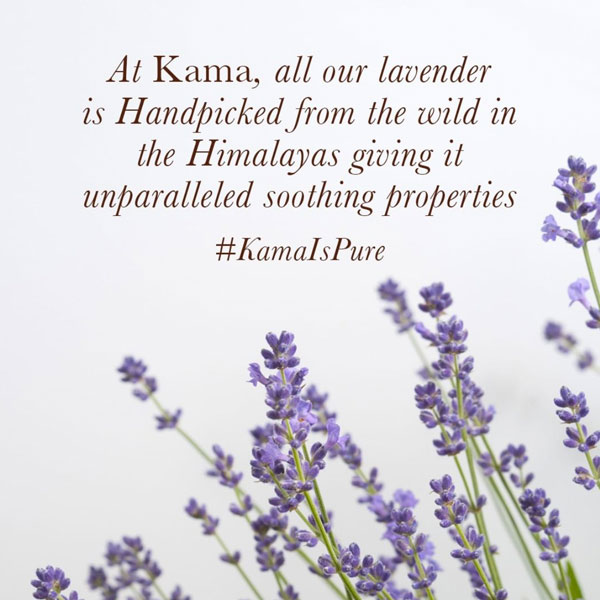 Shop Kama Ayurveda Lavender Essential Oil

10. Lemongrass Essential Oil For Hair
Lemongrass has many ingredients rich in vitamins and minerals that are incredibly beneficial for the hair. Even lemongrass oil is an essential oil and is derived from an herb of the Poaceae family.

Did you know that lemongrass oil contains healing qualities and could treat various scalp and hair based issues?

Ideal for - Lemongrass oil is suitable for all hair types. It would specifically suit those facing hair loss and dandruff related issues. Alternatively, you can also use Tea Tree Oil to get rid of dandruff. 

Benefits - Lemongrass oil possesses anti-fungal properties that alleviate dandruff and dry scalp. It could even inhibit dandruff caused by yeast. It prevents loss of hair and gives it a healthy shine. 


How to use it - Add about 2-3 drops of the lemongrass essential oil to the bottle of shampoo or conditioner to utilize it. If you want to use it as a hair oil, dilute 2-3 drops of essential oil with one tablespoon of carrier oil. Do not apply it on your scalp directly.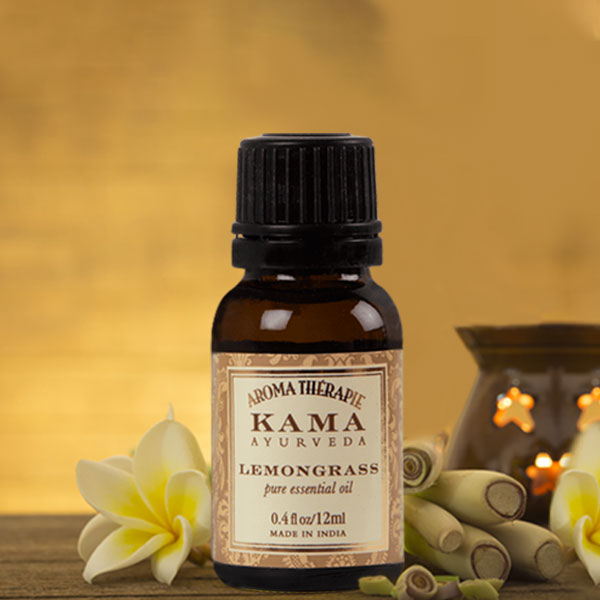 Shop Kama Ayurveda Lemongrass Essential Oil For Hair

Now, as we know the oils best suitable for your hair let's know the things needed to consider while using this oil.


Things to consider when using natural oil in your hair
Being aware of your hair needs and the types of oil that would be best suitable for you is always beneficial. The following are the points you should be mindful of when using natural oils.
Use Organic natural oils that are minimally processed and are of higher quality. 
Remember to read the list of ingredients and check the label to avoid purchasing any oil containing hidden chemicals or artificial ingredients. 
Every individual is different and so are their hair types. It may take a while to know your hair type. Once you figure that out, stick to the oil that would best cater to your hair needs. 
If using an essential oil, as stated before, never apply it onto your scalp directly. Always use a carrier oil that would once again best suit your hair needs. You could perform a patch test to prevent the experience of any adverse reaction.
All Kama Ayurveda Hair Oils are 100 percent pure, natural and organic. They are prepared from the best quality ingredients and are free from all chemicals and preservatives.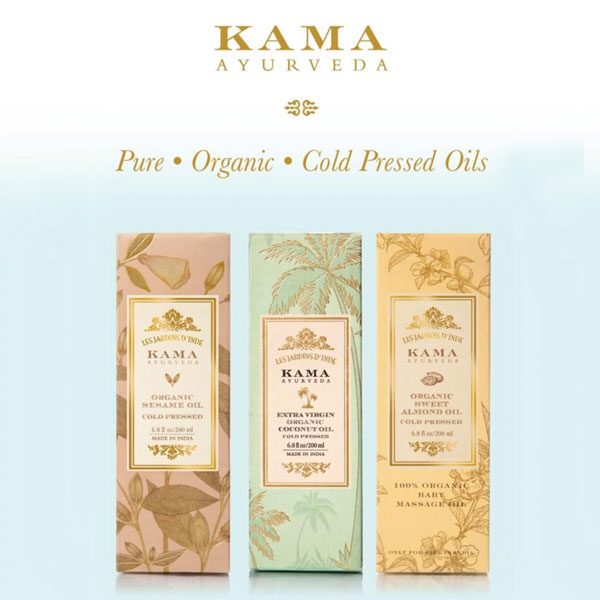 Explore Kama Ayurveda's Range of Hair Oils

Next, let us read about the advantages of using natural oils for your hair and why one should use them.


Benefits of using the best natural hair oils
Natural oils benefit your hair in numerous ways, from adding luster to the hair to eradicating hair fall and dandruff related issues. They possess varied advantages. The following are the benefits of using natural oil in your hair care routine.


Promotes hair growth
Aids in preventing damage caused by heat and styling
Adds luster
Diminishes dandruff and dry hair
Prevents excess oiliness of the scalp
Limits the exposure to chemicals


Now, as we have seen the benefits natural oils provide, lastly, let us have a look at the hair oil that would best suit a person based on the hair type they possess.

Hair types and best oil for each
Many people have a combination of dry and oily hair, while some have either dry or just oily hair. It is essential to know which is your hair type to cater to the needs your hair demands. So, you could experiment with the following list based on your hair category.


Dry scalp and dandruff issues: Jojoba oil, Lavender oil, Lemongrass oil, Sweet almond oil, Olive oil, Grapeseed oil, Brigandi oil
Damaged hair: Coconut oil, Sweet almond oil, Olive oil
Hair loss: Sesame oil, Brigandi oil, Grapeseed oil, Lemongrass oil
Dull and dry hair: Coconut oil, Argan oil, Jojoba oil, Sweet almond oil, Olive oil
Stunted hair growth: Coconut oil, Brigandi oil, and Sweet almond oil
Premature graying: Brigandi oil
In this way, you could include natural oil in your hair care routine and derive the benefits they provide. It is advisable to consult with your medical practitioner before bringing changes in your routine to avoid any untoward experiences.