Dry, dull, scratchy, cracked skin can be frustrating and needs extra attention and care. Whether it is dry or humid, summer or winter, moisturizing is just not enough to keep dry skin hydrated all the time. You also need the best sunscreen for dry skin to meet your skin's unique requirements.
The powerful and harmful UV rays from the sun can have damaging effects on your skin. Therefore, using sunscreen daily and reapplying every two hours if you are outside is a must. For the dry skin type, you must choose a moisturizing sunscreen that can play a dual role in protecting and hydrating your skin. 
Which Is The Best Sunscreen For Dry Skin?
We recommended Kama Ayurveda's Natural Sun Protection for dry skin. It is a daily-use, non-chemical natural sunscreen that provides full-spectrum sun protection while giving a boost of hydration to keep your skin hydrated and healthy all the time. 
This natural-origin, light organic sunscreen is also rich in Natural Glycerine, Olive oil, and Shea butter to condition and nourish skin while soothing irritation and repairing sunspots and other signs of damage without making it look greasy. The pure blend of essential oils like Lime, Ginger, and Nutmeg help in leaving the skin feeling light and fresh scented.
It contains an abundance of UV protection minerals like Zinc Di-oxide and Titanium Dioxide, which help shield your exposed skin from the harmful sun rays.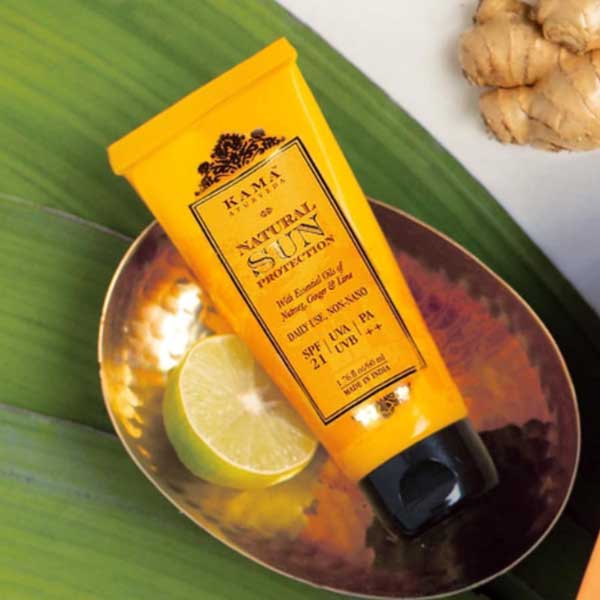 A few of the Kama Ayurveda's Natural Sun Protection benefits are - 
It is 99.3% natural and suitable for everyday use for all skin types. Sunscreen is also safe for children above three years.
The naturally occurring materials - Titanium Dioxide and Zinc Dioxide - present in the sunscreen provide SPF 21 and PA++ sun protection.
Shea Butter, Natural Glycerin, and Olive Oil are natural moisturizing ingredients that help repair sun spots, soothe irritation, and condition skin without making skin feel greasy.
Kama Ayurveda's Natural Sun Protection is a non-nano formulation-based sun protector.
How to use -

After shaking well, take enough amount of the product onto your palm. Blend into all the exposed parts of the skin until it is well absorbed.
You need to apply the products liberally 20 minutes before hitting the sun. And don't forget to reapply every 2 hours and even more frequently while swimming or sweating. 
How To Choose The Best Sunscreen For Dry Skin?
Dry skin occurs when your skin is unable to lock in moisture and therefore becomes dehydrated. They are a few things that increase the risk of the skin being unable to restore moisture. 
While millions of sunscreens of different brands are available in the market, there are specific ones to buy based on your skin type, especially for dry skin types. It's important to choose a sunscreen that minimizes those risks. 
Avoid Sunscreen with Artificial Fragrance
Fragrance in the deodorants and skin care products has the potential to cause skin irritation, especially for dry skin types. This is because the fragrance is an excellent source of allergic contact dermatitis. When dry skin is exposed to perfume, you may see a reaction the very first time. 
So, always check the ingredient list of the sunscreen before buying. If it contains fragrance, it is a big no. Creams and body lotions, when packed with perfumes, do more harm than good. Kama Ayurveda's Natural Sun Protection and does not contain any artificial Ayurveda's products are made of 100% natural fragrances or perfumes. 
Avoid Sunscreen With Chemicals
Many sunscreens available on the market contain chemicals that sap moisture from the skin, making the skin dry and flaky. Using a moisturizing sunscreen with natural moisturizers like Olive Oil, Shea Butter and Natural Glycerin (like Kama's Natural Sun Protection) is better when compared to chemical-laden sunscreens.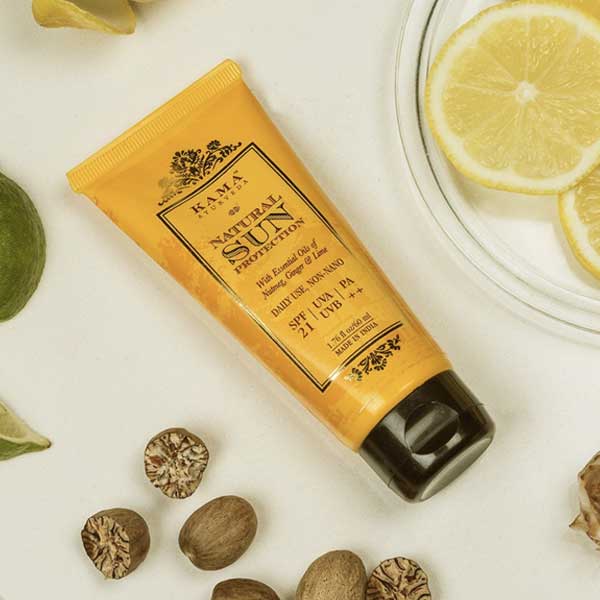 Avoid Skin Drying Ingredients
Salicylic acid can be great in helping you with acne, but it can also cause the skin to dry out when you first start using it. Dry skin is a common side effect of using retinol, too, as retinol loses the connection between cells on the skin's surface. Ensure that your sunscreen doesn't contain any skin-drying ingredients.
In case you observe burning, peeling, or flaking of the skin, it is advised to stop using the product immediately. Consult your dermatologist and make sure the product is suitable for your skin.
Read - Which sunscreen lotion is the best for you?
What Is Dry Skin? And What Are Its Symptoms?
Dry skin is when your skin doesn't have enough moisture and dries out. While it is not usually a serious condition, it can be very irritating and frustrating. Dry skin is common and can be seen in people of all ages.
Dry skin is generally seasonal or temporary. While some might get in only in winter, others must treat it long term. The signs and symptoms might vary depending on factors like age, skin tone, health status, sun exposure, and living environment. A few of such symptoms of dry skin include - 
Skin feeling and looking rough
Itchiness
Skin that feels tight
Slight to severe flaking skin (this causes the skin to look ashy and is generally found in brown and black skin).
Slight to severe peeling or scaling
Finelines
Cracks (deep ones that may bleed)
Skin looks reddish on white skin and graying on black or brown skin. 
Lifestyle And Home Remedies To Help Soothe Dry Skin
Mild to moderate dry skin can be prevented or relieved with simple lifestyle changes. The following are a few tips that can help keep your skin moist and healthy.
Apply Moisturizer Before Sunscreen
It's important to apply moisturizer every single time you wash your face. Choose the product that you feel comfortable with using regularly. Search for nourishing natural ingredients like Aloe Vera, Olive Oil, Coconut Milk and Sesame Oil. Also look for products that are alcohol-free, fragrance-free, and do not contain allergy-causing substances.
Our recommendation is Kama Ayurveda's Eladi Hydrating Face Cream. It is a rich, nourishing blend that gives you intense moisturization. You can apply it just before your sunscreen to give your skin an extra layer of hydration.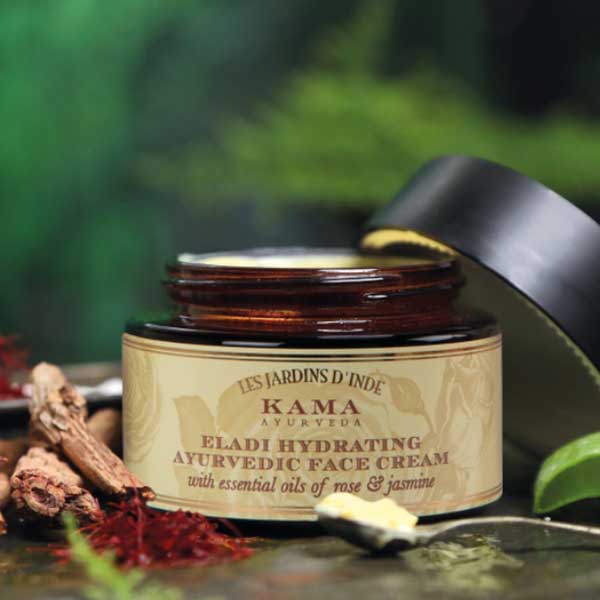 Limit Bath Time And Use Warm Water
Since long showers with hot water can remove your skin's natural oils, limit your bath time to no longer than five to fifteen minutes and no more than once a day. Use warm water instead of hot water. Later, within one minute of getting out of the shower, apply a moisturizing cream, as moisturizers absorb best when applied on damp skin. 
Have A Night Ritual To Nourish Dry Skin
Follow a daily CTM (Cleanse, Tone and Moisturize) ritual with the best products suited for dry skin type. At night you can replace your moisturizer with Organic Moringa Oil which is the best facial oil for dry skin. 
Moringa Oil is a powerhouse of Oleic Acid, making it a highly moisturizing oil. This oil is ideal for dry skin as it's similar to the oil that the skin produces naturally helping to nourish and balance skin's moisture content.

During the day, your moisturizer and sunscreen keep your skin nourished and prevent it from getting damaged due to sun and pollution. At night, a nourishing facial oil like Moringa Oil helps replenish the moisture content and reverse any damage caused to the skin.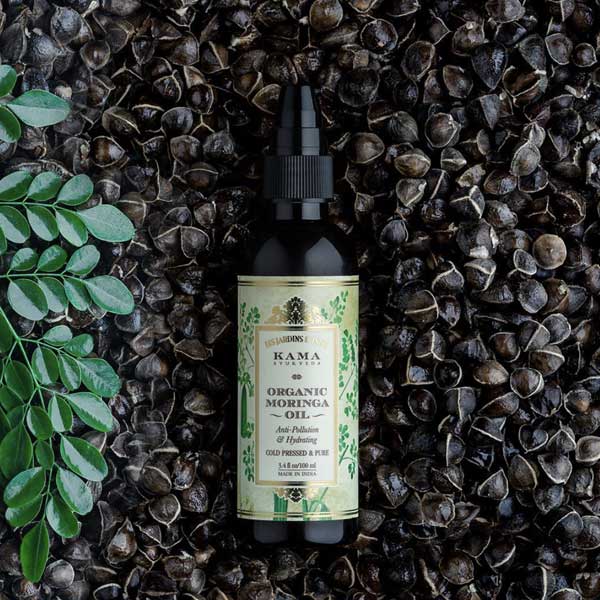 In case you prefer using night creams, you can explore our recommendation for the best night cream for dry skin. 
Choose Fabrics That Are Kind To The Skin
Natural fibers like cotton help skin breathe. Wool, though it is natural, can sometimes irritate even healthy skin, so avoid using it indoors. For laundry, use fragrance-free detergents that don't contain any dyes, as they can irritate your skin and make it feel itchy. 
Use A Humidifier
Hot and dry air can trigger sensitive skin and worsen flaking and itching. Invest in a portable home humidifier to add moisture to the air around you.
Use A Damp Cloth To Relieve Itchiness
If your dry skin causes itchiness, try placing a clean, cool, damp cloth on the affected area. It relieves you from itchiness. But, if your skin still feels itchy, consult your dermatologist; he might suggest an anti-itch cream or ointment that helps relieve itchiness. 

Also read - Home Remedies For Dry Skin – 10 Ways To Soothe Dryness
Hope you found our recommendation for the best sunscreen for dry skin useful. We've also discussed some of the tips to help you take care of dry skin and suggested a day and night skin care routine. If you still need help in choosing the best products for your skin type, you can book a free consultation with our Ayurvedic beauty experts.