Wondering why on earth one would want to slather oil on the skin to clean it? Unlike the typical soaps and face washers that completely strip away your skin's natural oils, cleansing oil is more gentle and moisturizing. 
The oil cleansing method is an ancient Korean beauty ritual that gives you clear, glowing skin. It helps balance oil production, heals acne, and washes off dirt and makeup right away while hydrating and nourishing skin making it smooth and silky. 
In this article, let us discuss what a cleansing oil is, how it works, and the numerous benefits it offers.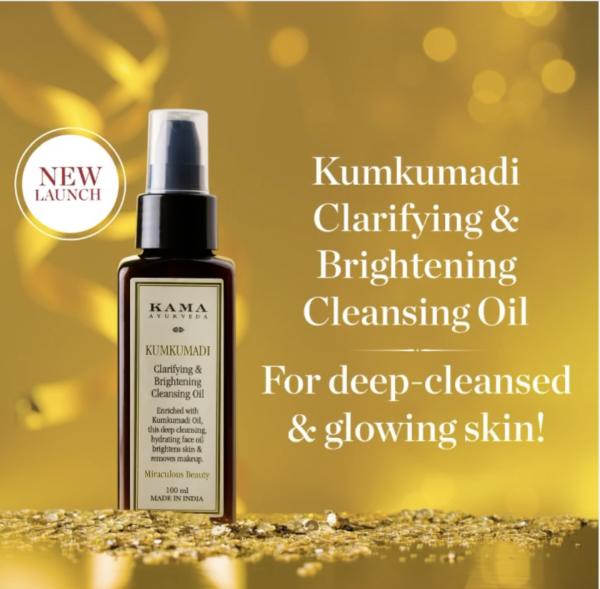 Shop Kama Ayurveda's Clarifying And Brightening Cleansing Oil 
What Is A Cleansing Oil, And How Does It Work?
Cleansing oil, as the name says, is an oil-based face cleanser. It is usually made by blending several kinds of lightweight oils, which emulsify or lather when combined with water. This helps in effectively cleansing the skin without actually stripping it of the natural oils or weighing it down. 
Good quality cleansing oils contain a blend of luxurious botanical oils that can effectively remove dirt, excess oil, and makeup. They leave the skin feeling soft, smooth, and supple. They are also lightweight, non-comedogenic, and safe for all skin types, including acne-prone and oily skin types. 
How Does A Cleansing Oil Work?
A cleansing oil works in two straightforward ways.
Oil dissolves oil just like how like dissolves like.
Oil slows down oil production to maintain balance.
Oil Dissolves Oil Just Like How Like Dissolves Like
Did you know oils are lipophilic? This means that they are naturally attracted to other oils, including the excess oil on the skin (sebum), which causes breakouts and clogged pores. 
Since water doesn't dissolve oil, we need some kind of soap or detergent along with water to wash off the oil on any surface. Here, the soap is the middleman that brings oil and water together to rinse away dirt and grease from your skin. 
Even if you are using water-based makeup, the makeup gets mixed up with the natural facial oil by the end of the day. A cleansing oil will effectively dissolve away the dirty oil and makeup from your face. It also replenishes with a clean, nourishing oil to protect and moisturize your skin throughout the day.
Oil Slows Down The Oil Production To Maintain Balance
Using oil on the face only creates more oil and breakouts and leaves an oily residue is a huge misconception. For years, skincare commercials have told us to remove the oil from the skin, especially from our faces, to have glowing, youthful skin. But, this is just a myth. The truth is that drying out your skin stimulates excess oil production.
A cleansing oil binds with the existing oil to help balance sebum production, unclog pores, and cleanse impurities. It protects skin and keeps it smooth, soft, and hydrated. 
Read - 10 Best Face Oils For Every Skin Type – Natural & Safe
Benefits Of Using A Cleansing Oil
Oil cleanser is generally suitable for all skin types. The results aren't immediate and you have to be patient. But, once your skin will get used to the oils, it will leave hydrated, nourished, and youthful skin. (1)
Below are some of the main benefits of using the oil cleansing method. 
Gently Deep Cleanse Your Skin
Cleansing oils are free of parabens, sulfates, and other harmful chemicals. This shields skin from chemical exposure and abrasion. The cleansing oil gently dissolves makeup, dirt, and excess sebum responsible for clogging your pores. (2)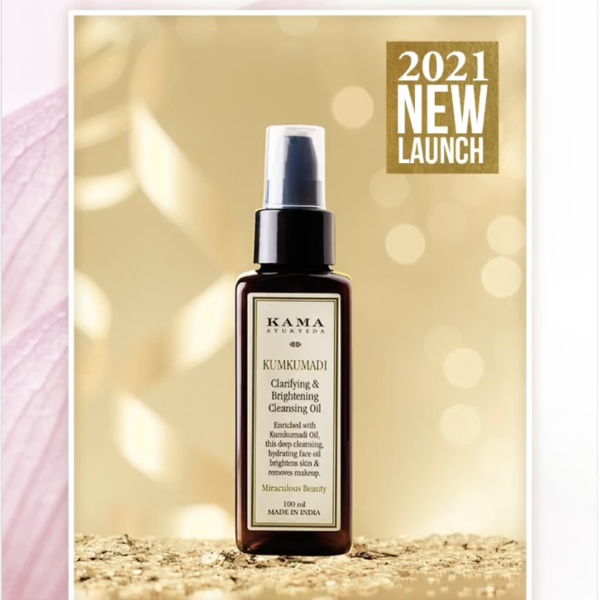 Shop Kama Ayurveda's Clarifying And Brightening Cleansing Oil 
Hydrates And Moisturizes The Skin
The oils help keep your skin nourished and hydrated for more extended periods. It is recommended to oil cleanse your skin before going to bed because it keeps your skin hydrated all night long.
Gets Rid Of Acne
"Oil cleansing is not for people with oily skin or acne-prone skin" is purely a myth. When we use the right blend of oils, the oil cleansing method helps remove traces of dirt and balances oil production. When the sebum production is balanced, it controls acne.

Works As A Make-Up Remover
Did you know even massaging with oil helps to clean your skin off the makeup? Rather than using a harsh makeup remover, it is always advisable to use an oil cleanser as it also helps nourish your skin well.
Gives You A Great Looking Skin
Oils used in the cleansing oil are primarily rich in antioxidants. These antioxidants help neutralize free radicals, the leading cause of wrinkles and premature aging. Regular usage of these oils will also help impart a healthy glow to the skin. (3)
Can Control Chronic Skin Conditions
Chronic skin conditions such as psoriasis flare-ups and eczema are often triggered by dryness, skin irritants present in the skincare products, and weather changes. The moisturizing, calming, and healing properties of the oils used in the cleansing oil help in nourishing, hydrating, soothing, and protecting skin from external damages.
Has Anti-Aging Properties
The antioxidants in the cleansing oil battle oxidative stress and prevent wrinkles, lines, and other signs of aging. Some also help promote collagen production, aid cell growth, and keep your skin young and tight.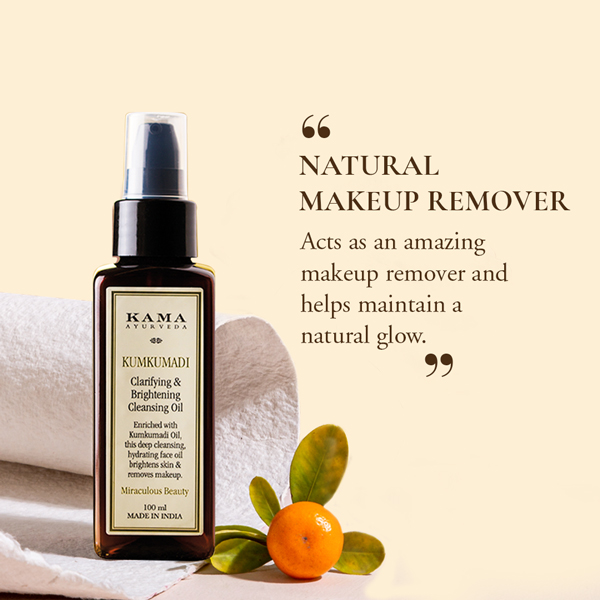 Who Is Cleansing Oil Best Suited For?
Cleansing oil is formulated to be washed off with water and not leave any kind of residue behind. Therefore, it is usually suitable for all skin types. Whether or not to use a cleansing oil is wholly based on personal choice and how long you put makeup on your face.
You can negate the need for a separate makeup remover with a good cleansing oil. This also gets your job done faster. Cleansing oil that doesn't contain any problematic ingredients like fragrance is not a wrong choice for anyone, including oily, sensitive, acne-prone, or redness-prone skin. 
A Few Myths And Facts About Oil Cleansing
Myth - The oil cleansing method can lead to acne and breakouts.
Fact - Oil cleansers will not cause acne breakouts. Excess sebum or oil on the skin indeed leads to clogged pores and acne. But the oil cleansing method helps balance the oils in the skin.
Myth - Oil-free skin means clean skin.
Fact - A good cleanser should clean dirt, remove dead skin cells, and even maintain a natural balance of the oils on the skin. Dry out the skin while cleansing is not healthy.
Myth - Oil cleansing is not for people with oily and acne-prone skin types.
Fact - If your skin is oily and you always try to dry it out anyhow, then you're doing it wrong. Removing oil will only aggravate the condition. You should try to keep a balance, and cleansing oil can be beneficial for you to keep up with the right oil balance. 
Best Cleansing Oil 
Looking for a good quality cleansing oil that cleanses, hydrates, nourishes, soothes, and protects you from external damages? Well, we got you covered. Kama Ayurveda's Kumkumadi Brightening Cleansing oil, enriched with Kumkumadi oil, hydrates, brightens and removes makeup effectively.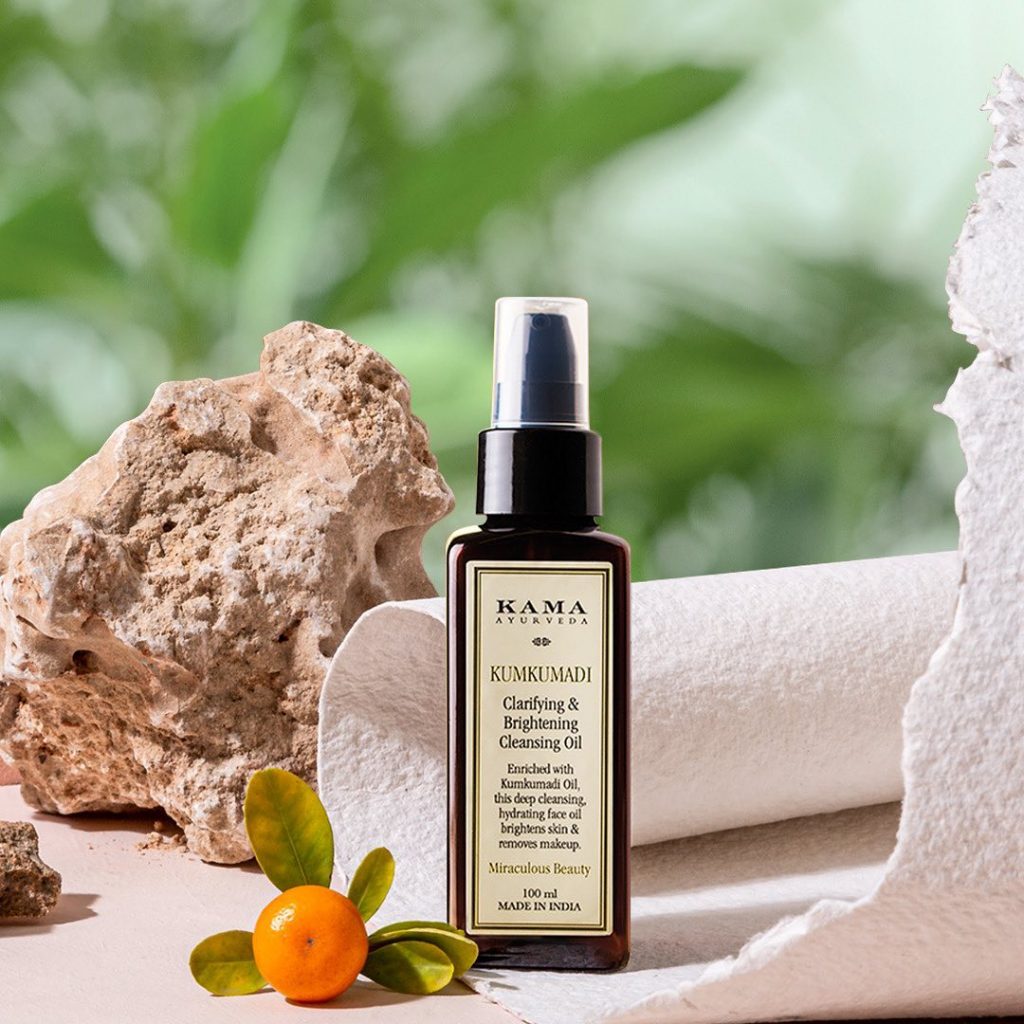 Shop Kama Ayurveda's Clarifying And Brightening Cleansing Oil 
Kama Ayurveda's Kumkumadi Brightening Cleansing Oil
Kama Ayurveda's Clarifying And Brightening Cleansing Oil is an oil-based cleanser enriched with Kumkumadi Oil's goodness. It clarifies, nourishes, illuminates, and gently removes impurities and makeup. 
The hydrating oil helps maintain the skin's natural barrier while imparting a healthy natural glow. It breaks down excess sebum and keeps skin moist and elastic. Saffron, Liquorice, and Indian Madder present in the oil help reduce pigmentation and tone and brighten the skin. 
Centella Asiatica herb in the brightening cleansing oil is anti-inflammatory and anti-aging, stimulates skin collagen production, and repairs skin damage. Citron Fruit, the powerhouse of Vitamin C, helps enhance and nurture skin. 
Kumkumadi Brightening Cleansing Oil also works great as a makeup remover. You should try including it in your AM and PM skin care routine. 
Benefits Of Kumkumadi Brightening Cleansing Oil
Enriched with Kumkumadi Thailam, the deep cleansing, hydrating, replenishing cleansing oil brightens skin while effectively removing makeup. 
The cleansing oil removes stubborn makeup. It lightly lathers into a creamy cleanser and gently removes sunscreen, makeup, and excessive sebum while maintaining the skin's natural barrier.
Kama Ayurveda's Kumkumadi Brightening Cleansing Oil will leave your skin feeling soft and supple. 
Read - Kumkumadi Tailam : Ultimate Guide To The Miracle Beauty Oil
How To Use Kumkumadi Brightening Cleansing Oil
Take 1 or 2 pumps of the cleansing oil after shaking it well. Massage it gently in circular motions on the dry face and neck.
Now wet your face for mild lathering. Massage again for 10 to 30 seconds before washing it off with plain water.
Pat dry with a soft towel.
Read - 5 Best Kumkumadi Face Glowing Oil Products For Your Skin
FAQ'S
Will Switching To Oil Cleansing Cause Breakouts?
A cleansing oil, in general, doesn't cause any acne breakouts. However, as your skin takes a little time to adjust to the method, you might notice mild sensations. But, this is harmless. Suppose you observe an increase in your breakouts even after oil cleansing for many weeks. In that case, it is better to stop doing it.
How Long Does Oil Cleansing Take To Work?
Our skin takes time to get adjusted to the oil cleansing method. To see the visible results, you need to at least wait for about 2 to 3 weeks. It is always recommended to stop using it if irritation occurs.
How Often Should You Oil Cleanse?
It is advised to use the oil cleansing method once a day before bedtime. This way, your skin gets a good time to hydrate, moisturize and heal. You will be left with supple skin the following day.
What To Except For Oil Cleansing Your Skin?
After using an oil cleanser, your skin will feel supple and clean (free of makeup and other products). Depending on the oil you choose and your skin type, you may not have to moisturize afterward. For some, the oil cleansing method can cause irritation, clogged pores, or an allergic reaction. 
Therefore, it is recommended to do a patch test before using an oil cleanser on the face. Note that a patch test typically cannot reveal how your pores will respond to oil cleansing; it might take time to observe how your skin reacts to different oils. 
Consult your dermatologist before trying an oil cleanser if you have cystic acne. They can offer more guidance on using it without causing further irritation on the skin.
Wrapping up
Oil cleansing is one of the natural processes to cleanse your face. It replaces the dirty oil with good oil on your skin while removing dead skin cells, pollutants, and any product buildup. There are multiple brands offering oil cleansers. 
Before choosing one, try to know your skin type as different skin types need different kinds of oils for the cleansing method. Else you can opt for an oil cleanser that is suitable for all skin types. It is advisable to use the oil cleansing method only once a day and continue it for a more extended period to see visible results.